The Sunny SF-B2640 Fan Bike is a great entry-level fan exercise bike that won't break the bank! The SF-B2640 fan bike has an excellent compact design that won't take up much space and offers the ability to perform effective total-body low-impact workouts in the comfort of your own home.
The SF-B2640 Fan Bike utilizes a smooth and quiet belt drive system. It features a large 17" diameter fan that's more effective than bikes with smaller fans as the more significant the fan-wheel, the more air resistance that's created, allowing for a more effective workout.
Air resistance works on the premise that the harder/faster you pedal, the higher the resistance becomes. This type of resistance essentially allows for unlimited resistance levels and puts the rider in control of their workout. Also, you can increase or decrease the intensity of your workout with Sunny SF-B2640's simple-to-use turn-dial tension knob.
The air resistance system of the Sunny SF-B2640 allows you to work at your own pace, making it suitable for users of all fitness levels. The moving handlebars add a new dimension to a traditional cycling workout, allowing you to work your upper body as well as your lower body. Also, the design of the dual handgrips gives you a choice of hand positions with the effect of different muscle group workouts.
Learn more in my complete review below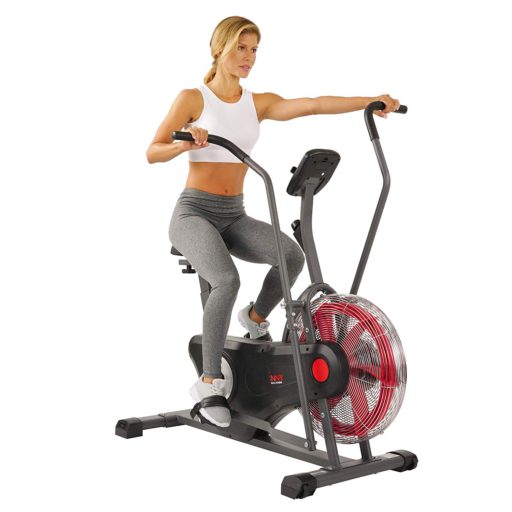 Product: Sunny SF-B2640 Fan Bike
Price: For a great deal on this bike, merely go here on Amazon
Warranty: Frame 3 years / Parts 90 days
My rating: 7/10
Amazon Affiliate Disclosure: I may earn commissions from purchases made through links in this post.
SF-B2640 Frame construction
The Sunny SF-B2640 is a pretty sturdy bike, featuring a steel frame construction with corrosion-resistant and scratch-resistant powder coating. The paint used is gray, this being the only color available for the frame of this exercise bike.
The bike's construction also integrated several plastic parts, but these do not affect its overall sturdiness and stability, as most of them fulfill a protective or aesthetic purpose. Among them, we can count the belt guard and the base bar end caps.
Several factors contribute to the overall stability of this exercise bike. To begin with, it weighs over 70 lbs, which is two times more than the weight of a road bike. This weight plays an essential role in its stability.
Both base tubes feature stabilizers. The rear base stabilizers are adjustable, a feature that permits the perfect leveling of the bike on any surface. The front base rests on rubberized pads, providing an excellent grip on the floor. Also, the triangular design of the base tubes offers more contact with the floor, being superior to cylindrical tubes.
The front base integrates two transport wheels. These facilitate the bike's relocation once you have finished with your workout.
This upright exercise bike does not take too much space. It's 49.5″ (126 cm) long, while its total width is given by the handlebars, which is approx — 31.5″ (80 cm). The highest point of the bike is provided by the top of the moving bars, being approximately 55″ (140 cm). Thus, you will need a usage area for this fitness machine of approx. 60″ x 50″ (152 x 127 cm) to be able to exercise without any hindrance.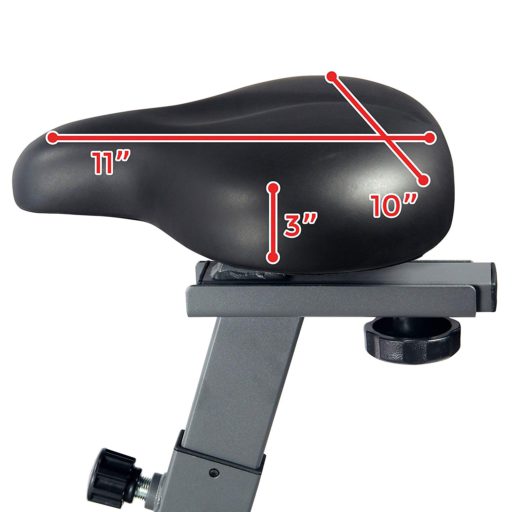 Seat and handlebars
The Sunny Health & Fitness SF-B2640 features a 4-way adjustable seat. This is quite a plus for an exercise bike in this price range.
Its horizontal slider offers an adjustment span of several inches, while the straight bar has eight adjustment holes, providing an adjustment range between 25.5″ and 35.5″ (65 – 90 cm) from the lowest pedal. Therefore, the bike can accommodate users between 5'0″ and 6'6″ (153 – 198 cm).
The bike's saddle is a pretty standard one. It provides optimal comfort, featuring a contoured surface and a thin layer of padding. If you're new to cycling, there's a chance you may find it a little uncomfortable. However, since it's a standard saddle, you can easily find a replacement for it; or, you can improve its comfort by a gel cover.
This Sunny exercise bike features only one set of handlebars. They connect to the pedals and will continue to move until the pedals or flywheel stop spinning.
They cannot be locked in place. Also, they cannot move independently from the pedals. Each moving bar is equipped with dual grips, vertical and horizontal, offering the possibility to put some diversity into your workouts.
SF-B2640 Drive
The Sunny SF-B2640 fan bike comes with a belt drive. There are two main benefits to this type of belt drive; one, it doesn't require lubrication, and two, it minimized vibration, and the related operation noise is almost inexistent. However, since this is an air bike, the fan will generate a bit of noise during usage.
The flywheel fan is 17″ (43.1 cm) in diameter. It's not metallic, but it's thick and durable enough to perform and last for many years without any issue. Its protective cage is metallic, though, featuring a chrome finish. The flywheel is bi-directional.
This means you can pedal and move the handlebars in reverse, which gives you the possibility to diversify your workout routines.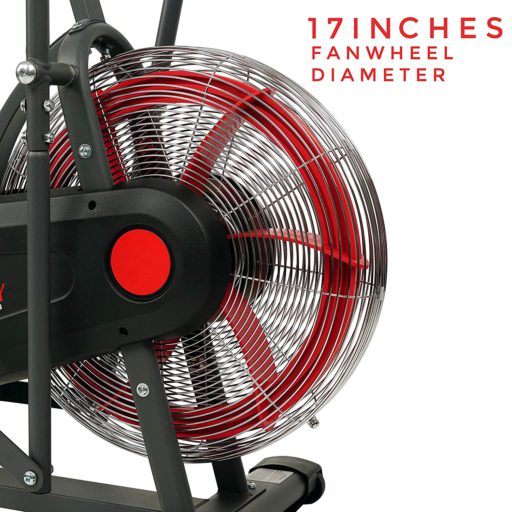 The bike's crankset is highly durable, featuring solid steel crank arms. However, keep in mind that this is an upright bike, not a spinning bike, so it's designed exclusively for seated workouts. Standing up on the pedals is not recommended as it may cause damage to the internal parts.
The pedals are self-leveling; they have a metallic core and a heavy-duty PVC shell. They're equipped with adjustable straps to provide maximum foot stability during exercising. They also have standard threads, so in case you want to replace them, compatible options are widely available.
Resistance
When it comes to resistance, the fan pretty much speaks for itself. The fan generates a dynamic response. In other words, the faster you pedal and move the handlebars, the more resistance you will get.
However, this exercise bike also offers the possibility to adjust its overall resistance. It comes with a small brake attached to the tension knob on the console mast. By turning the knob clockwise, the total resistance will slightly increase.
There aren't any resistance levels or "clicks" specified on the knob. Therefore, you can tighten it up to the point where you feel that the overall resistant corresponds to your needs.
SF-B2640 Console
The fitness console included with the Sunny SF-B2640 air exercise bike is not exactly an advanced unit as for the LifeCore Fitness Assault Air bike but does offer the possibility to set targets for time, distance and calories. It has a large display that can show distance, total distance (odometer), speed, time, and calories burned.
The console is easy to use. To begin with, it has a SCAN function which repeatedly displays time, distance, odometer, calories, and speed in a sequence of 6 seconds at the time. You can turn off the SCAN function via the MODE button, and this way, lock only the value that interests you on display.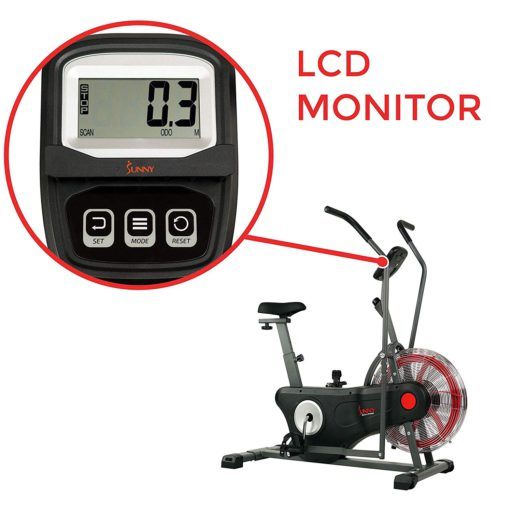 The SET key allows you to set targets for time, distance, and calories, and the selected value will countdown from the goal that you've chosen. The RESET button covers the unit's reset function; by pressing it, all the metrics will reset to zero.
The meter unit is not telemetric. It cannot track your pulse in any way, nor does it have any online connectivity.
The console unit has a sleep function to save battery life and turns off automatically after 4 minutes of inactivity on the bike. It starts up when you begin to pedal or when you push one of the buttons. It requires 2 AAA batteries to function.
The fitness console comes with a tablet holder. This accessory is between the display and the keys. Its placement is a bit inconvenient as a tablet placed on it will cover the console display.
SF-B2640 Assembly and Maintenance
The central part of the bike, including the mainframe, the fan, the crankset, and the belt comes already assembled. Therefore, you will only have to add the bike's base bars, the console mast, the console, the moving arms, the pedals, and the seat.
This shouldn't take more than an hour. All the tools required for the bike's assembly are (included). Also, the manual provides pretty comprehensive assembly instructions.
Since it's a belt bike, its transmission doesn't require any lubrication. For maintenance, you'll have to remove the dust that may accumulate on the flywheel and its cage and periodically check for loose bolts and parts.
Details and Specifications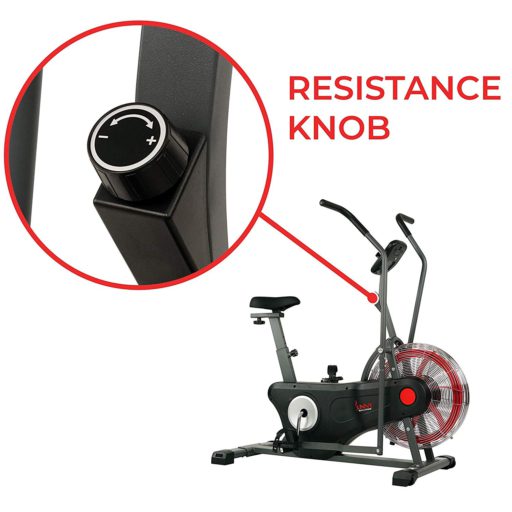 Assembled dimensions: 49.5L x 31.5W x 55H inches (126L x 80W x 140H cm)
Assembled weight: 71 lbs (32.2 kg)
Supported weight: 250 lbs (113.3 kg)
Drive: Belt
Resistance: Air
Fitness console: Time, speed, distance, odometer, calories, SCAN
Warranty: Frame 3 years / Parts 90 days
Pros
Sturdy and stable frame for a small bike, able to hold riders up to 250 lbs;
Aesthetic design, an aspect that can serve as a good motivation factor;
Transport wheels on the front base;
Adjustable levelers on the rear base;
Mobile handlebars for arms workouts;
Dual-grips on each handlebar;
4-way adjustable seat;
Air resistance system, great for interval workouts;
Resistance adjustability – a feature that other fan bikes do not have;
Fitness console included;
Target settings for time, distance, calories;
Tablet holder integrated into the meter unit;
Little maintenance required;
Fairly quiet operation;
Easy to assemble.
Cons
No bottle holder;
Doesn't have pulse sensors;
No front pegs for resting your feet if you only want to exercise your arms.
Sunny SF-B2640 Summary
The Sunny Health & Fitness SF-B2640 is an upright exercise bike featuring adjustable air resistance, a durable steel frame, and a console with countdown and SCAN functions. Its seat is 4-way adjustable, and the handlebars feature dual grips.
It's an excellent bike for light to medium cardio workouts, weight loss, endurance training, and muscle toning. It's not an expensive fitness machine, currently priced for less than $200. So, even though it's not a commercial-grade fitness machine, it does offer excellent value and quality for the price.
I hope you found this article helpful and informative. If you have anything that you'd like to share or opinions about the content on my website, please do speak up. I look forward to your comments, questions, and the sharing of ideas.
Recommended articles:
Diamondback Fitness 910SR Recumbent Bike
Is the NordicTrack GX 4.7 Recumbent Bike for users of all fitness levels?
Is the Yosuda L-001A Indoor Cycling Bike a bike for the whole family?
Concept2 BikeErg Exercise Bike: Runner-up 2019
Please follow and like us: