Train like a champion with infinite resistance on the Sunny SF-B2729 Tornado LX Air Bike by Sunny Health and Fitness. The newest Tornado LX Air Bike is more significant, sturdier, and durable for the most challenging workout. In addition, the heavy-duty steel frame holds an incredible 330LBS, which maximizes stability during vigorous rides.
The higher your speed and force, the more resistance this air bike can make! The commercial-grade oversized 25-inch fan wheel drives unlimited air resistance as you pedal forward with solid momentum. In addition, the stylish red paddles are enclosed in an upgraded fan cover guard to protect accidental dirt and debris from damaging the fan.
The SF-B2729 has ergonomic extreme grip handlebars designed to increase muscle engagement in the arms, back, shoulders during the push and pull action. In addition, the sizeable non-slip foot pedals will keep your feet secure during slow or rapid pedal strokes. Get the right fit with the 4-way adjustable seat to ensure your posture and body mechanics are in the optimal position.
The SF-B2729's console is Bluetooth compatible to receive accurate real-time heart rate readings (HR chest strap does not come with the bike). The large multi-function screen displays your fitness metrics simultaneously as you pedal hard on the bike. In addition, the quick Access button makes programming your target goals easy.
Learn more in my complete review below!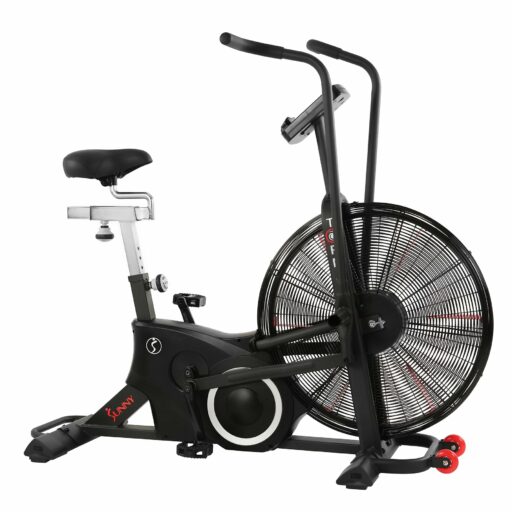 Product: Sunny SF-B2729 Tornado LX Air Bike
Price: For a great deal on this bike, merely go here to Sunny Health & Fitness.com
Warranty: Frame 3 years / Parts 90 days
My rating: 8/10
Affiliate Disclosure: As a Sunny Health & Fitness Affiliate Program participant, I earn commissions on purchases made through links in this post. Full disclosure
Details and Specifications
Assembled dimensions: 56L x 23.5W x 49.25H inches (142L x 60W x 125H cm)
Assembled weight: 94 lbs (42.6 kg)
Supported weight: 330 lbs (150 kg)
Handlebars: Mobile
Seat: 4-way adjustable
Drive: Chain
Resistance: Air
Fitness Monitor: Time, speed, distance, RPM, calories, watts, pulse, goals, three interval programs, Bluetooth
Warranty: Frame 3 years / Parts 90 days
SF-B2729 Frame construction
The Sunny SF-B2729 Tornado LX fan bike features a steel-made frame, offering a sturdy build and riding feel. The only PVC parts in its construction are the crank and chain guards, which do not reduce the bike's overall sturdiness. In addition, the steel parts come with corrosion-resistant light grey paint, except for the seat slider and upright post, chrome coated.
The Sunny SF-B2729 isn't a large fitness machine. It takes considerably less space than a treadmill or an elliptical trainer. When fully assembled, the bike is 56″ (142 cm) long and 23.5″ (60 cm) wide. The recommended workout area is approx. 80″ x 48″ (203 x 122 cm). Thus, it can be an excellent choice for a fitness machine if storage and usage space are issues.
When fully assembled, it weighs approximately 94 lbs (42.6 kg). However, for a fitness bike, this is a plus, as it results in excellent stability. So, differently put, you can be sure that it won't rock during your exercising routines.
This exercise bike is not foldable. However, its front base comes with a set of wheels that facilitate its relocation. If you use the wheels to transport it from a place to another, you will have to lift and handle only half of its total weight.
One last aspect to note here regards the front footpegs characteristic to most exercise bikes with mobile handlebars. This bike has this feature and allows you to rest your feet on these pegs if you only want to exercise by using your arms.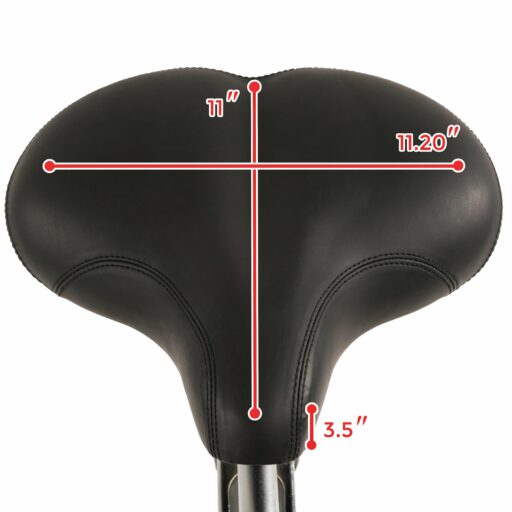 Seat and handlebars
The Sunny SF-B2729 Tornado LX comes with a 4-way adjustable seat. You can also tilt back the seat slightly if you want.
Its horizontal slider allows for a 16″ – 39.6″ (40 – 100 cm) distance span between one handlebar and seat axis. Its upright post offers an adjustment span between 29.5″ and 42″ (75 – 106 cm), while the distance between the seat and the front foot resting pegs can vary between 30″ – 41″ (76 – 104 cm).
Thus, the bike can comfortably accommodate users between 5'0″ and 6'5″ (153 – 195 cm), and up to 330 lbs (150 kg). But as a general idea, shorter users may find the arms stretch during the handlebars a bit uncomfortable. This is remedied by adding grip extensions to the handlebars.
The included saddle offers optimal comfort for an upright bike. Admittedly, it's not precisely the widest you can find, but still, it is considerably more extensive than the average spin bike seat.
It integrates a decent layer of padding and features a longitudinal groove to promote healthy circulation. In addition, its connection point to the slider is standard; therefore, compatible options are widely available if you ever need to replace them.
The bike's handlebars are simple bars curved outward and finished with rubberized grips. Since it's a fan bike, they're mobile and synchronized with the movement of the pedals.
The handlebars do not lock into place. They will continue to move as you pedal. However, you can rest your feet on the front legs if you only want to exercise using the handlebars.
The handlebars are non-adjustable. However, the seat does feature large knobs that are very easy to grip, turn, and lock, to facilitate a quick adjustment.
SF-B2729 Drive and resistance
The Sunny Health & Fitness SF-B2729 Tornado LX fan bike comes with a chain drive. This comes with two main advantages. First, the chain is considerably more durable than a belt and can last a lifetime with proper care. Two, it's a standard bike chain, and you can easily find a replacement for it if it's the case. The main downside of it is that it requires lubrication from time to time.
The bike features a very solid crankset with steel crank arms. The pedals are simple, though, without foot straps or clips for SPD shoes. The crankset is substantial enough to support the user in standing-up pedaling sessions. However, since this is technically an upright bike and not a spin bike, spin workouts are not advisable.
As the title suggests, this Sunny Health & Fitness exercise bike features an air resistance system. The massive 25″ (63 cm) fan placed at the bike's front is the resistance generating element.
The resistance created by it increases with your pedaling and handlebar movement speed. Therefore, the faster you pedal, the higher the resistance the fan will produce.
If you're wondering, there isn't any damper, such as the Concept2 Model D rower, for example, or any other resistance adjustment element. So, the overall resistance of the bike is not adjustable.
It depends solely on your pedaling speed. Therefore, if you want more resistance and more intense cardio training, you will have to pedal or move the handlebars faster.
The console features three distinctive interval workouts to undertake to achieve your desired levels of fitness. As a general idea, the resistance supplied by this exercise bike promotes light to medium workouts. As a result, it's a great exercise bike for interval workouts.
Fitness Monitor
The fitness monitor supplied with the Sunny SF-B2729  fan bike offers quite more than the average simple one. First of all, it has a multi-panel LCD, which indicates time, total time, distance, calories, pulse, watts, speed, and RPMs. Unfortunately, the bike does not have any EKG sensors, but the monitor is compatible with Bluetooth HR chest strap transmitters.
The fitness monitor is programmable. It features three main interval programs: 10/20 Interval, 20/10 Interval, and Custom Interval. It also has functions for setting a target for time, distance, calories, and heart rate.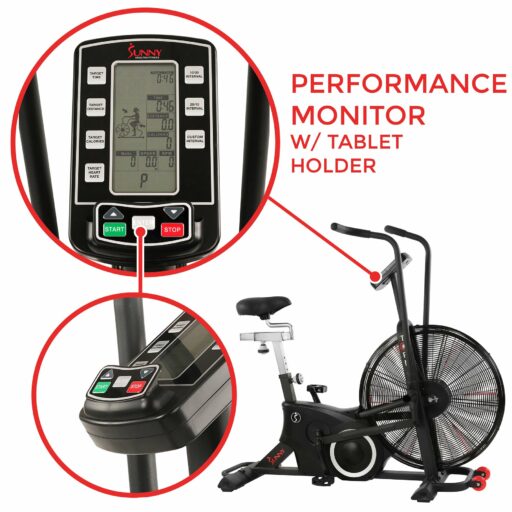 So, when using it in manual mode, the values will go up as you exercise. However, selecting a specific target for distance will count down from the chosen target distance until it reaches 0. The same goes for time and calories.
As for heart rate, during your workout, the monitor will switch between 65% and 85% heart rate. If your heart rate goes below 65% or above 85%, the monitor will beep until your heart rate is between 65% and 85%.
The fitness monitor is straightforward to operate. It has buttons for the Target functions and each interval program. The lower part's arrow keys allow you to increase/decrease a value, while the Enter key covers the selection function. The Star/Stop keys will enable you to pause and resume your workout without losing your progress.
The unit is battery-powered, and it uses 2 AA batteries, which come with the bike.
SF-B2729 Assembly and Maintenance
The flywheel fan, the drive elements, and the crankset are already attached to the mainframe. Therefore, the assembly requires you to connect the base tubes, the seat, the pedals, the monitor mast, and the handlebars. This shouldn't take more than an hour. The manual provides pretty clear assembly instructions.
For maintenance, you will have to lubricate the bike's chain periodically. Other than that, it's advisable to check for loose bolts or parts from time to time and retighten as needed.
Pros
Sturdy and stable frame, able to support users up to 330 lbs (150 kg);
Aesthetic design, an aspect that can serve as a good motivation factor;
Adjustable levelers on the rear base;
Transport wheels on the front base;
Mobile handlebars for arms workouts;
Ergonomic, contoured seat, 4 -way adjustable
Air resistance system, great for interval workouts;
Fitness Monitor tracks seven workout statistics, including RPM, speed, time, distance, pulse, watts, and calories;
It has three main workout programs;
Target settings for time, distance, calories, and heart rate;
Telemetric console;
Little maintenance required;
Easy to assemble.
Cons
HR chest strap transmitter does not come with the bike;
Not a very quiet fitness machine, but not extremely loud either.
Sunny SF-B2729 Tornado LX Air Bike Summary
The Sunny Health & Fitness SF-B2727 is an upright exercise bike designed for light to medium cardio workouts. It comes with an air resistance system, and due to this fact, it's excellent for interval cardio training. It's a fitness machine great for cardio workouts, toning arm and leg muscles, building stamina, and of course, losing weight.
You can burn up to 5-600 calories per hour with this bike. It features robust construction and high-quality internal components. It's not exactly one of the most affordable fitness bikes. However, considering that it's a model made to last, it's an excellent investment for anyone who wants to stay fit.
I hope you found this article helpful and informative. If you have anything you'd like to share or opinions about the content on my website, please speak up. I look forward to your comments, questions, and the sharing of ideas.