Climb to the top of your fitness routine with the Sunny SF-E3919 Cardio Climber. This premium in-home cardio machine combines the best of a step machine and elliptical to engage your lower body and upper body muscles. Enjoy long-lasting climbing and striding sessions when you exercise on the steel climber frame with a maximum user weight of up to 260 lbs.
The SF-E3919 machine combines the best of stepping and striding in one intense movement. Climb to a vertical height of 9 inches and stride a horizontal distance of 7 inches. Engage your upper body to work synchronously with your lower body with each stride as you grasp onto the full-motion handlebars.
The Sunny SF-E3919 Cardio Climber features eight magnetic resistance levels, allowing for easy workouts when you want it or challenging when you need it. Switch up the intensity to boost or lower your challenge based on your comfort level. Engage the 14 lb inertia-ready flywheel to perform challenging strides and climbs with ease.
Use the SF-E3919 multifunctional fitness console to track important activity details, including your time, distance, RPM, speed, calories burned, and pulse. The display also comes with a preinstalled calendar, thermometer, clock, scan, recovery mode, BMI, and body fat percentage calculator.
Learn more in my complete review below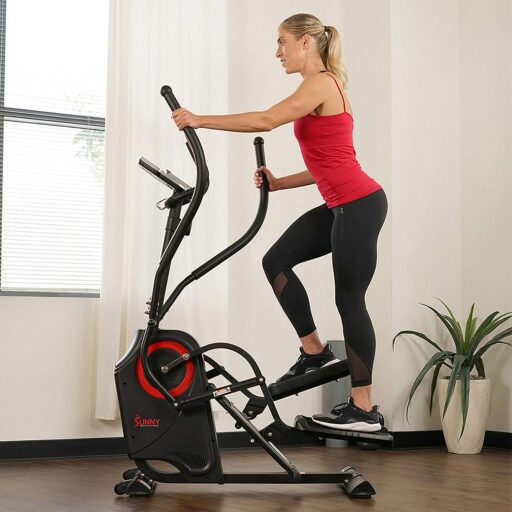 Product: Sunny SF-E3919 Cardio Climber
Price: For a great deal on this hybrid, merely go here on Amazon
Warranty: Frame 3 years / Parts 180 days
My rating: 7.5/10
Amazon Affiliate Disclosure: I may earn commissions on purchases made through links in this post.
Details and Specifications
Assembled dimensions: 44L x 25W x 64H inches (112L x 63W x 163H cm)
Assembled weight: 95 lbs (43 kg)
Flywheel weight: 14 lbs (6.3 kg)
Supported weight: 260 lbs (118 kg)
Stride: 7 inches (18 cm)
Adjustable incline: No
Resistance: Manual magnetic, eight levels
Console: Time, distance, odometer, RPM, speed, calories, pulse, goals, recovery, BMI
Extras: Tablet holder, HRC zones sticker
Warranty: Frame 3 years / Parts 180 days
SF-E3919 Frame construction
The Sunny Health & Fitness SF-E3919 Premium Cardio Climber frame comes made of steel tubing, but the flywheel covers and the other drive and resistance elements are ABS made. All the steel parts in its construction feature a durable paint finish, resistant to chipping and corrosion. The color used is black, this being the only color available for this machine (at least for now).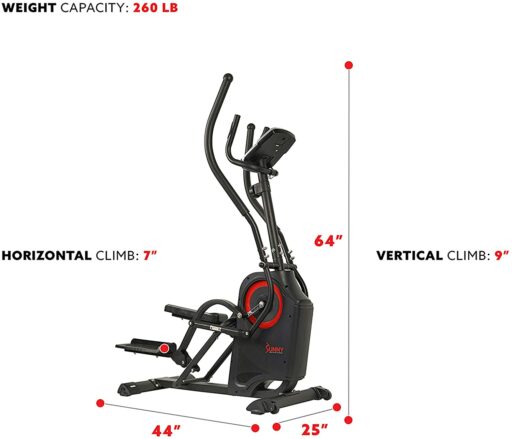 The unit's main chassis is a one-piece element with the rail system directly welded to the frame. This considerably improves the overall sturdiness of the machine. Also, the two rail bars have stainless steel covers for extra protection. However, the console mast and the two base bars attach to the mainframe via bolts and screws.
Like most other steppers, the Sunny SF-E3919 has a pretty small footprint. It is only 44″ (112 cm) long and 25″ (63 cm) wide. Therefore, it can fit well even into a small room. It is advisable to leave at least two feet of clearance all around the unit.
The fully assembled unit is relatively heavy. It weighs approx. 95 lbs (43 kg), so it is recommended that two persons carry the boxed machine. However, once assembled, its relocation is accessible by using its two front wheels. Also, its rear base bar integrates adjustable levelers so you can correctly stabilize the unit on any floor.
This Sunny elliptical machine features two sets of handlebars; one is stationary, the other is mobile. The fixed handlebars attach directly to the console mast. They have small, standard grips and integrate EKG sensors.
The moving arms feature extended rubberized grips with ball grips at the top. They attach both to the main upright bar and the pedal bars, so they continue to move for as long as you are pedaling.
Elliptical path, stride, and step-up height
Since it's a climber or an elliptical stepper, the Sunny Health & Fitness SF-E3919 features an almost entirely vertical elliptical path.
The two rail bars of the pedals have an angle of approx. 45°, so the pedaling motion resembles the one of an elliptical trainer with an incline. The machine does not have an automatic or manual incline system; the two pedal rail bars are stationary.
The unit's pedals are a durable ABS material. They have a non-slip surface and inner guards for improved foot stability. They don't have extra cushioning or articulations, and they attach directly to their bars via two screws each. They're durable enough to support users up to 260 lbs (118 kg).
Since it's an elliptical stepper, the Sunny SF-3919 doesn't have a long stride. It offers a horizontal range of motion of only 7″ (~18 cm), pretty much characteristic of steppers. Nonetheless, due to the handlebar configuration, and the specific construction of the frame, it can provide high-intensity workouts with maximum stability.
The lowest pedal height (or step-up height) is approx. 10″ (25 cm), while the highest pedal point is approx. 16″ (40 cm) above floor level. This, it is advisable to use the machine in a room with a ceiling that is at least 20″ (51 cm) higher than your height.
SF-E3919 Drive and resistance
The Sunny Health & Fitness SF-E3919 Cardio Climber features a manual magnetic resistance system. Therefore, it doesn't require an external power source or an adapter. Also, its console cannot automatically control the resistance and does not have preset workout programs.
The machine's resistance system consists of a magnetic brake connected to the tension knob on the unit's main upright bar via a steel cable. As you turn the knob clockwise, the brake moves closer to the flywheel, which increases the load of the pedaling motion.
Like many other fitness machines with a manual magnetic resistance system, the Sunny SF-E3919 offers eight tension levels. The first level delivers little resistance, great for recovery training. Conversely, the 8th level of resistance provides considerably more pedal tension, offering the possibility to perform a more intense workout and improve strength and stamina.
The unit's internal flywheel is not as heavy as for a spin bike but does weigh 14 lbs (6.3 kg), which is not bad for a home-use machine. It is perimeter-weighted for added inertia. It is also bi-directional.
Therefore, you can pedal in reverse if you want to diversify your workouts. Of course, when pedaling in reverse, the machine delivers the same resistance as pedaling forward.
This elliptical stepper comes equipped with a belt drive system. This type of transmission comes with several advantages. First of all, you don't have to worry about taking the central unit apart for internal lubrication.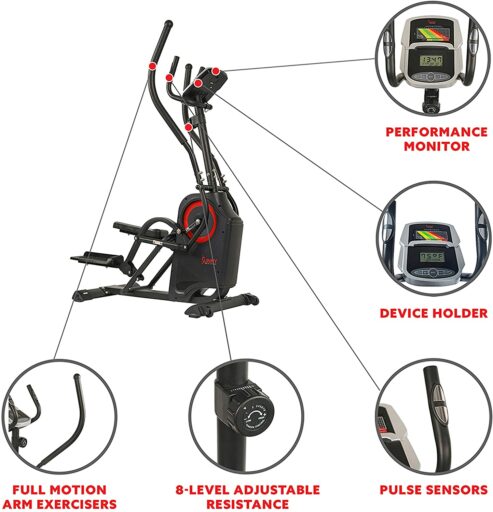 Second of all, the pedaling motion is tranquil, almost entirely silent. And finally, a belt drive produces less vibration than a chain drive, which results in a smoother pedaling motion.
Console
The Sunny Health & Fitness SF-E3919 comes with a mid-range console without any workout programs or online connectivity but does offer plenty of features to keep you motivated.
The unit's console comes equipped with an LCD divided into multiple sub-sections. It tracks time, distance, speed, RPM, calories, and pulse. Each of these metrics has a separate window, except for speed and RPM, which share the same window; each one remains on screen for 6 seconds.
The top, the larger display, can show any of the selected workout metrics. You can choose the unit's Scan Mode, and they will rotate in a sequence of 6 seconds. When the console is in idle mode, the top display shows the current date, clock, and room temperature.
The speed and distance are shown in MPH and miles, while the temperature is in degrees Fahrenheit. There is no option for metric units. Also, the console is not telemetric. It cannot track your pulse through a wireless HR chest strap. If you want to monitor your heart rate during your workout, you will have to use integrated sensors.
Although the console doesn't have any preset programs, it does offer goal settings for time, distance, calories, and pulse. So, when setting a target goal for any of these workout metrics, the console will show the remaining amount until you reach your goal. For a heart rate goal, the console will beep when you achieve the selected pulse rate.
The console also has a Recovery function and a BMI function. The Recovery function gives you a fitness rating at the end of your workout based on the time it takes your heart to return to an average BPM.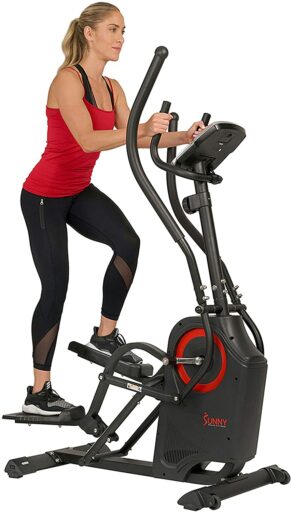 The score is between F1 – excellent and F6 – poor. The BMI function requires you to input your data, such as age, weight, height, and gender. Based on this, the console will calculate your body fat percentage.
Amenities
Two other notable console functions are the tablet holder and the HRC sticker. The tablet holder is above the LCD, so a tablet placed on it won't cover your workout stats. However, the console doesn't have any docking ports for your phone or tablet.
The HRC sticker is placed at the top section of the console and shows the heart rate zones that you should aim for depending on your age to benefit from a better aerobic output, fat burn, etc. Not all ellipticals have this feature; usually, this HRC grid is in their manual, so you may not have it all the time with you when you exercise.
SF-E3919 Assembly and Maintenance
The base frame of the machine comes pre-assembled; this also stands for its drive and resistance elements. However, the two base bars, the console mast, the pedals, the handlebars, and the console still require assembly.
The task is not too complicated; the manual provides clear assembly instructions and schematics, but it can take up to two hours. Also, all the necessary tools for the assembly are (included) with the machine.
Once fully assembled, you don't have to worry too much about maintenance. The internal parts don't require any lubrication. So, it's advisable to keep the unit clean, especially the rails, and lubricate the joints if necessary.
Pros
Sturdy steel frame – can support users up to 260 lbs;
Aesthetic and compact design;
Transport wheels on the front base;
Adjustable stabilizers on the rear base;
Durable, oversized pedals with inner guards for extra foot stability;
Moving arms with ball grips at the top;
Fixed handlebars with pulse sensors;
Reinforced and precision-welded rail bars for improved sturdiness;
Quiet belt drive system;
Manual magnetic resistance – 8 levels;
Multi-window LCD console;
Goal settings on the console;
Recovery and BMI functions;
Clock, date, and temperature functions;
Tablet holder included;
HRC sticker included;
Easy to assemble;
All the assembly tools are (included) with the machine;
Little maintenance required;
Excellent warranty.
Cons
The LCD doesn't have a backlight;
No online connectivity;
No bottle holder.
Sunny SF-E3919 Cardio Climber Summary
The Sunny Health & Fitness SF-E3919 Premium Cardio Climber is an elliptical stepper machine equipped with an 8-level magnetic resistance system, a durable set of pedals, and a console that can track all the essential workout metrics.
Furthermore, it has a compact and durable frame, two sets of handlebars, and a pulse reading function. It's an excellent machine for light to high-intensity cardio workouts, muscle toning, stamina development, and weight loss. In all, it offers superb value for the price.
I hope you found this article helpful and informative. If you have anything you'd like to share or any opinions about my website, please speak up. I look forward to your comments, questions, and the sharing of ideas.