Trying to get a full-body workout should never be a hassle. The Sunny SF-RW5987 Magnetic Rowing Machine ensures that access to an excellent rowing workout is simple and easy. Packed with great features and a size-efficient footprint, this is ideal fitness equipment for home workouts.
The SF-RW5987 features 16 levels of manual magnetic resistance delivering smooth strokes and consistent resistance. Simply tilt up for upright storage. Space efficient, fast, and easy, this Sunny rowing machine is perfect for smaller spaces.
Keep your fitness goals within your sights and easily track your progress. The Sunny SF-RW5987 Magnetic Rowing Machine comes equipped with a fitness console featuring an LCD that tracks time, count, total count, calories, and scan. However, the console does not have a pulse reading function. So, to monitor pulse, you'll need to use a separate device.
Maintain your position and composure as you go for those marathon rowing sessions. The SF-RW5987 cushioned seat alleviates discomfort and promotes blood circulation through the legs and glutes. Sitting at 13 inches above the floor, you will have more comfort and easy accessibility when getting on and off the rower.
Learn more in my complete review below!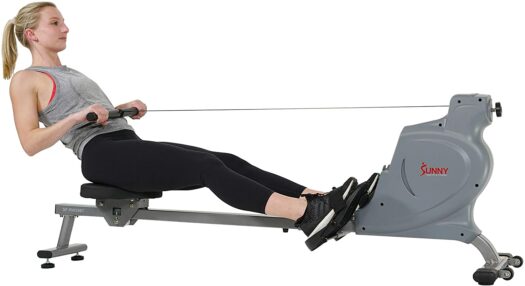 Product: Sunny SF-RW5987 Magnetic Rowing Machine
Price: For a great deal on this gym, merely go here to Amazon.com
Warranty: Frame 3 years / Parts 180 days
My rating: 8/10
Affiliate Disclosure: As an Amazon Affiliate Program participant, I earn commissions on purchases made through links in this post. Full disclosure
Details and Specifications
Assembled dimensions: 72.5L x 18.5W x 25H inches (184L x 47W x 64H cm)
Assembled weight: 49.4 lbs (22.4 kg)
Weight capacity: 285 lbs (129 kg)
Frame: Steel
Resistance type: Magnetic, 16 levels
Fitness console: Time, count, total count, calories, goals, scan
Extras: Device holder, bottle holder
Warranty: Frame 3 years / Parts 180 days
SF-RW5987 Frame construction
The Sunny SF-RW5987 magnetic rowing machine features a steel frame with oval base tubes and a rectangular rail. The only significant, non-steel parts in its construction are the footrests and the resistance system covers. These are durable thermoplastic materials. All the steel bars come coated with a rust-resistant paint finish, gray.
Compared to other rowers, the Sunny SF-RW5987 is not extremely large. However, it still takes approx. 72.5″L x 18.5″W (184 x 47 cm) of floor space. Therefore, it's advisable to leave at least two feet of clearance at the rear of the machine and on each side for ease of access and correct usage.
Its rail is fairly long, designed to accommodate users with an inseam up to 43.5″ (110 cm) or users up to 6'6″ (198 cm).
This Sunny rower does not have a folding design. However, it can store vertically, resting on its front stabilizer tube and the small leveler on the top of the front unit. When stored in a vertical position, its footprint becomes 25″L x 18.5″W (64 x 47 cm) while its height reaches 72.5″ (184 cm).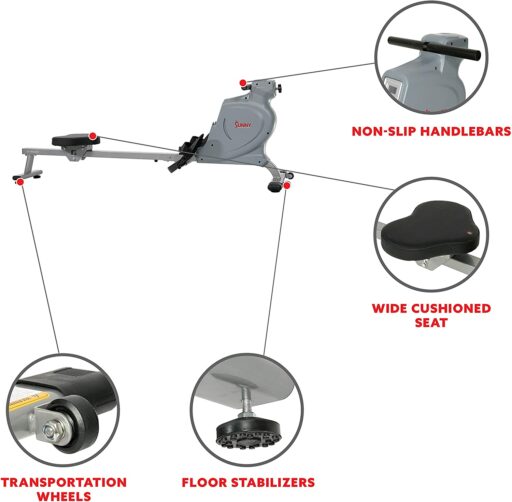 The rower isn't too heavy. With all the parts assembled, it weighs approx. 49.4 lbs (22.4 kg). Thus, one person can carry and build the machine. Its front base stabilizer comes equipped with a set of transport wheels. Also, both base stabilizers have adjustable levelers.
SF-RW5987 Seat
The Sunny SF-RW5987 magnetic rowing machine comes equipped with a large seat to provide optimal comfort. Its top pad offers plenty of contact surfaces. It is approximately 15″ (38 cm) wide and 11″ (28 cm) deep. It integrates a thick layer of foam cushioning (approx. 2″) with a layer of durable vinyl material.
The seat and the rail assembly have a maximum user weight capacity of 285 lbs (129 kg) which is not bad for a home-use machine. The rail is horizontal, so the seat maintains a constant height to the floor. Its top is at approx. 12″ (30.4 cm) above floor level, which is quite a plus for users with specific disabilities.
The seat frame is steel-made. It integrates three sets of wheels. One slides under the rail for extra stability, the other two slide on top of the rail. They integrate sealed ball bearings for a smooth motion and a long lifespan. Also, their outer layer is a material that reduces noise.
Footrests and pulling handle
The machine's footrests are a solid thermoplastic material. They are relatively large, so they comfortably accommodate athletic footwear of all sizes. They have textured surface and heel guards for improved foot stability, and they also come equipped with adjustable Velcro straps.
The two footrests have a similar design to the ones on the XTERRA Fitness ERG160. They can pivot on their axis, slightly adjusting their angle as you row. However, they also have stoppers at the rear to tilt backward past an approximate angle. 45°.
This Sunny rower comes equipped with a standard pulling handle consisting of a short and straight metallic bar with foam sleeves on its grips, and it does not integrate pulse sensors or any controls. It is attached to a heavy-duty nylon strap which is highly resistant to abrasion. Since the machine uses a strap, not a chain like other rowers, you won't have to lubricate it, and the usage of the rower is considerably quieter.
SF-RW5987 Resistance system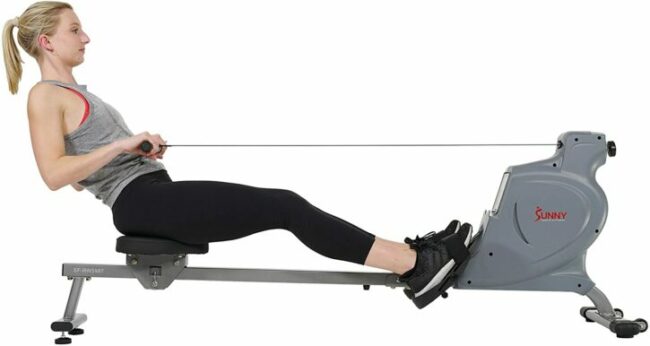 The Sunny SF-RW5987 magnetic rowing machine comes equipped with a manual magnetic resistance system. Therefore, you don't need an adapter for it or an external power source. However, it cannot adjust the resistance automatically, and the integrated console does not have pre-set workout programs.
The machine's resistance system is similar to the resistance system of a magnetic exercise bike up to a point. It consists of a magnetic brake connected to the tension knob on the front section of the rower through a steel cable. As you turn the knob, the magnetic brake shifts its position to the internal flywheel, which adds or reduces the workout load.
One of the main advantages of a magnetic resistance system in a rowing machine is the overall quietness during usage. The resistance elements do not touch, and there is no fan to make a noise. Also, since the brake pad does not touch the flywheel, wear-and-tear is minimal, and the brake does not require replacement, as is the case for fitness machines with a friction resistance system.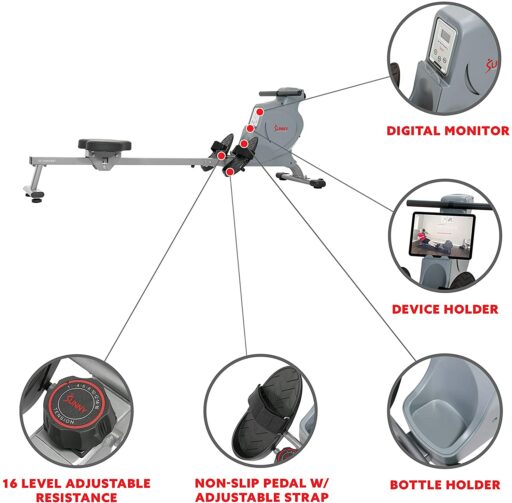 This Sunny magnetic resistance rower offers 16 levels of resistance. The first few levels deliver a reasonably light workout load. Conversely, the highest resistance levels offer considerably more resistance than anyone who wants a consistent full-body cardio workout.
The weight of the internal flywheel is not specified. But considering that the net weight of the rower is only 49.4 lbs (22.4 kg), the flywheel probably doesn't weigh more than 20 lbs (9.0 kg). It has a perimeter-weighted structure which adds inertia and improves motion stability.
Console
The Sunny SF-RW5987 magnetic rowing machine comes equipped with a fitness console that offers a few more features than the average simple monitor. It has an LCD that tracks time, count (number of strokes for the current workout), total count (total strokes from the first usage of the machine), and calories burned.
However, it does not track distance (in meters) and does not have a pulse reading function. Therefore, you cannot sync it with a wireless HR chest strap.
The fitness console comes with three buttons. These are Mode, Set, and Reset. The Mode button allows you to select the workout metric that you want to view on display. You can also select the Scan Mode, which automatically rotates all the metrics, showing each one for 6 seconds.
The Set button accesses the setup mode and offers the possibility to select workout goals for time, count, and calories burned. After choosing a goal for any of these workout metrics, the rower's console will countdown from the selected value until it reaches zero.
This function can help keep track of your progress and push your limits from one workout to the other. And finally, the Reset button clears all the values to zero, except Total Count, which you can only reset if you remove the batteries from the console.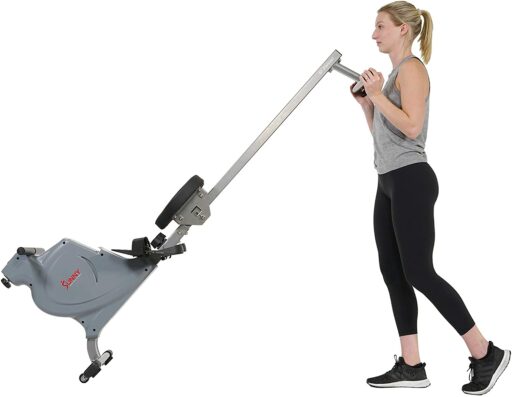 The machine's fitness console is battery-operated and requires two AAA batteries as its power source. It starts when you begin rowing and automatically turns off if it does not detect any activity on the rower for more than four minutes.
SF-RW5987 Assembly and Maintenance
The front unit of the rower with the fitness console and all the resistance elements comes pre-assembled. The other parts do require user assembly. You will have to attach the front base stabilizer, insert the seat onto the rail, connect the rail to the front part unit, attach the rear stabilizer and the two footrests.
This shouldn't take more than 30 minutes of your time. The manual provides clear step-by-step assembly instructions. Also, all the necessary tools for assembly come with the machine.
Once assembled, you don't have to worry too much about maintenance. It is necessary to keep your rower clean, especially the rail, to prevent any damage to the wheels of the seat. The internal elements do not require any maintenance.
It is also advisable to periodically inspect the machine to ensure that all the moving parts work properly and all the bolts and nuts are tight and retighten if needed.
Pros
Sturdy frame for a light rower – can support users up to 285 lbs;
Can be stored vertically to save space;
Adjustable levelers;
Transport wheels integrated into the front stabilizer;
Large, padded seat for optimal comfort;
Pivoting footrests for a perfect foot position with each stroke;
Relatively long rail – can accommodate users up to 6'6″;
Quiet and smooth magnetic resistance system;
16 levels of resistance for light to medium workouts;
Fitness console included – it can track time, count, total count, and calories burned;
Goal setting functions for time, count, and calories;
Device holder included;
Bottle holder included;
Batteries for the console included;
Easy to assemble;
Little maintenance is required.
Cons
No pulse reading function;
No distance or time/500m functions;
The LCD does not have a backlight.
Sunny SF-RW5987 Magnetic Rowing Machine Summary
The Sunny SF-RW5987 is a home-use magnetic resistance rower. It offers 16 levels of resistance and a fitness console that tracks all the essential metrics and also has goal functions. It has a reasonably long rail for users up to 6'6″ with a maximum user weight limit of 285 lbs.
Moreover, it's an excellent machine for a full-body cardio workout, stamina development, and weight loss. And finally, it's an affordable rowing machine, currently available for less than $300.
I hope you found this article helpful and informative. If you have anything you would like to share or any opinions about my website, please speak up. I look forward to your comments, questions, and the sharing of ideas.