The Sunny SF-XF9925 Power Zone Power Cage is a full-sized weight cage and an effective tool to give your strength training workouts a powerful boost. You'll achieve quicker results and attain the body you want by pumping up your weightlifting reps, pushing your squats, and flexing your trap muscles or abductors.
The SF-XF9925 power cage – with a 1,000 lbs (453.5 kg) maximum weight capacity – can help you make some progressive gains! In addition, the Power Zone is versatile enough for a comprehensive total workout experience, whether you want to focus on your slow or fast-twitch muscles.
You will always have a spotter in the Sunny SF-XF9925 Power Zone Power Cage with safety lock latches for ease of mind and safety when squatting with heavier weights. Eighteen vertical height settings allow for various safety bars and J-Hooks adjustments.
Store extra-weight plates with the included safety clips to increase stability and peace of mind. The Power Zone Power Cage may also bolt down to establish a firm and stable base. Furthermore, to increase versatility and add extra resistance for your lifts and squats, there are six resistance band pins (3 per side).
Learn more in my complete review below!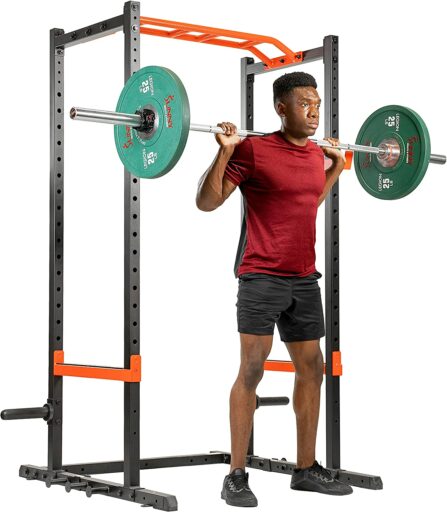 Product: Sunny SF-XF9925 Power Zone Power Cage
Price: For a great deal on this gym, merely go here on Amazon
Warranty: Frame 1 year / Parts 180 days
My rating: 9.5/10
Affiliate Disclosure: As a Sunny Health & Fitness Affiliate Program participant, I earn commissions on purchases made through links in the post. Full disclosure
Details and Specifications
Assembled dimensions: 50.4L x 65.1W x 82.9H inches (128L x 165W x 211H cm)
Assembled weight: 134.5 lbs (61 kg)
Maximum weight capacity: 1,000 lbs (453.5 kg)
Possible exercises: 25+
Warranty: Frame 1 year / Parts 180 days
SF-XF9925 Frame construction
The Sunny SF-XF9925 power zone power cage features a heavy-duty frame made of 14-gauge, 2″ x 2″ steel tubing. All bars in its construction come coated with a durable, corrosion-resistant, and chip-resistant paint finish. The base bars and the unit's upright pillars are black, while the chinning bar assembly, the safety bars, and the j-hooks are red.
The cage is not extremely large. However, it's not exactly the best fit for 6-foot barbells. So it's for use with 7-foot bars. With all the parts assembled, it is approximately 50.4″ (128 cm) deep and 65.1″ (165 cm) wide (with the storage pegs attached). So it is pretty spacious inside.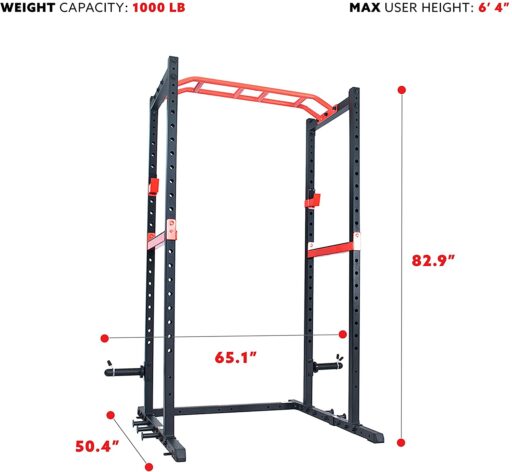 The front-to-back distance between the two upright pillars of the cage is 24″ (61 cm), while the inner width (left-to-right) is approx—42″ (106.6 cm). Thus, the rack's outside width, without considering the weight of storage pegs or the elastic band pegs, is ~46″ (116 cm).
The cage's height with the chinning bar assembly attached to the highest position is approx—83″ (210 cm). Thus, the cage would fit in a room with a 7-foot (214 cm) ceiling.
However, it would be a very tight fit, and you won't get any clearance above it to execute chin-up and pull-up exercises correctly. Therefore, it is advisable to place and use this power cage in a room with at least an 8-foot ceiling height (244 cm).
The cage's upright bars feature 18 vertical adjustment holes for the attachment of the safety bars and j-hooks. It's important to note that these holes are 3/4″ (1.9 cm) in diameter, not the 1″ (2.5 cm) standard. Therefore, you cannot use standard attachments for them.
The Sunny SF-XF9925 power cage has a maximum weight capacity of 1,000 lbs (453.5 kg) which is not bad for a home-use power cage. In addition, it also applies to the safety bars and j-hooks.
The base bars of the cage feature anchor points (two on each side), so you can secure it to the floor if you want. However, the cage is pretty heavy – approximately 134.5 lbs (61 kg). Also, you can add weight plates on their storage pegs for extra stability. Therefore, anchoring the cage to the floor shouldn't be necessary unless using the resistance band pins.
Other parts and accessories
First of all, just like any other power cage, the Sunny SF-XF9925 Power Zone comes with safety bars and a set of j-hooks. These have a maximum weight capacity of 1,000 lbs (453.5 kg).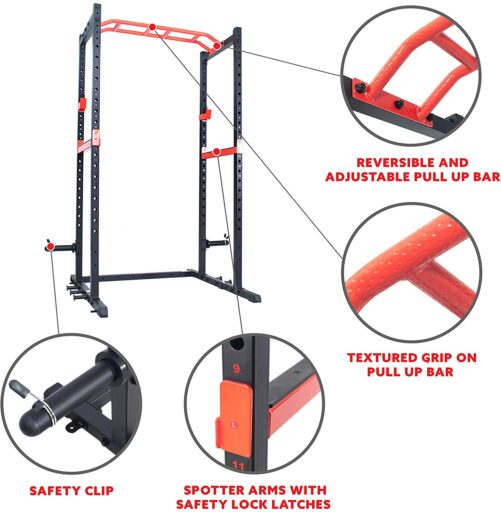 They have a thick layer of rubber on their upper section to prevent paint chipping and reduce noise when placing the barbell. Unfortunately, as I've mentioned earlier, the adjustment holes for attachment pins are only 3/4″ (1.9 cm), so standard attachments with 1″ pins won't fit on this cage. (Must use Sunny parts.)
The chinning bar attachment features a multi-grip design. In particular, it offers the possibility to adopt a close grip, a close parallel grip, and several wide grips. Furthermore, it has four adjustment positions, the highest at approximately 83″ (116 cm) above floor level. Therefore, the rack is for users up to 6'4″ (193 cm).
However, the chinning bar attachment does not specify a user weight limit. Therefore, you should be able to perform weighted pull-ups and chin-ups with no problem.
The base bars of the cage feature several holes for attaching resistance band pins. Six pins come with the power cage. They have flattened heads to prevent the resistance bands from slipping off. *The Power Cage must be bolted to the floor before using the resistance band pins.
The cage also includes a set of weight plate storage pegs. They are 2″ (5 cm) in diameter, so they can only hold Olympic (2″) weight plates, and they come with safety springs to keep the plates secure. They are approx. 6.5″ (16.5 cm) long.
SF-XF9925 Possible Exercises
Pull-ups
Wide grip pull-ups
Muscle pull-ups
Behind head pull-ups
Around the world, pull-ups
One-arm pull-ups
Cliffhangers
Weighted pull-ups
Close grip chin-ups
Wide grip chin-ups
One hand chin-ups
Weighted chin-ups
Hanging knee raises
Hanging leg raises
Push-ups
Deadlifts
Calf raises
Squats
Wide squats
Twisting squats
All kinds of resistance bands exercises
and more.
Of course, by adding a bench to the rack, you can also perform bench presses. However, the bench does not come with the Power Zone cage only. Moreover, Amazon sells it as a cage and bench package.
SF-XF9925 Assembly and Maintenance
The Sunny SF-XF9925 Power Zone power cage requires complete user assembly. However, the task is pretty straightforward and shouldn't take more than one hour of your time.
You will have to put together the base first, add the four upright bars, close the rack with the top bars and the pull-up attachment, and add the rest of the attachments. For this purpose, a set of two 16/18 fixed wrenches comes with the cage.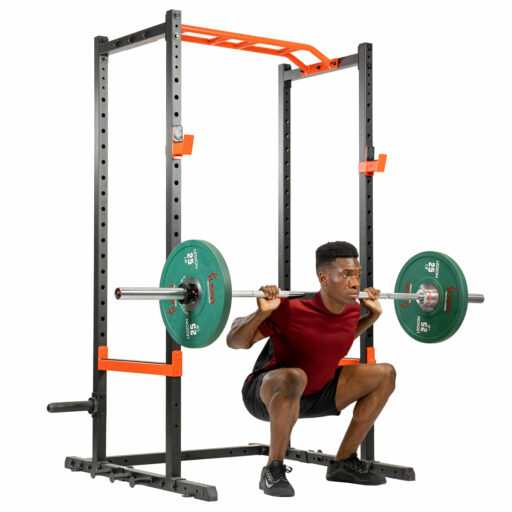 Once fully assembled, maintenance doesn't require much. In particular, it is advisable to wipe the sweat that may fall onto the frame at the end of the workout. It is also necessary to periodically check for loose bolts and parts and retighten them.
Please note that the Olympic weight bar and plates do not come with the cage.
Pros
Sturdy frame, all-steel made, rated for loads up to 1,000 lbs;
Multi-grip pull-up bar attachment;
Four adjustment positions for the pull-up bar attachment;
Rubberized j-hooks and safety bars;
18 adjustment positions for the safety bars and j-hooks;
Six resistance band pins for the base of the cage;
Weight plate storage pegs with safety springs included;
Anchor points to the base bars of the cage;
Over 25+ possible exercises;
Easy to assemble;
Tools for assembly included;
Little maintenance is required.
Cons
No dip bar attachments;
3/4″ holes, so standard (1″) j-hooks and other attachments are not compatible with this cage (must use Sunny parts).
Sunny SF-XF9925 Power Zone Power Cage Summary
The Sunny SF-XF9925 Power Zone is a standard power cage made for home use. It includes an adjustable pull-up station with multiple grips, a set of safety bars and j-hooks, resistance band pegs, and weight plate storage pegs.
Moreover, it's a sturdy piece of equipment with a maximum weight limit of 1,000 lbs, offering the possibility to perform more than 25+ exercises.
I hope you found this article helpful and informative. Would you please speak up if you have anything you'd like to share on the topic or any opinions about my website? I look forward to your comments, questions, and the sharing of ideas.
Please note: Before starting any exercise program, you should consult your physician to determine if you have any medical or physical conditions that could put your health and safety at risk or prevent you from using the equipment properly. In addition, your physician's advice is essential if you are taking medication that affects your heart rate, blood pressure, or cholesterol level.