The TechFit B380 Upright Bike comes with a 15.4 lb (7 kg) flywheel. You'll enjoy a smooth and professional riding, just like at the gym, right in your home. In particular, TechFit products aim, through their design, to improve the experience of indoor cycling.
The 8 degrees of resistance satisfy different training; now, you can enjoy countless cardio training classes without going to the gym. The B380 Upright Bike will transform a tiny space of your house into a perfect training place.
The TechFit B380 upright bike comes equipped with a fitness console that tracks time, distance, speed, calories, and pulse. All of these metrics are carefully monitored and displayed on the LCD. However, the console is not telemetric. Therefore, it can only track your pulse through the sensors incorporated into the handlebar.
The B380 features a saddle that can be adapted to your height so that you feel comfortable during training, while the handlebars have integrated pulse sensors. The handles are comfortable and covered with soft neoprene; the pedals also come with a strap that protects the foot against slipping during training.
Learn more in my complete review below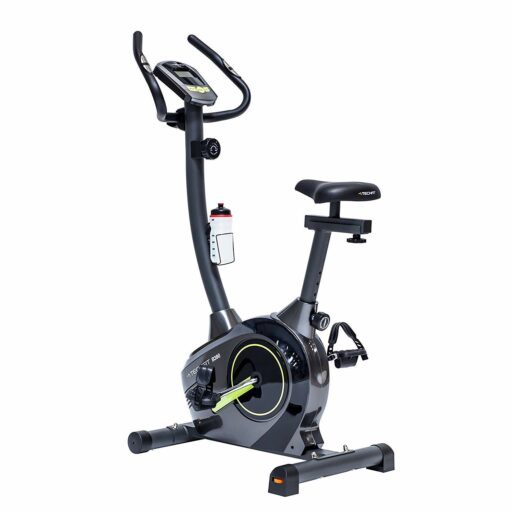 Product: TechFit B380 Upright Bike
Price: For a great deal on this bike, merely go here on Amazon
Warranty: none listed / however, Amazon has a 30-day return policy
My rating: 7.5/10
Amazon Affiliate Disclosure: I may earn commissions from purchases made through links in this post.
Details and Specifications
Assembled dimensions: 34.2L x 20.5W x 54.3H inches (87L x 52W x 138H cm)
Flywheel weight: 15.4 lbs (7 kg)
Assembled weight: 56 lbs (25.4 kg)
Weight capacity: 242 lbs (110 kg)
Seat: 4-way adjustable
Drive: Belt
Resistance: Manual magnetic, eight levels
Console: Time, distance, odometer, speed, calories, pulse, scan, goals
Extras: Bottle holder with bottle
B380 Frame construction
Although the TechFit B380 upright bike does not have a folding design like the XTERRA FB150, it does have a minimal footprint.
With all the parts assembled, it is approx. 34.2″ (87 cm) long and 20.5″ (52 cm) wide, while its highest point at the top of the handlebar reaches approx. 54.3″ (138 cm) above floor level. It is advisable to leave at least two feet of clearance all around it for unhindered usage.
The bike isn't too heavy, either. It weighs approx. 56 lbs (25.4 kg), so one person can carry out its transport and assembly. Plus, once assembled, its relocation is made via the small wheels incorporated into its front base.
Even though it's not an extremely heavy fitness machine, the TechFit B380 bike offers excellent stability due to its low center of gravity construction. Its rear base comes with adjustable stabilizers, so you can perfectly level it on any floor. It is advisable to place and use the bike on a rubber mat or carpet to prevent floor scratching.
Like other similar upright bikes, this TechFit B380 upright bike features a steel tubing frame. Most bars in its construction are cylindrical except for the main longitudinal bar, which is polygonal. Of course, the body of the bike also integrates several ABS parts. These are the covers of the flywheel and brake and several other small caps.
All the steel parts of the bike have a corrosion-resistant paint finish, dark gray. The only exception is the crank arms, which are chrome-plated.
Seat and handlebars
The bike comes with a standard seat. The saddle does not have any air cell cushioning but does integrate a layer of padding. It's also relatively flexible and broader than most spin seats, offering enough contact surface for better positioning.
The seat is 4-way adjustable. Its upright post has several adjustment notches, while its horizontal slider offers approximately 3″ (7.6 cm) of front-to-back adjustment. Therefore, the bike comfortability accommodates users between 4'10" and 6'0″ (147 – 183 cm). The seat assembly is also sturdy enough to support users up to 242 lbs (110 kg).
The bike's handlebar is 2-way adjustable. The height or position of the front mast is not adjustable, but the handlebar is angle-adjustable. It is attached to the mast via a turn-knob, which allows you to loosen it, change its angle, and re-tighten it back. Not all upright bikes have this feature, so it's a plus.
The handlebar offers the possibility to adopt multiple grips. It is rubber-foam covered to provide optimal comfort and better hand adherence. It also integrates pulse sensors, and the fitness console has a pulse reading function.
B380 Drive System
The TechFit B380 upright bike has a 15.4 lbs (7 kg) flywheel. It's not too heavy compared to the average 40 lbs (18 kg) flywheels of spin bikes, so it does not provide very aggressive inertia. Therefore, on its lowest difficulty settings, the bike offers a very light resistance.
The bike uses a poly-v belt for transmission. Therefore, it does not require internal lubrication, and the pedaling motion is vibration-free. It also offers the possibility of pedaling in reverse so that you can diversify your workouts.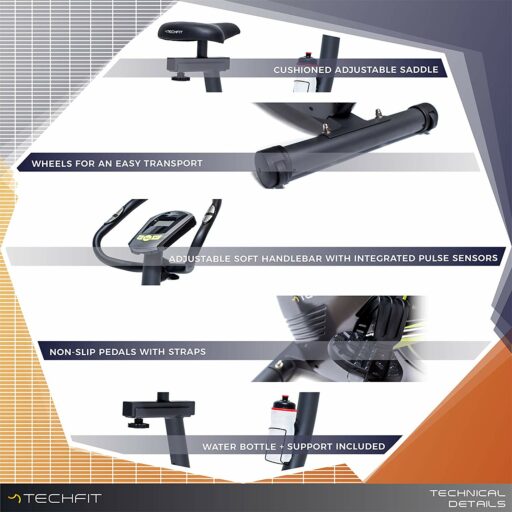 The B380 bike has a reasonably sturdy crankset with solid steel crank arms. However, since it's an upright bike, it is for seated workouts. However, even if the crank and pedals can support your whole weight, this type of movement is not advisable on this exercise bike.
The included pedals are a durable nylon material. They have a metallic core and a weight element, so they always turn face-up when you remove your feet from them. They also come equipped with adjustable straps so you can secure your feet on them for extra stability during your workouts.
The bike's Q-Factor (spacing between the pedals) is not specified. However, it is relatively narrow. Therefore, your feet are positioned on the pedals so that you won't experience any lateral stress on the knees. This is another plus to consider if you need a bike for recovery training due to a knee injury.
Resistance System
The TechFit B380 upright bike features a magnetic resistance system with manual action. This means its resistance is not motorized, and the cycle cannot change resistance automatically. It also does not require an external power source, and the console does not have preset programs.
The bike's resistance system consists of a magnetic brake connected to the tension knob on the console mast through a steel wire. By turning the knob, the magnetic brake moves closer or farther from the metallic flywheel, which results in more or less resistance.
Similar to other magnetic resistance exercise bikes, the B380 offers eight difficulty levels. The first few levels deliver a relatively light pedaling difficulty; they're great for anyone who requires recovery training or has joint problems. Conversely, the 7-8 levels provide enough resistance to simulate a climb.
B380 Console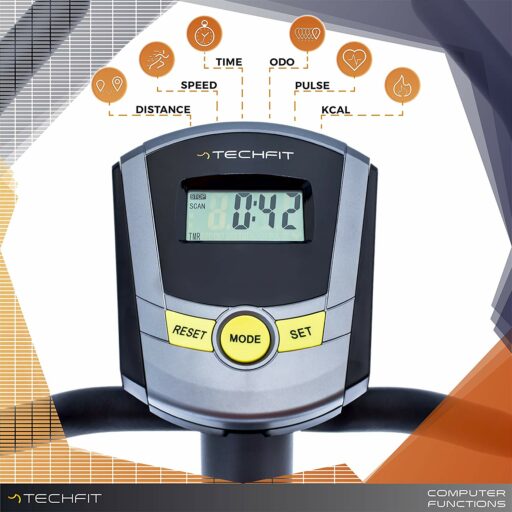 The TechFit B380 upright bike includes a fitness console. It features an LCD that tracks time, distance, total distance, speed, calories burned, and pulse. It's straightforward to use; it has three buttons covering all of its functions: Mode, Set, and Reset.
The Mode button allows you to select a specific metric to view on display all the time or set the Scan Mode, which rotates all these metrics.
The Set button gives you the possibility to select targets (or goal values) for time, distance, and calories. Once selected, the console will show the remaining amount towards the chosen target. And finally, the Reset button clears all the values on the console to zero.
The console is not telemetric. It can only track your pulse through the sensors incorporated into the handlebar. It does not have an internal receiver and cannot read your pulse from a wireless HR chest strap.
The console is battery-powered and requires 2 AAA (1.5 V) batteries. It starts up either when you begin pedaling or when you press the Mode button. It also has a sleep mode initiated after approx — 4 min. of inactivity on the bike to save battery life.
B380 Assembly and Maintenance
The main body of the bike comes pre-assembled. Therefore, all the drive and resistance elements are attached to the base frame and covered by the protective ABS shrouds. Consequently, you only need to connect the front mast, the handlebar, the console, the seat post, the saddle, and the pedals.
This shouldn't take more than one hour. Essential tools for the assembly come included, and the manual provides precise assembly instructions.
Maintenance doesn't require much. Furthermore, all the internal components are pre-lubricated from the factory. Also, since the bike has a belt drive system, it doesn't require any lubrication. Therefore, all that's required is to periodically check for loose parts and bolts (retighten if necessary) and wipe the dust off.
Pros
Sturdy frame – can support users up to 242 lbs (110 kg);
Adjustable stabilizers on the rear base;
Transport wheels on the front base;
Multi-grip and angle adjustable handlebar;
Pulse sensors incorporated into the handlebar;
4-way adjustable seat;
Balanced flywheel for a steady pedaling motion;
Quiet belt drive;
Zero friction magnetic resistance;
Eight resistance settings;
Weighted pedals with adjustable straps;
The console included – it can track time, distance, total distance, speed, calories, and pulse;
Bottle holder with a bottle;
Little maintenance required;
Easy to assemble.
Cons
No tablet holder;
No backlight on the LCD.
TechFit B380 Upright Bike Summary
The TechFit B380 is an upright bike made for home use. In particular, it comes with a manual magnetic resistance system, a 15.4 lbs internal flywheel, and a console that can track the main workout metrics, including a pulse reading function.
Moreover, it's an exercise bike made for light cardio workouts, recovery training, muscle toning, and even weight loss. It's also an affordable machine, offering excellent quality for the price.
I hope you found this article helpful and informative. If you have anything you'd like to share or any opinions about my website, please speak up. I look forward to your comments, questions, and the sharing of ideas.