The TechFit B400 Upright Bike is one of the most affordable upright bikes that you can find at the moment, currently priced under $200. Do you want to add more strength to your legs or get a healthy cardiovascular workout? Then, this entry-level bike deserves your consideration.
The B400 has a unique design fully accessible with a fully adjustable comfort saddle height and position, allowing you to make a much more comfortable workout. With the B400, you will be able to train strength, endurance, agility, and balance, thus toning up lower muscles and losing weight.
The B400 features an attractive design, stable pedaling, and excellent technical performance. With this exercise bike, you can finally get fit riding at home, at the place you prefer and using very little space.
The TechFit B400 has a user-friendly LCD Monitor that displays speed, distance, time, and calories burned. The B400 has eight very easy to adjust mechanical, magnetic resistance levels and a 15.4 lb flywheel that makes it great for recovery training.
Learn more in my complete review below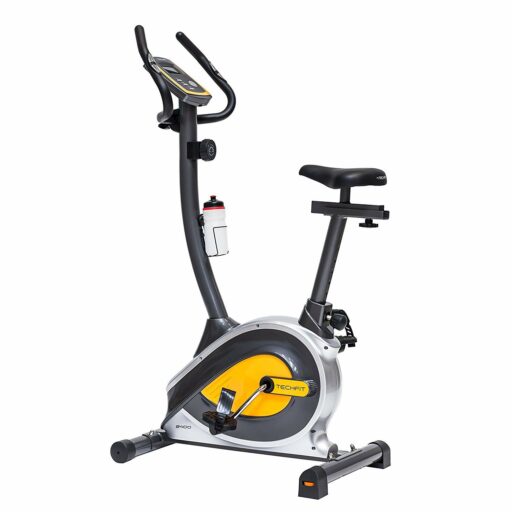 Product: TechFit B400 Upright Bike
Price: For a great deal on this bike, merely go here on Amazon
Warranty: Not specified
My rating: 8/10
Amazon Affiliate Disclosure: I may earn commissions on purchases made through links in this post.
B400 Frame construction
The TechFit B400 upright bike combines steel and ABS plastic parts in its development. Its frame is steel tubing designed to support users up to 285 lbs (130 kg), which is not bad for home use. The main ABS parts in its construction are the covers of the pulley and flywheel.
Although it doesn't have a folding frame, the B400 exercise bike still is a space-saving machine. With all the parts assembled, it has a pretty small footprint; it is approx. 35.4″ (90 cm) long, and 20.5 (52 cm) wide.
Therefore, it shouldn't need a usage area larger than 60″ x 60″ (152 x 152 cm). Also, the highest point of the bike is approx — 53.2″ (135 cm), given by the handlebar when at its upper position.
The bike isn't too heavy, either. It only weighs approx. 55 lbs (25 kg) so it can easily be moved and assembled by only one person. Despite its lightweight, it provides pretty decent stability due to its low center of gravity.
Its rear base features a set of adjustable levelers so you can correctly stabilize it on any floor. Also, its relocation is facilitated by the wheels integrated into its front base.
All the steel parts in the bike's construction come with a corrosion-resistant and chip-resistant paint finish. The color used is black. The ABS covers combine orange, black, and silver panels to improve the bike's overall aesthetics. These are the only colors available for this exercise bike.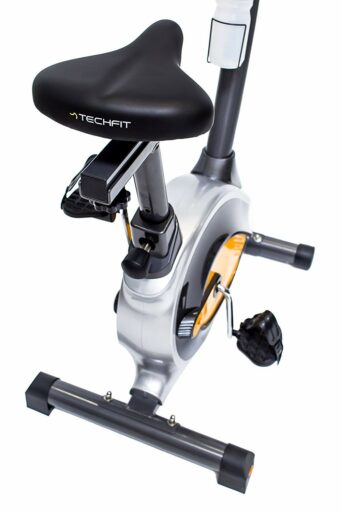 Seat and handlebars
The TechFit B400 features a 4-way adjustable seat. The upright bar of the seat has several adjustment holes, and its horizontal slider offers approximately three extra inches (7.6 cm) of front-to-back adjustment. Therefore, the bike should be able to accommodate users between 4'10″ and 6'0″ (147 – 183 cm) with no problem. Also, the seat assembly should be able to hold users up to 285 lbs (130 kg).
The included saddle is not for super comfortable. It does not integrate extra air cell cushioning, but does have a layer of foam padding at the top. Also, its top is contoured for improved breathability. Therefore, we can say that it is a saddle made for optimal comfort.
The bike's handlebars are angle-adjustable. They are attached to the front mast of the bike via a turn knob. This element allows you to easily untighten them, adjust their position, and re-tighten them at the desired angle. However, the bike's handlebars do not offer upright adjustability like the seat. The front mast is non-adjustable.
The handlebar assembly features a multi-grip design. It is entirely covered by a rubber-foam layer to provide a superior grip. It also integrates pulse sensors, elements that other upright bikes do not have.
B400 Resistance System
The TechFit B400 upright bike features a mechanical, magnetic resistance system. This means you don't have to connect the unit to a power source. The resistance adjustment is manual. Also, the included console cannot automatically adjust resistance. It is just an exercise meter.
The bike's resistance system consists of a magnetic brake that is attached to the tension knob situated on the front upright bar of the bike through a steel wire. When you turn the knob clockwise, the brake moves closer to the internal flywheel, and this way, it increases the pedaling difficulty.
There are eight tension levels available, marked on the resistance knob. The first level delivers a very light resistance, great for anyone who may need recovery training. The 7-8 tension levels provide considerably more resistance, though, simulating a hill climb and giving you the possibility to achieve a higher cardiovascular rate in a shorter time.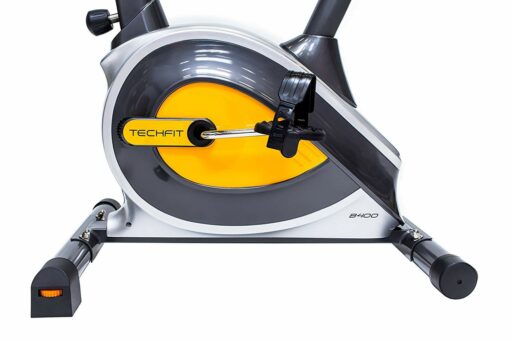 The bike's internal flywheel is not extremely heavy. It weighs only approximately 15.4 lbs (7 kg). However, it has a balanced design and delivers a smooth and steady pedaling motion.
Since the flywheel is not too heavy, the bike does not provide very high inertia. Therefore, it is excellent for recovery training as it generates little stress for your knees during pedaling.
Crankset, Pedals and Drive System
The bike's crankset is reasonably durable, featuring solid steel, chrome-plated crank arms. However, the bike is not for spin workouts. Thus, standing on the pedals is not recommended, as it may damage the internal components.
The bike's Q-Factor (spacing between the pedals) is not specified. But it is pretty narrow, so your feet are placed naturally on the pedals, and the pedaling motion does not generate any lateral stress on the knees and ankles.
The included pedals feature a heavy-duty ABS construction with a metallic core. They are weighted, so they always turn face-up when you remove your feet from them. They also have adjustable straps and a textured surface for superior foot adherence.
Last but not least, the bike's drive system uses a belt for its internal transmission. Just like any other belt transmission in an exercise bike, this comes with a few advantages. For example, the belt does not need lubrication, it generates less vibration than a chain, and the pedaling motion is quiet.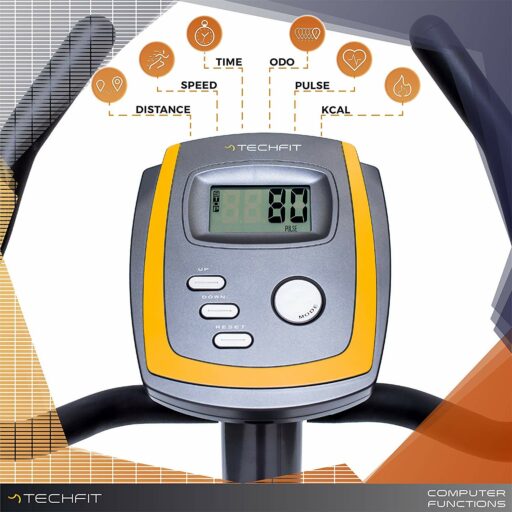 B400 Console
The B400 features a primary console, and it also does not have any built-in programs. It's LCD is battery powered. It tracks the most crucial workout metrics, including time, distance, speed, calories, and pulse. It also has an odometer function that keeps track of your mileage traveled since the first use of the bike.
The speed and distance readings are in metric units (km/h and kilometers). There is no setting for MPH and miles. Also, the pulse reading function can only use integrated pulse sensors. The console does not have an internal receiver and cannot read your pulse from an HR chest strap.
The console unit is straightforward to use. It has four buttons – Up, Down, Reset, and Mode. To start it up, you can either press the Mode button or begin pedaling.
The Mode button allows you to cycle through the workout metrics and lock the one you are interested in the display. Or, you can select the Scan Mode, which automatically rotates all the parameters, showing each one for a few seconds.
Goal functions are available on this console, as well. Via the Up / Down buttons, you can select a target for time, distance, and calories. If a target goal is chosen for any of these metrics, the display will countdown from it until it reaches zero, rather than showing the elapsed value.
The Reset button allows you to clear all the values on the console to zero, except the total distance (odometer) function. To also reset the odometer, you will have to remove the batteries from the unit. And finally, the console has a self-shutdown capacity when there was no input on the bike for a few minutes.
B400 Assembly and Maintenance
The drive and resistance elements of the bike come pre-assembled, attached to the mainframe of the bike, and covered by the side ABS shrouds. However, you will still have to connect the bike's base tubes, the front upright tube, the seat tube, the saddle with its slider, the handlebar, the console, and the pedals. This may take up to one hour. The included manual provides all the necessary assembly instructions, and an essential toolkit (is also included).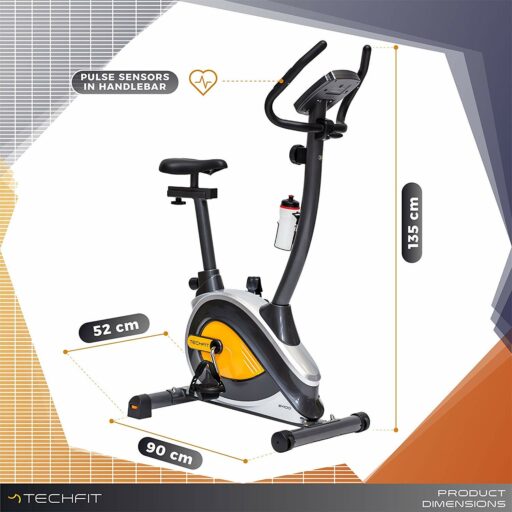 Once assembled, there isn't much maintenance to do. The internal mechanism is pre-lubricated, and since the bike has a belt drive system, the transmission does not require any lubrication. All you need to do is wipe the dust from the frame and periodically check for loose parts and bolts.
Details and Specifications
Assembled dimensions: 35.4L x 20.5W x 53.2H inches (90L x 52W x 135H cm)
Flywheel weight: 15.4 lbs (7 kg)
Assembled weight: 55 lbs (25 kg)
Weight capacity: 285 lbs (130 kg)
Seat: 4-way adjustable
Drive: Belt
Resistance: Manual magnetic, eight levels
Console: Time, distance, odometer, speed, calories, pulse, scan, goals
Extras: Bottle holder with bottle
Pros
Sturdy construction;
Maximum user capacity up to 285 lbs (130 kg);
Transport wheels on the front base;
Comes with adjustable stabilizers on the rear base;
Multi-grip and angle adjustable handlebar;
Pulse sensors incorporated into the handlebar;
4-way adjustable seat;
Balanced flywheel for a steady pedaling motion;
Quiet belt drive;
Zero friction magnetic resistance;
Eight resistance settings;
Weighted pedals with adjustable straps;
A console – it can track time, distance, total distance, speed, calories, and pulse;
Goal settings for time, distance, and calories;
Bottle holder with a bottle;
Little maintenance required;
Easy to assemble.
Cons
No tablet holder;
The console isn't backlit;
No warranty specified.
TechFit B400 Upright Bike Summary
The TechFit B400 Upright Bike is for home use. It features a 15.4 lbs flywheel, a mechanical, magnetic resistance system, and a console that can track the main workout metrics. It also has a pulse reading function and offers the possibility to set goals for time, distance, and calories burned.
It's an exercise bike designed for light cardio workouts, recovery training, muscle toning, and even weight loss. It's also one of the most affordable trainers in this category, offering excellent value for the price.
I hope you found this article helpful and informative. If you have anything that you'd like to share or any opinions about my website, please do speak up. I look forward to your comments, questions, and the sharing of ideas.
Recommended articles:
Please follow and like us: