The Titan T-3 HD Power Rack is perfect for any professional or home gym! It is built using heavy 11ga (3.25mm) 2″ x 3″ steel tubes. You'll most likely notice right away how every piece is heavy and well constructed. Moreover, the steel construction is sturdy enough to tolerate heavy use and abuse for an extended period. For this reason, the T-3 power rack would serve you a lifetime.
In addition to durability, this piece of exercise equipment is also heavy and robust enough to remain stable while you are engaged in your favorite exercises. The T-3's reliable stability protects you from injury and distraction related to the use of flimsy power racks.
For a more comfortable resistance and strength workouts, the T-3 power rack has pre-drilled holes that let you move your bar up or down in one- inch increments. In addition to the pre-drilled holes, the power rack comes with easy to install weight holders and J hooks that hold your bar securely. The T-3 power rack has a weight capacity of 1,100 lb rackable capacity and 4,400 lb total rack capacity.
Other amazing features that make up this power rack are the bolt-together construction that lets you fit the exercise equipment in any room, and the silicone lined J hooks that minimize the noise that occurs when racking or re-racking your weights. If you're looking for a heavy-duty power rack, the Titan T-3 HD should be on your list.
Learn more in my complete review below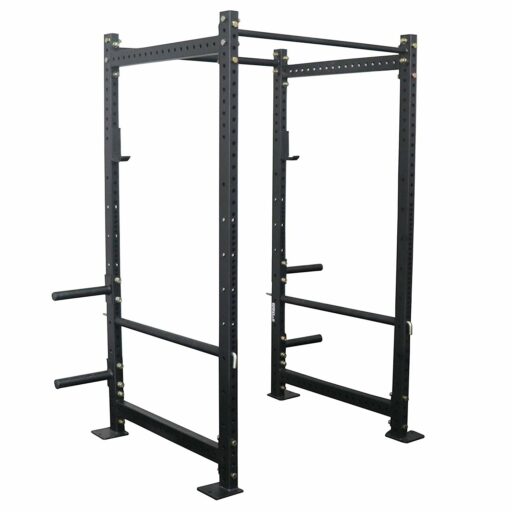 Product: Titan T-3 HD Power Rack
Price: For a great deal on this gym, merely go here on Amazon
Warranty: 1 year limited (repair, replace or refund)
My rating: 9/10
Amazon Affiliate Disclosure: I may earn commissions on purchases made through links in this post.
T-3 Frame
Since it's a heavy-duty power rack, the T-3 Series HD model from Titan Fitness has an extremely sturdy frame. It has 2″ x 3″ steel tubes, 11ga (3.25mm); every piece is quite heavy and solid. It can handle the specified 1,000 lbs (453.5 kg) of weight, and even more, users have reported having loaded it with even more weight.
It doesn't have a huge footprint, but it measures more than 7′ in height, the top of the frame reaching 90″ (228.6 cm), so it requires to be in a room with at least an 8′ ceiling.
A full assembly, the rack takes 36″D x 53″W (91.4 x 134.6 cm) of floor space on the outside, while its inside dimensions are 30″D x 42″W (76 x 107 cm). In other words, it's spacious enough for just about any user and power bench.
As it weighs more than 280 lbs (127 kg), the rack itself is quite stable. The upright bars come with steel plate bases, with holes for fixing it to the floor. But even without bolting it to the floor, it should be able to handle loads up to 3-400 lbs (136 – 181.4 kg), without any problem.
The frame features a vast number of adjustment holes, 2″ (5 cm) increments for squats, and 1″ (2.5 cm) increments for exercises that involve a bench. This offers quite a bit of versatility over other models.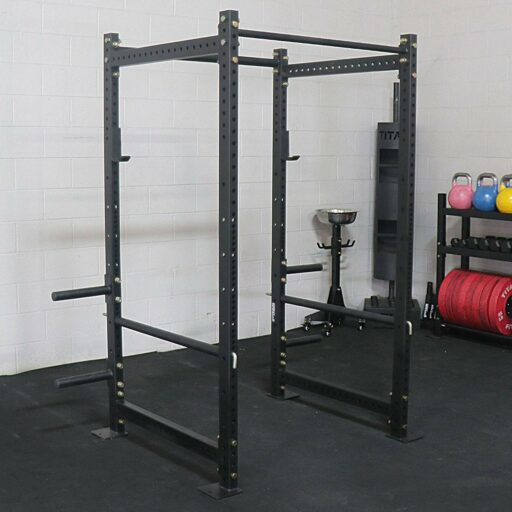 One last aspect regarding the frame of this power cage regards its finish. It's not powder coated but does feature a pretty durable, corrosion-resistant black paint.
Other parts
First of all, this Titan Fitness power rack integrates two pull-up bars, one 2″ thick, the other 1″ thick. They're all durable enough to support weights up to 450 lbs (204 kg). The maximum height which they connect to the frame is approx 89″ (226 cm). Thus even taller users should be able to perform pullups without any hindrance.
The rack includes a set of 2 J-hooks and two spotter bars. The J-hooks are padded with thick rubber sheets, to provide a softer catch. The spotter bars are 1″ solid steel. Both J-hooks and spotter bars are straightforward to adjust.
A set of 4 weight plate supports come with the T-3 power rack, which can be attached to the frame in various positions. In other words, in case you won't bolt the frame to the floor, you can place them near the bases and load them with plates to maximize the rack's stability.
These storage supports are 2″ thick; therefore, they are for Olympic plates. They're also 13″ (33 cm) long and can support a load of up to 200 lbs (90.7 kg) each.
Last but not least, a set of 4 L-pins also comes with the Titan T-3 Series HD power rack. In case you're wondering, these offer support for resistance bands, to use along with a barbell for squats.
T-3 Available accessories
Unfortunately, there's no lat pulldown station accessory available yet for this power cage, but it appears that Titan Fitness has one in development. The only essential accessories that are (not included) with it, and you can order additionally are a set of dip bars and a set of spotter's arms.
The dip bars feature 1″ steel handles, without any cushioning or backrest attachment. They're 16″ (40.6 cm) long, and 19″ (48 cm) apart at the tips when attached to the frame of the rack. They're steel made, rated for 500 lbs (226.7 kg) of user weight.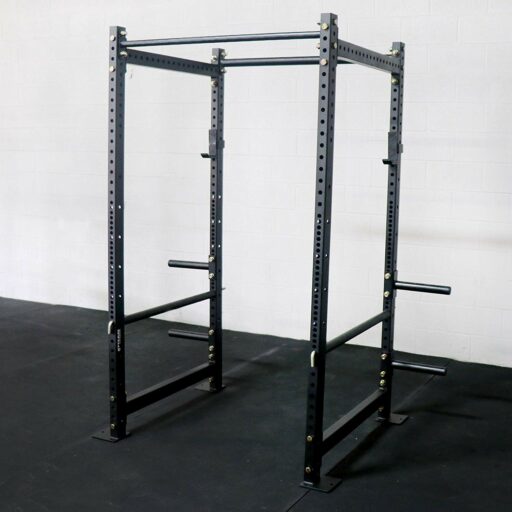 The spotter's arms feature a length of 24″ (61 cm). They're made of 7ga steel and rated for 800 lbs (362.8 kg).
Possible Exercises
Pull-ups
Wide grip pull-ups
Muscle pull-ups
Behind head pull-ups
Around the world pull-ups
One-arm pull-ups
Cliffhangers
Weighted pull-ups
Chin-ups
Close grip chin-ups
Wide grip chin-ups
One hand chin-ups
Weighted chin-ups
Hanging knee raises
Hanging leg raises
Chest presses
Single-arm chest presses
Wide grip chest presses
Narrow grip chest presses
Military presses

Titan T-3 HD Power Rack (Olympic bar and weights are not included)

Deadlifts
Stand-up leg curls
Calf raises
Squats
Single-leg squats
Wide squats
Twisting squats
… and more
T-3 Assembly and Maintenance
First of all, the Titan-3 Series HD power rack ships in two rectangle boxes, of approx. 84″ (214 cm) long. The assembly is far from being difficult, as there aren't too many complicated parts to put together. Also, there are only bolts of two sizes, and it's easy to determine their location.
On top of that, a step-by-step assembly manual is also (included). Overall, the assembly shouldn't take more than 30-40 min.
Maintenance requires the periodic check of the rack's bolts and joints, to make sure they still hold tight in place, to prevent any potential accidents or failure of the equipment.
Details and Specification
Assembled dimensions: 36L x 53W x 90H inches (91.4L x 134.6W x 228.6H cm)
Assembled weight: 254 lbs (115.2 kg)
Weight capacity: 1000 lbs (453.5 kg)
Possible exercises: 30+
Warranty: 1 year limited (repair, replace or refund)

Titan T-3 HD Power Rack (Olympic bar and weights are not included)
Pros
Extremely sturdy frame, made of 11ga steel, rated for loads up to 1,000 lbs. Differently put, it's a commercial-grade item of fitness equipment;
Two pull-up bars, 1″ and 2″ thick, rated for more than 450 lbs;
Rubber-padded J-hooks for a smooth catch;
It comes with solid steel safety bars;
Consistent amount of adjustment positions for the hooks, safety bars cand pull-up bars;
Four weight plate supports included;
L-pins for resistance straps included;
Dip bars and spotter arms available (but not included);
Over 30 possible exercises;
Easy to assemble;
Little maintenance required.
Cons
Weight plate supports can only take Olympic weight plates;
Frame taller than 7′, which makes it impossible to use in a room with this ceiling height.
Titan T-3 HD power rack Summary
The Titan T-3 HD power rack is a commercial grade model, with a weight capacity of 1,000 lbs, and support pegs for Olympic plates. It offers a bit more than a basic model, as it integrates two pull-up bars, and L-pins for resistance bands, with dip bars and spotter arms as available options.
It's an incredibly stable rack, and due to its overall weight, it doesn't require bolting to the floor. It's spacious enough inside, providing a safe setting for users of all sizes. The T-3 supports the full range of exercises by using a power cage of this type.
Finally, considering that it weighs 254 lbs and costs less than $500, you'll be paying around $2 for a pound of steel, which is not bad at all. Therefore, I can safely say that this particular power rack offers excellent value for the money.
I hope you found this article helpful and informative. If you have anything that you'd like to share or any opinions about my website, please do speak up. I look forward to your comments, questions, and the sharing of ideas.
Recommended articles:
Does the quality of the Stamina X Fortress power tower match its price?
Please follow and like us: