Do you like to set clear targets for yourself? Discover the rear-drive Tunturi C50 Elliptical Cross-trainer from the Performance series, with different programs and feedback. The C50 offers 32 levels of resistance, up to 350 watts.
You train comfortably on the C50. The tilting monitor, the adjustable comfort pedals, the ergonomic handles, the rear-drive mechanism that provides a 16 inch (40 cm) stride: this ensures a natural posture while you exercise.
The Tunturi C50 LCD monitor displays all information, including speed, distance, cadence, and calories burned. You register your heart rate via the hand sensors or a wireless heart rate receiver. Choose from 21 programs or exercise at a constant resistance level.
Are 21 programs not enough for you, or do you want to work out somewhere else than in your own home? With the Tunturi Routes app, you can choose from 50,000+ videos recorded all over the world. From the Seine to the Eiffel Tower, and tomorrow through the Grand Canyon. The resistance of the exercise bike automatically adjusts to the elevation changes in the video.
Learn more in my complete review below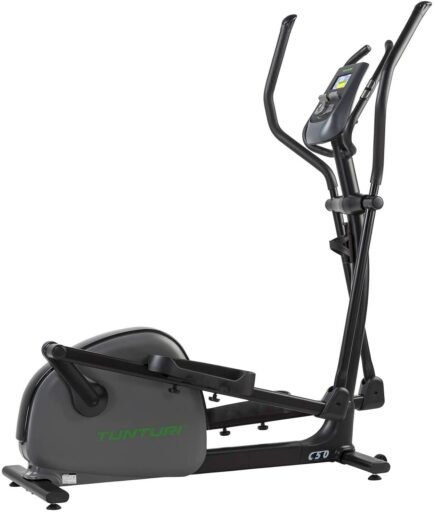 Product: Tunturi C50 Elliptical Cross-trainer
Price: For a great deal on this elliptical, merely go here on Amazon
Warranty: 3 years
My rating: 8/10
Amazon Affiliate Disclosure: I may earn commissions on purchases made through links in this post.
Details and Specifications
Assembled dimensions: 56.7L x 26.4W x 64.6H inches (114L x 67W x 164H cm)
Assembled weight: 128.5 lbs (58.3 kg)
Flywheel weight: 61.7 lbs (28 kg)
Weight capacity: 297 lbs (135 kg)
Stride: 16 inches (40 cm)
Incline: No
Resistance: Eddy current, 32 levels
Console: 21 programs, Bluetooth, Recovery, BMI
Warranty: 3 years
C50 Frame construction
The Tunturi Performance C50 is an elliptical cross-trainer designed for home use. However, it still has a pretty heavy structure with an assembled weight of over 128 lbs (58.3 kg). All this weight delivers excellent stability and reflects in the unit's overall sturdiness.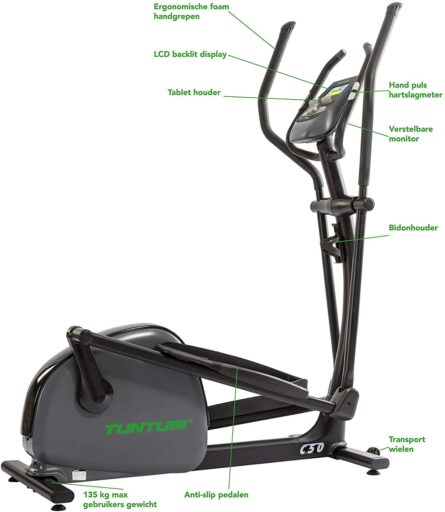 The frame combines ovalized and cylindrical steel bars for improved aesthetics. Also, all the steel bars come coated with a durable powder finish which is resistant to corrosion and chipping.
Of course, the machine also has several ABS plastic parts. Among them, we can count the covers of the flywheel and resistance elements, the pedal trays, and several other small caps.
The Tunturi C50 is a slightly smaller cross trainer than other models with a rear-drive. However, it still measures approx. 57″ (114 cm) in length, and 26.4″ (67 cm) in width. Plus, Tunturi recommends leaving at least 40″ of clearance all around the unit for safe usage and ease of access. Therefore, it may not exactly be the best choice for a small room or apartment.
The unit's base bars have an ovalized design; they're equipped with adjustable stabilizers so you can perfectly level the unit on any type of floor. The stabilizers are also rubberized to prevent floor damage and provide a superior grip for the machine on the floor, preventing it from sliding forward or sideways.
Although the machine is relatively heavy, once assembled, it is not too difficult to move. Its front base is equipped with a set of large wheels which considerably facilitate its relocation. By lifting the unit from its rear, you won't have to handle more than 30% of its total weight.
Handlebars and pedals
The Tunturi Performance C50 features two sets of handlebars, one mobile, one fixed. The fixed handlebars have a multi-grip design and integrate pulse sensors. Therefore, if you hold on to them, the console can monitor your pulse.
The mobile handlebars feature extended, long grips, thicker, and rounded at the top. Both sets of handlebars have a layer of rubber foam material to provide a superior grip and optimal comfort.
The machine's pedals are attached to a set of heavy-duty steel bars. Each pedal has a steel plate at the base, while the pedal trays are durable ABS material.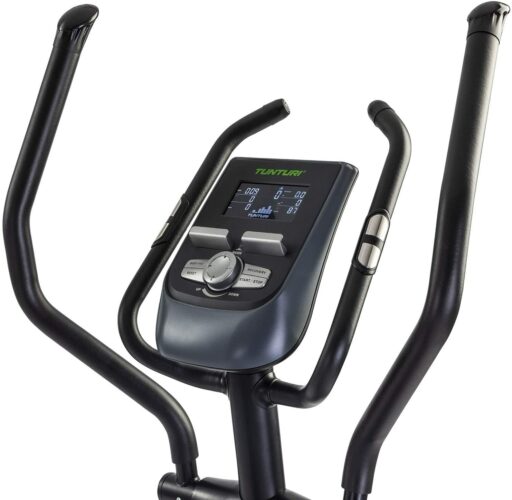 The pedals are rated for a user weight capacity of 297 lbs (135 kg). They have a textured surface for extra adherence; however, they do not integrate any extra cushioning.
The joints between the pedal bars, crank arms, and mobile handlebars integrate ball bearings. Therefore, the arm and pedal movement is very smooth.
C50 Stride, elliptical path, and step-up height
This elliptical cross-trainer offers a stride length of 16″ (40 cm). This is pretty much a mid-range stride. It should accommodate comfortably users up to 6'1″ – 6'2″ (185-188 cm). Of course, taller users should still be able to use this machine but may not benefit from a complete range of motion.
Like many other cross-trainers with a rear-drive, the Tunturi Performance C50 features an elliptical path that is slightly inclined forward. Although it's only one or two degrees, the pedaling motion still might give you the sensation of descending on a soft ramp. Thus, the machine provides a slightly superior workout for the glutes.
This elliptical trainer does not have an incline system. Therefore, the position of the elliptical path cannot be adjusted. Also, the stride length is fixed; it is not adjustable either.
The step-up pedal height of this elliptical trainer is approx—10″ (25.4 cm). Also, the pedal highest point is approx 15″ (38 cm). Therefore, it's advisable to use the machine in a room with a ceiling of at least 20″ (51 cm) higher than your height.
Drive and resistance
An important aspect that I must mention with regards to the drive system of the Tunturi C50 is the weight of the internal flywheel. This machine comes equipped with an extra-heavy wheel of 61.7 lbs (28 kg). It's more substantial than for most spin bikes.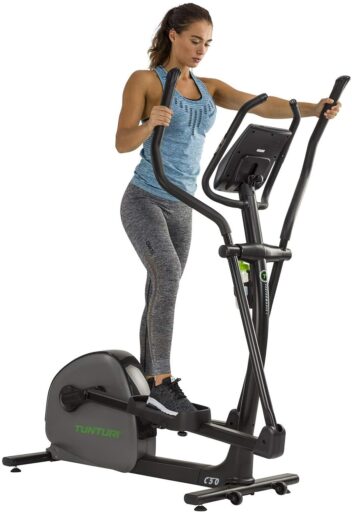 Due to its weight, the machine provides a very consistent momentum and a steady pedaling motion. Also, its weight contributes to the low center of gravity of the machine, improving its overall stability.
The flywheel is bi-directional; this means you can pedal in reverse if you want. Therefore, by alternating regular with reverse pedaling sessions, you can involve more muscle groups and benefit from more consistent workouts.
In terms of resistance, the Tunturi C50 comes equipped with a motorized eddy current system. This means the machine requires an external power source. The box includes a 9V/1A adapter for the machine, which may have an EU setup since the Tunturi machines come from The Netherlands. Therefore, you may need a US adapter.
The resistance of the C50 machine can only be adjusted from the console. Also, if you choose to exercise via one of the preset programs, the trainer will auto-adjust its resistance.
The machine's resistance system consists of a servo motor and a magnetic brake. When you adjust the resistance from the console, or when the console automatically adjusts the resistance, it changes the pull of the internal magnets, which increases or decreases the drag of the flywheel.
The cross-trainer offers 32 resistance levels. The first few levels deliver a relatively light pedal tension. However, you will have to consider the weight of the flywheel. The 1st level of resistance is given solely by the weight of the rotating element. The top resistance levels provide considerably more pedal tension simulating a steep climb, promoting a higher burn, and a superior cardio training.
C50 Console
The machine's console offers quite an impressive range of features. To begin with, it has an angle-adjustable mount and a tablet holder. Its display is reasonably large, 5.5″ LCD in diagonal, and has an LED backlight. The unit's screen divides into multiple sub-sections to show all the workout metrics at once, so you won't have to use a scan function to alternate them.
It tracks time, distance, speed, RPM, calories, watts, and pulse. For speed and distance, there are both metric units and imperial unit settings. For heart rate, you can either use the integrated sensors; however, the unit also has an internal telemetric receiver that can read your pulse from a 5 – 5.4 kHz wireless chest strap transmitter (not included).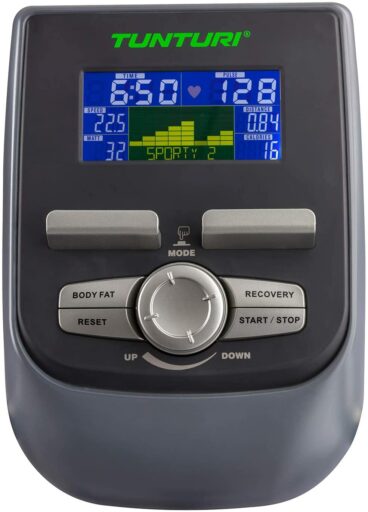 The console is easy to use. The knob in the middle covers the resistance adjustment and the program selection functions. The BMI and Recovery programs have their buttons. There is also a Reset button for clearing all the values on the console to zero. And finally, there is a Stop/Start button.
The C50 console unit has Bluetooth connectivity. Therefore, you can sync it with your tablet or smartphone to track your progress online via several fitness apps. It is compatible with i-Console+, Fit Hi-Way, and Kinomap.
These apps also offer various other workout programs, as well as the possibility to travel on a route based on Google Maps. The machine will auto-adjust the resistance based on the ups and downs of the selected virtual trail.
Workout programs
Of course, you don't have to use these apps if you don't want to. The console has 21 built-in workout programs. Among them, we can count 1 Manual, 4 Starter, 4 Advanced, 4 Sporty, 4 Heart Rate, and 1 Watt.
There is also a Recovery Program and a BMI Program. The Recovery program monitors how long it takes for your pulse to return to normal after a workout, and gives you a rating between F1 (Best) and F6 (Worst) depending on the result. This function is great for measuring your fitness level.
The BMI function is a body fat calculator. Based on your weight, height, age, and gender, it can calculate your body fat percentage.
C50 Assembly and Maintenance
The base frame of the trainer, with the drive and resistance elements, comes pre-assembled. But you still have to add its base bars, the front mast, the moving arms, the pedal bars, the pedal trays, the console, and several covers. All the tools are (included), and the manual provides clear assembly instructions and schematics.
For maintenance, you only have to keep the unit clean, keep any liquids away from the console, and check for loose parts from time to time. The internal mechanism does not require any lubrication. However, the joints may need a few drops of lubricant from time to time.
Pros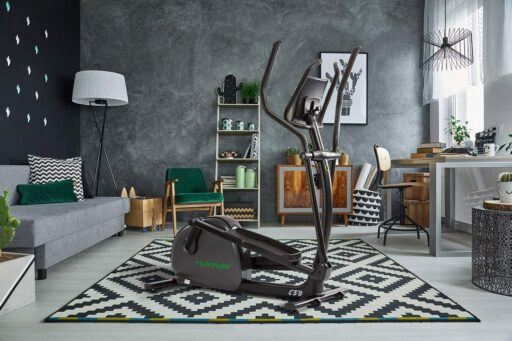 Sturdy construction – can support users up to 297 lbs (135 kg)
Adjustable stabilizers on the rear base;
Transport wheels on the front base;
Fixed and mobile handlebars;
Extra-heavy, 61.7 lbs (28 kg) flywheel for a consistent momentum;
Large, non-slip pedals;
Eddy current, automatic resistance;
32 levels of magnetic resistance;
A console that can track time, distance, speed, RPM, calories, watts, and pulse;
Pulse sensors and pulse reading function;
Telemetric receiver built-in the console for wireless HR chest straps;
21 workout programs available;
Bluetooth connectivity;
Compatible with i-Console+, Fit Hi-Way, and Kinomap;
Tablet holder included;
Quiet operation;
Easy to assemble;
Little maintenance required.
Cons
No incline;
A tablet placed on the holder will cover the console display;
No sound system or cooling fan.
Tunturi C50 Elliptical Summary
The Tunturi Performance C50 is a heavy-duty elliptical cross-trainer designed for home use. It features a sturdy frame construction, 32 levels of eddy current resistance, and an extra-heavy internal flywheel.
Its console makes available 21 workout programs; plus, it is Bluetooth capable and compatible with the i-Console+, Fit Hi-Way, and Kinomap fitness apps. Although it's not the most affordable trainer, it's a pretty decent machine, great for full-body cardio training, muscle toning, stamina development, and weight loss.
I hope you found this article helpful and informative. If you have anything that you'd like to share or any opinions about my website, please do speak up. I look forward to your comments, questions, and the sharing of ideas.