The Tunturi Competence Series F40 Upright Bike is a robust beginner model and comes with 32 resistance levels, which can be manually adjusted. The maximum resistance is 350 Watts. The F40 also offers 19 different workout programs.
The console is Bluetooth enabled and connects with a tablet or a smartphone. It can use the i-Console+ and Kinomap apps that offer many extra features like tracking your progress online or even simulating a real ride from thousands of locations worldwide.
Do not go beyond your limits: keep an eye on your heart rate via the hand sensors or via the wireless heart rate receiver. On the 5.5 inch LCD, you'll follow the most important parameters: time, speed, distance, cadence, and heart rate. Also, you'll be able to read the number of calories used.
You can adjust the comfort saddle vertically and horizontally and tilt the multi-grip handlebar to the desired position. The foot straps of the ergonomically shaped anti-slip pedals are adjustable so that you keep your feet stable while pedaling. With the bottle cage, you'll always have enough water or sports drink to hand, and the low entry is ideal for a smooth entry and exit.
Learn more in my complete review below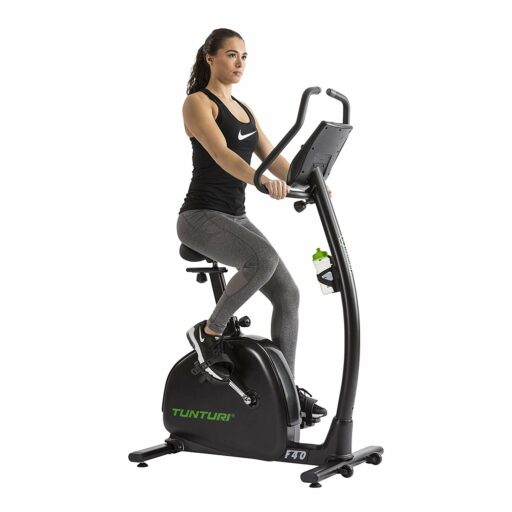 Product: Tunturi Competence Series F40 Upright Bike
Price: For a great deal on this bike, merely go here on Amazon
Warranty: 3 years limited
My rating: 8.5/10
Amazon Affiliate Disclosure: I may earn commissions on purchases made through links in this post.
F40 Frame construction
Most of the parts in this bike's frame construction steel. The only exceptions are the covers of the crank, flywheel, and resistance parts, and several other small caps. The bike is sturdy enough to support users up to 297 lbs (135 kg).
The frame features a step-through design, while the console mast is slightly curved. This not only allows easier entry and exit, but it also contributes to the overall aesthetics of the bike.
The bike is entirely black; there are no other versions available for this particular model (at least not for now). All the steel parts feature a durable powder coating finish which is resistant to abrasions and rust.
The F40 does not take too much space. With all the parts assembled, it is approx — 39″ (99 cm) long, and 23″ (59 cm) wide. Also, its highest point is approximately 62″ (157 cm), given by its handlebar set to the most elevated position. It is recommended to have at least two feet of clearance all around it for safe usage and ease of access.
This Tunturi exercise bike isn't cumbersome. However, it still weighs approximately 89 lbs (40.4 kg), which is twice the weight of the average road bike.
This weight, plus the user's weight, leads to excellent stability. Plus, the bike has a low center of gravity, which also contributes to its overall stability.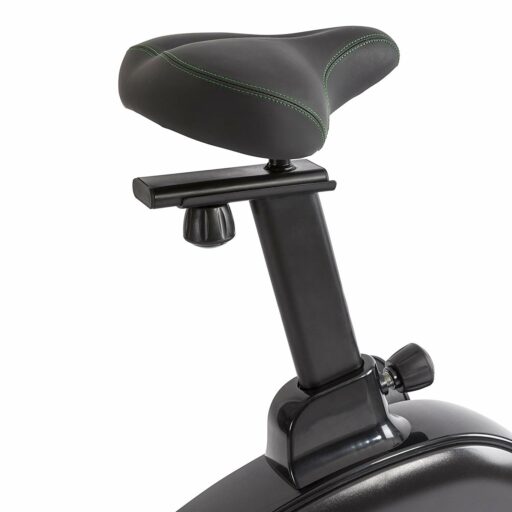 The bike is not foldable. So, once it's assembled, you can only store it as it is. The two large silicone wheels facilitate its relocation on its front base. Also, both base bars of the bike has adjustable stabilizers equipped with rubber pads for extra floor protection. Thus, you can perfectly level the unit on any flooring.
Seat and handlebars
The Tunturi Competence F40 comes with a comfort seat. The saddle is relatively large, offering plenty of contact surfaces. It integrates a layer of foam cushioning, and its surface is contoured, with a longitudinal groove for improved breathability.
The saddle has a standard, collar-based attachment system. Therefore, in case you will ever need to replace it, compatible options are widely available.
The seat offers 4-way adjustability. Its upright post features several adjustment notches, while its horizontal slider adds a few more inches of front to back adjustment. Therefore, the bike can accommodate users between 5'0″ and 6'2″ (153 – 188 cm) with no problem. Also, the whole seat assembly is designed to support users up to 297 lbs (135 kg).
The F40 has an adjustable handlebar. Its connection point to the front mast involves a large knob which you can easily untighten and re-tighten if you want to adjust the angle of the handlebar.
The handlebar features a multi-grip design; a layer of rubber foam material covers it to provide a secure grip. Its lower section features stainless steel pulse sensors so that you can monitor your heart rate during each workout session.
F40 Resistance System
The Tunturi F40 Competence features a motorized magnetic resistance system. Differently put, it has an internal eddy current brake and a servo motor. Thus, the bike needs to be connected to a power source to make possible the resistance adjustment.
Also, the resistance is only adjustable from the console, and some of the programs on the console auto-adjust the unit's resistance.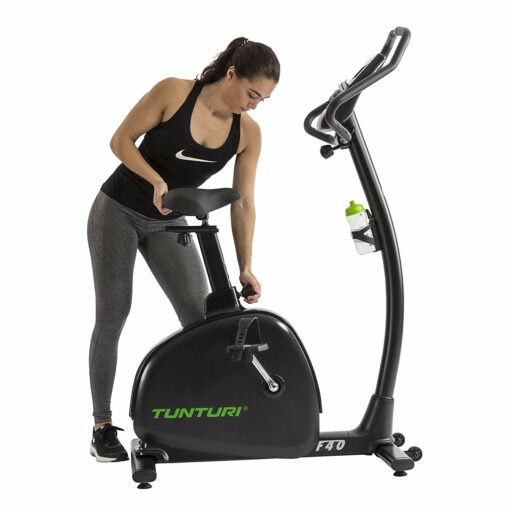 The F40 upright bike offers 32 distinct resistance levels. The first few levels deliver a light resistance, great for recovery training. Conversely, the top resistance levels offer the possibility to perform a more consistent workout, great for a high-cardio activity, and to lose weight.
The bike comes with a relatively heavy internal flywheel. It weighs 20 lbs (9 kg) and has a perimeter-weighted set-up. Therefore, it provides a consistent momentum and a steady pedaling motion.
The flywheel permits reverse pedaling. And when pedaling in reverse, the bike retains the selected tension level. For example, if you choose level 25, if you pedal in reverse, the bike will offer the same resistance.
Drive System
Like most other exercise bikes with a magnetic resistance system, the Tunturi F40 has a belt drive system. This type of drivetrain comes with several advantages.
First of all, you don't need to lubricate it. Second of all, it generates very little noise; when pedaling, you can barely hear anything. And third, the pedaling motion is very smooth, with considerably less vibration than for specific other bikes with a chain drive.
The bike's crankset is quite durable, featuring solid steel crank arms. However, since this is not a spin bike, standing up on the pedals is not recommended, even if it can support your weight. Like any other upright bike, the F40 is for seated workouts.
The included pedals feature a weighted design; they integrate a weight element at the base, which enables them always to turn face-up if you remove your feet from them. They also have a non-slip surface and adjustable straps, so you can correctly secure your feet on them if needed.
F40 Console
The bike is equipped with a mid-range console, featuring a 5.5″ LCD with LED backlight and significant digits for better readability. The display has several sub-sections to show all the workout metrics at once. It tracks time, distance, speed, RPM, calories, watts, and pulse.
The console unit has Bluetooth connectivity. Therefore, you can sync it with your tablet or smartphone and use one of the compatible fitness apps for iOS or Android. These apps are i-Console+ and Kinomap. They offer many extra features like tracking your progress online or even ride your cycle on a virtual trail based on Google Maps.
The console unit makes available both metric and imperial units. Therefore, you can set the speed and distance readings in either km/h and km or MPH and miles. It also integrates a telemetric HR receiver so it can read your pulse rate from a 5-5.4 kHz chest strap — however, this accessory (is not included).
Workout Programs
The console makes available 19 workout programs. The list includes 1 Manual, 4 Beginner, 4 Advanced, 4 Sporty, 4 Heart Rate, 1 Recovery, and 1 BMI. As opposed to the models in the Performance series, this console does not offer the Watt program.
The Manual program gives you the possibility to adjust the resistance as you like from the knob in the middle during your workout. This program also allows you to set up a target for time, distance, or calories. The next 16 programs are preset; they have pre-determined resistance intervals, offering the possibility to target various workouts.
During these programs, the console auto-adjusts the resistance depending on the current workout segment, while for the Heart Rate programs, it will adjust the resistance based on your current pulse rate.
The Recovery program measures how long it takes your heart to return to normal at the end of the workout. Based on the result, it will give you a fitness rating between F1 (Excellent) and F6 (Poor). And finally, the BMI programs give you the possibility to calculate your body fat percentage.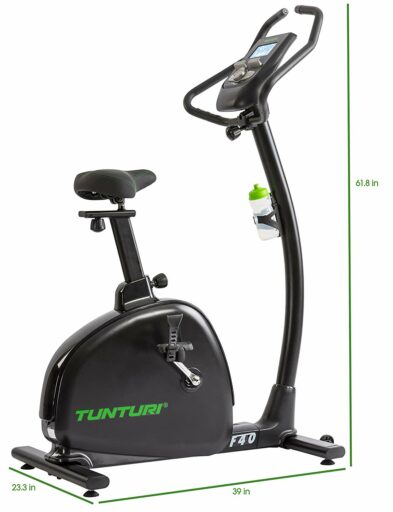 F40 Assembly and Maintenance
The main body of the bike comes fully assembled. You only have to add the base bars, the front mast, the console, the handlebars, the seat post, the seat, and the pedals. This shouldn't take more than an hour of your time. All the tools needed for the assembly (are included), and the manual provides step-by-step assembly instructions and detailed schematics.
Maintenance doesn't require much. All you have to do is keep the unit clean, keep liquids away from the console. Lastly, periodically check for loose bolts and parts and retighten them if necessary before each workout.
Details and Specifications
Assembled dimensions: 39L x 23W x 62H inches (99L x 59W x 157H cm)
Assembled weight: 89 lbs (40.4 kg)
Flywheel weight: 20 lbs (9 kg)
Weight capacity: 297 lbs (135 kg)
Seat: 4-way adjustable
Resistance: Motorized-magnetic, 32 levels
Console: 19 programs, Bluetooth
Warranty: 3 years
Pros
Sturdy frame – can support users up to 297 lbs;
Comes with rubberized, adjustable stabilizers on both base bars;
Transport wheels on the front base;
4-way adjustable seat;
Cushioned and contoured saddle for optimal comfort;
Multi-grip and angle adjustable handlebar;
Pulse sensors integrated into the handlebar;
Balanced, 20 lbs flywheel for a steady pedaling motion and a consistent momentum;
Weighted pedals with adjustable straps;
Quiet belt drive;
Eddy current, motorized resistance system – 32 distinct levels;
Multi-window LCD console;
16 preset programs;
Recovery program;
BMI program;
Telemetric console – can read pulse from a 5-5.4 kHz chest strap;
Bluetooth connectivity;
Compatible with the i-Console+, and Kinomap apps for iOS and Android;
Goal settings for time, distance, and calories;
Tablet holder included;
Bottle holder included;
Little maintenance required;
Easy to assemble;
Decent warranty.
Cons
No sound system;
No USB port;
The HR chest strap is not (included);
A tablet placed on the tablet holder will cover the console display.
Tunturi Competence Series F40 Summary
The Tunturi Competence Series F40 is a mid-range upright exercise bike. It features an eddy current resistance system with 32 available settings. Furthermore, it offers superior micro-adjustability and comfort saddle. It has a sturdy construction and can support users up to 297 lbs.
Its console offers 19 workout programs and Bluetooth connectivity. It's an excellent trainer for light to medium intensity cardio workouts, muscle toning, calorie-burning, stamina development, and recovery training.
I hope you found this article helpful and informative. If you have anything that you'd like to share or any opinions about my website, please do speak up. I look forward to your comments, questions, and the sharing of ideas.
Recommended articles:
Please follow and like us: