The Tunturi R30 "Cardio Fit" Rower is a fitness machine part of Tunturi's  "Cardio Fit" series. The R30 rower is a durable and comfortable rowing machine. It has the best steel and aluminum frame that makes it easy to foldable for storage. On the other hand, it has a lower price and any user can afford this for a full-body workout.
It has a magnetic resistance that can be adjusted manually and an LCD that shows you time, distance, and calories burned. It has three preset programs, a comfortable soft seat, a maximum user weight of 242 pounds and transport wheels.
One of its best attributes is its dual-rail seat track, which provides utterly perfect ergonomic gliding with more stability than you'd get from single-rail models. It doesn't need any power supply, so it can be used anywhere you want without having to look for a power outlet.
Tunturi's design produced a soft, comfortable seat that moves quietly and smoothly along the double rails. The pulling handles are great and the footrests are wide, swivel and come integrated with the front frame.
Learn more in my complete review below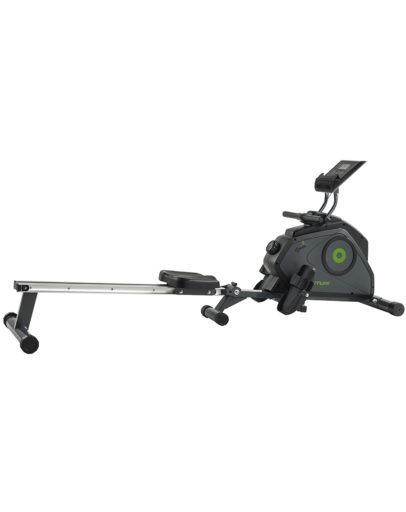 Product: Tunturi R30 Rower
Price: For a great deal on this rower, merely go here on Amazon
Warranty: 2 years limited
My rating: 8/10
Amazon Affiliate Disclosure: I may earn commissions from purchases made through links in this post.
Details and Specifications
Assembled dimensions: 74.8L x 19.7W x 27.6H inches (190L x 50W x 70H cm)
Assembled weight: 57.3 lbs (26 kg)
Max. user weight: 242 lbs (110 kg)
Frame: Steel / aluminum
Footrests: Pivoting, with straps
Resistance: Manual magnetic, eight levels
Exercise console: Time, count, total count, calories, scan, goals
Warranty: 2 years limited
R30 Frame construction
The Tunturi R30 Cardio Fit rower features a metallic structural frame, made of steel and aluminum parts. The unit's main rail is aluminum made, while the front part that holds the drive and resistance elements, as well as the rear stabilizer and several other parts have steel tubing.
Of course, the machine also has several ABS parts. The footrests, the covers of the flywheel, and the casing of the console are ABS-made.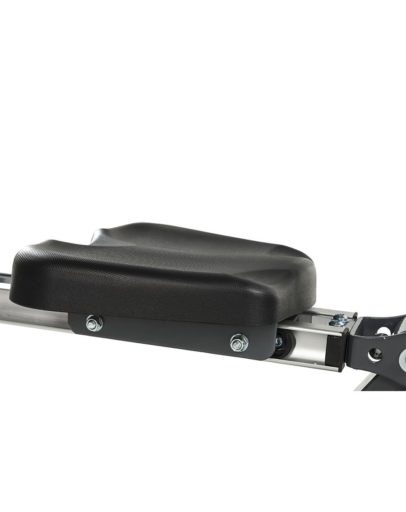 The fully assembled machine is relatively light. It only weighs 57.3 lbs (26 kg). Thus, its transport and assembly shouldn't be a problem for one person. On top of that, the front base has transport wheels; so, once the unit is entirely set up, it can be stored quickly.
Last but not least, the unit's steel parts have a corrosion-resistant paint finish. The color used is black, this being the only color available for this unit. The aluminum rail does not have any finish, but aluminum is highly resistant to corrosion itself.
Seat and other parts
The Tunturi R30 features a reasonably comfortable seat. It has high-density foam, so it's not extremely hard. It's contoured, to provide better positioning. It's approximately 14″ (35 cm) wide, offering plenty of contact surface. Also, the seat and rail assembly are durable enough to accommodate users up to 242 lbs (110 kg).
The base frame of the seat is steel made. It integrates two sets of high-grade rubberized wheels that have ball bearings. They deliver a very smooth and quiet journey for the seat.
This Tunturi rowing machine has a set of pivoting footrests. Therefore, they can tilt forward as you row, promoting a natural positioning for your feet during each stroke. Their rear stoppers allow a maximum angle of approximately 60°.
The machine's footrests are heavy-duty ABS material. Their length cannot be adjusted, but they are relatively large. They have a non-slip surface, rear-guards, and adjustable Velcro straps so you can correctly secure your feet in place.
One last part to cover here is the pulling handle. It consists of a short straight bar with rubberized grips for optimal comfort. It is attached to a durable, abrasion-resistant nylon strap which should last for many years of use. In case you're wondering, the handle does not have any pulse sensors, and the unit does not have a pulse reading function.
R30 Resistance system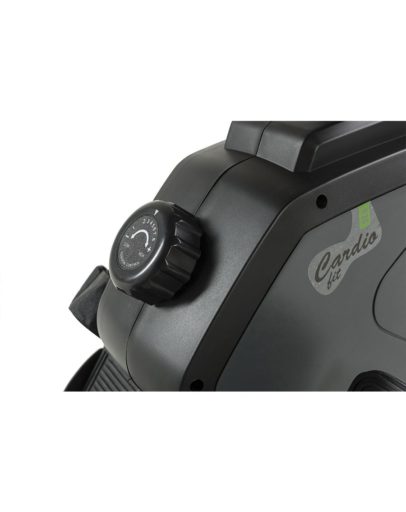 The Tunturi R30 rowing machine has a manual magnetic resistance system. This means the console does not have any role in the resistance adjustment, nor it has any preset programs. Also, you don't have to connect the machine to a power source.
The internal resistance system consists of a metallic flywheel and a magnetic brake. When you turn the tension dial, the magnetic brake changes its position to the wheel, increasing or decreasing the overall resistance.
The unit's magnetic brake system offers eight levels of resistance. The lowest level lets you exercise without any magnet resistance, just using the 15.4 lbs (7 kg) weight of the internal flywheel. The 8th level of resistance, on the other hand, considerably increases the difficulty, giving you the possibility to achieve a high cardio rate in a brief time and burn more calories.
The machine's resistance system is full-magnetic. It does not have any air resistance elements or water resistance elements. Due to this fact, it does not provide a dynamic response during rowing.
This means the resistance remains constant, given by the selected tension level on the dial; it does not depend on your stroke rate or on the strength you put behind each stroke as for an air rower or fluid rower. But the machine still offers the possibility to perform a full-body cardio workout.
Console
The machine's console tracks time, strokes per minute (count), total strokes (total count), and calories burned. However, it does not have a pulse reading function. It won't work with a Polar HR strap.
It features an LCD and has a Scan function that rotates all the values. But you can toggle the Scan mode off and lock one of the metrics on the display if you want.
The unit does not have any preset programs, and it is not Bluetooth enabled or with any online connectivity. It's straightforward to use. It has three main buttons, Set, Mode, and Reset. The Mode button allows you to toggle On/Off the Scan mode, or enter the setup mode.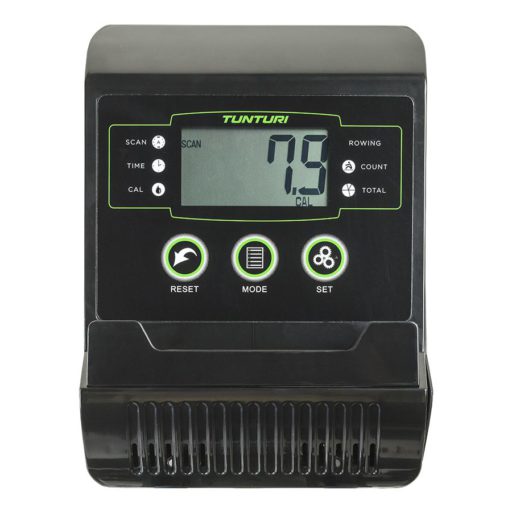 The Set button gives you the possibility to set up goals for time, count, and calories burned. If a goal is set for any of these, the unit will show the remaining amount from the set goal. And finally, the Reset button allows you to clear all the values on the console to zero.
The console unit is turned on when you press the Mode button. It uses two AA (1.5 V) batteries as a power source. It also has a sleep mode to which it will enter if there is no activity on the rower for more than 4 minutes.
There are two more aspects to mention with regard to the machine's console. One is the tilt mount. This is quite a plus as you can set it at the right angle so you can get the best view of the unit's display.
The other is the integrated tablet holder. This accessory is reasonably large; it can accommodate any tablet so you can view your favorite streams during your workout sessions.
R30 Assembly and Maintenance
The primary drive and resistance elements of the machine come pre-assembled and already attached to the front part of the frame. Therefore, all you have to do for assembly is add the front base bar, connect the gliding beam and the seat, the rear base stabilizer, the pedals, and the console.
This shouldn't take more than 30-40 minutes. The included manual provides clear assembly instructions. For your convenience, a basic toolkit is provided.
The internal parts of the machine shouldn't require any maintenance for at least a few years of use. They come pre-lubricated from the factory.
Therefore, the only support recommended for this machine is keeping the gliding beam clear of any small objects or textile fibers that may cause damage to the wheels or the shaft itself.
Also, it's recommended to check the bolts of the machine periodically and re-tighten them if it's the case.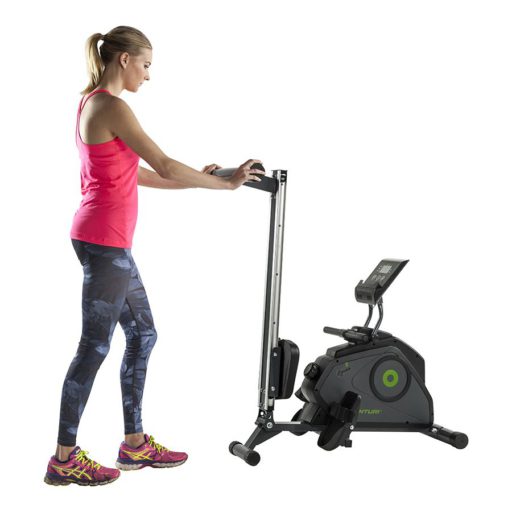 Pros
Fairly sturdy construction for a home-use rower;
Space-saving design;
Transport wheels integrated into the front base;
Extremely quiet and smooth magnetic resistance system;
Eight levels of resistance, for light to medium workouts;
Contoured, comfortable seat;
Its main beam, which can accommodate users up to 6'3″;
Pivoting footrests with adjustable straps;
A console that can track time, count, total count, and calories burned;
Goal settings for time, count, and calories;
Tablet holder integrated into the console;
Tilt mount for the console;
Easy to assemble;
Little maintenance required.
Cons
No pulse reading function;
A tablet placed on the tablet holder will cover the console display;
No backlight on the console display.
Tunturi R30 Cardio Fit Summary
The Tunturi R30 Cardio Fit is a rowing machine made for home use. It offers eight levels of manual magnetic resistance, a relatively durable steel-aluminum frame with a folding design, a comfortable seat, and a console with target settings for time, count, and calories.
It's an excellent machine for anyone who wants to perform a full-body cardio workout, improve stamina, tone muscles, and lose weight. And finally, it's not an expensive rower offering great value for the price.
I hope you found this article helpful and informative. If you have anything that you'd like to share or any opinions on any of the content on my site, please do speak up. I look forward to your comments, questions and the sharing of ideas.
Recommended articles: