The TYTAX T1-X Home Gym is a professional home gym dedicated to the most demanding users. For this purpose, the T1-X has three independent workout stations and unlimited exercise possibilities. If you want to buy a machine for your home gym, you will not find a better one than the TYTAX T1-X.
The TYTAX T1-X home gym (formerly  Titan T1-X Home Gym) is an intelligently engineered (400+ exercises), commercial-grade quality machine destined to become the benchmark for excellence in home gym equipment.
The home gym equipment included in this package is second-to-none. With this in mind, their remarkable user-friendliness makes them the only hardcore home gym I know of that successfully crosses the barrier between serious lifting and family training.
This most impressive characteristic is its unique multi-functional design, 'Assisted Exercise Technology,' and counterbalance system not seen in any other gym in its class – usually found only in modern commercial gyms.
Learn more in my complete review below!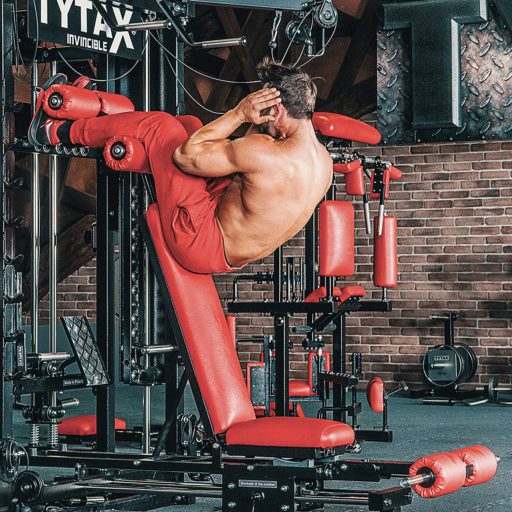 Product: TYTAX T1-X Home Gym
Price: For a great deal on this gym, merely go here on Amazon
Warranty: Frame lifetime / Structural moving parts five years / Bearings, bushings, and pulleys three years / Coating, cables, exterior upholstery, and accessories one year
My rating: is 10/10
Affiliate Disclosure: As an Amazon Affiliate Program participant, I earn commissions on purchases made through links in this post. Full disclosure
T1-X Frame, Cables, Pulleys, and Bearings
Frame: Baked-on, electrostatic powder coating, chip, scratch-resistant, heavy-commercial strength, hand-welded, 11 gauge carbon-steel frame with a lifetime warranty (note: smaller the gauge, thicker the steel – 12 gauge is standard in this class).
The weight plate posts are machine-milled from stainless steel pillars. Contrast this with the softer chrome-plated posts on most other home gyms with big holes (Olympic-sized plates).
Thus, the milder chromed posts become very banged up over time, leading to difficulty adding and removing weight plates from the machine — not an issue with milled stainless steel.
The frame arrives about 30% assembled and is quickly completed (this was a design consideration). Furthermore, complete instruction is available on the TYTAX website www.tytax.com.
Cables: Nylon coated, 2000lb tested, high-tensile Air Craft cables (standard for home gym equipment in this class).
Pulleys and bearings: Heavy-duty nylon pulleys with sealed 'maintenance-free,' dust-proof industrial grade bearings. Similarly, all other bearing housings are the same (Smith guide rod rollers, bench guide rod rollers).
Bench
A laminated wood-backed adjustable bench, padded with high-density foam on a heavy-duty 1-1/2″ steel frame along all four edges (many home gyms have single support running up the back of the bench, which eventually leads to wobbling and thread shear).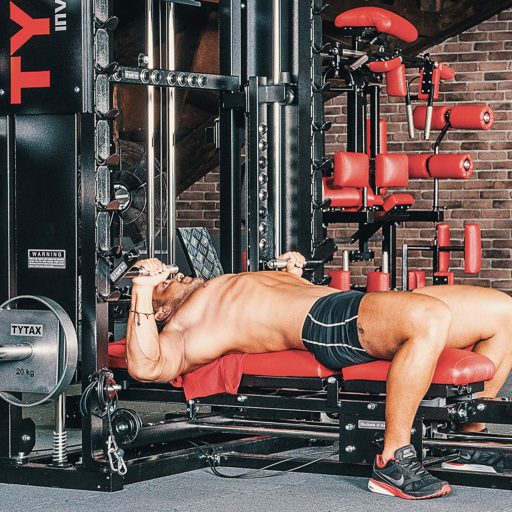 The seat and backrest are adjustable (including height adjustable). Cleverly, the bench adapts to the extent that the user faces the opposite direction when doing leg-press, which is achieved by lowering the backrest to a prone position and raising the seat to a perpendicular position.
When inclined, the decline position lies on the bench; a padded leg-lock stabilizes you.
The bench also has a unique slide feature, allowing it to quickly move forward or backward along steel guide rails and hardened bearings rollers, permitting optimal body positioning per your body dimensions.
Aligning a free-standing bench can sometimes involve getting off and back on the bench several times, but the slide system is always precisely centered and can be moved in or out without getting off the bench (walk it with your feet while sitting).
Like flat and incline press, some bench exercises put your lower back into a dangerous hyper-extended position because there is nowhere to put your feet (you should elevate the feet to reduce forward hip rotation).
The TYTAX T1-X has considered this by adjusting the leg-lock pads and adding side footrests. So now you can elevate your legs without compromising stability—small details but outstanding.
T1-X Smith machine
The genius of this system is the load direction reversible. Standard smith machines are just a bar attached to guide rods, and the load is always down.
The TYTAX T1-X home gyms use pulleys to create counterbalance and, if desired, reverse the load direction from down to up. This feature alone is worth at least a dozen additional exercises that I can think of without being creative.
The smith machine uses 1.2-inch steel guide rods, and the rod brackets glide on hardened bearings rollers with sealed ball-bearing housings — the only home gym equipment utilizing this technology.
One of my favorite features of the TYTAX T1-X smith machine is the shoulder pads. Whereas other smith machines only have a bar, the T1-X home gyms have squat pads like those seen on commercial-gym squat devices. You place one pad on each shoulder with your head in between. But unlike most commercial-gym squat machines, the pads have three different width settings.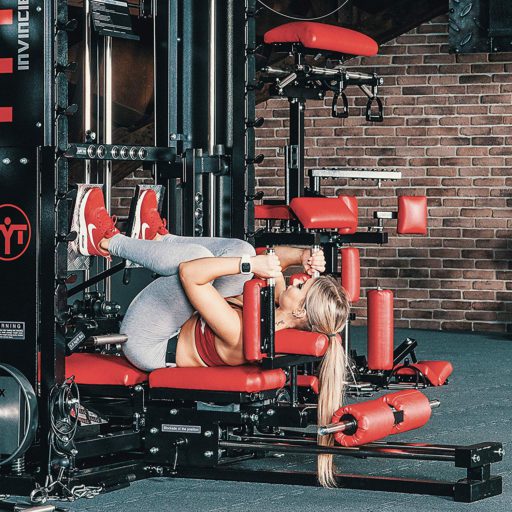 Another unique feature of the T1-X is the 'push/pull exercise handles.' Instead of a barbell, standard on most Smith machines, there is one of these 'push/pull' handles per side of the device.
The benefit is, where the depth of the eccentric (down) phase when the bar touches the back of your neck in a shoulder or chest in a bench press, the push/pull handles allow you to descend beyond this point to achieve full lengthening of the target muscles.
Leg press
Again the innovation of TYTAX T1-X home gyms impresses, this time with their intelligent leg press engineering. As a rule, the leg press is usually an optional extra on home gym equipment. However, it requires added expense and more room because it is nearly always an independent system that sometimes even needs its weight stack.
TYTAX T1-X has solved this problem by eliminating the levers usually needed for leg press and incorporating the bench's slide feature. Thus, your feet remain stationary as you push against Diamond-steel footplates ('Diamond' describes the high-grip surface pattern), and the bench slides in and out.
Furthermore, the footplates are adjustable between high and low positions. The elevated position will hit the hamstrings and glutes (back of thigh and butt), while the more moderate position will place more load on the quadriceps (front of the leg). The lower area is also safer if pregnant or has lower back problems.
T1-X Vertical leg press
As testimony to the TYTAX T1-X home gyms' remarkable versatility, they also come standard with a vertical leg press. Separately, these usually retail for about $400 on the lower end. Again, you are lying on your back and pressing straight up; they are an excellent power exercise and an attractive alternative to squats. An additional set of footplates are (included) for this feature.
Pull-up handles
It is for close and full-grip pull-ups (also known as chin-ups). The handles have two branches instead of a straight bar, ergonomically positioned to spread the load evenly. Small touches like these may go unnoticed by a novice, but they are noticeable to the experienced trainer.
If you prefer chin-ups with a straight bar, there is a bracket for placing an Olympic bar (bar with large bore stabilizers on each end – hence, Olympic plates have large holes). However, the bar is not included and needs to be purchased separately. Something low-priced from a local retailer would be sufficient.
You can also use the pull-up handles for hanging leg raises (lower abdominals and hip flexors).
Assisted dip station
Dips are for shoulders, triceps (back of arms), chest, and outer back. Dips are in the top 3 mass-building exercises for the chest after barbell bench and dumbbell bench. Leaning forward hits the chest and shoulders, and an upright position places more load on the triceps.
Unfortunately, many people can't do dips because you need at least enough strength to support your body weight. In addition, it is difficult to squeeze out three sets even when you can because your body is the minimum load.
But using the same counterbalance system mentioned earlier to reverse the weight and specially adapted handles, you can make a dipping motion while your body remains stationary. On the T1-X, anyone can do dips.
Assisted pull-up station
At best, most people can't do only a few pull-ups. Furthermore, it's unfortunate because they are the number 1 exercise for building width across your back, essential if you want to be "V" shaped.
Amazingly, the T1-X home gyms come standard with an assisted pull-up station. You kneel on a particular padded platform, counterbalanced to pushing up, effectively reducing how much weight you lift. Assisted pull-ups are a commercial-gym exercise not seen on other home gym equipment in this class.
T1-X Additional Standard Equipment
"Quick Change" locking system: A pending patent system for a safe and smooth transition and resting between exercises.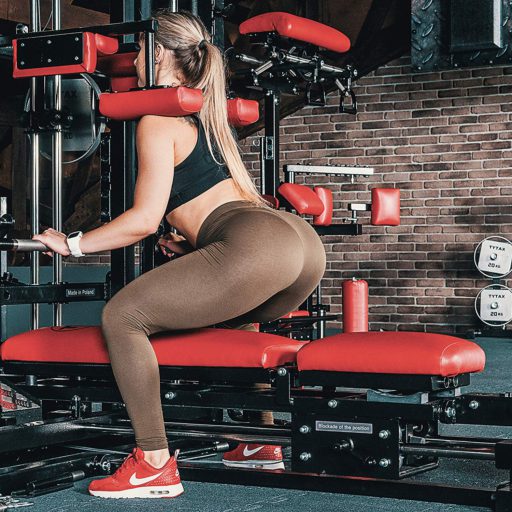 Power racks: 2 power racks for work with free-weight barbells. No area of this home gym equipment has been left under-utilized. Power racks are for shoulder press, military press (shoulders), deadlift (back of the thigh, butt, and lower back), squat (legs, butt), upright row (shoulders), lunge (legs), flat, incline, and decline bench press (chest) and so on.
Gun racks: There are sizeable height-adjustable gun racks on the front or rear power racks, much larger than other home gyms seen in this class.
For heavy barbell lifting, gun racks safeguard against getting 'stuck' at the bottom of an exercise. They also make the starting position for upright row and standing military press easier.
High cable: This is for lat pulldowns (back) and triceps pushdowns (back of arm).
Low cable: The single low cable is usable for many exercises, for example, upright row, cable curls (front of arm), one-arm concentration curls (front of arm), and triceps kickbacks (back of arm).
Low row station: There are footplates on the gym's rear side, especially for a low row using the low cable. Rowing (in a gym) is essential for building thickness in your back, particularly in rhomboids, middle fibers of the trapezius (central region of the upper back), and rear deltoids (shoulders).
T1-X Accessories and Optional Equipment
Standard Accessories – all standard accessories included with TYTAX T1-X are on the main website  www.tytax.com.
Optional equipment – there is a possibility to buy additional options, which extend the variety of exercises. All extra options for the TYTAX T1-X are on the main website  www.tytax.com.
Dimensions and Weight
L x W x H: 169,3 x 118,1 x 88,6 in / 430 x 300 x 225 cm (without option O)
L x W x H: 196,9 x 118,1 x 88,6 in / 500 x 300 x 225 cm (with option O)
1,375 lbs / 624 kg (not including barbell or weight plates)
Load Capacities
Smith machine –  700 lbs / 318 kg
Power rack and gun racks – 800 lbs / 362 kg
Warranty
Frame lifetime / Structural moving parts five years / Bearings, bushings, and pulleys three years / Coating, cables, exterior upholstery, and accessories one year
Pros
The manufacturers say there are 400+ exercises in total in this gym,
Superior construction, better than usual materials (i.e., 11 gauge steel, Diamond-steel footplates, substantial stainless steel weight posts, etc.)
Smith Hybrid Technology with a counterbalance system to reverse load direction on Smith.
Smith machine and counterbalance system work independently.
The leg press is standard and has two different foot positions.
The vertical leg press is standard. I've never seen a home gym with this feature, a big bonus if you want to build powerful legs.
Assisted Exercise Technology: assisted dips, assisted pull-ups.
It has variable positions on ergonomic pull-up bars.
Plenty of cable handles.
Width adjustable squat shoulder pads.
Push/pull handles instead of a bar to go dumbbell deep on your exercises.
It features a unique sliding bench for easy positioning.
Detailed and extensive instruction is available on the main website www.tytax.com.
It comes 30% assembled and is designed to be quickly put together.
Many options available
Cons
Nothing for the soleus. Soleus makes up the volume in the lower portion of your calf. But no other home gyms have a soleus exercise either.
No standing calf raise block. You must go through full motion with any exercise to get total growth.
TYTAX T1-X Home Gym Summary
Anyone with the room and the budget for this class of equipment should buy the TYTAX T1-X, absolutely no doubt about it. Moreover, the TYTAX T1-X is the best. It is superior in design, innovation, and versatility to any other home gym I have ever reviewed.
I hope you found this article helpful and informative. Would you please speak up if you have anything you'd like to share on the topic or any opinions about my website? I look forward to your comments, questions, and the sharing of ideas.
Please remember that you should consult your physician to determine if you have any medical or physical conditions that could risk your health and safety or prevent you from using the equipment properly. In addition, your physician's advice is essential if you are taking medication that affects your heart rate, blood pressure, or cholesterol level.