If uncomplicated is what you're looking for, then the Valor Fitness BE-11 Smith Machine is a perfect option. This is pure Smith Machine: No half-cage, no racking, no sophisticated attachments.
Although it's simple, it's also heavy-duty, very sturdy, and has all of the features you'd expect of a suitable Smith Machine.
The 30 lb knurled bar runs smoothly on the reverse-pitched guide rods via linear ball bearings. These are well made and work perfectly no matter how much weight you have loaded up. The safety latches are solid steel and lockout at 14 different points along the frame. There are additional safety latches and springs that can be set separately at any height.
A Smith machine with a track and linear bearings is an ideal way to be doing bench presses, military presses, shrugs, squats, curls, lunges, and much more. The bottom of the track even features safety springs to catch the bar in case you drop it, something that stops the bar from hitting your feet and the plates from smashing into the ground.
Another useful little feature of this Smith Machine is that it uses either standard 1″ plates or Olympic plates (with 2″ holes). If you want to use Olympic plates, it has sleeves that fit onto the bar and storage pegs. Although these aren't the highest quality (the plastic end caps can tend to pop off), they do their job just fine.
Learn more in my complete review below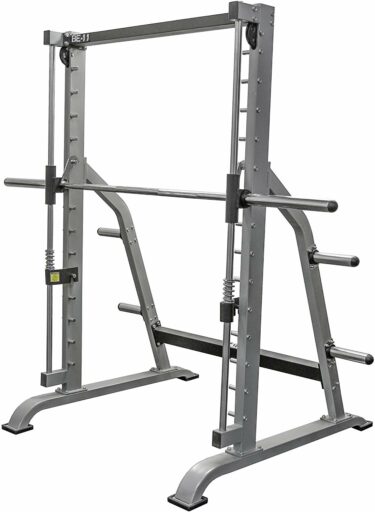 Product: Valor Fitness BE-11 Smith Machine
Price: For a great deal on this gym, merely go here on Amazon
Warranty: Frame 3 years / Bar 3 years / Parts 1 year
My rating: 8.5/10
Amazon Affiliate Disclosure: I may earn commissions on purchases made through links in this post.
Details and Specifications
Assembled dimensions: 53″D x 73.25″W x 80.5″H inches (135D x 186W x 203H cm)
Shipping weight: 258 lbs (117 kg)
Max. weight capacity: 1,000 lbs (453.5 kg)
Possible exercises: 30+
Warranty: Frame 3 years / Bar 3 years / Parts 1 year
BE-11 Frame construction
The BE-11 Smith machine features a steel configuration, actually being able to support up to 1,000 lbs (453.5 kg) of weight. Thus, it's a machine suitable for powerlifters as well, not just for beginners or intermediate users. Naturally, its frame is thick steel tubing, double-coated with corrosion-resistant gray paint. Most of the bars and other small parts have a chrome finish, though.
The frame itself has a footprint of 53″D x 55″W (135 x 140 cm). However, the final width of the machine is its barbell, which is 73.25″ (186 cm). and weighs 30 lbs. The space between the vertical bars of the machine is approx — 45″ (144 cm), wide enough to accommodate users of all sizes.
The bases of the frame integrate rubber foot pads, which offer a firm grip onto the floors, also preventing any damage to the flooring. The frame also has a set of 4 plate storage pegs (2 on each side), meant for Olympic plates with 2″ holes. The storage pegs are 8″ (20.3 cm) long.
When it comes to the machine's height, it's only 80.5″ (203 cm). This particular aspect has its pluses and minuses. On the one hand, the machine will fit in a room with a 7′ (213.3 cm) ceiling. But on the other hand, a tall user (over 6'5″) may not be able to perform proper calf raises.
As I've mentioned above the barbell is 73.25″ (186 cm) and weighs 30 lbs. The bar's sleeves offer approximately 16″ (40.6 cm) of space for loading plates. Therefore, considering that most Olympic plates measure between 2″ and 3″ in thickness (5 – 7.6 cm), you'll be able to load 5-8 plates on each side.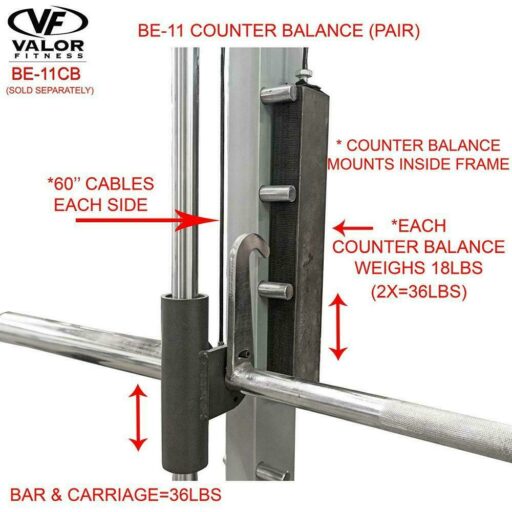 One last aspect regarding the bar is its finish. It features a chrome finish with knurled grips. A barbell cushion pad for squats is not (included), though.
Safety Bar
Like in most Smith machines, the frame features a set of two shafts to which the bar connects via a set of 4 linear ball bearings. These offer maximum stability for pressing exercises or squats, supplying a very smooth glide of the bar on its shafts.
Also, the bar has a set of two thick j-hooks welded directly onto it, designed to facilitate a quick and easy catch, via bar rotation. The frame features 14 catch positions, with solid stainless steel pins.
The gliding shafts of the main bar also feature a set of safety catches attached to them, to provide the maximum protection for all exercises. They also integrate a set of two springs, meant to absorb a great deal of the shock of dropping the bar, this way prolonging the life of the safety catches.
Available accessories
The Valor Fitness BE-11 Smith machine does not come with a fitness bench. Also, it does not include weight plates (sold in sets of 2). You'll have to purchase these additionally, in case you don't have them already.
One of the accessories specific to this particular machine that requires mentioning here is the counterweight set for the machine's bar.
The name of the attachment is BE-11CB, and consists of a set of two thin, rectangular plates, with cables attached to them, which are meant to insert in the frame's vertical tubes, with cables crossed over the top pulleys and attached to the machine's bar assembly.
This counterbalance set is meant to nullify the weight of the bar, offering the possibility of a weight lifting start lower than 30 lbs (13.6 kg), which is the actual weight of the bar. It's a useful accessory if you require recovery training, for example.
The small pulleys at the top of the frame's vertical bars that are visible in some of the attached photos do come with the machine. However, the counterweight accessory is (sold) separately.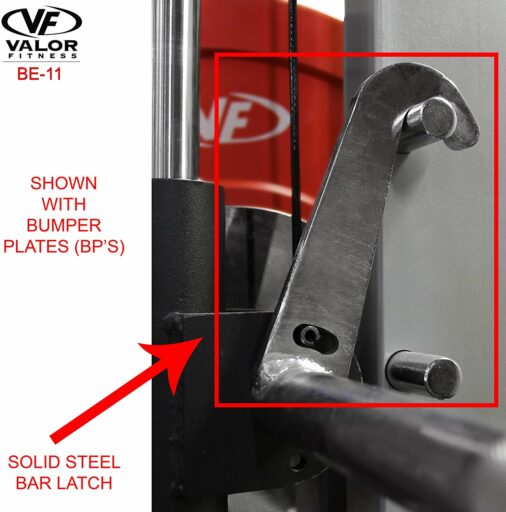 BE-11 Possible Exercises
Bench presses
Incline presses
Shoulder presses
Rear deltoid rows
Squats
Deep squats
Front squats
Single leg squats
Calf raises
Seated calf raises
Lunges
Biceps curls
Drag curls
Bent-over rows
Stand-up rows
Rear deltoid rows
Cleans
Deadlifts
Stiff-legged deadlifts
Triceps dips
Shrugs
Hanging knee raises
Pull-ups
Wide grip pull-ups

Valor Fitness BE-11 Smith Machine (Weights and lifting chains sold separately)

Muscle pull-ups
Behind head pull-ups
Around the world pull-ups
One-arm pull-ups
Cliffhangers
Weighted pull-ups
Chin-ups
Close grip chin-ups
Wide grip chin-ups
One hand chin-ups
Weighted chin-ups
Leg presses
Donkey kicks
… and more.
This is only a shortlist of exercises that are possible on this machine. The list can always expand depending on how inventive you are when it comes to workouts. Some of these require a bench or other accessories.
BE-11 Assembly and Maintenance
First of all, this Smith machine ships in five boxes, with the following dimensions:
51lbs 80″L x 12″W x 4″H (23kg, 203 x 30.4 x 10 cm)
51lbs 80″L x 12″W x 4″H (23kg, 203 x 30.4 x 10 cm)
66lbs 59″L x 11″W x 10″H (30 kg, 150 x 28 x 25.4 cm)
44lbs 50″L x 7″W x 6″H (20 kg, 127 x 17.7 x 15.2 cm)
46lbs 26″L x 9″W x 8″H (20.8 kg, 66 x 23 x 20 cm)
In other words, the transport of each box into the room where the machine is assembled may require two people. The assembly itself is not difficult, but due to the many parts, it will take several hours.
A hard copy of the user's manual is (supplied) with the machine, which provides comprehensive step-by-step instructions for the assembly. Thus, putting it together yourself shouldn't be a problem.
For maintenance, the linear ball bearings may occasionally require lubrication. Also, it's recommended to inspect the joints, bolts, and nuts of the machine from time to time, and re-tighten them if it's the case.
Pros
The substantial frame, being able to support loads up to 1,000 lbs (453.5 kg);
Frame bases with large rubber stabilizers for floor protection, offering a superior grip onto the floor and preventing the frame from sliding over;
Gliding barbell assembly, integrating four linear ball bearings, for smooth operation and maximum stability;
14 sets of safety pins, for various catch positions of the barbell and catches;
Catch plates with stainless steel coils for shock absorbing;
Olympic sleeves on the barbell and the four weight plate storage supports;
Offers the possibility to perform a wide array of gym-quality exercises;
Straightforward assembly process;
Little maintenance required.
Cons
It's only 80.5″ tall. Thus, taller users (over 6'5″) may not be able to perform proper calf raises for example, especially if using a calf step accessory;
Counterweight accessory for the bar, not included.
Valor Fitness BE-11 Summary
The Valor Fitness BE-11 is a Smith machine that offers the required training setting for all users, including powerlifters, as it has a weight load capacity of 1,000 lbs. It features incredibly sturdy construction, with a reliable safety system, a gliding bar with linear ball bearings and Olympic sleeves, and 14 catch positions for the bar.
It offers the possibility to perform a wide array of gym-quality exercises. It's not the most affordable model that you can find out there, but the quality in its construction, its overall sturdiness and durability match its price.
I hope you found this article helpful and informative. If you have anything that you'd like to share or any opinions about my website, please do speak up. I look forward to your comments, questions, and the sharing of ideas.
Recommended articles:
Please follow and like us: