Start pedaling towards your fitness with the VIGBODY HL-S801 Indoor Cycling Bike that offers a smooth, quiet and comfortable ride every time. Riding a stationary bike burns fat quickly, builds core muscles, and strengthens the heart.
The HL-S801 features continuous infinite resistance adjustment. You can increase or decrease resistance to simulate actual road riding, perfect for any user's skill level. The 30 lbs bidirectional and heavier plating flywheel offers excellent stability for securely riding. Even at home, you can enjoy a real outdoor riding experience.
The VIGBODY HL-S801 comes equipped with a 2-way adjustable non-slip handlebar that adjusts up and down to adapt to any biking condition adding extra comfort. The 4-way adjustable seat adjusts forward/back and up/down easily. It comes equipped with aluminum alloy caged pedals with an adjustable cage with safe and comfortable straps.
Learn more in my complete review below!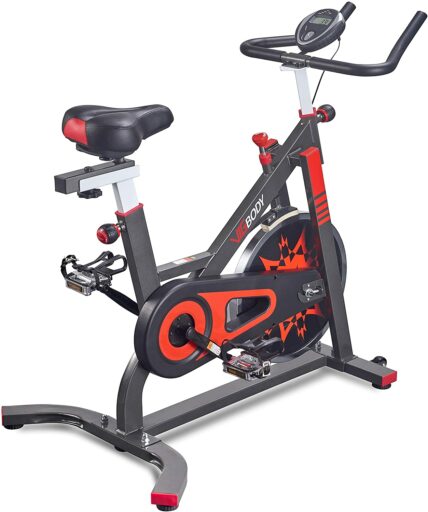 Product: VIGBODY HL-S801 Indoor Cycling Bike
Price: For a great deal on this bike, merely go here to Amazon.com
Warranty: 1 year limited
My rating: 8.5/10
Amazon Affiliate Disclosure: I may earn commissions on purchases made through links in this post. Full disclosure
Details and Specifications
Assembled dimensions: 46.1L x 25.2W x 44.1H inches (117L x 64W x 112H cm)
Assembled weight: 64 lbs (29 kg)
Flywheel weight: 30 lbs (13.6 kg)
Supported weight: 330 lbs (150 kg)
Seat: 4-way adjustable
Drive mechanism: Belt
Resistance: Friction
Fitness console: Time, speed, distance, odometer, calories burned, scan
Warranty: 1 year limited
HL-S801 Frame construction
The VIGBODY HL-S801 indoor cycling bike features a triangular frame with the main diagonal tube curved at the connection point with the base tube. Although this design doesn't necessarily improve the bike's sturdiness, it slightly differs from other spin bikes.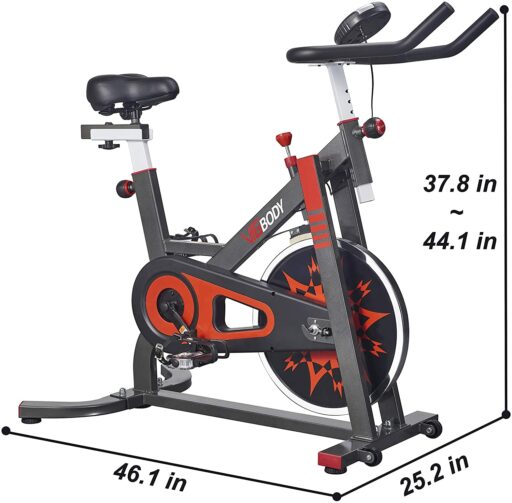 The bike's frame is rectangular steel tubing. All the tubes come coated with a dark gray paint finish, resistant to corrosion and abrasion. The seat and handlebar posts are white, while the flywheel has a chrome finish.
The fully assembled bike is not extremely large compared to other fitness bikes. It is approx—46″ (117 cm) long and 25.2″ (64 cm) wide. For safe usage and ease of access, it's advisable to leave two feet of clearance all around the bike.
The bike is not super heavy either. Its net weight is 64 lbs (29 kg), so one person can carry and assemble the bike. Its front base integrates two small wheels, which facilitate its relocation once completed. Also, both its base stabilizers come equipped with adjustable levelers.
One last aspect to note regards the small horizontal tube that connects the seat tube to the main diagonal tube. Not all spin bikes have this feature. This small bar makes mounting easier and supports stepping up and down the frame, an exercise incorporated by specific spin workouts.
Seat and handlebars
The VIGBODY HL-S801 features a four-way adjustable seat. Its upright post offers approx. 7″ (18 cm) of adjustment for an applicable inseam range of 28″ to 35″ (85 – 98 cm). Its horizontal slider adds a few inches of front-to-back adjustment as well.
Thus, the bike comfortably accommodates users between 5'0″ and 6'3″ (153 – 190 cm). Taller users can still use this bike, but they may not benefit from a complete range of motion. Also, the seat has a maximum user weight capacity of up to 330 lbs (150 kg).
The included saddle is relatively large, approximately 10″ (25.4 cm) long, and 7″ (17.7 cm) wide. It integrates a thick layer of cushioning for improved comfort, while its top cover is durable vinyl material.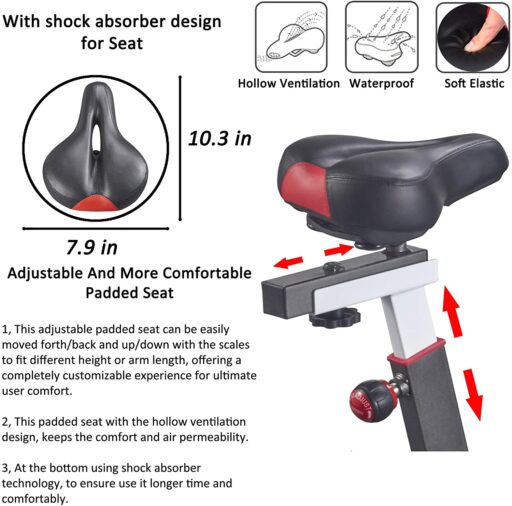 Two suspension springs integrate at the rear of the saddle, which enable it to flex to adapt better to your movement during seated workouts. And finally, it has a middle cutout which improves breathability.
The bike's handlebar is only two-way adjustable (up, down). It does not have a horizontal slider like the seat. It offers approximately 6″ (15 cm) of vertical adjustment, from 37.8″ (96 cm) above floor level to 44.1″ (112 cm).
The handlebar features a multi-grip design, and it offers the possibility to adopt a racing grip, a climbing grip, and a standard grip. Its side grips feature EVA foam sleeves for improved contact and comfort. However, it does not have integrated pulse sensors, and the fitness monitor does not track pulse.
HL-S801 Drive system
The VIGBODY HL-S801 indoor cycling bike comes equipped with a  30 lbs (13.6 kg) flywheel, so it provides superior momentum. It is perimeter-weighted for improved inertia, which is pretty essential for spin workouts.
The flywheel is bi-directional. Therefore, you can pedal in reverse if you want to put some diversity into your workouts. However, you cannot coast on this bike, and when pedaling in reverse, the resistance remains constant, given the amount of friction that the brake applies to the flywheel.
The bike comes with a belt drive system. It integrates a poly-v belt concealed by a large guard of tough thermoplastic material. Since its drivetrain uses a belt, not a chain, periodic lubrication is not necessary. Also, the belt delivers slightly less vibration than a chain.
The bike's crankset features heavy-duty, 7.5″ (19 cm) long arms, similar to road bikes. The bike has a maximum user weight capacity of 330 lbs (150 kg) which applies to the pedals and the crank arms. The included pedals are aluminum alloy with rubber inserts for an improved grip. They also have toe cages if you want to secure your feet on them.
The included pedals do not have SPD elements for spin shoes. However, they do have 9/16″ standard threads. Therefore, if you ever want to replace them, compatible options are widely available in any bike shop.
Resistance system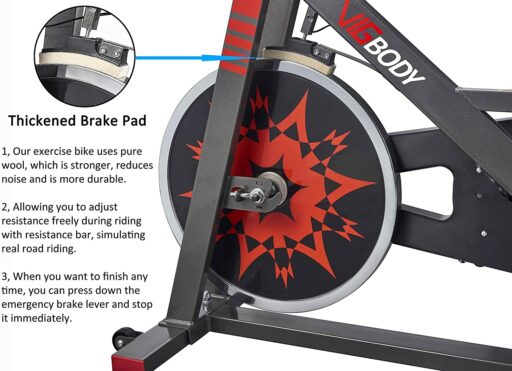 The VIGBODY HL-S801 comes equipped with a friction resistance system. Thus, you don't need a power adapter for it or an external power source. On the other hand, the bike cannot adjust the resistance automatically, as is the case for a motorized spin bike.
The bike's resistance system consists of a felt-based brake pad connected to the main tube of the frame and the tension knob. By turning the knob clockwise, the brake pad applies more friction to the flywheel, increasing the pedaling difficulty.
It's important to note that a friction resistance system doesn't offer a pedaling motion as smooth as a magnetic resistance system. That's because the brake pad comes in contact with the flywheel to create resistance.
This can improve up to a point by applying lubricant either on the brake pad or on the flywheel. Also, the felt pad will eventually wear out and require replacement.
The bike's tension knob also has an emergency brake function. You can press it down to instantly stop the flywheel from spinning. This is necessary because the pedals continue to turn for as long as the flywheel is spinning. Trying to stop the motion with your legs may result in injuries.
Console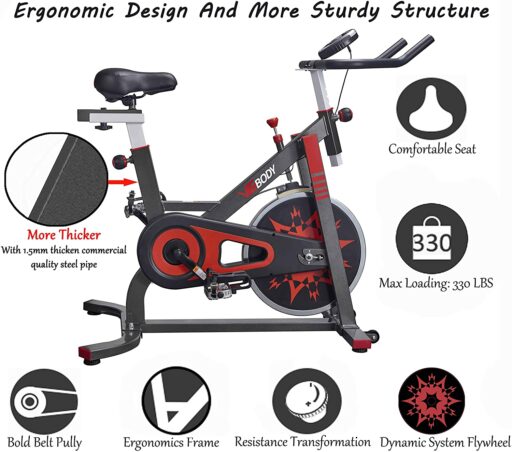 The VIGBODY HL-S801 indoor cycling trainer includes a simple fitness console. It features an LCD that tracks speed, distance, total distance, elapsed time, and calories burned.
The speed and distance display in MPH and miles; there is no option for setting them to metric units. Also, the fitness console does not track pulse.
The console is straightforward to use. It does not have any pre-set programs, Bluetooth, or online connectivity. It has only one button. You can scroll through the workout metrics by pressing the button repeatedly and selecting what you want to view.
You can also select the Scan Mode, enabling the console to rotate all the workout metrics and keep each one for a few seconds on display.
The button also covers the console's reset function. By pressing and holding it for a few seconds, you can clear all the values on it to zero.
The fitness console requires two AAA batteries which come with the bike. It starts up when you begin pedaling or when you push its button. It also automatically turns off if it does not detect flywheel movement for more than four minutes.
HL-S801 Assembly and Maintenance
The bike's drive and resistance elements (flywheel, belt, crank, brake) come pre-assembled, attached to the mainframe. The rest of the parts require user assembly. You will have to connect the two base stabilizers, the seat post, the saddle, the handlebar post, the handlebar, the pedals, and the fitness console.
This shouldn't take more than 30 minutes of your time. Also, all the necessary tools come with the bike, and the manual provides step-by-step assembly instructions.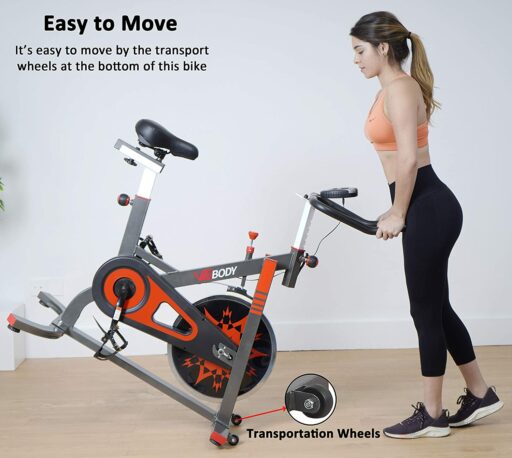 For maintenance, the brake pad may require lubrication. A few drops of silicone lubricant applied on the flywheel's edge should cover it. Other than this, you only have to keep the bike clean and periodically check for loose parts and retighten as needed.
Pros
Sturdy construction – can support users up to 330 lbs;
Adjustable levelers on both base stabilizers;
Transport wheels on the front stabilizer;
Four-way adjustable seat;
High-comfort saddle with thick foam padding and a median groove for extra breathability;
Multi-grip handlebar;
Solid crankset, can support just about any spin workout;
Metallic pedals with toe cages and standard threads;
Standard friction resistance;
30 lbs flywheel with a perimeter-weighted design for improved inertia;
Smooth and quiet belt drive;
Fitness console included – it tracks time, distance, total distance, speed, and calories burned;
Little maintenance required;
Easy to assemble;
All the assembly tools included;
Little maintenance is needed.
Cons
No pulse reading function;
The LCD doesn't have a backlight;
No tablet holder;
No bottle holder.
VIGBODY HL-S801 Indoor Cycling BikeSummary
The VIGBODY HL-S801 is an indoor cycling bike for home use. It features a 30-lb flywheel, a friction resistance system, and a 4-way adjustable seat. It also includes a fitness console that tracks time, distance, total distance, speed, and calories burned.
Moreover, it's a bike for spin workouts, great for high-intensity cardio training, stamina and strength development, muscle toning, and weight loss.