The WaterRower Club Rowing Machine is a real water rowing machine that has everything you would expect from a good water rower. Buying this WaterRower machine, you will be pleased with how quiet and smooth the exercise is. Not only is the sound way less than air-resistance rowers, but it's also way more pleasant.
The WaterRower Club Rowing Machine is a beautiful and expertly crafted piece of exercise equipment made in the USA. The Club model is made from solid Ash wood and stained with black and rose stains with a Danish oil finish. The premium Ash hardwood is doing double duty as it absorbs vibration and sound while you're working out.
Add on to that the resistance that is created by the flywheel paddles moving through the water in the enclosed tank, and you get a very ergonomic, natural-feeling workout. You regulate the resistance by how hard and fast you row.
It's able to handle a user weight of up to 1000 lbs (wow) and featuring an S4 Performance monitor that helps track your progress; the WaterRower Club Rowing Machine is one of the best rowing machines you can buy. And Finally, the machine's frame flips upright and is easy to relocate or store when not in use.
Learn more in my complete review below
Product: WaterRower Club Rowing Machine w/ S4 Monitor (wood is available in different colors)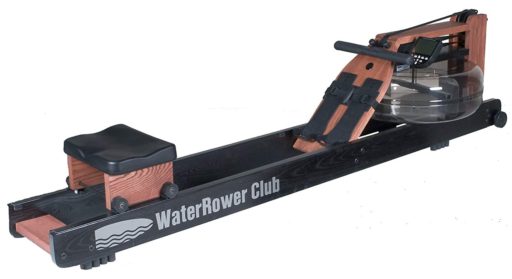 Price: For great deals on this rower, merely go here on Amazon
Warranty: Frame 5 years / 3 years parts
My rating: 9.5/10
Amazon Affiliate Disclosure: I may earn commissions from purchases made through links in this post.
Club Frame
The S4 water rowing machine is not a fold up rowing machine, it also can't be separated into half like Concept2 Model D., But the WaterRower Club S4 rowing machine storage shouldn't be an issue for those with small floor space.
Because after your cardio rowing machine workout, you can lift the rower from the back and store it upright. This way, it takes very little space and stays out of the way when not in use.
The frame of this handcrafted rower is Ashwood, which is incredibly durable. Featuring hand-finished Danish oil and urethane add to the durability in all environments, including humidity.
Last but not least, the WaterRower Club has a manufacturer recommended maximum weight capacity of 1000 pounds, which is exceptionally unique.
Designed for Gym use, everyone can enjoy the WaterRower S4 cardio rowing machine benefits regardless of weight and fitness level. Read about other parts down below in the Club WaterRower rowing machine reviews.
Handlebar and Seat
The WaterRower Club has an ergonomically shaped handle that is different and is bigger than the C2. It's not a round shape handlebar like most conventional rowers but has more of an oval shape. It fits behind the fingers comfortably and can prevent painful blisters.
So, it makes your daily rowing machine workout more enjoyable. The seat on this rowing machine unit has four well-made corner wheels that increase seat stability. But what is nice about the seat is the height of it, it's not leveled with the footrests.
When seated, your feet are in a bit of a decline position, so it's similar to boat rowing, which adds more intensity so you would also get rowing machine toning workout. The top of the seat stands about 12″ above the ground, which is perfect for most users, including those with little balance.
The seat is molded and comfortable, so you probably also wouldn't need the seat cover if you buy this rowing machine. If you do decide to use a rowing machine seat cushion for extra comfort, we recommend the Skwoosh Row Pad Seat Cushion. They fit on the water rower machine seat, and some users believe the gel pad can make a huge difference.
Club Footrests
Doing the Club S4 rowing machine workouts, there is little to no impact on your lower body joints. The footrests come with the correct angle and perfect distance between the foot, so there is no pressure on your ankles.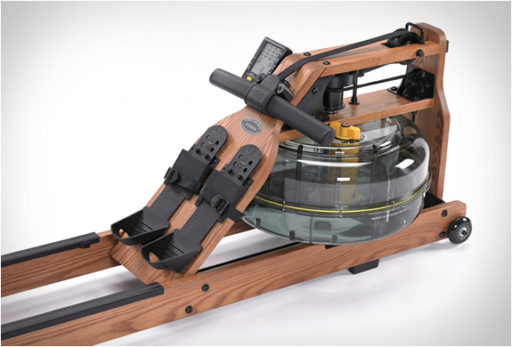 There is about 5″ distance between the footrests of the WaterRower Club S4, which is convenient for most users. Footrests are up and down adjustable to accommodate users with small and large feet. The two top strap covers are flexible and extensive to cover your shoes and keep them secured in place during rowing workout.
The Water Rower Club S4 footrest is truly comfortable as long as you wear shoes and don't row bare feet.
Resistance and Drive
While many might think the Water Rower Club rowing machine doesn't have adjustable resistance, they are wrong. The fitness Club rowing machine allows you to adjust your resistance in two different methods. It simulates the actual rowing where the resistance varies by the speed of the boat, and the force applied.
So the harder you row, the more resistance you get. It's called self-regulating resistance provided by the water tank and flywheel. Your other option is to add more water inside the container, which is not ideal during the workout, and it makes more sense to pull harder.
There are multiple lines on the tank with explanations to help you better understand the resistance and the level of water you need.
The two paddles "water flywheel" in the tank of water provide a smooth and relatively quiet resistance, so the rest of the family can rest when you feel like rowing. It has a straightforward mechanism without the motor/fan or wearing parts, which leads to years of a maintenance-free workout.
There are Chlorine tablets included with the purchase to use every six months to keep algae from forming in the water. But you can also change the water if you want, there is also a manual water pump to help you add and remove the water. Make sure to read the manual to see how much water in the WaterRower you need to add. But what is nice about this system is the non-jerky feel and the infinite resistance.
Club S4 Monitor
WaterRower S4 monitor allows you to track your distance in meters, miles, and km, time, calories burnt, and stroke rate and the number of strokes taken. The S4 monitor provides you with a real-time Watts reading. Rowing machine watts/intensity is valuable feedback during a workout, especially for the Peak workouts.
The S4 is capable of showing your intensity in six ways. Mile per second, Mph, 500 meter split time, 2-kilometer split time, calory per hour, and watts.
By using the Unit button on the monitor, you can choose which one of these intensity types to display during the workout. Water Rower Club rowing machine doesn't have the Bluetooth connection, and it's not an interactive rowing machine. But it receives your heart rate from the Polar chest straps.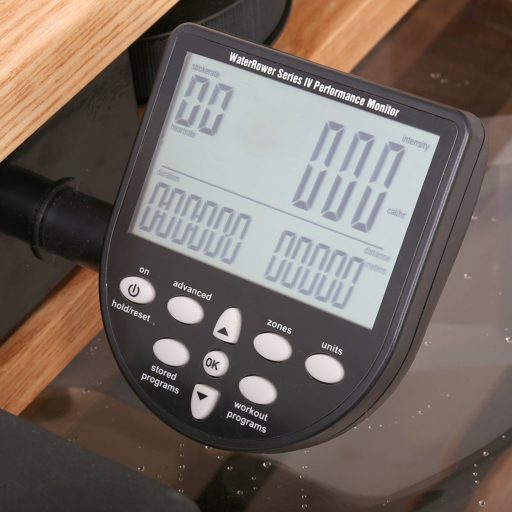 Programs
The Club rowing machine S4 monitor has the workout program button that allows you to set a program using distance or time. If you are ready in the correct rowing machine form and want to do 1000 meter rowing or 30 minutes rowing exercise, the monitor allows you to do so. But that's not all.
The WaterRower series four monitor also allows you to set up to 9 intervals. You can also store your desired workouts, but you can't track your progress, and you need to write them down at the end of each exercise manually.
Wireless Connectivity
You can track your heart rate through the WaterRower S4 heart rate monitor wirelessly, but as far as the wireless connection goes, that's it. WaterRower heart rate monitor/strap is not (included) so you need to buy a Polar belt separately if you don't have one.
S4 Performance Monitor Features
Displays intensity in several measurements, including:

Stroke rate
Heart rate
Distance
Duration

QuickStart and QuickSelect options allow single button use to quickly start workouts.
AutoStore and AutoPreview options store the last nine (9) workout settings that are easily scrollable for easy recall and viewing.
Zone and ZoneBar features allow you to set your intensity, stroke rate, and heart rate zones. The feature tracks and tells you when you are inside or outside your zones.
Distance and duration workout feature allows you to be preset and counts down your workout. Average statistics displayed upon completion.
The interval workout option allows you to set up to nine (9) work intervals separated by rest durations. Alarms and statistics prompt you at the end of intervals.
The advanced monitor settings allow you to:

Store an additional nine (9) workout setting independent of the AutoStore.
Projected settings allow you to view anticipated duration and distance during workouts.
Advanced heart rate analysis lets you view maximum rates, time spent above, below, and in your heart rate zone.
Club Assembly and Maintenance
As far as the assembly goes, following the WaterRower Club rowing machine instructions, you should be able to put this rower together in less than 50 minutes.
An Allen wrench is (included) so you don't need extra tools or technicians to help you assemble the WaterRower indoor rowing machine. There is a WaterRower assembly instruction in 3D on YouTube that will show you step by step how to assemble your Water Rower Club rowing machine.
The WaterRower Club rowing machine parts are robust and maintenance-free. You'll need to treat the rowing machine water with the included chlorine tablets once every six months. (Don't use bleach to clean the water!) You should also periodically check the bolts to make sure they are tight.
You might also need to tighten the WaterRower Club bungee cord sometimes, and I suggest you check the Club S4 rowing machine manual for it. That should be all you'll need to do.
Details and Specifications
Height: 20 in (50.8 cm)
Width: 22.25 in (56.52 cm)
Length: 82.25 in (208.9 cm)
Item weight: 82 lbs (37.2 kg)
Rower with full water tank: 103.5 lbs (47 kg)
Resistance: Water-Resistance;
Drive: Belt;
Powered: Batteries;
Footrests: Adjustable;
Maximum user weight: 1000 lbs;
Max-Inseam: 38-Inch;
Warranty: Frame 5 years / Parts 3 years
Note: Must register the rower with WaterRower within the first year of purchase for home use to extend the warranty for free. Otherwise, it is a one year warranty.
Pros
The natural feel of water rowing
Polar chest strap connectivity
Made in the U.S.
Easy to store after use
Adjustable water-resistance system
Durable commercial quality frame and parts
Ergonomic handlebars and footrests
Comfortable and ergonomic seat
Low-profile for those with less balance
Good warranty
38″ Max user inseam and 1000 pound weight capacity
Allows you to create up to 9 intervals
Stores your customized programs
Cons
The S4 Monitor is not Backlit.
It doesn't have Bluetooth and ANT+ connectivity.
WaterRower Club Rowing Machine Summary
The WaterRower Club rowing machine with an S4 performance monitor is entirely handcrafted in the USA. The wood is from replenishable forests, which makes the user feel good because it's environmentally friendly.
The quality of this natural rowing machine is proven by 1000 pound user weight capacity. If you are interested in joining apps online, you can get the WaterRower S4 monitor upgrade, which enables you to work out with other users in real-time.
Another useful feature is the parts availability. Reputable brands such as the WaterRower will always provide you with the parts and support. I would recommend the WaterRower Club rowing machine to anyone who wants to do home rowing machine workout and invest in their health.
I hope you found this article helpful and informative. If you have anything that you'd like to share or opinions about the content on my site, please do speak up. I look forward to your comments, questions, and the sharing of ideas.
Recommended articles:
Please follow and like us: