The WaterRower Oxbridge Rowing Machine gets its name from Oxford and Cambridge Universities, two schools are known for their long rowing traditions and spirited rivalry. Crafted from gorgeous cherry hardwood, it is part of WaterRower's Designer Series. In addition, it features the WaterRower brand's patented WaterFlywheel. Rowing the Oxbridge, you'll feel like you're rowing a boat!
A wealth of workout feedback is on the S4 monitor. The S4 Monitor displays intensity in m/s (meters per second), mph (miles per hour), /500m (time per 500 meters), /2km (time per 2 kilometers), watts, and Kcalories per hour.
The WaterRower's S4 fitness monitor is easy to use, yet it's packed with useful features and can connect to a PC for integration with other software. It has six preset workouts and lets the rider set up additional exercises based on distance goals, duration goals, and interval training. In addition, the monitor saves nine consecutive sessions to let you make comparisons or quickly start a routine.
The Oxbridge indoor rower has a "Zone Feature" alert system to help you stay within your desired heart rate zone. In addition, the S4 monitor is Bluetooth enabled to work with an HR wireless chest strap. Unfortunately, this accessory does not come with the machine. However, if you have one, you'll be able to monitor all of the essential HR values.
Learn more in my complete review below!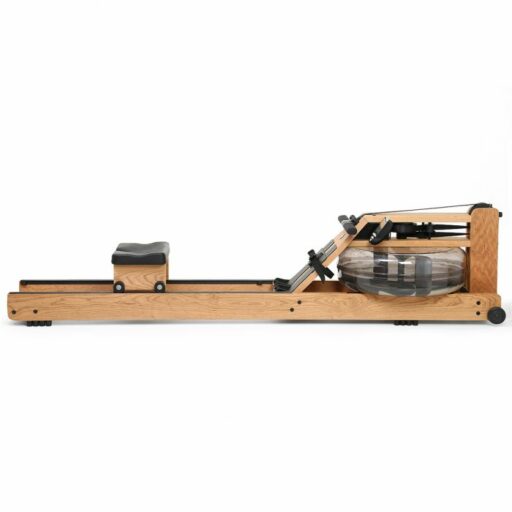 Product: WaterRower Oxbridge Rowing Machine with S4 Monitor
Price: For a great deal on this rower, merely go here on Amazon
Warranty: Frame 5 years / Parts 3 years
My rating: is 9/10
Affiliate Disclosure: As an Amazon Affiliate Program participant, I earn commissions on purchases made through links in this post. Full disclosure
Details and Specifications
Assembled dimensions: 82.25L x 22.25W x 20H inches (209L x 57W x 51H cm)
Product weight: 66.5 lbs (30.5 kg) w/o water; 103.5 lb (47 kg) w/ water
Supported weight: 700 lbs (317 kg)
Frame: Wood (Cherry)
Footrests: Size-adjustable, with straps
Resistance type: Water
Progress tracking fitness monitor: S4
Warranty: Frame 5 years / Parts 3 years
Oxbridge Frame Construction
This rower's frame is Cherry wood, coated with Danish oil without any stain color. This oil gives the wood a water-resistant, satin finish. It will slowly darken since it's Cherry wood due to exposure to light, gaining a beautiful, reddish hue.
Another positive aspect of this type of wood is that it absorbs vibration well, supplying a machine's smooth usage. The Oxbridge rower's rails are stainless steel, which also goes for the rollers on the seat. Overall, the rower has an elegant, warm, and welcoming aspect.
The Oxbridge water rower has a maximum user capacity of 700 lbs (317 kg). It can also accommodate users with an inseam of 37″ comfortably. In other words, the user height limit is 6'6″ – 6'7″ (198 – 201 cm).
Like most rowing machines, the WaterRower Oxbridge model takes quite a bit of space length-wise but not much in width. Its fully assembled footprint is 82.25″L x 22.25″W (209L x 57W cm), the water tank giving its widest point. However, this fitness machine can store vertically.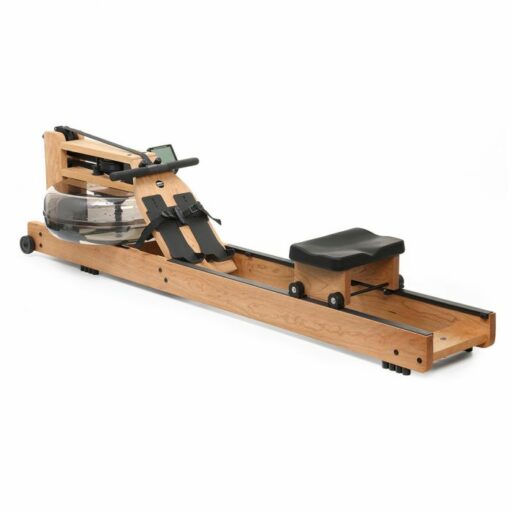 The frame doesn't have a folding design. It is stored on the water tank guard and its small caster wheels. When stored in an upright position, its footprint is relatively small, 20″L x 22.25″W x 82.25″H (51 x 57 x 209 cm). In addition, water can remain in the tank when the machine is upright.
The machine is not extremely heavy and easy to handle and store when fully assembled. It weighs 66.5 lbs (30.5 kg) without the tank's water and 103.5 lbs (47 kg) with the tank filled with water.
The rower rests on four small stabilizers made of PVC material when in the use position. Typically, they shouldn't damage your floors, but it's best to place the machine on a mat regardless of the floor type. It will not only prevent any damage to the floors but also enhance the machine's stability and prevent sweat from reaching the floor.
Seat, Footrests, and Pulling Handle
The rower's seat has a pretty simple design. It's a rather hard surface, but it's padded with a softer material than just the simple wood and has a molded structure, supplying a comfortable positioning for the user.
The top part of the seat is covered with synthetic leather, offering superior adherence, enhanced by the seat's slightly elevated front edge.
The rower's pulling handle is relatively simple, with rubber foam grips to prevent damage to the hands during prolonged rowing sessions. The footrests are size adjustable, accommodating feet of all sizes. The footbed is angled, giving the footrests a slope of approximately 45°.
Oxbridge Water tank and resistance system
This rower comes with a five gal (19 liters) water tank made from highly durable polycarbonate material. Unfortunately, it has a gray hue, and there aren't different colors for the water tank. However, you can obtain a different color by adding water dye to the water.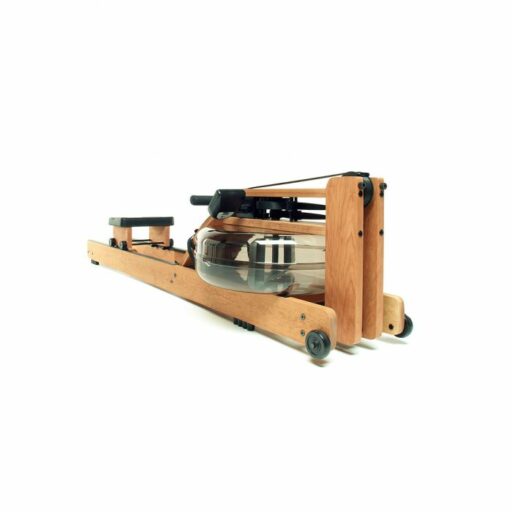 Although the tank's maximum capacity is five gals (19 l), the total water added within the container is 4.5 gals (17 liters). There are markings on the tank which indicate the water level. The box should also come with a siphon, which facilitates the filling/emptying of the container.
Like most water-based rowing machines, the WaterRower Oxbridge offers a smooth, natural feel, using the same principles of rowing a real boat in the water.
The machine's resistance system involves a 2-paddle water flywheel connected to a network of heavy-duty bungee cords and pulleys. As you pull the handle, the wheel begins to spin into the water tank, generating resistance.
As the Oxbridge model is a rower with a fluid resistance system, the strength you put behind each pull determines the resistance level. Moreover, the harder you pull, the more resistance you should feel. The rower's overall resistance is only adjustable by tightening the straps or adding/removing some of the tank's water.
Suppose you're looking for a rowing machine that automatically adjusts the resistance. One of my recommendations is the First Degree Fitness Daytona Challenge AR water rowing machine.
S4 Fitness monitor
The WaterRower S4 performance fitness monitor comes with the Oxbridge rowing machine. For a rowing machine computer, this is quite an advanced one. First, it can indicate distance, time, intensity (speed), KCalories, watts, strokes per minute, and heart rate.
It displays intensity in meters per second (m/s), miles per hour (mph), time per 500 meters (t/500m), and time per 2 km (t/2km). You can set up the distance in meters, kilometers, and miles.
It requires a chest strap transmitter for heart rate, which, unfortunately, does not come with the unit. Polar and ANT+ offer these accessories.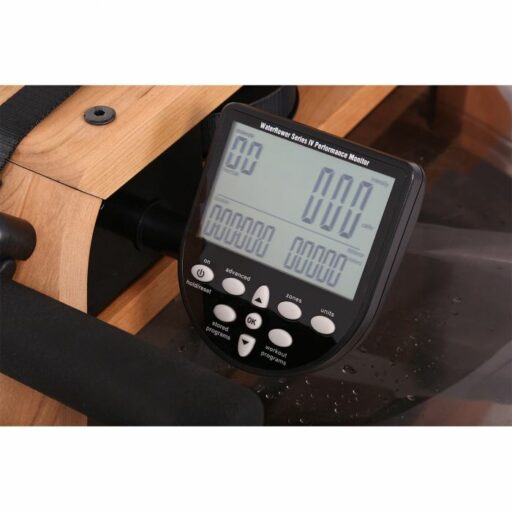 The monitor has nine built-in advanced rowing programs. Interval workout settings for distance and intensity are available as well. But most importantly, the S4 performance monitor is a PC interface capable via a monitor cable.
We-Row, WebRacing, and WaterCoach Fit are commercially available apps. Thus, it allows you to join online rowing communities, compete with others, or customize your workout.
The battery-operated fitness monitor requires 4 AA-type batteries.
Oxbridge Assembly and Maintenance
Regarding assembly, it's safe to say that putting together this rower is much easier than a piece of furniture from Ikea. All you need to do is attach the two rail parts and the rear spacer, then mount the seat and the water tank.
Next, you will need to add the transport wheels, the footbed, and footrests, connect the cords and the fitness monitor and finally add water into the tank.
Therefore, it shouldn't take longer than one hour of your time. The manual with the assembly instructions and tools comes with the rower.
Maintenance doesn't require much, either. As the manual instructs, water doesn't need replacing if you treat it with a chlorine pill every six months. The bungee cords are also pretty resistant and should take a long while until they wear out.
The only important aspect regarding the unit's maintenance that you should consider is cleaning the rails thoroughly before each use. Any dirt or other particles can damage the seat wheels or tracks.
Note One last important aspect that we should mention is the unit's warranty. The WaterRower Oxbridge rowing machine has one year warranty by default. But if you register it with WaterRower as you receive it, you will get five years of warranty for the frame and three years for parts.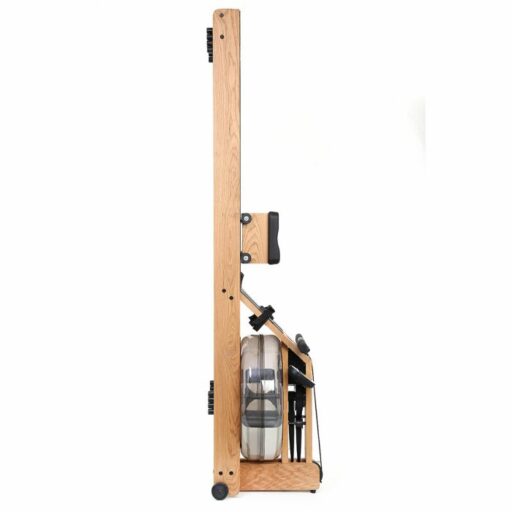 Pros
Maximum user capacity up to 700 lbs;
Superior aesthetics, Cherry wood frame;
Storable in an upright position;
Easy to handle and transport;
Water-resistance system, providing the most natural rowing feel that you can get;
Contoured, ergonomically designed seat;
Advanced performance monitor, PC compatible, and HR strap compatible;
Its operation is smooth and quiet;
The rower is for users of all levels;
Little maintenance is required;
Easy to assemble;
Excellent warranty package.
Cons
No angle adjustability for the footrests;
An HR chest strap does not come with the rower.
WaterRower Oxbridge Rowing Machine Summary
The WaterRower Oxbridge is a commercial-grade water rowing machine offering a high user weight capacity and height for users of all levels and sizes. It's an excellent machine for a full-body workout, engaging more than 80% of the user's muscle mass, rendering consistent cardio training.
Moreover, it's a machine great for building stamina and losing weight. You can lose up to 3-4 pounds per week by working out daily on this machine. So even though it's not the most affordable rower out there, it's safe to say it's a machine worth every penny.
I hope you found this article helpful and informative. Would you please speak up if you have anything you'd like to share on the topic or any opinions about my website? I look forward to your comments, questions, and the sharing of ideas.
Please remember that you should consult your physician to determine if you have any medical or physical conditions that could risk your health and safety or prevent you from using the equipment properly. In addition, your physician's advice is essential if you are taking medication that affects your heart rate, blood pressure, or cholesterol level.