Enjoy your in-home workout with the Women's Health Men's Health (WHMH) 1678 Dual Handle Rower. Get in an intense workout without ever leaving the comfort of your own home. The 14 Level Dual Transmission fan and magnetic resistance make for an easy or more challenging workout. Then, you decide how hard you want to train that day.
This rower measures how HARD you pull, what DISTANCE you pull, and what RESISTANCE Level you use. Combining these three things will have accurate training metrics for calories burned, Speed, Distance, Split Times, etc.
Follow trainer-led classes, enjoy scenic routes, track your workouts, and more with the MyCloudFitness App, accessible for 30 days. You need one machine to get your whole body fit and toned! Train hard and get the results with the Men's Health Women's Health 1678 Dual Handle Rower with MyCloudFitness App.
Learn more in my complete review below!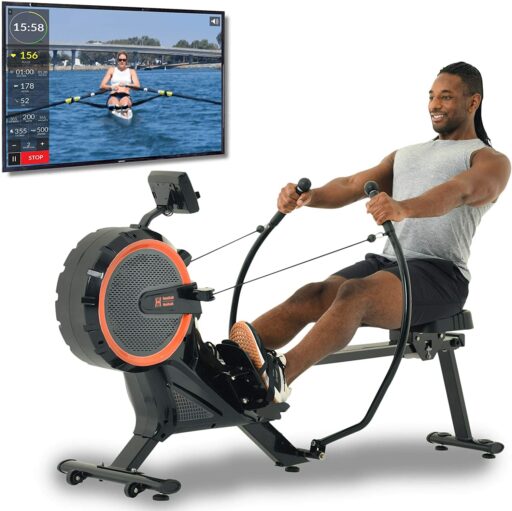 Product: WHMH 1678 Dual Handle Rower
Price: For a great deal on this rower, merely go here on Amazon
Warranty: Frame 5 years / Parts 3 years / Electronics 2 years
My rating: is 8/10
Affiliate Disclosure: As an Amazon Affiliate Program participant, I earn commissions on purchases made through links in this post. Full disclosure
Details and Specifications
Assembled dimensions: 72L x 25W x 51.5H inches (183L x 63W x 131H cm)
Assembled weight: 116.4 lbs (52.8 kg)
Supported weight: 250 lbs (113.3 kg)
Footrests: Adjustable, non-pivoting
Resistance: Air & magnetic, 14 resistance levels
Fitness Monitor: Time, split/time, strokes, strokes per minute, distance, calories, watts, goals
Warranty: Frame 5 years / Parts 3 years / Electronics 2 years
1678 Frame construction
The WHMH 1678 dual-handle rower features a durable steel frame double-coated with a corrosion-resistant black paint finish. The only exception is the metal sheet covering the machine's rail, either stainless steel or extruded aluminum, so it doesn't have a paint finish.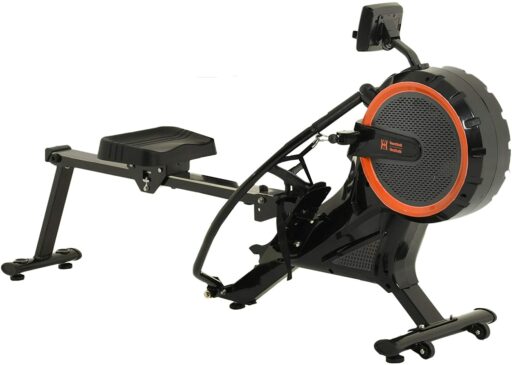 The fully assembled machine is relatively large. It is approximately 72″ (183 cm) long and 25″ (63 cm) wide. Plus, leaving at least two feet of clearance at the unit's rear and on each side is advisable for easy access and correct usage.
The rower is also pretty heavy. Its net weight is 116.4 lbs (52.8 kg). Therefore, it provides superior stability, but on the other hand, two people will have to transport the packaged unit. However, once assembled, one person can quickly move the rower as its front base comes with transport wheels.
The unit's rail system is foldable. By folding it up, its footprint becomes approx. 45″L x 25″W (114 x 63 cm), while its height will reach approx—59″ (150 cm). Also, when in usage position, the rower rests on three bases; each one comes equipped with adjustable levelers. It rests on the front and middle stabilizers when in the folded position.
The rower's rail system is rectangular. It is approx. 38″ (96.5 cm) long, and the maximum inseam length is 41″ (104 cm). Therefore, the rower should comfortably accommodate users between 5'0″ and 6'5″ (153 – 196 cm), allowing a complete leg extension. It also has a maximum user weight capacity of 250 lbs (113 kg).
Seat and other parts
The WHMH 1678 rowing machine comes with a reasonably large seat. It is approx. 13.5″ (34 cm) wide and 10″ (25 cm) long, so it provides plenty of contact surface. Its top is high-density foam for improved comfort. In addition, it comes contoured with elevated edges for better positioning.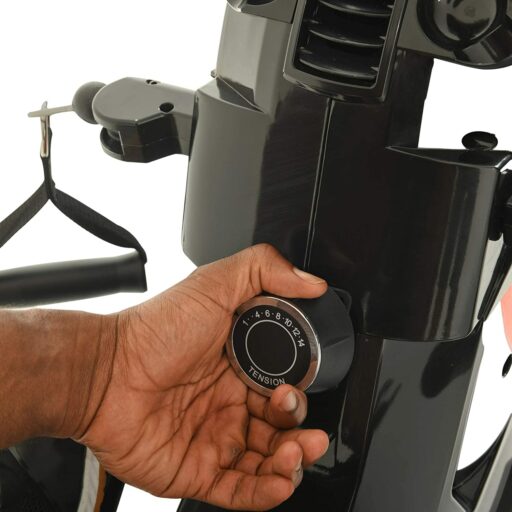 The base frame of the seat is steel. It integrates three sets of rollers—two slides on top of the rail, and the third slides under it for improved stability. The rollers integrate sealed bearings for a smooth motion and have a rubber layer on the outside to reduce noise.
The machine's rail is slanted, and compared with other rowers, the seat of the WHMH 1678 model is pretty high for easy entry and exit. It is approximately 21″ (53 cm) high when at the front of the rail and 22.5″ (57 cm) at the rear.
Unlike many other rowers, the WHMH 1678 comes equipped with a set of oars rather than a pulling handle. Instead, they have extended, curved grips with ball grips at the top, and they attach to the machine's resistance cables and the frame's middle base.
They have a tilt-and-swivel system. Therefore, you can move the oars forward and backward as you row, but you can also move them laterally to simulate the motion of rowing a real boat.
Along with the oars, a set of two standard D-handles come with the machine. You can attach these to the trainer's resistance cables if you want to perform a different type of workout.
The rower comes equipped with a set of large footrests. Their bases are metallic, while their top section is a durable and flexible thermoplastic material. They are size-adjustable so that they can accommodate athletic footwear of all sizes. They also have heel guards and adjustable straps so you can secure your feet perfectly on them.
The footrests connect to the frame's front section and are stationary (they do not pivot). Their angle is approx. 45°, so they deliver a comfortable foot positioning.
1678 Resistance system
The WHMH 1678 dual-handle rower combines air and magnetic resistance elements. The main resistance generator is the extensive fan system at the front of the unit. When the cables are pulled, the fan spins into its casing, generating resistance. In addition, the resistance provided by the fan is dynamic. In other words, pulling faster will offer more resistance, similar to rowing a real boat through the water.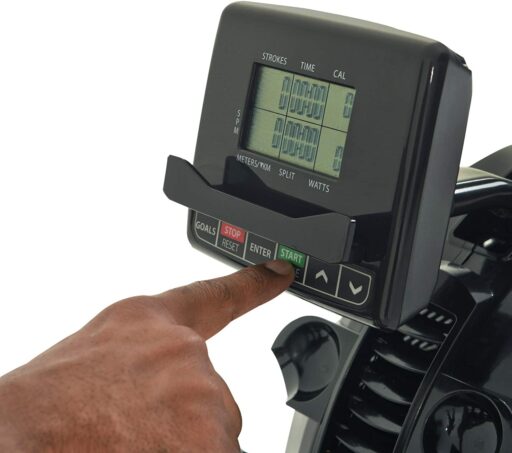 It's important to note that the two resistance cords can pull independently. Therefore, you can use only one if you want or attach them to only one oar. You can also perform other exercises rather than rowing, such as standing rows, resistance punching, and even front presses.
The machine's air resistance system is a magnetic brake and a small internal flywheel. The magnetic brake connects to the tension knob on the machine's front unit through a steel cable.
Therefore, when you turn the knob clockwise, the brake moves closer to the metallic flywheel, adding resistance to the ride. Conversely, if you turn the knob to the left, the magnets move away from the flywheel, which reduces the workout load.
The rower makes available 14 resistance levels. The first one delivers a relatively light difficulty. You will work only with the resistance generated by the fan system if you select level 1. Conversely, the 13-14 levels provide considerably more resistance, offering the possibility to undergo a very consistent, full-body cardio workout.
Fitness monitor
The WHMH 1678 rower has the same fitness monitor as the WHMH 1638 model. In addition, it features an LCD divided into six windows that indicate time, spit/time, strokes, strokes per minute, distance, calories, and watts. The strokes per minute (SPM) and the distance functions share the same window and display alternatively.
The fitness monitor does not have a pulse reading function, nor does it has any workout programs. However, it does have target settings for time, distance, strokes, and calories. Thus, if you select a target for these metrics, the unit will count down from the chosen target until the value reaches zero.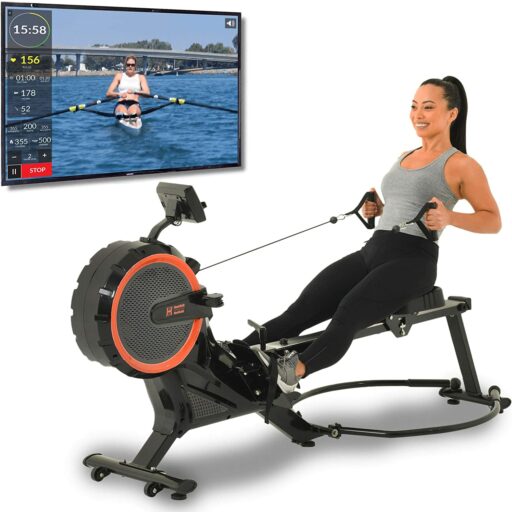 The monitor is Bluetooth-enabled and compatible with the MyCloudFitness app. This app is available for both iOS and Android. It has a free, basic version that you can always use and a paid version with multiple extra features.
The basic version lets you track your progress and view your workout history. The premium version offers access to multiple videos provided by professional trainers, interactive rowing sessions, and more. There is also a 30-day free trial for it.
The fitness monitor uses four AA batteries that come with the rower. It starts when you begin rowing and automatically shuts off after several minutes of inactivity on the rower.
1678 Assembly and Maintenance
The front unit of the machine with the fan and the other resistance elements comes pre-assembled. However, the rest of the parts do require user assembly. You will have to connect the front stabilizer, insert the seat on the rail, connect the rail, and add the rear stabilizer, the footrests, the oars, and the fitness monitor.
The task is pretty straightforward and shouldn't take more than one hour of your time. The manual provides clear assembly instructions and all the necessary tools for the rower.
The machine's maintenance doesn't require much. You only have to keep it clean, especially the rail, to prevent damage to the seat rollers. The internal parts shouldn't require maintenance or lubrication for a long time, and the fan casing can be vacuumed from the outside if it accumulates dust.
Pros
Sturdy frame construction;
Long rail – 41″ applicable inseam length;
Folding design;
Transport wheels integrated into the front base;
Adjustable stabilizers on all base stabilizers;
Padded and contoured seat for optimal comfort;
Independent oar action, which simulates the rowing of a real boat;
D-handles for cable exercises included;
Large, adjustable footrests with straps for maximum foot stability;
Dual chain drive system for extra rowing motion stability;
Air resistance for a dynamic response;
Magnetic resistance with 14 levels of difficulty;
Fitness monitor included – it tracks time, split/time, strokes, strokes per minute, distance, calories, and watts;
Goal functions for time, distance, calories, and strokes;
Bluetooth connectivity;
Compatible with the MyCloudFitness app for online workout history tracking;
Device holder included;
Batteries for the fitness monitor included;
Easy to assemble;
Little maintenance is required;
Excellent warranty.
Cons
The fitness monitor doesn't have a pulse reading function;
There are not any preset workout programs.
WHMH 1678 Dual Handle Rower Summary
The Women's Health Men's Health 1678 is air & magnetic resistance rower. It features a dual-action oar-based rowing system for a natural rowing feel and a dynamic response. Furthermore, it has a pretty sturdy construction, a 38-inch long rail, adjustable footrests, and a fitness monitor that tracks essential workout metrics.
In addition, the fitness monitor is also compatible with the MyCloudFitness app for online workout history tracking. Moreover, it is an excellent machine for a full-body cardio workout, muscle toning, stamina and strength development, and weight loss.
I hope you found this article helpful and informative. Would you please speak up if you have anything you'd like to share on the topic or any opinions about my website? I look forward to your comments, questions, and the sharing of ideas.
Please note that you should consult your physician to determine if you have any medical or physical conditions that could risk your health and safety or prevent you from using the equipment properly. In addition, your physician's advice is essential if you are taking medication that affects your heart rate, blood pressure, or cholesterol level.