XMark Functional Trainer XM-7626 Cable Machine review. What is a functional trainer anyway? How does it work? It's a cable machine that uses two independent weight stacks, pulleys, and cables (with handles) to provide unique workout benefits. For over ten years Functional Trainers have provided unparalleled performance and value. Modern designs offer the latest trend in "user-defined" training methods utilizing multiple muscle groups.
Core stability training can lead to improved balance, coordination, and stability. By efficiently working your body's stabilizer muscles though a limitless number of exercises, a Functional Trainer offers strength-building results to users of all sizes.
Functional Trainers allow you to have complete freedom of movement in any direction or plane while performing weight resistance exercises. There are unrestricted activities designed to move the way your body naturally moves. Change the angle, resistance, and attachment for a wide variety of tasks to hit either the upper or lower body.
If you're looking for a commercial-grade cable machine, the XMark Functional Trainer XM-7626 is a model to put on your list. The XM-7626 provides true iso-lateral based movements allowing users a variety of options for muscle targeting and isolation. 19 different column adjustments will enable the user to customize the trainer to fit their body and movements.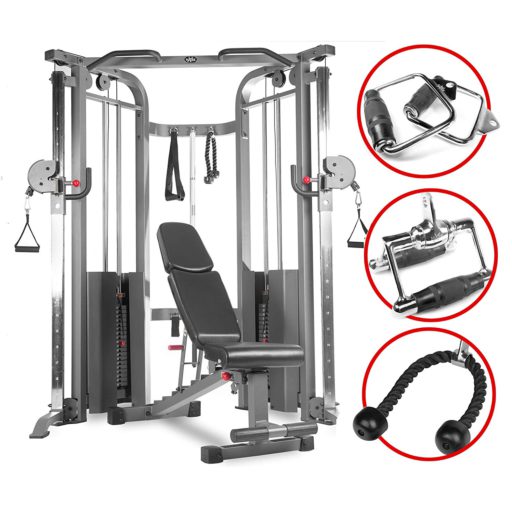 Learn more in my complete review below
Product: XMark Functional Trainer Cable Machine with Dual 200 lb Weight Stacks, XM-7626
Price: For a great deal on this gym, merely go here on Amazon
Warranty: Frame lifetime / Parts 1 year
My Rating: 9.6/10
Amazon Affiliate Disclosure: I may earn commissions from purchases made through links in this post.
XM-7626 Overview
Hands down the XM-7626 is the most versatile piece of equipment for your family's home gym. Easily adjusts for anyone in your household, whether young or old, short or tall.
Your training possibilities are unlimited with the dual 200 lb. Weight stacks, quickly adjust pulleys with 19 settings spaced at 3.5″ each and easily interchangeable accessories.
Included accessories: a pair of 8″ hand straps, a pair of 17″ long strap handles, a 23″ tricep rope, a short bar and a 42″ long bar, leg extension leg curl strap and an ankle strap and workout poster.
The heavy-duty 11-gauge 2″ x 3″ steel mainframe construction ensures the XM-7626 is solidly built, while the commercial-grade pulls up rig and pulley system are incredibly smooth.
The XM-7626 provides exact isolateral-based movements, allowing users a variety of options for muscle targeting and isolation. Also, perform pull-ups and chin-ups on the split grip pull-up bar.
Frame construction
The XM-7626 features an extremely sturdy and well-engineered frame. Most of the parts in its frame construction are made of steel, 11-gauge, 2″ x 3″ for the mainframe bars. Also, the finish on the mainframe bars is gray, being corrosion and scratch-resistant. However, the upright bars of the adjustable pulleys, as well as the guide bars of the weight stacks feature a chrome finish.
Considering that it comes with two 200 lbs weight stacks, the fully-assembled machine is cumbersome, weighing over 800 lbs. It means it has a lot of stability on its own; you won't need to anchor it to the floor. Its bases feature rubberized pads for floor protection, which also enhances its overall stability.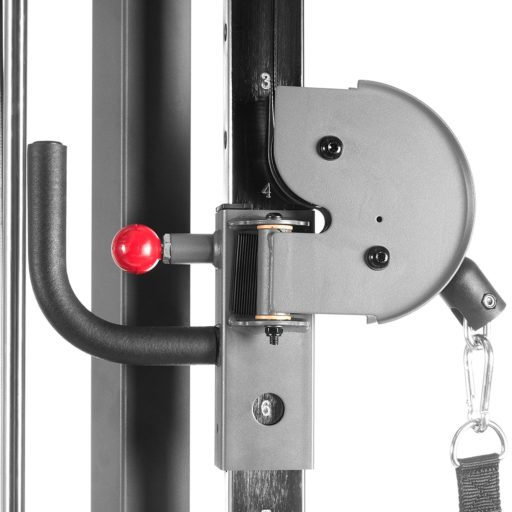 On the other hand, this XMark cross over machine does not have a huge footprint. The distance between the widest points of its bases is 65″ (165 cm), while its depth is 43.5″ (~110 cm), while the space between the adjustable pulleys is approx. 60″ (152 cm).
Its setup height is 84″ (~213 cm) which means it won't fit in a room with a 7′ ceiling, or it will be quite a tight fit, without leaving any room for pull-up exercises.
In other words, it's recommended to place and use this machine in a room with at least an 8′ ceiling. Thus, this XMark trainer can accommodate users up to 6'5″ (195 cm), promoting a correct execution of all exercises.
XM-7626 Adjustable Pulleys
This functional trainer cable machine is equipped with 16 pulleys made of heavy-duty nylon material; all pulleys integrate industrial grade, sealed ball bearings for smooth operation and prolonged use.
There are 19 adjustment positions for the side pulleys, the adjustment slots being 3.5″ (~ 9 cm) apart. Their lowest setting is 1′ (30.4 cm), while the highest position is 6'6″ (198 cm). The adjustable pulleys can also pivot on their upright axis, offering excellent flexibility for all exercises.
Also, each adjustable pulley assembly is equipped with a handle, which facilitates its adjustment.
The cables supplied with the machine are aircraft quality steel ropes; they feature a sheet of PVC material to deliver a smoother glide over the pulleys. Furthermore, each wire can extend up to 81″ (206 cm) from the pulleys.
The top frame bar of the machine is equipped with a set of handle grips for pull-up exercises. In addition, they're rubberized to deliver a secure grip. Their weight capacity isn't specified, but they should support users up to 300 lbs (136 kg) with no problem.
Included Accessories
As I mentioned above, the XM-7626 has a pretty complete set of accessories. To begin with, you'll get a set of two handle grips with short straps (8″ – 20 cm) and a set of two handle grips with long straps (17″ – 43 cm). A triceps rope (23″- 58.4 cm), a long bar (42″ – 106.6 cm), a short bar, and one ankle strap are also included.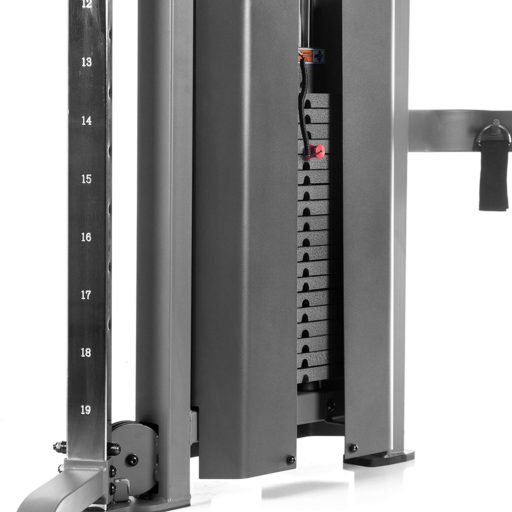 Plus, the box contains a poster that covers 35 standard exercises that can be performed on this trainer. Furthermore, a bench for presses is included. So, in case you want to perform chest presses, you'll be able to.
XM-7626 Weight Stacks
This XMark functional trainer cable machine comes with two weight stacks, 200 lbs (90.7 kg) each. Each plate weighs 10 pounds (4.5 kg), which pretty much means that the adjustment increments for each stack are 10 lbs.
One of the pluses of this crossover trainer is that the weight plates are made of cast iron, not cement or other materials. They're incredibly durable, and with proper use, they should last a lifetime.
Each weight stack features two metallic side guards for the lower part, which considerably improves the safety of this machine. Furthermore, each stack glides on a set of two guide bars, resulting in superior stability for the plates' movement.
Last but not least, the weight stacks are not upgradable. Also, there aren't any custom 2.5 lbs or 5 lbs weight adapters to offer lower adjustment increments than the standard 10 lbs.
Possible Exercises
Standing up incline chest press;
Standing up decline chest press;
Bench press;
Incline bench press;
Decline bench press;
High row;
Mid row;
Low row;
Upright row;
Rear deltoid crossover;
Pull up;
Chin-up
Close grip pull up;
Around the world pull up;
Cliffhanger;
Shoulder press;
Seated shoulder press;
Lateral raise;
Internal rotation;
External rotation;
Bicep curl;
Tricep press down;
Kneeling crunch;
Deadlift;
Core rotation incline;
Core rotation decline;
Golf swing;
Squat;
Lunge;
Hip abduction;
Hip extension;
Kick back;
Leg extension;
Leg curl;
… and more.
XM-7626 Assembly and Maintenance
The assembly of the XMark XM-7626 functional trainer is not incredibly complicated. However, due to the many parts included, it will take at least a few hours. Due to its massive weight, it's recommended to be transported and assembled by several people. Furthermore, all the tools required are included.
Regarding the maintenance of the machine, one crucial recommended aspect is applying some silicone lubricant onto the guide bars of the weight stacks. It is not a bad idea to do this during assembly, as it will lead to the smooth operation and adjustment of the machine. Also, if the pulleys begin to squeak, a bit of silicone spray lubricant should fix this problem.
Technical Details and Specifications
Assembled dimensions: 43.5″L x 65″W x 84″H (110.5L x 165W x 213.3H cm)
Shipping weight: 827 lbs (375 kg)
Weight stacks: 2x 200 lbs (90.7 kg)
Possible exercises: 35+
Warranty: Frame lifetime / Parts 1 year
Pros
Commercial grade construction, high sturdiness, and stability;
Heavy-duty nylon pulleys with metallic, sealed ball bearings;
Extremely durable metallic cables with PVC covers for smooth operation;
Each wire can extend up to 81″ from the pulley;
19 adjustment positions for its mobile pulleys, between 1′ and 6'6″;
Ergonomic pull up handle grips;
200 lbs weight for each stack;
Highly durable metal weight plates;
Over 35 exercises available;
The relatively small footprint for a home gym system;
Long handle grips included;
Short handle grips included;
Long bar included;
Short bar included;
Triceps rope included;
Ankle strap included;
Little maintenance required;
Quiet operation;
Excellent warranty plan.
Cons
Weight stacks are not upgradable.
XMark Functional Trainer XM-7626 Summary
The XM-7626 XMark is a gym-quality crossover functional trainer, equipped with two 200 lbs weight stacks (10 lbs per plate). In particular, it offers 19 adjustment positions for the front pulleys and comes with several accessories, including handle grips, short bar, long bar, triceps rope, and ankle strap and bench.
It gives you the possibility to perform more than 35 gym-quality exercises, being a perfect trainer for users of all levels. And finally, even though it's not exactly an affordable fitness machine, it offers great value for the price. Highly recommended!
I hope you found this article helpful and informative. If you have anything that you'd like to share or opinions about the content on my site, please do speak up. I look forward to your comments, questions and the sharing of ideas.
Recommended articles:
Please follow and like us: