The XMark XM-7618 Lat Pulldown and Low Row Cable Machine features high and low pulley stations. Therefore, many exercises, including lat pulldowns, low rows, bicep curls, triceps presses, and shrugs, target the upper back, shoulders, and arms.
It sports an 11-gauge steel 2-inch by 3-inch mainframe construction coated in a baked scratch-resistant powder coat finish with bolted-on skid-resistant feet. Additionally, nylon-coated aircraft quality cables have a 2200-pound tensile strength rating and a 400-pound maximum load capacity.
This XMark Lat Pull-down and Low Row Cable Machine use high-quality materials in its construction. With this in mind, it is a reliable multi-function strength training machine that performs smoothly and looks as good as it feels to use.
Included are two 14-inch chrome-plated Olympic sleeve adaptors, a chrome-plated lat pulldown bar, and a low row bar with texturized rubber handgrips. This machine also has a flip-up footplate with a low-row bar.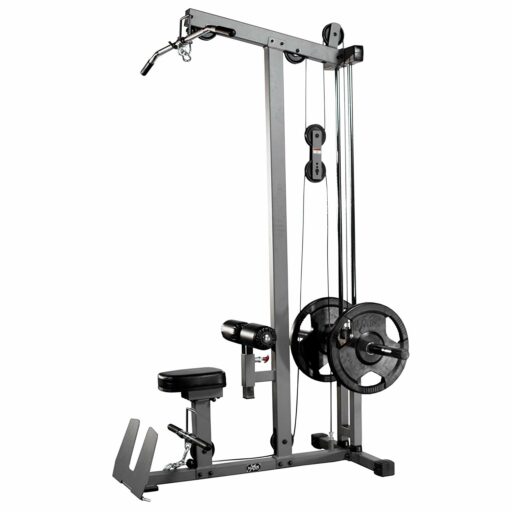 Learn more in my complete review below!
Product: XMark XM-7618 Lat Pulldown Machine
Price: For a great deal on this gym, merely go here on Amazon
Warranty: Frame lifetime / Parts 1 year
My rating: 9/10
Affiliate Disclosure: As an Amazon Affiliate Program participant, I earn commissions on purchases made through links in this post. Full disclosure
Note: The weight plates do not come with the machine.
Details and Specifications
Assembled dimensions: 56.7L x 48W x 84H inches (144L x 122W x 213H cm)
Assembled weight: 122 lbs (55.3 kg)
Weight capacity: 400 lbs (181.4 kg)
Possible exercises: 20+
Warranty: Frame lifetime / Parts 1 year
XM-7618 Frame construction
The XMark XM-7618 lat pulldown machine features a frame made of steel tubing, 11-gauge, 2″ x 3″ (5.0 x 7.6 cm). Its steel parts come with a corrosion-resistant powder finish, silver in color. However, several parts and accessories, such as the plate carriage guide rods, the base frame of the thigh pad, or the lat pulldown bar, feature a chrome finish.
The machine is not extremely large. Its footprint measures approx. 57″L x 31″W (144 x 79 cm), but its total width measures 48″ (122 cm). Therefore, to properly operate the machine without any hindrance, assigning at least a 7′ x 6′ workout area is advisable.
The assembled item's highest point is 84″ (213 cm) in height. Therefore, it won't fit properly in a room with a 7′ ceiling, so it's advisable to place it and use it at a higher limit. Therefore, the lat machine can accommodate users comfortably up to 6'4″ (193 cm), promoting a complete range of motion for lat pulldowns.
This XMark lat pulldown machine features quite a sturdy and stable construction. In addition, its base bars come with large pads, which enhance its stability. Unfortunately, the frame's base bars do not have holes for anchoring it to the floor, but you can always drill a few (this will void the warranty, though). The fully assembled frame is relatively heavy, though, weighing over 100 lbs, so it has plenty of stability on its own.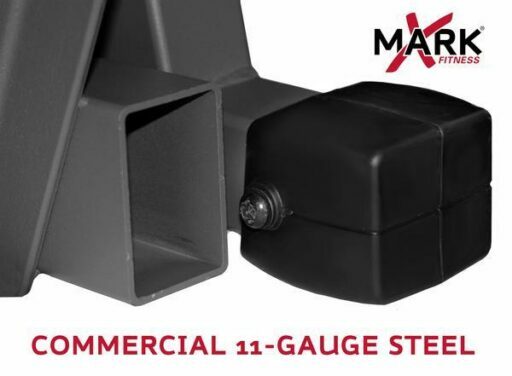 The machine's weight carriage features Standard (1″ – 2.5 cm) bars, but a set of chrome sleeve adapters for Olympic plates is also (included). It's rated for loads up to 400 lbs (181.4 kg). The length of each arm of the weight carriage is 14″ (35.5 cm).
Finally, the XMark XM-7618 has heavy-duty nylon pulleys, integrating stainless steel ball bearings for smooth operation. The cables are aircraft quality (2,200 lb test) steel ropes and feature a nylon coating.
Seat and thigh stopper, and Flip-up footplate
The machine comes with a small but generously padded seat, integrating a 3″ Dura craft cushion. The seat is non-adjustable; its top is moveable to offer more room for various low-pulley workouts. The seat's upholstery is a Dura guard vinyl, designed to last for many years of use without excessive wear.
The XMark XM-7618 has a thigh stopper element, which features 4.3″ (11 cm) thick foam pads to deliver maximum comfort during lat pulldown exercises with heavy loads. As opposed to the seat, the thigh stopper is height adjustable. In addition, its upright bar offers a span of a few inches of adjustment.
The frame has a flip-up footplate featuring a diamond pattern to better adherence for the feet during upright curls or rows. However, not all lat pulldown machines have an element that improves stability during various low-pulley exercises.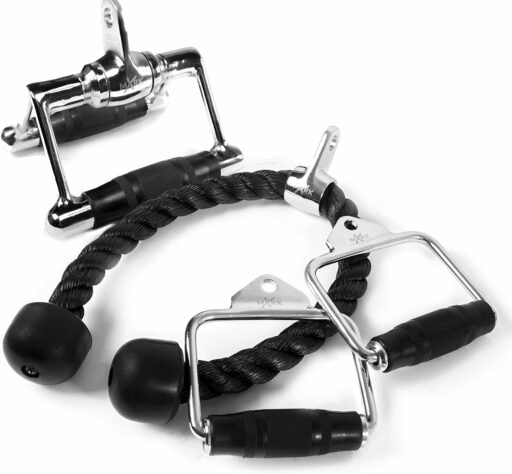 XM-7618 Accessories
The XMark XM-7618 lat machine does not come with a weight plate set. You'll have to use the ones you already own or purchase a set separately. As I've mentioned above, the machine can use both Standard and Olympic plates.
The three main accessories included with this lat pulldown machine are a lat bar, the short bar with the extension chain, and the Olympic sleeve adapter set.
The lat bar is a standard 48″ length one, featuring a chrome finish, with two knurled areas. The ends are rubberized to provide a secure and comfortable grip for traditional pulldown exercises.
The short bar comes with an extension chain attached to it. Like the lat bar, it has a chrome finish and rubberized grips.
And finally, the Olympic plate adapters are also chrome-plated, and as I've mentioned above, they have a length of 14″.
In addition to the standard accessories already included with this machine, XMARK has an optional upgrade accessory package: an XMark chinning triangle, two Sure-Grip handles, and a triceps rope featuring triple chrome plating polished to a mirror shine, specially designed #18 diamond knurl-textured rubber grips, and a precision-engineered revolving forged steel swivel, respectively.
Possible Exercises
Lat pulldowns
Behind neck lat pulldowns
Close grip lat pulldowns
Reverse grip lat pulldowns
One-arm lat pulldowns
One-arm shoulder presses
Straight arm pulldowns
Triceps press downs
Seated rows
Stand-up rows
Biceps curls
One-arm bices curls
One-arm deltoid raises
Cable front squats
Cable forward/reverse lunges
One stand-up leg curls
Hip adductions
Hip abductions
and more.
Evidently, for some of these exercises, you'll need various accessories. For example, you'll need an ab rope for ab crunches or hip abductions; you'll need an ankle strap. But these are relatively cheap accessories and widely available, but unfortunately not included.
XM-7618 Assembly and Maintenance
The machine's assembly is far from complicated. It shouldn't take more than one hour. You'll have to set up the frame's base first, add the carriage guide rods, weight carriage, seat frame, and low pulley, and finally set up the top bar with the pulley's primary cable. The supplied manual offers all the information needed for assembly. Tools do not come included, but two adjustable wrenches will suffice.
For maintenance, all you have to do is periodically check the machine's joints to make sure they still hold tight in their places and re-tighten them if it's the case. Also, if the pulleys develop squeaking noises, some lubricants should solve the problem.
Pros
Sturdy steel frame;
400 lbs load capacity;
Relatively small footprint;
Adjustable knee stopper;
4.3″ foam rollers the knee stopper element;
Flippable seat, with 3″ of Dura-Craft cushioning;
Low pulley station included;
Heavy-duty nylon pulleys with sealed ball bearings;
Lat bar included;
The short bar for low pulley exercises included;
Olympic sleeve adapters for the load carriage;
Offers the possibility to perform more than 20+ exercises;
Easy to assemble;
Little maintenance is required;
Excellent warranty.
Cons
Taller users over 6'4″ may have to improvise for specific exercises;
Weight plates not included;
Ankle strap not included.
XMark XM-7618 Summary
The XMark XM-7618 is a lat machine that includes a low-pulley workout station. Its weight capacity is 400 lbs, and it uses both standard and Olympic plates. It offers the possibility to perform more than 20+ exercises, including lat pulldowns, biceps curls, triceps press downs, seated rows, upright rows, and more.
It also excels in comfort factors, featuring a cushioned seat and extra-thick foam rollers for the knee stopper. In all, it's a well-constructed fitness machine, offering excellent value for the price.
I hope you found this article helpful and informative. Would you please speak up if you have anything you'd like to share on the topic or any opinions about my website? I look forward to your comments, questions, and the sharing of ideas.
Please note: Before starting any exercise program, you should consult your physician to determine if you have any medical or physical conditions that could put your health and safety at risk or prevent you from using the equipment properly. In addition, your physician's advice is essential if you are taking medication that affects your heart rate, blood pressure, or cholesterol level.