The XTERRA AIR650 Airbike Pro is a heavy-duty exercise bike designed directly for the use of athletes to rehab patients and everyone in between. The XTERRA AIR650 AirBike Pro reinvents and retools nearly every component of the traditional fan bike, from the frame construction to the crank, pedals, monitor, and more.
The great thing about the AIR650 Airbike Pro is that it can work for a beginner, a rehabbing athlete, or a seasoned pro training at the highest levels of competition—no matter their sport, body type, or ambition. While fan bikes have existed for nearly half a century, modern advances in their design and function have made them increasingly in-demand.
The XTERRA AIR650 comes everything you're accustomed to and more! The console measures distance, watts, speed, and calories.  It's everything you need in one, easy-to-read console with the ability to setup Interval Training, Target Training, Heart-Rate Training, and more.
With the XTERRA AIR650, the user controls the resistance, not the machine. You can control the intensity of your workout – The harder you push, pull, and pedal, the more air you're moving, and the higher the resistance.
Learn more in my complete review below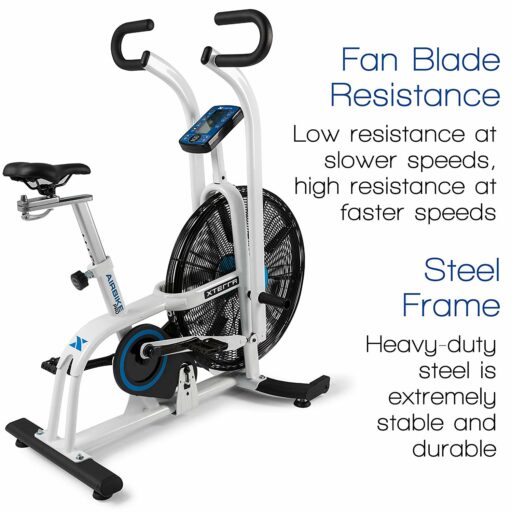 Product: XTERRA AIR650 Airbike Pro
Price: For a great deal on this bike, merely go here on Amazon
Warranty: Frame lifetime / Parts 1 year / In-home labor 1 year
My rating: 9.5/10
Amazon Affiliate Disclosure: I may earn commissions on purchases made through links in this post.
Details and Specifications
Assembled dimensions: 48L x 28W x 54.5H inches (122L x 71W x 138H cm)
Assembled weight: 115 lbs (52 kg)
Supported weight: 350 lbs (159 kg)
Drive: Chain
Resistance: Air
Console: 7 programs
Warranty: Frame lifetime / Parts 1 year / In-home labor 1 year
AIR650 Frame construction
The XTERRA AIR650 Airbike Pro features a heavy-duty steel frame coated with a corrosion-resistant and abrasion-resistant powder finish. The paint color is white for the mainframe, black for the base bars, while the seat post features a chrome finish.
Even though it's an air bike and not a spin bike, the XTERRA AIR650 is considerably heavy. With the frame fully set up, it weighs approx — 115 lbs (52 kg), which is three times the weight of your average road bike. Thus, the bike doesn't have any stability issues; it won't rock or wobble even if you exercise at the highest speeds. Plus, it supports users up to 350 lbs (159 kg).
In terms of stability, the bike has adjustable levelers on all its base bars. They have rubberized pads for superior adherence. Also, the front base integrates two transport wheels, which allow you to relocate it if needed quickly.
The fully assembled bike is not extremely large compared to other fitness equipment. It is approx. 48″ (122 cm) long, and 28″ (71 cm) wide, while the top of its handlebars reaches approx. 54.5″ (138 cm) above floor level. It is advisable, though, to leave at least two feet all around it for ease of access and safe usage.
Last but not least, this XTERRA exercise bike integrates two footrests. Not all air bikes have this feature and can be quite useful as it allows you to put some diversity into your workouts.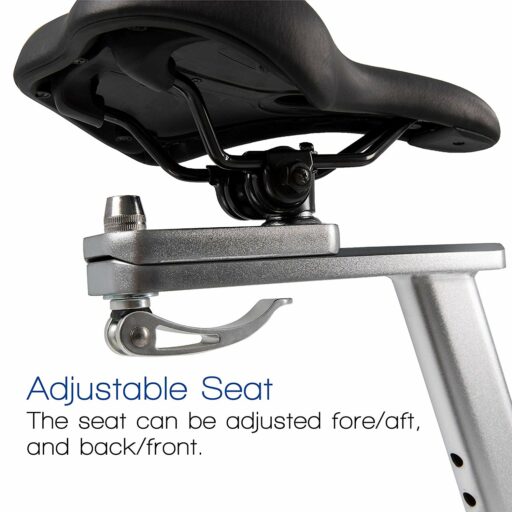 Seat and handlebars
The XTERRA AIR650 Airbike Pro comes with a four-way adjustable seat (up, down, front, back). The upright post has multiple adjustment positions offering increments of approx. 1″ (2.5 cm). Plus, the horizontal slider of the seat offers five extra inches of adjustment.
Therefore, the bike can accommodate users between 5'2″ (157 cm) and 6'7″ (200 cm). It is essential to mention that even though the seat offers excellent adjustability, a shorter user may not reach the handgrips too well when seated. However, they can still exercise while standing up on the pedals or add an extra set of handgrips.
The bike includes a slim saddle similar to the spin bike seats. It's not designed for super comfort, but does integrate a layer of padding and has a contoured to for extra breathability, so it provides at least optimal support. Also, it has a standard attachment system, so in case you will ever want to replace it, compatible options are widely available.
The XTERRA AIR650 Pro features two solid moving arms with a multi-grip design. However, it does not have stationary handlebars, and the moving arms cannot be locked. They continue to move for as long as you pedal.
The bike's grips are fully covered by a layer of high-density foam to provide superior comfort. They do not integrate pulse sensors, but the bike's console does have a wireless pulse reading function.
AIR650 Drive and resistance
The XTERRA AIR650 Airbike comes with a dual chain drive system and an intermediate pulley. The first chain connects the crank wheel to the intermediate pulley, while the second chain connects the flywheel to the intermediate pulley.
This type of drive system not only adds a bit of resistance to the overall pedaling motion, but it also improves the pedaling sensation, adding smoothness to the ride. Also, a chain drive comes with the advantage of durability. With proper lubrication, the chain can last a lifetime.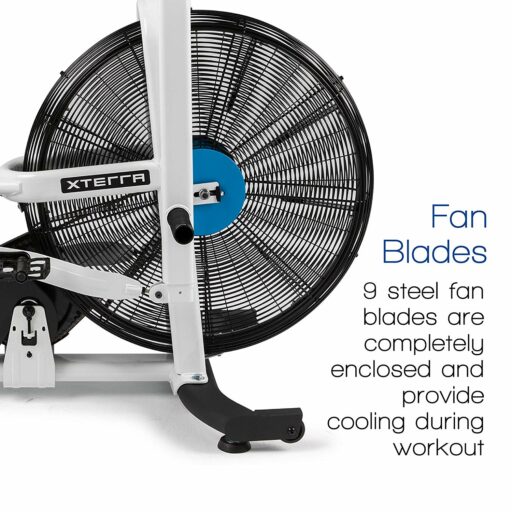 The bike's crankset is exceptionally durable, featuring steel arms and metallic alloy pedals. The bike has a maximum weight capacity of 350 lbs (159 kg), which also stands for the crankset and pedals, so you can pedal while standing up with no problem.
Similar to other air resistance bikes, the included pedals do not have spin clips, straps, or toe cages. They're painted black and have small, anti-skid lugs for improved foot stability. They also have standard threads.
The bike's flywheel is the main resistance-generating element. It's relatively large in diameter (27″ / 68.5 cm) and features nine steel blades for improved resistance. Its casing is also metallic.
Apart from the flywheel-fan, this XTERRA exercise bike does not have any other resistance elements. The resistance is purely generated by the fan and improved by the dual pulley system. There is no magnetic brake or a friction brake, so you cannot manually adjust the overall resistance.
But on the other hand, just like any other air resistance bike or rower, it provides a dynamic response. In other words, if you pedal and move the arms faster, you will get more resistance.
Console
The XTERRA AIR650 Airbike Pro includes a reasonably decent fitness console. To begin with, it has a multi-window LCD to show as many workout metrics as possible. It tracks time, total time, distance, calories, speed, RPM, watts, and pulse.
For speed and distance, you can select either Metric or English units. For pulse reading, the bike does not have any sensors, but the console is telemetric; it can read your pulse through a wireless HR chest strap. This accessory is not (included), though.
The console does not have online connectivity, nor is it compatible with any fitness apps. However, it has seven programs to keep you motivated. These are Target Time, Target Distance, Target Calories, Target HR, Interval 20-10, Interval 10-20, and Custom Interval. Each one has its quick-access button on the unit.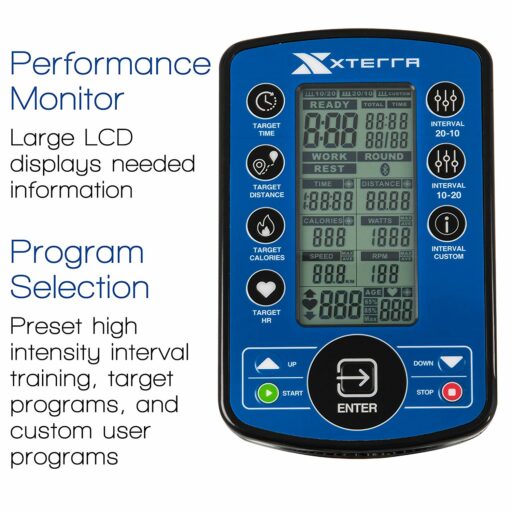 The Target Time, Distance, and Calories programs give you the possibility to select goal values for these metrics. When a goal is selected, the unit will show the remaining amount until you reach your workout goal.
For target HR, you can select between 65%, 85%, and maximum Heart Rate. Once the HR goal is selected, and the program initiated, the unit will prompt you to either increase or decrease your workout intensity depending on your current heart rate.
The fitness console also makes available three interval workouts. These are 20-10 Interval, 10-20 Interval, and Custom Interval.
For the 20-10 Interval, you will have to pedal at high intensity for 20 seconds, then rest for 10 seconds. The 10-20 Interval is the same, but with 10 seconds of work and 20 seconds of rest.
And finally, for the Custom Interval, you can select the desired duration for the work and rest intervals.
The fitness console is battery-powered, and it requires 4 AA batteries. However, the batteries are not (included) with the bike. It has a sleep mode that initiates after 60 seconds of inactivity on the bike. To wake it up, you can either start pedaling or press the Start button.
AIR650 Assembly and Maintenance
The main body of the bike comes pre-assembled. You only have to add the base bars, the console bar, the two moving arms, the seat, the pedals, and the console. This shouldn't take more than one hour. An essential toolkit is (included), and the provided manual provides step-by-step assembly instructions.
Since the bike has a chain transmission, lubrication is required. However, other than this, you only have to keep it clean and periodically check for loose parts.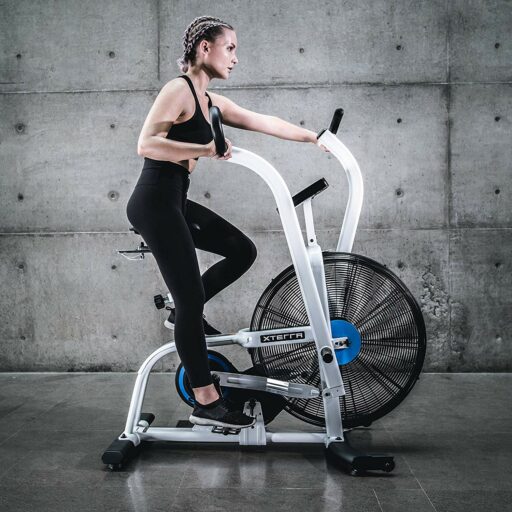 Pros
Sturdy frame can support users up to 350 lbs;
Aesthetic design;
Heavy frame for improved stability;
Adjustable levelers on both bases;
Transport wheels on the front base;
Multi-grip handlebars;
Ergonomic, contoured seat, 4-way adjustable;
Dual chain drive system for extra pedaling stability and resistance;
Air resistance system, great for interval workouts;
The multi-window LCD that tracks RPM, speed, time, distance, pulse, watts, and calories;
Three interval programs – 10/20, 20/10, custom;
Target settings for time, distance, calories, and heart rate;
Telemetric console;
Little maintenance required;
Easy to assemble;
Excellent warranty.
Cons
HR chest strap not included;
No pulse sensors;
No LED backlight on the console display.
XTERRA AIR650 Airbike Pro Summary
The XTERRA Fitness AIR650 Airbike Pro is an air resistance exercise bike featuring a sturdy steel frame (350 lbs capacity), superior ergonomics, and micro-adjustability. It also has a console with a multi-window display and seven workout programs to keep you motivated.
It's an excellent trainer for Tabata exercises, high-intensity cardio training, muscle toning, stamina improvement, and weight loss. And finally, it's not one of the most affordable air bikes available but does provide excellent value for the price.
I hope you found this article helpful and informative. If you have anything that you'd like to share or any opinions about my website, please do speak up. I look forward to your comments, questions, and the sharing of ideas.
Recommended articles: