The XTERRA FB150 Folding Bike sports a two-piece frame in an "X" structure, i.e. the two pieces connect in the middle. Although the frame steel, the bike is quite light. When fully assembled, its weight is only 32 lbs. (14.5 kg). Moreover, the front base bar features a set of small transport wheels which make the bike easy to move.
The FB150 features a manual magnetic resistance system. There are eight levels of resistance. The first one is very light, great for warming up or recovery training. On the other hand, the 8th level provides a remarkable pedal tension; but it's still quite light. In short, the FB150 is not for highly intense muscle burning like heavy-duty upright bikes or spin bikes.
The integrated flywheel is very light, weighing only 3.3 lbs. (1.5 kg). Hence, it doesn't offer a strong momentum or highly aggressive inertia. However, it's bi-directional. Therefore, users can pedal in a reverse direction to add some diversity in their workouts. While pedaling in the opposite direction, the console will keep tracking users' distance traveled, calories burned, etc.
If you are looking for an effective way to burn calories and get in better shape, but don't have much room? The XTERRA FB150 Folding Bike is the perfect exercise tool to help you comfortably pedal away from the calories.
Learn more in my complete review below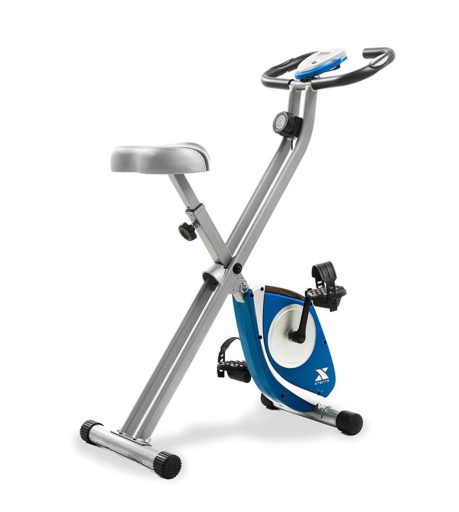 Product: XTERRA FB150 Folding Bike
Price: For a great deal on this bike, merely go here on Amazon
Warranty: Frame 1 year / Parts 90 days
My rating: 9.2/10
Amazon Affiliate Disclosure: I may earn commissions from purchases made through links in this post.
Details and Specifications
Assembled dimensions: 31.5L x 18W x 50.5H inches (80L x 46W x 128H cm)
Assembled weight: 32 lbs (14.5 kg)
Flywheel weight: 3.3 lbs (1.5 kg)
Supported weight: 225 lbs (102 kg)
Seat: 2-way adjustable
Pedals: with straps
Resistance: Magnetic, eight levels
Fitness console: Time, distance, speed, calories, pulse
Warranty: Frame 1 year / Parts 90 days
FB150 Frame construction
The Xterra Fitness FB150 features a two-piece frame with an "X" structure; the two pieces join in the middle. Although the bike's frame is steel, the whole unit is relatively light; with the fully assembled frame, it weighs only 32 lbs (14.5 kg). The front base bar comes with a set of small wheels which facilitate the relocation of the unit.
This Xterra upright bike isn't huge. With the frame fully assembled, it is approx. 31.5″ (80 cm) long, and 18″ (46 cm) wide, while its highest point is given by the handlebars, reaching approx. 50.5″ (120 cm) above floor level. The frame can also be folded to save space; with the structure folded, the unit's footprint becomes 16.75″D x 18″W (42 x 46 cm).
It is recommended, though, to leave at least two feet of clearance on each side of the unit, and at least one foot of clearance at the front and rear, for ease of access and safe operation.
The rear base of the bike is a straight bar. The bike doesn't have a reinforcement bar for the seat bar, and this is one of the reasons its maximum weight capacity is only 225 lbs (102 kg). The Exerpeutic 500 XLS and the Fitness Reality U2500 bikes that we've mentioned have a specified weight capacity of 400 pounds (181 kg).
One last aspect to mention here regards the unit's paint finish. All its metallic parts come with a rust-resistant and chip-resistant paint finish. The color used is gray, while the ABS covers of the flywheel and belt are blue. These are the only colors available for this Xterra Fitness exercise bike.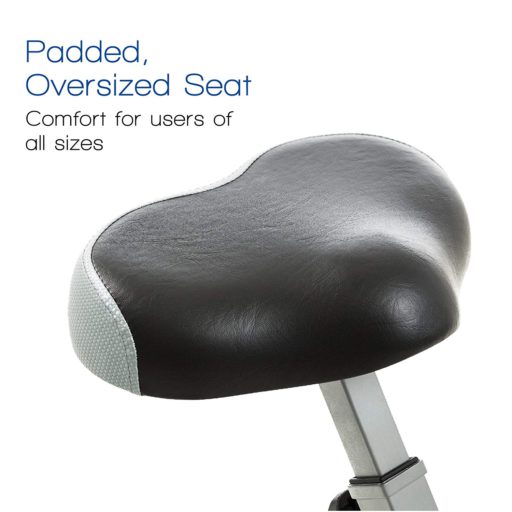 Seat & handlebars
The Xterra Fitness FB150 has an extra-large seat. It's approx. 16″ (40 cm) at its widest point, and therefore, it can accommodate users of all sizes, as long as they don't exceed the specified maximum user weight capacity of 225 lbs (102 kg). The seat integrates a layer of padding to provide optimal comfort. Also, its top is a durable, thick vinyl material.
If you're wondering, the seat doesn't have the typical collar design like most bike seats. Its post features a triangular plate at the top to which the seat attaches via three bolts. Seats with this attachment system are available for sale, so it is not impossible to find a replacement for it in case you want a different type of seat.
The seat is only two-way adjustable (up, down). Its post features seven adjustment positions. Differently put, the bike can accommodate users between 4'10" and 5'10" (147 – 178 cm), promoting a complete leg extension.
The bike's handlebars are non-adjustable. Their hard, curved bar attaches to the front part of the frame via two bolts. The handlebars have a multi-grip design, and a layer of rubber foam material covers them for a secure grip. They also integrate stainless steel pulse sensors so that the console can keep track of your heart rate.
FB150 Resistance
The Xterra Fitness FB150 upright bike features a manual magnetic resistance system. It integrates a small magnetic brake that is attached to the dial at the top of the front part of the frame through a steel wire.
By turning the dial clockwise or counterclockwise, the brake's position about the flywheel changes. This results in an intensity shift of the internal magnetic field, which ultimately leads to more or less pedal resistance.
Since the bike's resistance system is exclusively manual, you do not have to connect it to a power source. Also, the console doesn't play any role in the bike's resistance adjustment.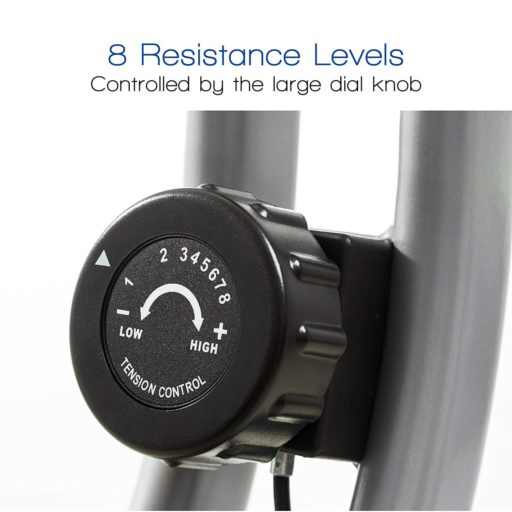 There are eight levels of resistance available. The first one is light, great for recovery training, or warming up. Conversely, the 8th level does provide a distinguishable pedal tension, but it's still pretty light. Differently put, the bike is not for profoundly serious muscle-burning like spin bikes, or heavy-duty upright bikes.
Drive System
Since the bike features a magnetic resistance system, it has a belt drive system. Therefore, the pedaling motion is very smooth and quiet. Also, the bike doesn't require any lubrication.
The integrated flywheel is very light, as well. It only weighs 3.3 lbs (1.5 kg), so it doesn't provide highly aggressive inertia or a strong momentum. It's bi-directional, though. Thus, you can pedal in reverse to put some diversity into your workouts. Also, when pedaling in reverse, the console will continue to track your distance traveled, calories burned, etc.
The bike comes with a pretty solid, 3-piece crankset, featuring steel crank arms. The included pedals have a metallic core and a durable, non-slip ABS surface. They're weighted, which means they always turn face-up when you remove your feet from them.
They're also equipped with adjustable straps so that you can secure your feet. And finally, they have standard threads, so you can easily find replacements for them if it is necessary.
Since it's a pretty small bike, the Xterra FB150 also has a narrow Q-Factor (spacing between the pedals). Its exact dimension is not specified, but it should be somewhere between 150-160 mm.
Therefore, your feet position on the pedals naturally, and there isn't any additional lateral stress on the knees and ankles during pedaling as for bikes with a broader Q-Factor.
FB150 Console
Like most basic exercise bikes, the Xterra FB150 includes a fitness console. However, other trainers do not include a console at all, so this accessory is a plus. The included console features an LCD, which indicates speed, distance, total distance (ODO), time, calories burned, and pulse.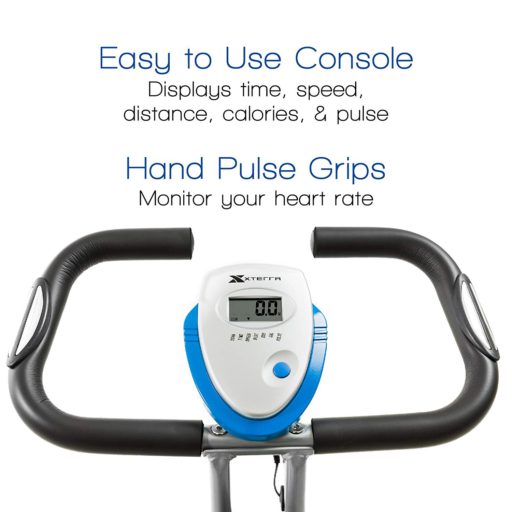 It has a SCAN function that rotates all the fitness metrics, keeping each one on-screen for several seconds, but you can also select one of them to view at all times if you want.
For the unit to track your pulse, you will have to hold onto the pulse sensors integrated into the handlebars. The console is not telemetric.
The console is pretty easy to use. It has only one button. It turns on when you push the button, or when it detects flywheel movement. Accordingly, by selecting the SCAN function, the console will rotate the values showing each one of them for several minutes. However, you can choose any of the metrics to be on display at all times.
Finally, the console is battery powered. It uses two AA batteries, which are (included). It also has a sleep mode to which will enter after several minutes of inactivity on the bike.
Assembly & Maintenance
The bike's mainframe is pre-assembled, with the flywheel, crank, belt, and resistance system already attached to the frame bar. Therefore, you only need to connect the seat post, the seat, the handlebars, the two bases, the pedals, and the console. This shouldn't take longer than 40-45 min.
Furthermore, the manual provides clear assembly instructions, and the necessary tools are (included).
Maintenance doesn't require much. All the internal components are pre-lubricated from the factory, and since the bike has a belt drive system, it doesn't require any lubrication. Thus, for maintenance, you'll need to wipe the dust from the frame and periodically check for loose parts and bolts.
Pros
Fairly sturdy frame – can support users up to 225 lbs;
Transport wheels included;
Small footprint when fully assembled;
Foldable, great for a small apartment;
Highly comfortable, large seat, offering 2-way adjustability;
Multi-grip handlebar with EKG sensors;
Large, self-leveling pedals, with adjustable straps and standard threads;
Narrow Q-Factor for zero lateral stress on the knees and ankles;
Smooth and quiet operation;
Fitness console included;
Batteries for the meter are (included);
Easy to assemble;
Very little maintenance required.
Cons
No bottle holder;
No backlight on the fitness console.
XTERRA FB150 Folding Bike Summary
Hence, the XTERRA Fitness FB150 is a foldable magnetic upright bike, featuring a quiet belt drive, eight levels of manual magnetic resistance, and fitness console that can track time, distance, total distance, speed, calories, and pulse.
It's a bike for light cardio training, muscle toning, stamina development, and weight loss. For example, you can burn up to 4-500 calories daily on this bike. And finally, it's an inexpensive fitness machine, offering excellent value for the price.
I hope you found this article helpful and informative. If you have anything that you'd like to share or opinions about the content on my site, please do speak up. I look forward to your comments, questions, and the sharing of ideas.
Recommended articles:
Please follow and like us: