The XTERRA FS380 Elliptical Trainer provides a synchronized upper and lower body movement for the ultimate in full-body workouts. The ergonomic 18″ stride length combined with a belt-drive system, friction-free magnetic resistance, and an aluminum wheel track design for an ultra-smooth and quiet training.
The front-drive design maximizes your use of space with a small footprint, while the heavy-duty frame design provides a sturdy workout for users of all sizes. The XTERRA FS380 delivers an outstanding elliptical feel at an exceptional value. It's engineered for toughness, durability, and years of maintenance-free performance.
Keep track of your progress with the oversized 5.5″ bright blue backlit LCD console window. It displays your program profile, time, speed, distance, heart rate, loop track, watts, resistance level, RPM, and calories, along with an alpha-numeric message center at the bottom of the screen.
The XTERRA FS380 provides 24 levels of resistance and a long list of 16 motivating programs to keep you motivated and challenged regardless of your fitness level. The belt drive system is combined with a 13 lb flywheel and friction-free magnetic resistance to provide a smooth, quiet, and maintenance-free operation.
Learn more in my complete review below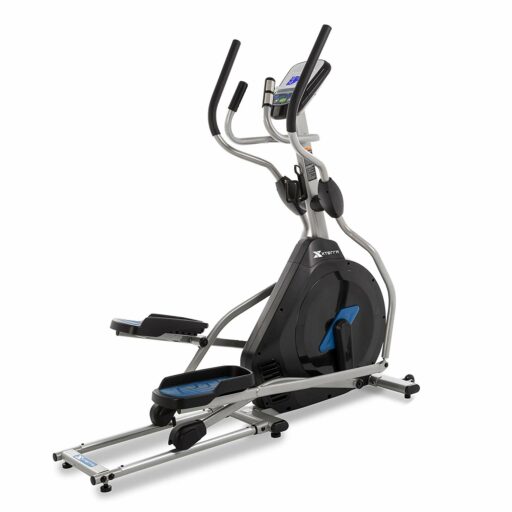 Product: XTERRA FS380 Elliptical Trainer
Price: For a great deal on this elliptical, merely go here on Amazon
Warranty: Frame lifetime / Parts 2 years / Labor 1 year
My rating: 8/10
Amazon Affiliate Disclosure: I may earn commissions on purchases made through links in this post.
Details and Specifications
Assembled dimensions: 63L x 22W x 62H inches (160L x 56W x 157H cm)
Assembled weight: 121 lbs (54.8kg)
Flywheel weight: 13 lbs (5.9 kg)
Max. user weight: 300 lbs (136 kg)
Stride: 18 inches (46 cm)
Incline: No
Handlebars: Both mobile and fixed (with pulse sensors)
Resistance system: Eddy current, 24 levels
Console: 16 workout programs
Amenities: Sound system, tablet holder, bottle holder
Warranty: Frame lifetime / Parts 2 years / Labor 1 year
FS380 Frame construction
The XTERRA FS380 is a pretty large fitness machine. With the frame fully assembled, it's approx—63″ (160 cm) long and 22″ (56 cm) wide. On top of that, it requires at least two feet of clearance on each side and at the rear. Also, its highest point is the top of the mobile handlebars, which is approx. 62″ (157 cm) above floor level.
The assembled unit is pretty heavy, as well. It weighs over 120 lbs (~54.8 kg), which means it's advisable to be transported and assembled by two persons. However, once completed, it is relatively easy to handle and relocate as the front base integrates a set of large rubber wheels.
The XTERRA FS380 features a heavy-duty frame made of steel tubing. It has a weight capacity of 300 lbs (136 kg), similar to light-commercial models. The overall weight of the machine enhances its stability. You can be sure that it won't wobble or rock while you engage in a more intense workout. Plus, it's base points feature adjustable stabilizers with rubber pads, which allow you to level the unit on any flooring perfectly.
Of course, the unit also has several plastic parts, these being the covers of the motor and flywheel, several other covers at the joints of the machine, and the console. These parts, however, don't take away from the unit's overall sturdiness; their role is only protective and cosmetic.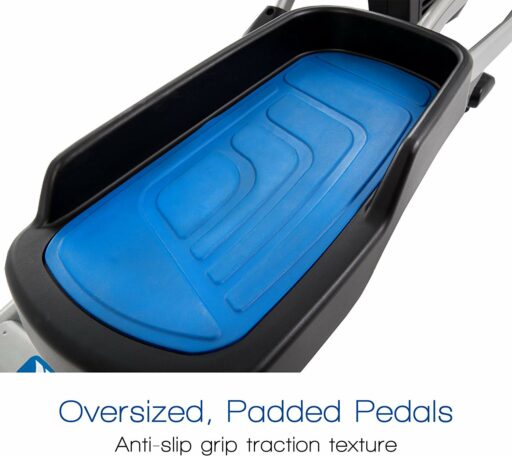 All the steel parts in the unit's construction come with a corrosion-resistant layer of paint; the color used is light silver, which is the only color available for this elliptical trainer.
Pedals and Handlebars
The machine has a set of large pedals that have a non-slip, rubberized core. They don't integrate any articulation or extra shock-absorption elements; however, this is, after all, an elliptical, and any workout carried out on it has a very low joint and back impact. The pedals are also slightly tilted inward (by approx. 2°) to provide a more natural positioning of the feet.
As opposed to the bars in the machine's frame construction, the tracks on which the pedals glide are aluminum. Thus, the pedaling motion is very smooth. The rollers of the pedal bars integrate sealed ball bearings; the other joints of the mobile arms and pedal bars are equipped with top-quality bearings so that the unit provides exceptionally smooth operation.
Last but not least, the XTERRA FS380 elliptical features two sets of handlebars. Both have rubberized handles for a firm and comfortable grip. Also, the fixed handlebars are equipped with stainless steel EKG sensors so that the console unit can monitor your pulse if you hold on to them.
FS380 Q-Factor, stride, elliptical path, and elevation
The XTERRA FS380 features a narrow Q-Factor. The spacing between its pedals is only 2″ (5.1 cm), which means that your feet' position on the pedals is natural, without being too far apart. This way, you won't experience any extra lateral stress on the joints.
This elliptical trainer doesn't have an incline system. Although it's a front-drive machine, its elliptical path is 1-2 degrees inclined forward. However, the pedaling motion feels like walking in a horizontal direction.
The unit's stride length is 18″ (46 cm). The stride is non-adjustable. This means it can accommodate users up to 6'1″ – 6'2″ (185-188 cm) comfortably, providing a complete leg extension and a good striding motion. Taller users can still use this machine with no problem, but they will perform shorter steps.
One last aspect to mention here regards the unit's pedal elevation. The surface of each pedal reaches approx. 18″ (46 cm) above floor level when it is at its highest point. Therefore, it's advisable to place the machine in a room with a ceiling at least 20″ (51 cm) taller than your height.
Drive and resistance
One of the main drive elements of an elliptical trainer is its flywheel. The FS380 elliptical from XTERRA Fitness is equipped with a mid-range flywheel, weighing 13 lbs (~6 kg).
It's a weighted perimeter flywheel, which means that it is heavy enough to provide a reasonably consistent momentum and eliminate the "Stairmaster" effect. It's also bi-directional; thus, you can even pedal in reverse on this machine.
The machine's drive system integrates a heavy-duty v-belt, resistant to stretching. Thus, the pedaling motion generates almost no sound or vibration. Plus, as opposed to a chain drive, this belt drive doesn't require any lubrication.
This XTERRA FS380 elliptical trainer uses an eddy current, automatic resistance system. This means you have to connect it to a power source to benefit from resistance adjustment; the resistance is only adjustable from the console unit.
The resistance system consists of a servo motor, which takes the console's commands and changes the pull of the magnetic elements to increase the drag on the flywheel. Since the resistance is frictionless, the pedaling motion is exceptionally smooth and quiet. Also, there's virtually no wear and tear in the resistance elements.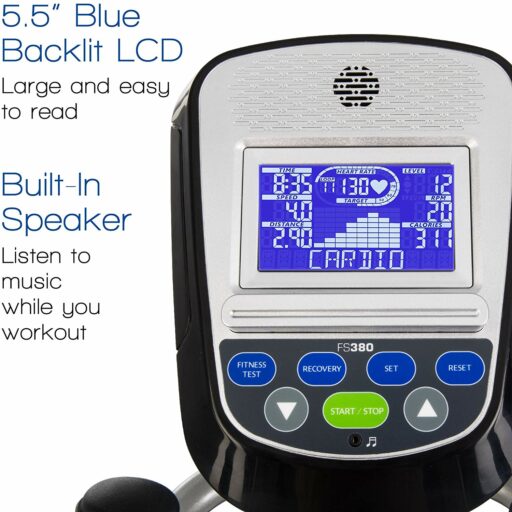 This trainer provides 24 distinct resistance levels. The first five settings offer light workouts, making them perfect for users who require recovery training or users with disabilities. The highest tension levels, on the other hand, will help you achieve an intense burn.
FS380 Console
The XTERRA FS380 elliptical features a mid-range console with a 5.5″ LCD, a blue LED backlight for improved readability. The display readings are time, speed, distance, watts, resistance level, RPM, calories burned, and heart rate.
There are both metric and imperial settings for speed and distance. Also, a race track function shows the distance traveled as a 1/4 miles (400 m) track, which keeps the laps count.
The console unit is not telemetric. This means that it doesn't work with Polar or other types of HR chest straps. So, to benefit from a pulse reading, you have to use the sensors in the machine's fixed handlebars.
When setting up your user profile, you will have to input personal data, such as gender, age, height, and weight. Thus, the console will provide very accurate readings with regards to your energy output and calories burned.
The machine's console unit doesn't have Bluetooth technology, nor it has any online connectivity. Differently put, you cannot sync it with any online fitness apps. But on the other hand, it offers 16 workout programs.
These workout applications include nine preset programs, one custom user program which gives you the possibility to create a routine of your desire, and six heart rate-based workouts. The machine's resistance will auto-adjust for some of these programs.
The unit also has a Fitness Test function and a Recovery function. The Fitness Test program tests your performance depending on your age (it will prompt you to input your age). It tests you for a distance of 3 miles and gives you an idea of your overall fitness level.
The Recover function is also a type of fitness test, but it's your pulse rate at the end of your workout. Depending on your pulse score, it will give you a rating between (1-Best) and (6-Very Bad) once the training finishes.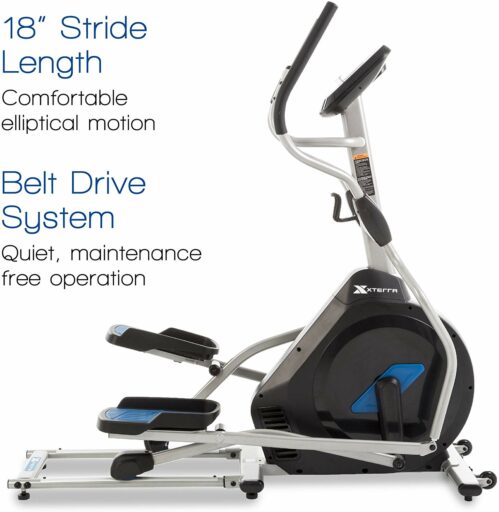 Amenities
Along with these fitness-oriented features, the console also includes two extras. One of them is the integrated sound system; the other is the tablet holder. The sound system is compatible with most MP3 players and smartphones. It consists of two speakers situated at the top of the unit, while the jack input for your music device is at the bottom.
The tablet holder is at the base of the unit display, above the keypad. It's large enough to accommodate any tablet or smartphone. However, a tablet or smartphone placed on it will partially or entirely cover the unit's display.
FS380 Assembly and Maintenance
The machine's drive and resistance systems are pre-assembled and attached to the front part of the frame. However, there's still quite a bit of assembly required. You will have to connect the pedal tracks to the front part of the frame, the pedals, the front base, the console mast, the mobile arms, and the console.
This may take up to two hours. However, the included manual provides clear, step-by-step assembly instructions, and all the tools you'll need are also (included).
It's recommended for maintenance to keep the pedal tracks clean to prevent any damage to them or the wheels. The machine's joints may require lubrication from time to time. It's also advisable to inspect the unit for loose bolts and parts periodically.
Pros
Sturdy steel construction and a weight capacity of 300 lbs;
Adjustable levelers;
Transport wheels;
Large, non-slip pedals;
Narrow Q-Factor which eliminates the lateral stress on the knees and ankles;
2° inward tilt for the pedals to promote a natural foot positioning;
Inertia-enhanced flywheel for a consistent momentum and smooth pedaling;
Quiet operation, ideal for apartment use;
24 levels of eddy current resistance;
16 workout programs;
Multi-panel display, showing multiple workout metrics simultaneously;
The console display has an LED backlight, which considerably improves the readability;
Both metric and imperial unit settings for speed and distance;
Goal tracking functions for time, distance and calories;
Race track feature which shows the distance as a 1/4 miles track, keeping count of your completed laps;
Fitness Test and Recovery test features;
Pulse sensors integrated into the fixed handlebars;
Sound system included;
Tablet holder included;
The bottle holder comes included;
Reasonably easy to assemble;
Little maintenance required;
Excellent warranty.
Cons
No incline system;
No online connectivity;
A tablet placed on the media holder will cover the unit's display.
XTERRA FS380 Summary
The XTERRA FS380 is a mid-range elliptical trainer featuring durable construction, motorized magnetic resistance with 24 levels available, and a console with 16 workout programs, a sound system, and a tablet holder. It can support users up to 300 lbs and features a narrow Q-Factor, which considerably reduces joint stress.
It's an excellent elliptical trainer for all kinds of workouts, from light to intense cardio, interval training, weight loss, stamina development, recovery training, and more. Although it doesn't have an incline system, it still is quite a decent machine, as it costs at least a few $100s less than other models with an incline. In all, this trainer offers an excellent price/value/quality ratio.
I hope you found this article helpful and informative. If you have anything you'd like to share or any opinions about my website, please speak up. I look forward to your comments, questions, and the sharing of ideas.