The XTERRA TRX4500 Folding Treadmill is a durable treadmill with a heavy gauge welded steel frame with robust aluminum side frame platforms and will last a long time. With its lifetime warranty, you can feel safe on it when exercising and have peace of mind.
The TRX4500 sits very firmly on the floor, and there will be no shaking or wobbling at all during your session. The large 20 x 60-inch running belt accommodates different stride lengths and offers plenty of space to walk, jog or run. You can run at speeds up to 12 mph, and the incline level is adjustable through the display panel between 0 and 15%.
You can fold this treadmill very quickly with the Lift Assist to help you when you're folding it and Safe Drop to help lower the deck gently when you want to use it. In addition, the TRX4500 offers a low-impact workout with the XTRASoft deck cushioning technology with several cushioning points on the deck for absorbing the impact at a maximum level.
The XTERRA TRX4500 has an easy-to-read and managed blue-backlit 7.5-inch large LCD to give you all the necessary info to monitor your progress, keep on track, and stay motivated. It shows the calories burned, distance traveled, time exercised, pace, pulse rate connected to the heart rate grip sensors on both left and right handles, and program profile.
Learn more in my complete review below!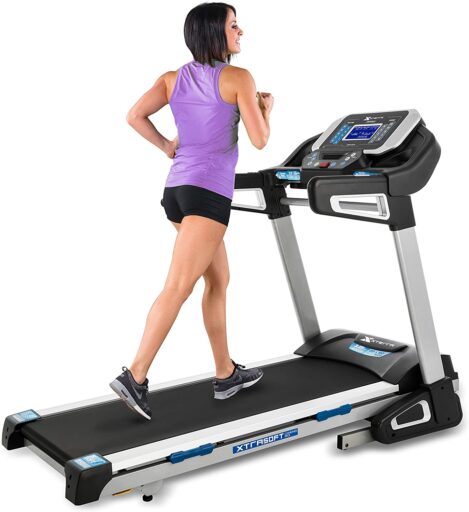 Product: XTERRA TRX4500 Folding Treadmill
Price: For a great deal on this treadmill, merely go here to XTERRA Fitness.com
Warranty: Frame Lifetime / Motor lifetime / Parts 2 years / Deck 5 years / Labor 1 year
My rating: 8.5/10
Affiliate Disclosure: As an XTERRA Fitness Affiliate Program participant, I earn commissions on purchases made through links in this post. Full disclosure
Details and Specifications
Assembled dimensions: 77.2″L x 35.5″W x 56.1″H (196L x 90W x 142H cm)
Tread belt dimensions: 60″L x 20″W (152.4L x 51W cm)
Assembled weight: 221 lbs (100 kg)
Weight capacity: 350 lbs (159 kg)
Motor: 3.0 HP, 0-12 MPH
Incline: Automatic, 0%-15%
Deck cushioning: XtraSoft
Console: 30 preset programs, two custom, one heart rate, Bluetooth
Extras: Sound system, cooling fan, tablet holder, bottle holders, HR chest strap
Warranty: Frame Lifetime / Motor lifetime / Parts 2 years / Deck 5 years / Labor 1 year
TRX4500 Frame
The XTERRA Fitness TRX4500 features a heavy-duty steel frame, similar to light commercial treadmills. Its base and console masts are durable steel tubing with several ABS parts. Among them, we can count the covers of the rear part of the deck, the side covers of the masts and base joints, the motor cover, the console's dashboard, and the covers of the side grips.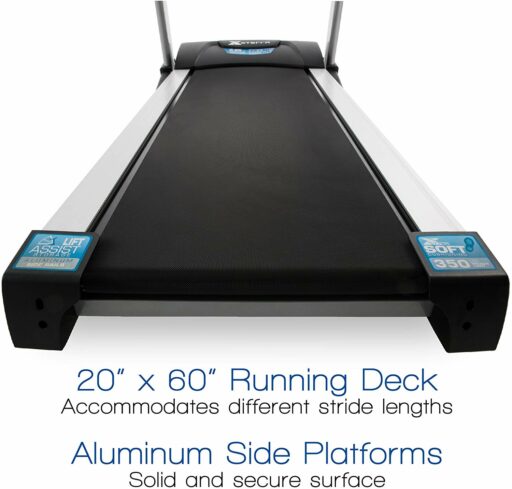 The fully assembled machine is considerably heavy. It weighs approx. 221 lbs (100 kg), and therefore, it is advisable for at least two people to carry the box, the unboxing, and the assembly. Once assembled, the unit isn't too difficult to move, though.
Its front base has two small transport wheels. Also, the frame's front and rear bottom sections have adjustable stabilizers.
The whole frame comes coated with a corrosion-resistant and chip-resistant paint finish. The color used is light gray, while the ABS parts are black.
The fully assembled unit is relatively large. It's approx 77″ (196 cm) long and 35″ (90 cm) wide. Plus, it's advisable to allow at least three feet of clearance at the end of the deck and at least two clearance feet on each unit's side.
Deck
The machine's deck is exceptionally sturdy. It can hold users up to 350 lbs (159 kg) with no problem for any workouts.
It also integrates XTRASoft cushioning elements (two on each side) to alleviate an essential part of the running shock. Therefore, running on this treadmill is considerably more forgiving on your joints than running on asphalt or concrete.
This XTERRA treadmill comes equipped with a 2-ply Duraweave heavy-duty belt. It provides superior adherence to any athletic shoes. It offers a running surface of 60″L x 20″W (152.4L x 51W cm), which pretty much means that it promotes a full and satisfying stride for users up to 6'5 ″ (196 cm).
The integrated crowned rollers that set the belt into motion prolong the belt's life. The front one is 2.4″ in diameter, while the rear one is 1.8″. They're equipped with high-grade ball bearings and supply a very smooth belt motion.
Last but not least, the unit's frame is foldable. The deck can be folded and locked up at approx—65 °. Therefore, the unit's length reduces by approx—40 %. The folding mechanism features a Lift Assist function and a Safe Drop function to make sure you securely fold or unfold the unit.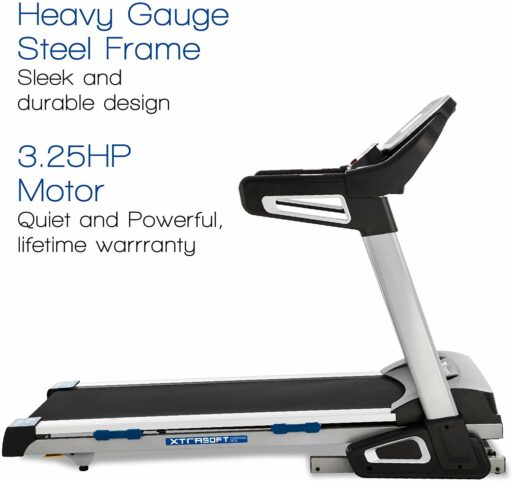 TRX4500 Incline & step-up height
The XTERRA TRX4500 folding treadmill comes equipped with a motorized incline system. It consists of a slight lift and a motor placed at the front of the deck. The incline adjustment is from either the console or the buttons incorporated into the side grips.
If you select a workout program that involves incline, the machine will auto-adjust the incline accordingly while you walk or run.
The unit's incline ranges from 0% to 15%. The adjustment increments are 0.1%. At 0% incline, the surface of the deck is approx. 9″ (22 cm) above floor level, while with the slope set at maximum, the front of the deck will rise by several more inches.
Thus, it's advisable to use the machine in a room with a ceiling at least 20″ (51 cm) higher than your height to avoid issues.
Motor
The XTERRA Fitness TRX4500 features a heavy-duty 3.25 HP motor that supports long runs at maximum speed without overheating or losing performance. In addition, a small flywheel is attached to the side of it to reduce vibration. Therefore, it leads to a smoother motion of the front roller.
The motor offers a speed range between 0.5 MPH and 12 MPH. Just as for the incline, the console controls gradual speed adjustment and quick speed adjustment controls.
However, the quick keys for speed adjustment only cover 1 to 10 MPH settings. So if you want to increase the speed up to 12 MPH, you will have to use the arrow controls on the console or integrate them into the right handlebar.
The gradual adjustment keys offer the possibility to adjust the resistance in increments of 0.1 MPH and 0.5 MPH. By pressing one button repeatedly, the belt's speed will change in increments of 0.1 MPH, while when pressing and holding the controller, the speed adjustment will increase to 0.5 MPH. It is quite a helpful feature as you can easily find the most comfortable pace for your workout. Also, since the top speed setting is 12 MPH, the machine can perform sprint workouts and interval workouts.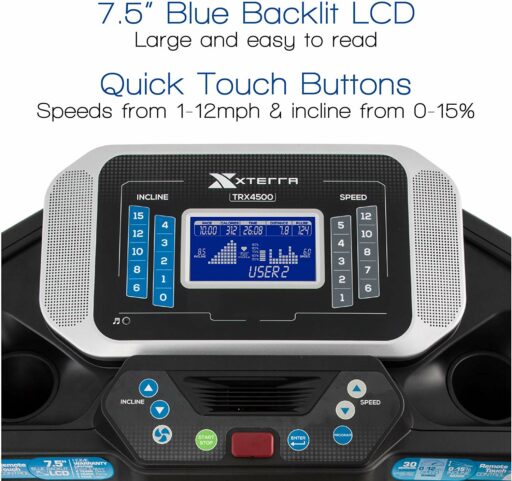 TRX4500 Console
The XTERRA TRX4500 folding treadmill features a programmable console. In addition, it has a 7.5″ LCD with an LED backlight and significant digits for superior readability.
Its top section indicates pace, calories, time, distance, and pulse. The mid-section shows the speed, the incline level, and the program segments, while the bottom section shows the selected user.
The console has 30 preset programs, two custom user programs, 1 HRC program, and the manual program. The 30 preset programs cover workouts of all kinds, including an intense burn, stamina, or intervals of high card. The two user programs give you the possibility to create your custom programs.
The HRC program allows you to select a determined HR interval, and the machine will adjust the speed to keep you within the specified HR interval for the duration of the program. The manual program allows you to adjust the incline and speed as you walk or run.
Speed and distance are either metric or English units. For example, a race track function displays the distance traveled as a 1/4 race track for distance, counting the completed laps. The console is also telemetric; it can track your pulse via the included HR chest strap, but you can also use the pulse sensors within the handgrips.
The console is also Bluetooth-enabled and compatible with the XTERRA Fitness App available from the Apple Store or Google Play. If you download this app to your phone or tablet, the machine can directly stream your workout data to the app, allowing you to sync it to the iHealth or FitBit to track your progress better.
Apart from the fitness functions, the console also integrates several amenities. These are a sound system, a cooling fan, a tablet holder, and two accessory holders.
TRX4500 Assembly & Maintenance
The treadmill's deck with its motors comes pre-assembled and attached to the metallic base frame. The only parts that require assembly are the side console masts and the console. The procedure may take more than 30 minutes, but it's far from being complicated. On top of that, the user's booklet provides precise assembly instructions, and an essential toolkit is also (included) with the treadmill.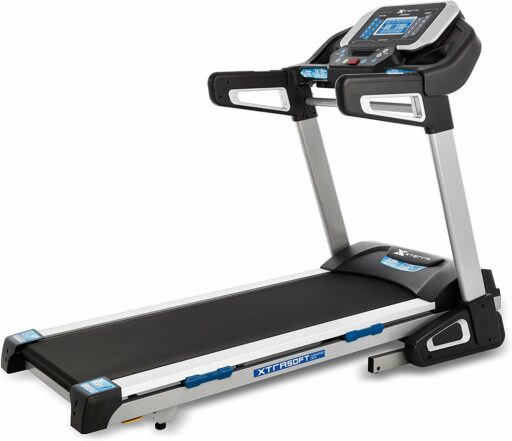 The belt requires periodic lubrication (after every 180 hours of use) in terms of maintenance. However, it's pre-lubricated, so it shouldn't need further lubrication for your first 180 hours of use.
The running belt should be wiped clean with a damp cloth after every workout to prevent any small objects or textile fibers from being dragged into the motor or the rollers.
Pros
Sturdy frame construction;
High weight capacity (350 lbs);
Space-saving design (the deck folds up);
Lift-Assist and Soft Drop assist for the folding mechanism;
Transport wheels on the front base;
Adjustable stabilizers;
XTRASoft cushioning, with large shock absorption pads on each side of the deck;
60″ x 20″ running surface;
Motorized incline with a range between 0% – 15%;
3.25 HP motor offering speeds up to 12 MPH;
Speed can be adjusted at increments of 0.1 MPH, allowing you to find the perfect pace for your workout;
EGK pulse sensors integrated into handlebars;
Speed and incline controls are built into the handlebars;
Quick adjustment controls for speed and incline;
Telemetric console;
Bluetooth enabled;
Compatible with multiple fitness cloud sites, such as iHealth, MapMyFitness, Record, or Fitbit;
33 workout programs;
Two user profiles;
The sound system included;
Cooling fan included;
Tablet holder included;
Accessory trays included;
HR chest strap included;
Quiet operation;
Reasonably easy to assemble;
Little maintenance is required;
Excellent warranty.
Cons
The cooling fan is not too overpowering.
XTERRA TRX4500 Folding Treadmill Summary
The XTERRA TRX4500 is a heavy-duty folding treadmill featuring a 3.25 HP motor, automatic incline, and a durable deck with 350 lbs weight capacity. Its console is telemetric and has 33 built-in programs and online capabilities.
Moreover, it's a machine for users of all levels, perfect for light to intense cardio training, muscle toning, stamina development, and weight loss. Furthermore, it comes with an excellent warranty for the frame, deck, motor, and parts. And finally, it costs quite a few $100s less than most light-commercial machines, delivering outstanding value for the price.
I hope you found this article helpful and informative. Would you please speak up if you have anything you'd like to share on the topic or any opinions about my website? I look forward to your comments, questions, and the sharing of ideas.
Please note: Before starting any exercise program, you should consult your physician to determine if you have any medical or physical conditions that could put your health and safety at risk or prevent you from using the equipment properly. In addition, your physician's advice is essential if you are taking medication that affects your heart rate, blood pressure, or cholesterol level.