The updated version YOSUDA L-007A Indoor Cycling Bike is a well-built exercise bike from the inside out. Its rock-solid foundation and athletic aesthetic design make it suitable for the most demanding and strongest fitness riders. In addition, the excellent weight-bearing limit for users is 330 lbs (150.1 kg). This energetic exercise bike brings you a cycling experience compared with cycling classes!
With a 40 lbs (18.1 kg) flywheel and silent belt-driven, the L-007A bike gives you an unbelievably smooth and quiet ride. A continuously infinite resistance system allows you to simulate actual road riding like ground, uphill, or downhill. Moreover, it will never disturb your family when you burn calories. The Yosuda L-007A comes with a wool felt-pad friction system in terms of resistance.
The YOSUDA L-007A indoor cycling bike features a multifunctional fitness monitor that displays your time, speed, RPM, distance, and calories burned. The odometer tracks your progress and helps you get your training goals step by step. An IPad Holder allows you to watch exercise videos or listen to music while exercising, making your fitness fun.
The L-007A comes equipped with a 4-way adjustable seat so you can customize the bike to your perfect fit easily and conveniently and allows your family to use the bike comfortably and efficiently. YOSUDA has optimized this seat cushion based on analyzing the reviews of most exercise bikes on the market. Ergonomic design, breathable and soft.
Learn more in my complete review below!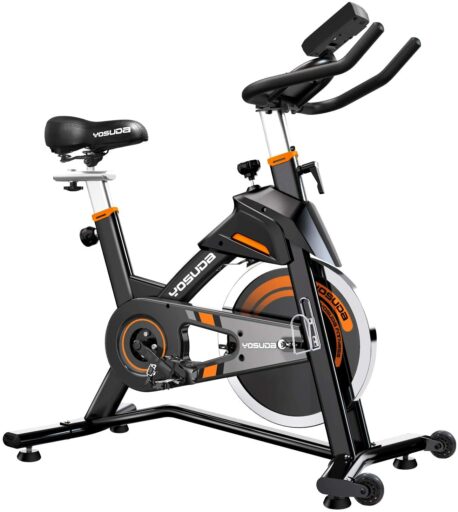 Product: YOSUDA L-007A  Indoor Cycling Bike
Price: For a great deal on this bike, merely go here on YOSUDA.com
Warranty: 2 years limited
My rating: 9.25/10
Affiliate Disclosure: As a Yosuda Affiliate Program participant, I earn commissions on purchases made through links in this post. Full disclosure
Details and Specifications
Assembled dimensions: 44.5L x 21.7W x 45.3H inches (113L x 55W x 115.1H cm)
Assembled weight: 86 lbs (39 kg)
Flywheel weight: 40 lbs (18.1 kg)
Supported weight: 330 lbs (150.1 kg)
Handlebars: 2-way adjustable
Seat: 4-way adjustable
Drive mechanism: Belt
Resistance: Friction
Fitness Monitor: Time, speed, distance, odometer, calories, scan
Accessories: Tablet holder, bottle holder
Warranty: 2 years limited
L-007A Frame construction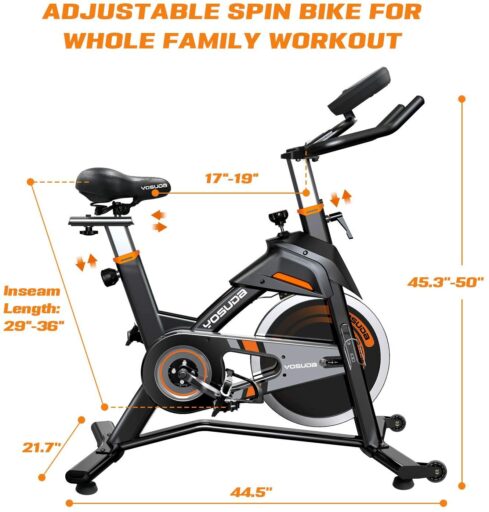 The core frame of the YOSUDA L-007A  Indoor Cycling Bike is steel tubing. However, it also incorporates several ABS parts. For example, the belt cover and the brake cover are durable ABS materials. Furthermore, the bike supports a maximum user weight limit of 330 lbs (150.1 kg).
All the steel tubes in the bike's frame are oval for improved aesthetics and enhanced sturdiness. The base bars are V-shaped to deliver extra stability. In addition, they're both equipped with adjustable levelers, which offer the possibility to stabilize the bike on any floor correctly. Furthermore, they also have rubberized pads to prevent floor damage.
The bike's core frame has a corrosion-resistant and chip-resistant black paint finish with the "YOSUDA" logo painted white. The only exceptions are the seat post, the handlebar post, and the flywheel. These are all chrome-plated.
The L-007A exercise bike isn't giant compared to other fitness machines. It is 44.5″ (113 cm) long and 21.7″ (55 cm) wide, while its maximum height (with the handlebar extended up) is 45.3″ (115.1 cm). Of course, it is advisable to leave at least two feet of clearance around it to ease access and unhindered usage.
Despite its heavy flywheel, the L-007A bike is lighter than other models. For example, the Yosuda bike only weighs approx. 86 lbs (39 kg). However, it is more than two times heavier than the average road bike, and all this weight provides excellent stability.
Once completed, its transport is accessible via the wheels integrated into its front base. Thus, its weight shouldn't be a problem when relocating.
Seat and handlebars
The YOSUDA L-007A  Indoor Cycling Bike includes a comfortable saddle. To begin with, it is a reasonably large saddle compared to most spin seats, being 10″ (25.4 cm) long and 7″ (17.8 cm) wide. Thus, it provides plenty of contact surfaces.
It integrates a thick layer of foam padding, especially in its rear section. In addition, it has two suspension springs at the rear, improving shock absorption and allowing the seat to bend as you pedal.
The seat has a standard 9/16th, collar-based attachment system to its post. So, if you will ever need to replace it, compatible options are widely available.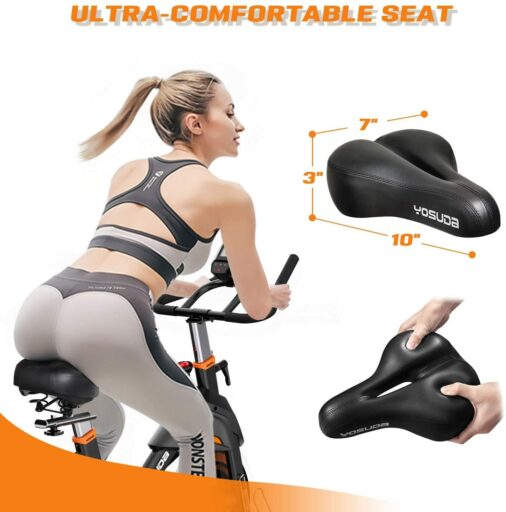 The seat offers 4-way adjustability. Its vertical post provides a 7-inch (17.7 cm) adjustment span, between 34.6″ (87.8 cm) and 41.8″ (106 cm). Plus, its horizontal slider offers several inches of front-to-back adjustment.
So, as a small conclusion here, the seat should comfortably accommodate users between 5'0″ (153 cm) and 6'5″ (196 cm) with no problem, allowing a full range of motion for any user in this height range.
The bike's handlebar has a reasonably simple design. Furthermore, it lacks an aero bar element and does not have drop-down grips. Instead, it is square-shaped and offers the possibility to adopt four grips, including standard and parallel grips.
A layer of foam covers the handlebar assembly to provide a superior grip and optimal comfort. Unfortunately, it does not have pulse sensors, and the bike does not have a pulse reading function. Furthermore, it is only 2-way adjustable (up, down) and offers approximately an adjustment span of 12″ (30.5 cm), between 35.8″ (91 cm) and 47.7″ (121 cm).
L-007A Drive and resistance
The YOSUDA L-007A  Indoor Cycling Bike comes with 40 lbs (18.1 kg) flywheel. In addition, it has a perimeter-weighted design to enhance inertia and extra stability during pedaling. Thus, the pedaling motion is very smooth.
The bike's flywheel permits pedaling in reverse. However, coasting is not possible. You will meet the same resistance when pedaling forward in reverse. Also, the pedals continue to spin for as long as the flywheel is spinning.
The bike's drivetrain uses a heavy-duty v-belt. Therefore, the pedaling motion is tranquil and vibration-free. Plus, it does not require lubrication like a chain drive.
The crankset is exceptionally sturdy. It features solid steel crank arms and metallic pedals. It can hold users up to 330 lbs (150.1 kg) in a complete standing-up position and supports any spin workout.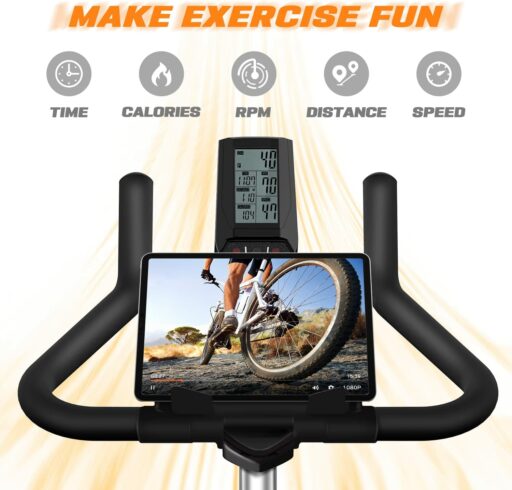 The pedals come equipped with toe cages but do not have SPD clips for spin shoes. However, they do have standard 9/16″ threads, so replacements for them are widely available.
The L-007A bike features a standard friction resistance system. Furthermore, it has a felt brake pad attached to the tension knob on top of the frame. You rotate the knob to tighten or untighten the pad onto the flywheel to adjust the resistance.
The tension knob also works as an emergency brake. You can press it down to stop the wheel from spinning, which may be necessary if you have been pedaling at a very high speed and need to stop.
The bike's resistance system does not have pre-determined settings or "clicks" like most bikes with magnetic resistance. Instead, you turn the knob until you get the resistance you want. As a general idea, the knob will tighten up to the point you can barely pedal.
Fitness monitor
The YOSUDA L-007A  Indoor Cycling Bike has a fitness monitor that features an LCD with one button covering all its functions. It tracks the essential workout metrics, including time, distance, total distance, speed, and calories.
Furthermore, it does not have preset programs or goal-setting functions. Unfortunately, it also does not have a pulse reading function. Therefore, if you need to monitor your heart rate during your cycling sessions, you must use a separate device.
The fitness monitor is straightforward to use. You can select any workout metrics to display on the monitor by repeatedly pressing the button.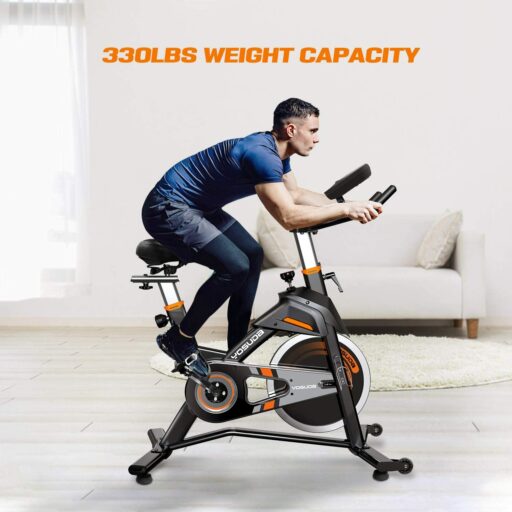 You can also select the Scan Mode, which rotates all the values, keeping each one on display for a few seconds. Furthermore, by pressing and holding the button for a few seconds, you can clear all the values to zero.
The monitor requires 2 AAA batteries that come with the bike. You can either press the button or begin pedaling to start it up. It also has a sleep mode to enter after a few minutes of inactivity on the bike.
Please note that the tablet pictured in the image does not come with the bike.
L-007A Assembly and Maintenance
The main body of the bike comes pre-assembled. Therefore, you only have to add the two base bars, the seat post, the saddle, the handlebar post, the handlebar, the fitness monitor, and the pedals.
Consequently, it shouldn't take more than 30-40 minutes of your time. An essential toolkit comes with the bike. Also, the manual provides precise assembly instructions.
The bike's brake pad may require lubrication with silicone lubricant for maintenance. However, since the transmission is belt-based, it does not need lubrication. It is also advisable to periodically check for loose bolts and parts and clean the unit.
Pros
Sturdy steel frame – can support users up to 330 lbs;
Professional-looking design;
Adjustable stabilizers on both bases;
Transport wheels on the front base;
4-way adjustable seat;
Comfort saddle with thick cushioning, longitudinal groove, and rear springs;
2-way adjustable handlebar;
Smooth and silent belt drive system;
Extra-heavy, 40 lbs flywheel for a consistent momentum;
Felted wool friction resistance for a wide array of pedaling difficulty levels;
Heavy-duty metallic pedals with toe cages and standard 9/16 threads;
Fitness monitor included – it can track time, distance, total distance, speed, and calories burned;
The bottle holder comes included;
Tablet holder included;
Easy to assemble;
Little maintenance is required.
Cons
The fitness monitor does not have a pulse reading function;
The pedals do not have SPD clips;
The handlebar doesn't have aero bars.
YOSUDA L-007A  Indoor Cycling Bike Summary
The YOSUDA L-007A is an indoor cycling bike designed for home use. It features a friction (felt wool pad) resistance system, a belt-driven 40 lb flywheel, and a fitness monitor. Furthermore, it has a sturdy steel frame construction rated for a maximum user weight capacity of 330 lbs.
Moreover, it's perfect for intense cardio training, intervals, stamina development, muscle toning, and weight loss. It's also an affordable exercise bike, offering excellent quality for the price.
I hope you found this article helpful and informative. Would you please speak up if you have anything you'd like to share on the topic or any opinions about my website? I look forward to your comments, questions, and the sharing of ideas.
Please note that you should consult your physician before starting any exercise program to determine if you have any medical or physical conditions that could put your health and safety at risk or prevent you from using the equipment properly. In addition, your physician's advice is essential if you are taking medication that affects your heart rate, blood pressure, or cholesterol level.