Fortunately, setting up a home gym doesn't require a lot of square footage or money. For less than the cost of a year-long gym membership, you can stock your space with all the equipment you need to get a great workout, shower, and cook dinner in the same amount of time it takes to travel to and from the gym.
There's no question about it: Working out at home with your home gym equipment has some profound convenience benefits. There's no need to account for travel time to and from the gym, you never have to pack a bag, and you can blast your go-to workout music.
Having some equipment at your disposal gives you more exercise options, allows you to add resistance as you get stronger, and gives your workouts more variety, so you (and your muscles) won't get bored of the same old, same old routine.
Of course, gyms generally have a leg up on equipment, and it's not exactly cheap to stock your home setting with all of those bells and whistles. That said, there's a lot you can do with just a few cost-effective pieces of home gym equipment.
Here's how to do it.
1. Set Your Budget
The good news is, you can get an effective workout every day of the week free — all you need is your body weight. You can do lunges, squats, push-ups, and more in a circuit workout that burns just as many calories as your favorite fitness class.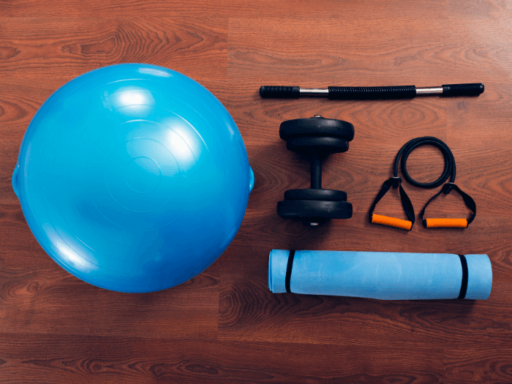 Keep that in mind when choosing which equipment you want, because you don't need much. Beyond the basics, anything else is more variety or a luxury.
Start by thinking about how much you want to spend on your home gym before making your list of equipment or doing your shopping. This could be equivalent to what you'd pay for a three-, six- or 12-month gym membership. Then, organize your list into three categories:
Basic equipment
Nice-to-have equipment
Dream equipment
When you do your shopping, focus on the equipment in the first category, and if there's money left over, you can indulge in some items from the second two categories.
2. Maximize Your Budget
Your budget will determine where you shop, as well. New fitness equipment, especially weights and cardio machines, is expensive. Buying used equipment is considerably cheaper. You may find dumbbells, barbells, and cardio machines for more than half the new online price, and they could be less than a few years old.
Even some of those newer "dream items" are up for grabs, as people often buy the equipment, don't end up using it, and want to unload it at a loss. (But you're not going to be one of those people!) Buying inexpensive workout equipment doesn't have to mean it's of poor quality.
You can also check out some online retailers of refurbished exercise equipment such as Fitnessfactory.com, Premier Fitness Source, and Rebirth Fitness. In addition, eBay and Amazon may also have used or open-box items for sale.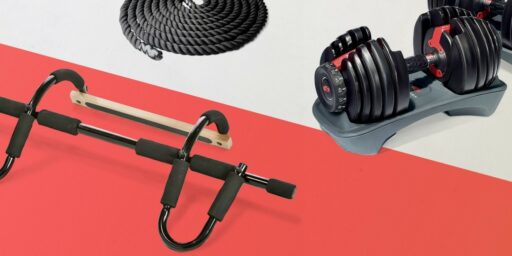 3. Start With the Basics
Up first: your budget-friendly workout equipment category. As mentioned, you already have everything you need to get a good workout — your body! But here are a few items that will add variety to your training:
Yoga Mat:
If you're working out on a hard floor, such as hardwood or cement, you'll want a yoga mat. You can use it to do ab exercises, as well as for stretching and foam rolling. Here are five of our favorite eco-friendly yoga mats.
Jump Rope:
Jump ropes (like Crossrope) are inexpensive, space-saving, and straightforward to get a cardio workout done at home. Every home gym should have one.
Dumbbells:
Dumbbells are a classic addition to your home gym, but you don't need a whole set right off the bat if you're on a budget. Three to five pairs is a great place to start; as you add strength, you can add to your collection, and you can sell off what you no longer need. Men typically can purchase weights in 10-pound increments; women usually find 5-pound increments better for them. Or you can try a set of adjustable dumbbells.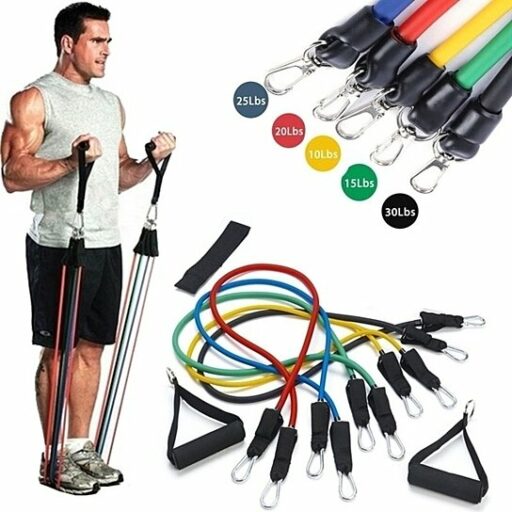 Resistance Bands:
I like both small bands and larger ones with handles. The small bands are great for activation exercises — I love monster walks paired with squat jumps, bridge variations, clamshells, kickbacks, and lateral leg raises. Larger bands with handles will allow you to work on your arms, shoulders, back, chest. I would recommend getting at least two to three bands — light, medium, and heavy resistance.
Weight Bench:
You can use a weight bench for various exercises, including bench pressing, step-ups, hip thrusts, flyes, and rows.
Plyo Box or Exercise Step:
These have a variety of uses, including performing step-ups and box jumps.
Sliders:
My favorite basics are a set of sliders and some bands. You can come up with a ton of diverse movements with these simple items. Sliders are my most favorite thing for abs. You can make lunges in all directions, mountain climbers, and one-arm push-ups with them, too. Well, you can work up to the one-arm push-ups.
Barbell and Plates:
This is not a must-have for everyone, but if you want to build a lot of strength/power or do Olympic lifting, you should have a barbell and various weight plates.
For heavy squats and bench pressing, you'll also need a power rack. A good, simple, sturdy rack is not expensive, especially if you buy used cheap workout equipment.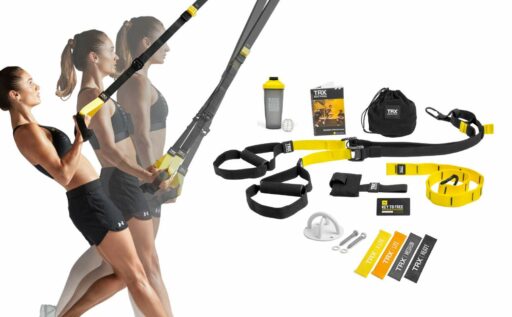 Pull-Up Bar:
Even if you can't do a single pull-up right now, invest in a pull-up bar. You can use a closed-loop resistance band to do assisted pull-ups, and the bar can be for much more than just pull-ups, such as an anchor for resistance band rows and lat pulldowns or a TRX suspension system.
4. Consider Nice-to-Have Equipment
This is your second-tier list, including items that are by no means necessary except on an individual basis. If you have the means and space, pick up a few of these items:
Cardio Machines: There's no reason you need a machine to do cardio. You can run, walk or bike outside, jump rope, or do cardio drills like high knees and mountain climbers. But if you like running on a treadmill, or you're a cyclist who wants the option of doing your training rides indoors, purchase a machine if it's in your budget and you have space.
Don't be tempted to buy the cheapest model; do your research and choose a high-quality machine (within your budget) that will last. You'll need to consider many other specifications depending on the type of machine you're buying.
For example, when purchasing a treadmill, you'll have to consider the size of the footprint, motor horsepower, belt size, speed, incline, cushioning, and electronic features. Here are a few other less expensive, nice-to-have items in your home gym: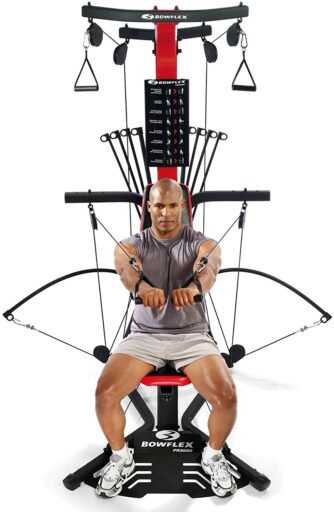 Balance board
Foam roller
Kettlebell
Medicine ball
TRX Suspension System
Battle rope
Heavy bag
Speedbag
Rebounder
5. Plan for Your Dream Equipment
These are the bank-breaking pieces of equipment that all your friends will want to come over to use. So be prepared for that.
High-End Cardio Machines: If you have thousands of dollars in your budget, go big. The newest high-tech cardio equipment — like Peloton and Technogym — has huge Wi-Fi-enabled LCDs with virtual classes for a monthly subscription fee.
All-in-One Gyms: Think: Bowflex and NordicTrack. These vary in cost, but some of them can be thousands of dollars. Deluxe versions come with all the bells and whistles — cables, barbells, weight stacks and plates, pull-up bars, leg press and extension, hamstring curl, Smith machine, and on and on.
High-Tech Studio-Style Workouts: These streaming at-home workout options are relatively new on the fitness scene, but they promise to deliver all of your favorite fitness classes directly to your home gym. Love boxing? Try FightCamp. Swear by personal training sessions? Give Mirror a try.
I hope you found this article helpful and informative. If you have anything you'd like to share or any opinions about my website, please speak up. I look forward to your comments, questions, and the sharing of ideas.
Disclaimer: I am not a personal trainer or a healthcare professional. The workouts I post about work best for me and might not be the correct type of exercise for you. I always recommend consulting a doctor or health professional before making changes to your diet and fitness routine. 
Related articles: