The Exerpeutic ExerWorK 1000 Desk Station Folding Bike is not only an exercise bike but also you can use the desktop as a work platform for your laptop, your favorite book, iPad, Smartphone, or whatever device you choose. No more sedentary sitting at a desk when you can exercise and get healthy while working.
The desktop is one of the main features of this bike. The desktop size of 16″L x 24″W (40L x 61W cm)  and a weight capacity of 44 lbs provide plenty of room for a 17″ plus laptop with room for a mouse and smartphone on the desktop at the same time, giving plenty of workspaces.
It has a small fitness monitor at the bottom of the desk. You can see it even when you have a laptop on the counter. It measures time, speed, distance, calories, odometer (cumulative distance), and pulse (gripping the integrated hand pulse sensors in the seat handlebars). (Distance and speed use miles.)
When you've finished using the bike, you can fold it and wheel it to where you want to store it. Before moving, you need to fold the desk, which is straightforward. It folds to 21 by 25 inches. Once folded up and the safety pin has been re-inserted, you lean it onto the wheels on the back stabilizer bar and wheel it to where you want to store it.
Learn more in my complete review below!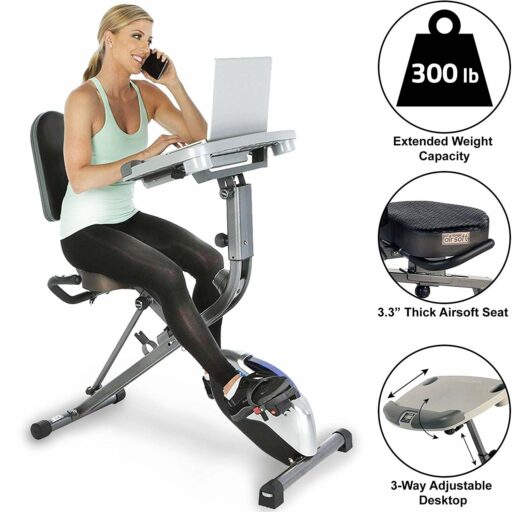 Product: Exerpeutic ExerWorK 1000 Desk
Price: For a great deal on this bike, merely go here on Amazon
Warranty: 3 years limited
My rating: 8.25/10
Affiliate Disclosure: As an Amazon Affiliate Program participant, I earn commissions on purchases made through links in this post. Full disclosure
Details and Specifications
Assembled dimensions: 45.3L x 25W x 51.3H inches (115L x 63.5W x 130.3H cm)
Desk surface: 16L x 24W inches (40L x 61W cm)
Assembled weight: 64.7 lbs (29.3 kg)
Supported weight: 300 lbs (136 kg)
Seat: Adjustable, with backrest
Pedals: With Straps
Resistance: Magnetic levels
Fitness Monitor: Included
Other accessories: 2 cup holders, one storage drawer,
Warranty: 3 years limited
 ExerWorK 1000 Frame
The Exerpeutic ExerWorK 1000 features a frame made of steel tubing that can support users up to 300 lbs (136 kg) with no problem. It consists of two main pieces that connect in the middle. In addition, all steel parts come with corrosion-resistant paint, which renders them virtually rust-free.
The frame features a folding design. However, the bike doesn't have an enormous footprint when fully set up. It takes only 45.3″L x 25″W (115 x 63.5 cm) of floor space, which means it should easily fit even in a smaller room. Also, when folded, its footprint is reduced to 21.3″L x 25″W (54 x 63.5 cm).
This exercise bike is not extremely heavy. Thus its transport, folding, and assembly shouldn't be a problem. It weighs only 64.7 lbs (29.3 kg), but also, its rear base features a set of small wheels that help with its transport when you need to store it away. In addition, the front support integrates two adjustable stabilizers. Therefore it's not necessary to place the bike on a mat.
Seat
The Exerpeuitc ExerWorK 1000 exercise bike is a semi-recumbent model, featuring quite a comfortable backrest compared with other bikes with a similar frame. The dimensions of the backrest are 15.5″H x 11.3″W (39.3 x 28.7 cm). It's also padded with a 1.3″ (3.3 cm) foam cushion to provide superior comfort.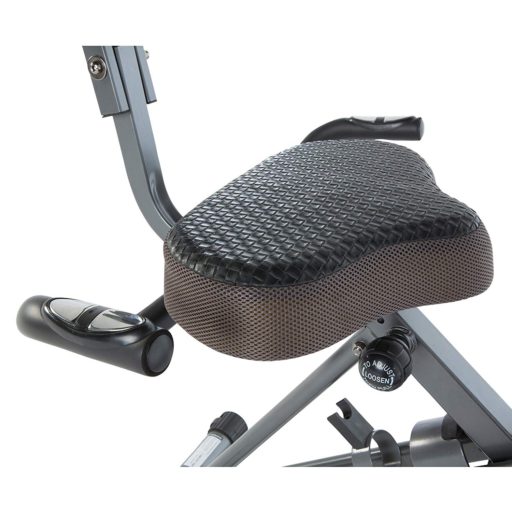 The bike has two 3/4″ (7 cm) thick cushion AirSoft seats. This seat integrates a set of air cells, allowing the air to breathe through the fabric and enabling the seat to adapt better to your body and provide maximum comfort. Also, in case you're wondering, the seat is reasonably large, 11″ (28 cm) and 15″ (38 cm) wide.
The bike's seat is 2-way adjustable. Its post features several adjustment holes, with an adjustment span that can accommodate users comfortably between 5'1″ and 6'3″ (155 – 190 cm). The backrest, however, does not have any adjustability.
One last aspect to mention regarding the seat of this Exerpeutic exercise bike concerns its attached recumbent handlebars. These feature rubber foam coating to provide the required comfort and integrate stainless steel pulse sensors. Thus, the fitness meter embedded in the bike's desk can track your pulse.
 ExerWorK 1000 Desk
The bike's integrated desktop offers a reasonably sizeable 16″L x 24″W (40L x 61W cm) working surface. As a result, it should accommodate just about any laptop. In addition, it features three angle adjustment positions for 0°, 16°, and respectively 33°.
Its height is also adjustable, with five adjustment positions, 1″ (2.5 cm) apart, with an overall size between 41″ (104 cm) and 45″ (114.3 cm). And finally, in terms of adjustability, the desktop can also be adjusted forward or backward on its metallic frame to perfectly suit your needs.
The desk is made of heavy-duty PVC material with a total weight capacity of 44 lbs (20 kg). It features two molded cup holders in its top corners. Its base integrates a "lip," which serves as a support for your laptop or tablet. The desk also incorporates a small drawer, which can fit your phone, keys, remote control, and other small accessories.
Fitness monitor
The desk base's midsection integrates a small fitness monitor, tracking various workout statistics, including time, speed, calories, pulse, and distance. It also has an odometer function, which keeps track of the total miles traveled for distance.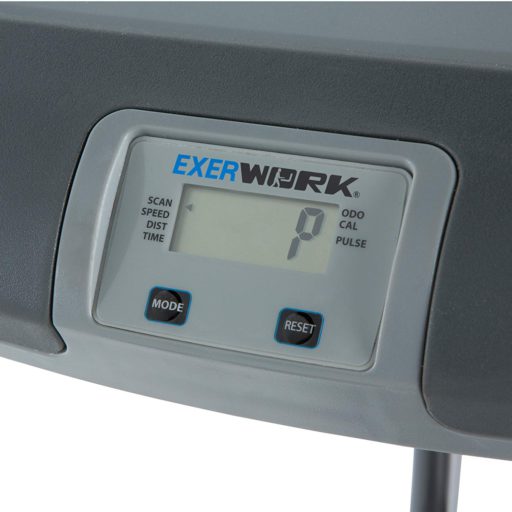 The fitness monitor is relatively easy to operate. It integrates two buttons, Set and Reset, covering all its functions. It allows you to lock on-screen one of the values that interest you the most, or you can use its SCAN function, which cycles throughout all the metrics, keeping each one of them on screen for several seconds.
The battery-operated monitor requires 2 AAA-type batteries, which come included with the bike. The monitor turns on when it detects pedal activity and automatically enters sleep mode after 4 minutes of inactivity.
ExerWorK 1000 Resistance and Drive systems
This Exerpeutic semi-recumbent exercise bike features a manual magnetic resistance system. In other words, it doesn't need to be connected to a power source to provide resistance to the pedals. Instead, its resistance system consists of a small magnetic pad attached to the resistance knob on the frame's front tubing via a steel wire.
By turning the knob, you adjust the magnetic pad's position about the bike's metallic flywheel, modifying the drag and reducing or adding resistance.
The bike's tension system offers eight unique resistance settings. The first two are barely noticeable, while the 7-8 settings, although not extremely difficult, still allow breaking a sweat.
Since this exercise bike features a magnetic resistance system, its transmission is belt-powered. It integrates a heavy-duty belt, making the pedaling motion smooth and quiet. The equipped flywheel is not extremely heavy. It weighs approx. 8 lbs (3.6 kg), but it's perimeter-weighted, adding stability to the pedaling motion.
The crank system is a 3-piece part featuring solid steel crank arms, finished with weighted pedals. The pedals are made of heavy-duty nylon material and equipped with adjustable straps to prevent foot slippage during exercises.
Assembly and Maintenance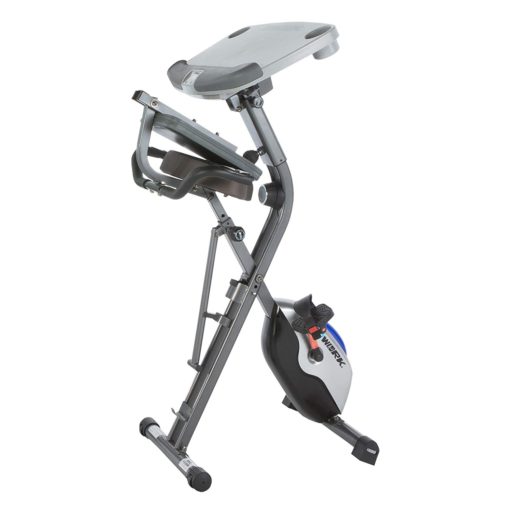 The Exerpeutic ExerWorK  1000 desk station recumbent bike is relatively easy. The two main frame pieces come pre-attached in the middle, and the drive system is fully assembled and connected to the seat part of the structure.
Therefore, you'll need to connect the frame's bases, the seat, backrest, recumbent handlebars, pedals, and the desk, joining the fitness monitor's wires. Consequently, the whole process shouldn't take longer than one hour.
Also, all tools required for assembly are included, along with a copy of the user's manual, which will guide you through the assembly steps.
There's very little maintenance required when it comes to this exercise bike. All you need to do is a periodic check of the machine's bolts and nuts, ensure they still hold well in their places and re-tighten them if it's the case.
Pros
Simple design, solid frame, able to hold users up to 300 lbs;
Small footprint, ideal for small rooms, offices, or even office cubicles;
Space-saver, folding design;
Integrated desk, fore to aft, height, and angle adjustable;
The desk integrates a storage drawer for small accessories;
Bottle holders molded into the desktop;
Cushioned, large AirSoft seat for maximum comfort;
Large, cushioned backrest;
2-way seat adjustability;
Eight distinctive levels of magnetic resistance;
The fitness monitor included the following;
Smooth and quiet drive system;
Easy to assemble;
Little to no maintenance is required.
Cons
The desktop does not include a strap for securing your laptop.
Exerpeutic ExerWorK 1000 Desk Summary
The Exerpeutic ExerWorK 1000 is a semi-recumbent exercise bike that integrates an adjustable desk with cup holders and a storage drawer. It's a well-built exercise bike with a sturdy steel frame, supporting 300 lbs (136 kg) users. In addition, it features manual magnetic resistance and integrates a small fitness monitor.
It offers an excellent way to bolster your cardiovascular system during working hours, tone your leg and abdominal muscles, increase stamina, and lose weight. Currently, it costs less than $300, offering excellent value for the price.
I hope you found this article helpful and informative. Would you please speak up if you have anything you'd like to share on the topic or any opinions about my website? I look forward to your comments, questions, and the sharing of ideas.
Please remember that you should consult your physician to determine if you have any medical or physical conditions that could risk your health and safety or prevent you from using the equipment properly. In addition, your physician's advice is essential if you are taking medication that affects your heart rate, blood pressure, or cholesterol level.