With its new $330 Sense smartwatch, Fitbit is hoping you'll want a sensor that measures your body's reaction to stress, as well as other things like skin temperature and blood oxygen. The device also introduces a new buttonless design but otherwise doesn't look all that different from its previous smartwatches.
Still, the Fitbit Sense is the company's stab at what it calls an "advanced health" device, and it's full of features to help it meet that promise. It can feel overwhelming when confronted with all the new data, but the Sense lays the groundwork for a future when somebody will put all this information to good use.
The Fitbit Sense is a comprehensive health-tracking machine with basic smartwatch features and a new navigation system that can be difficult to master. It offers more wellness tools than Apple and Samsung at a lower price, and it's especially great for people who don't mind wearing a watch to bed to glean more information about their health.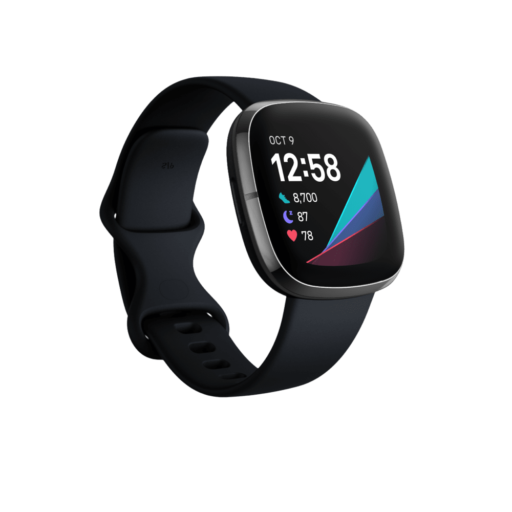 Learn more in my complete review below
Product: Fitbit Sense Smartwatch
Price: For a great deal on this smartwatch, merely go here on Amazon
Warranty: 1 year
My rating: 8.5/10
Amazon Affiliate Disclosure: I may earn commissions on purchases made through links in this post.
Details and Specifications
Multi-path optical heart rate sensor
Multipurpose electrical sensors compatible with ECG app & EDA app
Gyroscope
Altimeter
3-axis accelerometer
Skin temperature sensor
Ambient light sensor
Wi-Fi (802.11b/g/n 2.4GHz)
NFC
Built-in GPS + GLONASS
Vibration motor
Speaker (75dB SPL @10cm)
Microphone
Battery type: Lithium-polymer
Charge time: (10-80%): Approximately 40 minutes
Fast charging: 1 day of battery life in 12 minutes
Radio transceiver: Bluetooth® 5.0
Saves seven days of detailed motion data, minute by minute
Saves daily totals for the past 30 days
Stores heart rate data at 1-second intervals during exercise tracking and at 5-second intervals all other times
What's included:
Fitbit Sense
Classic wristband (both small & large)
Charging cable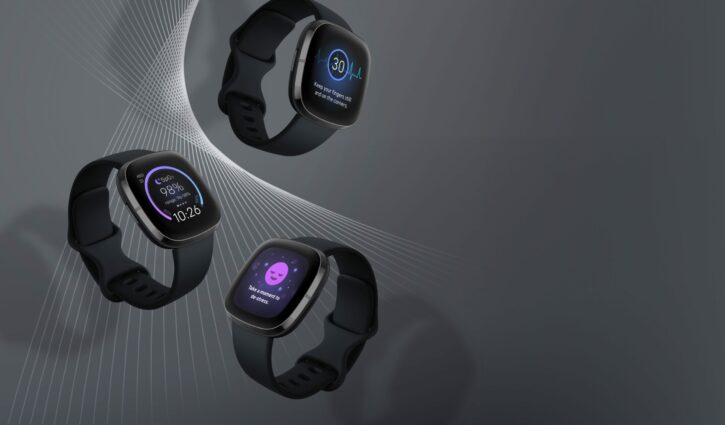 Sense Hardware and User Interface changes
One of the significant changes Fitbit made here was to get rid of physical buttons completely. Instead, there's a groove on the left side that the company has referred to as both a button and a solid-state sensor. You'll have to cover this inch-wide groove entirely with your finger to trigger a "press." You can set a long press to start an action like launching Alexa or tracking a workout, while a shorter tap will take you to the main watch face or wake up the screen.
Because Fitbit has done away with buttons, it also tweaked the navigation to be more swipe-heavy. Now, when you swipe right, you'll go back to a page, while swiping up and down on the home page brings up your notifications and widgets, respectively. As before, swiping left shows the apps on your watch.
You can also customize the widgets drawer to show your favorite tools. You can reorder these by tapping the Manage button at the bottom of this screen, then long-pressing each widget to move it. Within specific widgets, though, you still can't reorder each field, so you can't move calories burned above distance in Core Stats, for example.
While the new navigation feels intuitive, it's also a little sluggish and finicky. Not every swipe registers, and sometimes when I swiped left, the watch would think I tapped on the screen instead and take me to an app I didn't want to launch. I had to learn to be very deliberate with my gestures.
It's otherwise a good-looking device. I like the shiny aluminum and stainless steel case, and the new sharper AMOLED screen is lovely and bright. I still prefer circular watch faces to the Fitbit's rounded square shape, but the Sense still manages to look classy.
EDA and stress tracking
Aside from Fitbit's interface and design changes, the Sense also adds features like an electrodermal activity (EDA) sensor and skin temperature monitoring. EDA is also known as galvanic skin response, and it looks for changes in your skin that may be caused by stress. You can manually conduct a scan using the on-watch app and select Quick Scan for a two-minute session or Guided Sessions for something more meditative.
During a quick scan, I sat still and covered the watch face with my palm, making sure my skin was in contact with the case. The watch vibrated to indicate the session was starting, and I closed my eyes and waited for the two minutes to pass. In the beginning, my mind was still swirling from a stressful encounter, but I managed to calm down after a bit.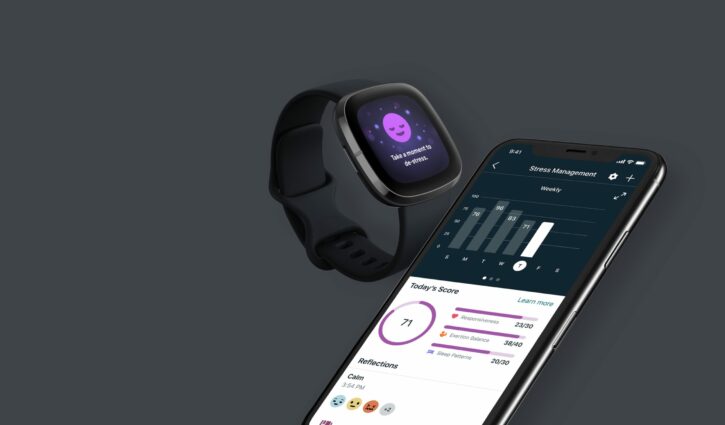 When the time was up, the Sense vibrated to let me know I could remove my palm. After the scan, the watch showed four "changes" or "responses" during the first half of the scan and none in the latter portion.
According to Fitbit, each "response" is a small change in my skin's sweat level, though that still doesn't help me gauge my performance. Perhaps, better use of the EDA tool might be all-day tracking. For now, though, the watch only tracks EDA when you ask it to, which might be a good thing for battery life.
Fitbit uses this data to assign you a Stress Management score, which also considers your heart rate, sleep, and activity levels. Results range from 0 to 100, with higher numbers indicating "fewer physical signs of stress."
Sense Blood oxygen
Fitbit has been embedding blood oxygen sensors in its smartwatches for years, but it only enabled them through a software update this year. With the Sense, it introduces a new SpO2 watch face that will cycle between showing your blood oxygen saturation level, heart rate, floors climbed, and steps taken.
Blood oxygen is an excellent metric to keep an eye on, but it's only instrumental in detecting anomalies that could signal other underlying health issues. Since I didn't have an irregularity during my review window, I can't vouch for the long-term performance, but knowing it's there offers some peace of mind.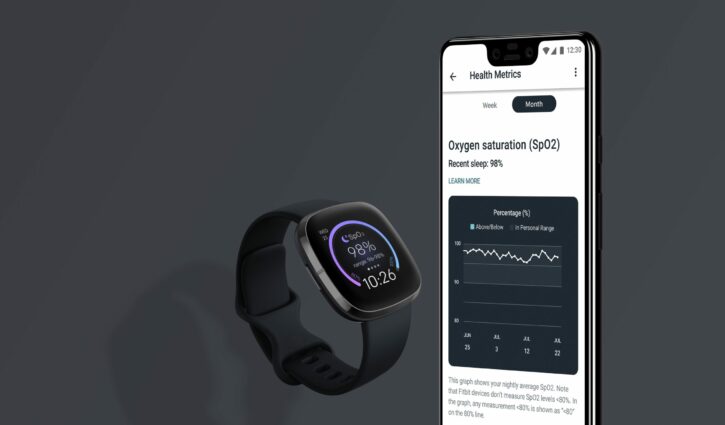 Compared to Apple and Samsung, which track your SpO2 when you launch the tool, Fitbit will only monitor your blood oxygen levels when you're asleep. A company spokesperson said this is because the Sense takes five minutes to measure your SpO2, and no one wants to sit still that long. Plus, the company said nighttime is when your body is most likely to show variations from your baseline levels and that your blood oxygen doesn't tend to change much during the day.
Skin temperature
Fitbit adopts a similar philosophy with the new skin temperature tracking. You'll need to have worn the Sense to bed for three nights before the watch can deliver reports on your baseline temperature as well as variations. If you want to continue to track your skin temperature after getting the baseline reading, you'll have to keep wearing the Sense to bed, which could be annoying for some people (myself included).
If you do, though, the Sense has the potential to help catch when you have a fever, as well as to detect the start of a menstrual cycle. After my third night, Fitbit reported no overall changes, which isn't surprising since it's the first result. (You'll need the three evenings of data before it delivers the first report.)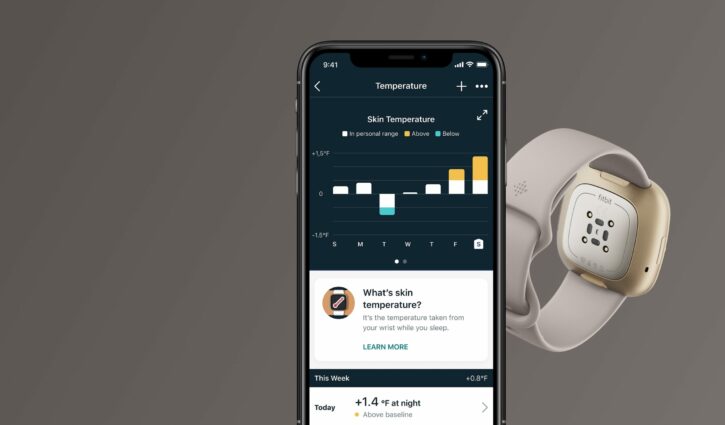 While it doesn't give you a reading of your actual skin temperature, the Sense can tell you how it fluctuated as you slept, and it was interesting to see how I grew warmer as I fell deeper into sleep, then cooler again. Though this data isn't immediately useful, I could see it alerting me to the onset of fever or an illness.
Sense Heart rate
Thankfully, you don't have to be asleep for the Sense to monitor your heart rate. It continually keeps an eye on your pulse to warn you of any irregularities, similar to other Fitbit products and the Apple Watch, too. The device makes use of Fitbit's new heart rate sensor and algorithm to see if your pulse is too high or low, based on your age and resting heart rate. This could help someone detect potentially fatal conditions.
The constant heart-rate monitoring also helps Fitbit better understand what sleep zones you're in, making it a more insightful bedtime tracker than Apple's devices with watchOS 7. The latter only tells you how long you were asleep based on your movement, while Fitbit will use your pulse to figure out if you're in REM or deep sleep, for example. The Galaxy Watch 3 also does this, and I've found it to offer similar data to the Sense, though Fitbit's watch is slightly more comfortable to wear to bed.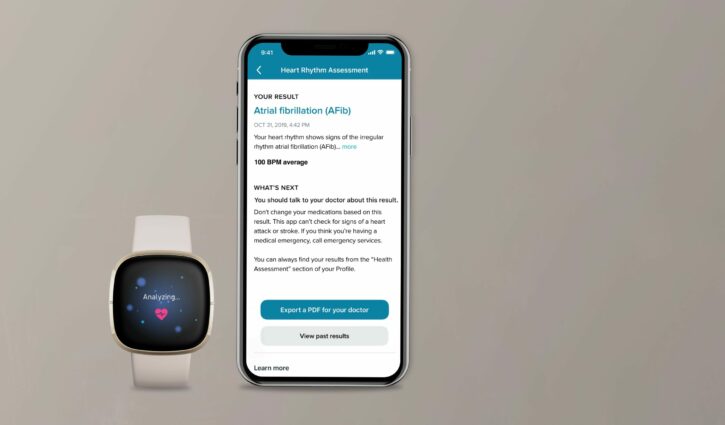 Workouts
Apart from keeping tabs on your health, the Sense can also help with your workouts. Its built-in GPS accurately measures your runs, walks, hikes, or bike rides without your phone and reports your distance and pace after you've done.
It took about 40 seconds for the Sense to lock onto a signal my first use, but just 10 seconds when I tried the next day again. That's not terrible; in fact, it's similar to the Galaxy Watch 3. Even so, the Sense lags the Apple Watch Series 5, which barely pauses to connect to GPS.
Like other Fitbit watches, Sense can track various activities, like yoga, circuit training, golf, martial arts, and tennis. It'll add up the amount of time you spent in heart-rate zones like fat burning, cardio, or peak, then assign you points based on your age and resting pulse rate.
Fitbit introduced Active Zone Minutes with the Charge 4 tracker this year. According to the World Health Organization and American Heart Association guidelines, most people should strive to get 150 points a week.
Fitbit will also evaluate your cardio fitness, which estimates your maximum oxygen uptake during intense exercise or VO2Max, and give you a score. While these numbers are most useful to athletes, they still provide reassurance that you're not abnormal.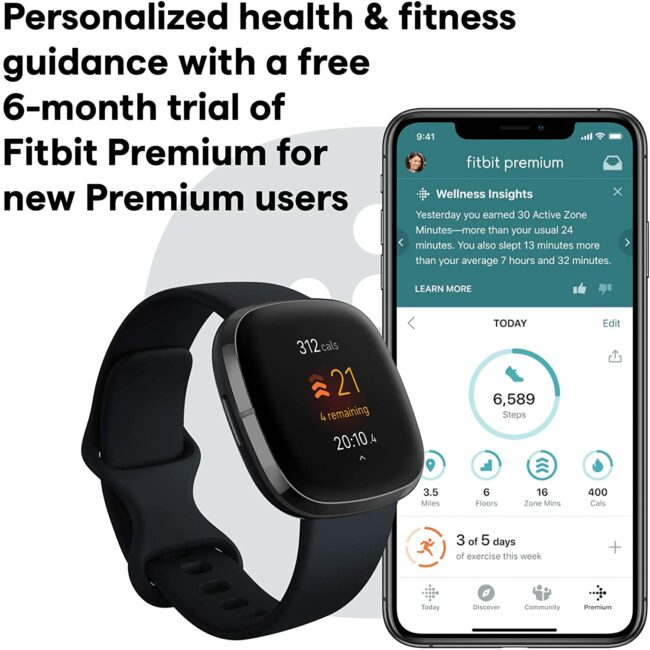 Sense Performance and battery life
Fitbit doesn't share information about the processors in its smartwatches, but whatever they used in the Sense needs upgrading. The watch takes what feels like forever to launch apps like Today or Spotify. I've grown accustomed to the delay, but in general, Samsung and Apple watches are faster.
The Sense does beat its primary competition on battery life, though — it lasted about two and a half days before hitting 25 percent and warning me (through a phone alert and an email) that it was low on juice. That's with the always-on display enabled, two nights of sleep tracking. I suspect GPS will also drain the battery, while disabling the always-on display should get you some hours back.
That's better than the Apple Watch Series 6 (based on our experience with the Series 5, since Apple gives similar estimates for both) and the Galaxy Watch 3, which might get you into a second day with always-on screens enabled. But generally, they give up after one and a half.
Fitbit Sense Smartwatch Summary
As if all these features weren't enough, Fitbit also said more new stuff would be coming to the Sense later this year. Including an FDA-cleared ECG tool, Google Assistant support, and spoken replies from Alexa and the Google Assistant through the watch's speaker. There's so much the Sense can measure that it almost feels overwhelming, but I'm mostly impressed by what the watch can do.
The majority of the health-tracking features work well and provide useful insights, and while I don't like that you'll need to subscribe to the Premium service for some extras, the free data is at least helpful. I wish the Sense were faster and its OS more powerful.
Still, at $330, it's cheaper than the new Apple Watch Series 6 and the Galaxy Watch 3 while offering more health-tracking features. So, for what it provides, the Sense feels reasonably priced.
I hope you found this article helpful and informative. If you have anything you would like to share or any opinions about my website, please speak up. I look forward to your comments, questions, and the sharing of ideas.
Related articles