Designed for light commercial or home use, the HCI Fitness PTX Gym all-in-one Functional Trainer is ideal for people of all sizes and fitness levels. A dual-stack gym offering an isolateral workout in an efficient space-saving mobile footprint, the PTX functional trainer helps you build total-body strength through unlimited exercise options.
You will benefit from building a solid core and developing improved balance, stability, and coordination, for improved daily life activities. The PTX gym weight stacks have a combined weight of 200 lbs. In addition, the weight stack also converts into free weights to compliment all workout combinations.
The PTX gym by HCI Fitness is an affordable and compact functional trainer, perfect for any sized space. Furthermore, the PTX is one of the industry's smallest footprints in a functional trainer, and the PTX Gym wheels easily into a closet or a corner for convenient storage when in the stored position. Stored Dimensions 24″ x 20″ x 73″.
The PTX includes a folding bench with seven adjustment positions and folds and stores into the unit. In addition, the PTX gym accessories include a chin-up bar, pair of handles, a short bar, and an ankle strap for various workouts.
Learn more in my complete review below!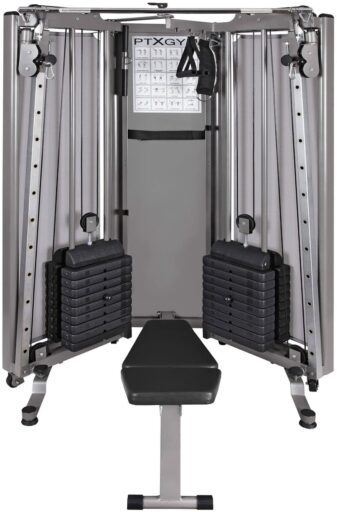 Product: HCI Fitness PTX Gym
Price: For a great deal on this gym, merely go here on Amazon
Warranty: Frame and welds lifetime/parts five years/wear items five years
My rating: 8.75/10
Affiliate Disclosure: As an Amazon Affiliate Program participant, I earn commissions on purchases made through links in this post. Full disclosure
Details and Specifications
Assembled dimensions: 51L x 24W x 72H inches (129L x 61W x 182H cm)
Assembled weight: 420 lbs (190.5 kg)
Weight resistance system: Vinyl weight stacks
Max. weight resistance: 2x 100 lbs (2x 45.3 kg) (1:2 ratio)
Possible exercises: 50+
Warranty: Frame and welds lifetime/parts five years/wear items five years
PTX Frame construction
First of all, the PTX Gym functional trainer features a folding frame design. It has three main pieces, and you can close the two wider lateral ones together, to fold the machine to save space. The frame and most parts are steel tubing, dyed gray, with a corrosion-resistant enamel. In addition, a synthetic material mesh covers the frame's sides to add compactness to the machine.
This functional trainer machine doesn't have a wide footprint. When unfolded, it takes only 51″L x 24″W (129 x 61 cm) of floor space. Furthermore, it doesn't reach too high, featuring a total height of 72″ (182 cm), which means you can fit it with no problem in a room (or basement) with a seven ′ ceiling or even several inches lower.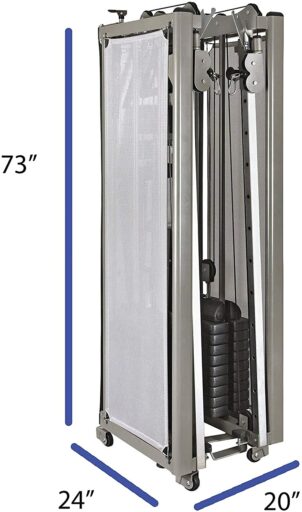 Even though the machine has a relatively small footprint, it's surprisingly stable, as it weighs approx—420 lbs (190.5 kg). The lower parts of the frame feature a set of 4 caster wheels, which considerably ease the machine's transport or folding once you've finished exercising. However, the structure also features two mobile bases, finished with sizeable rubber stabilizers, to maximize the machine's stability during exercises.
Bench
Integrating a folding, multi-position bench is one of the best aspects of this home gym machine. The bench is attached to the middle part of the frame and folds up vertically to facilitate the machine's closing. In addition, the backrest can be locked in 6 positions, from 0° to approximately 60 degrees.
The bench features relatively simple construction, with approx 1.5″ of padding on the backrest and 2″ on the seat part. The upholstery is a synthetic vinyl material.
Even though there's no maximum user weight specified for this machine, the bench probably won't support users much more substantially than 300 lbs (136 kg), as its frame is not a very thick steel gauge.
Also, when it comes to user height, considering the machine itself is not overly tall, taller users above 6'3″-6'4 ″ may not benefit from a full range of motion when using the pulleys locked in the top position for exercises such as lat pulldowns for example.
PTX Pulleys and cables
The machine features several pulleys made of heavy-duty nylon/fiberglass material, incorporating sealed ball bearings for a long life span. In addition, the front adjustable pulleys feature 12 adjustment positions, allowing for low-pulley, mid-pulley, or high-pulley exercises of all sorts.
The location of these pulleys is easy to adjust. You pull a pinout, move the pulley assembly to the desired height, and secure it back with the pin.
The machine is equipped with industrial-quality steel cables to withstand much more tension than the 100 lbs weight of each plate stack. In addition, they have a sheet of PVC material for smoother operation. Now, this PVC sheet will wear out over time, but the cables shouldn't require replacement as the pulleys are incredibly durable, and it will take a lot of time to wear out.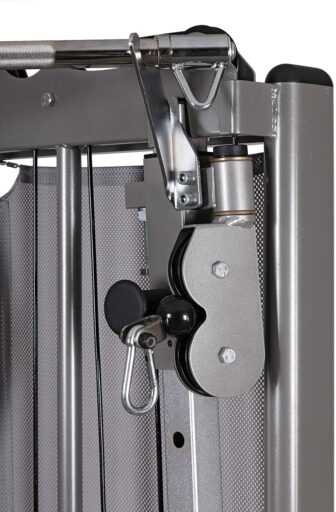 Accessories
There are several accessories supplied with the HCI Fitness PTX gym. These are:
Straight bar of 20″ (51 cm) – steel made, with a chrome finish and knurled grips, promoting various bar exercises, such as stand-up curls, lat pulldowns, or chest presses.
Straight bar of 12″ (30.4 cm) – made of steel but featuring plastic handles, great to have for various exercises, such as stand-up rows, seated rows, etc.;
One ankle strap – it's padded for maximum comfort for your ankle during leg curls or other exercises that require it.
Two D-ring handgrips – evidently, the required accessories for most fly press exercises or exercises that require the use of both weight stacks;
One triceps rope – for a variety of triceps exercises.
One more thing to put on the accessories list for this machine is the exercise poster attached to the frame's inner side; great to have for quick reference during your workout. However, this exercise chart covers less than half the possible exercises for this functional trainer.
Weight Resistance System
The HCI fitness PTX machine has two weight stacks, each with 100 lbs. (45 kg). However, the weight ratio is 1:2, which means you will only get a maximum of 50 lbs (22.6 kg) of available weight per stack. Thus, the machine is not for hardcore weight lifters. Even for intermediate users, the weight supplied by each stack may be too low.
Each weight stack features ten plates made of cement material encased in a vinyl shell; in other words, this machine features vinyl weight plates. Each plate weighs 10 lbs (4.5 kg), and they can be detached from the stacks and used as dumbbells for various exercises.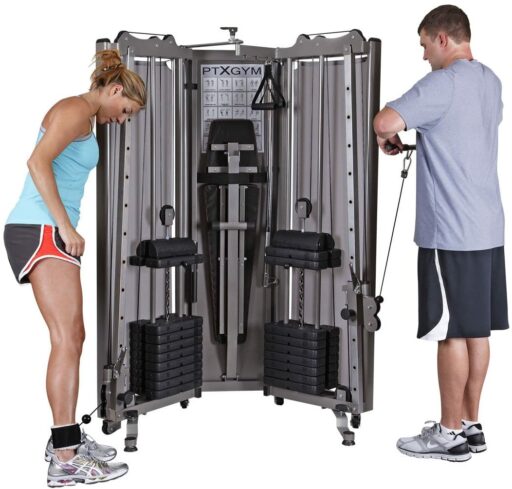 Unfortunately, the weight stacks of this machine are not upgradable.
PTX Possible Exercises
This fitness machine offers the possibility to execute more than 50 exercises for the main groups of muscles. Some of the most important ones are:
Arm exercises
Biceps curls
Lateral single-arm biceps curls
Lying biceps curls
Close-grip pulldowns
Triceps extensions
Triceps pressdowns
Kneeling triceps extensions
Lateral single-arm triceps extensions
Prone triceps extensions
Abdominal Exercises
Cable crunches
Cable twist crunches
Seated trunk rotations
Standing trunk rotations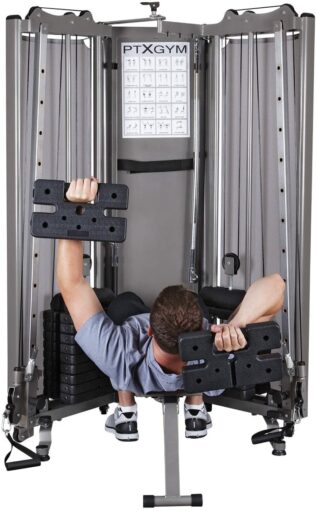 Back Exercises
Back flies/Back presses.
Prone back flies
Prone reverse flies
Lat pulldowns
Aerobic rowing
Crossover rowing
Kneeling rowing
Chest Exercises
Chest presses
Single-arm chest presses
Wide grip chest presses
Close grip chest presses
Chest flies
Incline chest flies
Lateral chest flies
Single-arm chest flies
Pullovers
Leg Exercises
Stand-up leg curls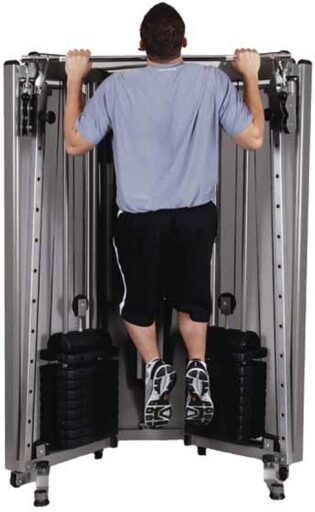 Calf raises
Squats
Single-leg squats
Kneeling single-leg squats
Wide squats
Twisting squats
Jumping squats
Front lunges
Hip extensions
Hip adductions/Hip abductions
Shoulder Exercises
Shoulder presses
Upright rows
Lateral deltoid raises
Front deltoid raises
Lying front deltoid raises
Front deltoid raises with leg curls.
Shoulder extensions
Lateral arm pulls
Unfortunately, this machine has no optional attachments, such as a leg press, leg attachment, or preacher curl pad. Also, the bench doesn't have ankle supports for sit-ups. Thus, exercises requiring such workout stations are not available.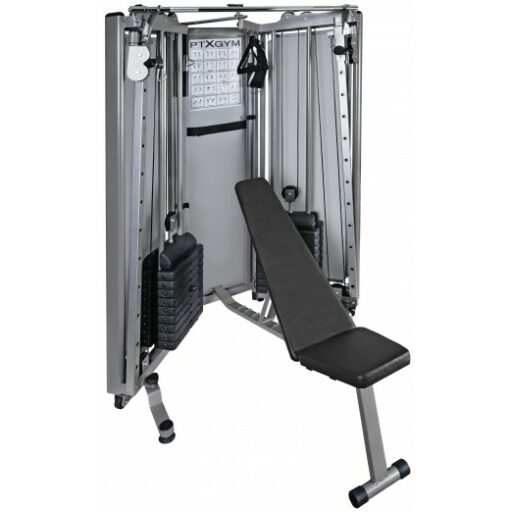 On the other hand, since the bench is adjustable, you can do various exercises with dumbbells on it in case the weight resistance the machine provides doesn't suffice, an aspect that it's quite a plus.
PTX Assembly and Maintenance
One of the main advantages of this machine is that it doesn't require any assembly. Instead, it comes fully assembled, with all the parts attached and folded on the frame sides.
So, all you need to do is carry it to the room where it will be in use, unbox and unfold it, and place it in a vertical position. Of course, since the machine is heavy, this requires at least two people.
As for any crossover machine, the HCI Fitness PTX Gym doesn't require much maintenance. The only aspect to mention here is that the pulleys may need greasing if they begin to squeak.
Pros
Sturdy, all-steel frame;
Fully adjustable pulley set, with 12 positions, to accommodate users of various sizes for different exercises;
Relatively small footprint for a home gym system;
Folding design;
Caster wheels for easy transport and folding;
6-position bench included;
Smooth pulley and cable movement;
Pulldown / curl bars of 20″ / 12″ included;
Various other accessories included, such as triceps rope, ankle strap, D-ring handgrips;
Detachable weight plates to use as dumbbells;
Over 50+ exercises available;
Quiet operation;
No assembly is required;
Excellent warranty plan.
Cons
Only 1:2 weight ratio;
Weight stacks are not upgradable.
HCI Fitness PTX Gym Summary
The HCI Fitness PTX Gym is a functional trainer equipped with two stacks of 100 lbs each, with a 1:2 weight ratio. It's not exactly a machine for heavyweight users, but it offers many conveniences for beginners and intermediate users.
It allows for more than 50+ exercises for the essential muscle groups. In addition, its frame foldability and bench are nice pluses for this machine, making it perfect for home use.
The PTX Gym has been around for a few years, so it's available at a substantial discount. Therefore, I can safely say it comes with a decent price/quality ratio.
I hope you found this article helpful and informative. Would you please speak up if you have anything you'd like to share on the topic or any opinions about my website? I look forward to your comments, questions, and the sharing of ideas.
Please note you should consult your physician to determine if you have any medical or physical conditions that could put your health and safety at risk or prevent you from using the equipment properly. In addition, your physician's advice is essential if you are taking medication that affects your heart rate, blood pressure, or cholesterol level.