Free of boundaries and full of possibilities, the Schwinn 810 Treadmill is the affordable, indoor cardio solution designed to keep you active and built for the journey ahead. Featuring a 20″ x 55″ running belt and a Soft Drop folding design for easy storage, the 810 offers quality, affordability, and a one-way ticket to a life well-lived.
The intuitive, feature-focused fitness console provides a superior experience. It tracks time, distance, speed, average speed, pace, calories, and pulse. Choose your adventure with 16 different workout programs. No matter your fitness level, the 810 has the variety you need to keep workouts fresh, no matter your end goal.
Access the Explore the World app and digitally immerse yourself in a world of virtual races, exotic locales, and stunning trails around the globe (3 free courses). Unlock more with an Explore the World subscription.
Learn more in my complete review below!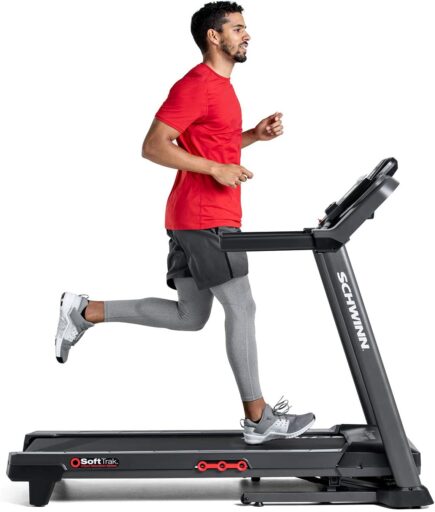 Product Schwinn 810 Folding Treadmill
Price: For a great deal on this treadmill, merely go here on Amazon
Warranty: Frame 10 years / Motor 10 years / Parts 1 year / Electronics 1 year / Labor 1 year
My rating: is 9/10
Affiliate Disclosure: As an Amazon Affiliate Program participant, I earn commissions on purchases made through links in this post. Full disclosure
Details and Specifications
Assembled dimensions: 69.1L x 35.6W x 56.7H inches (175.5L x 90.3W x 144H cm)
Running surface: 55L x 20W inches (139.7L x 50.8W cm)
Assembled weight: 155 lbs (70 kg)
Supported weight: 275 lbs (124 kg)
Motor: 2.6 CHP, 0-10 MPH
Incline: Automatic, 0-10°
Deck cushioning: SoftTrak
Console: 16 programs, Bluetooth
Amenities: Sound system, cooling fan, USB port, 2x bottle holder, the device holder
Warranty: Frame 10 years / Motor 10 years / Parts 1 year / Electronics 1 year / Labor 1 year
810 Frame construction
The Schwinn 810 is a folding treadmill made for home use, but it features a heavy-duty steel frame with a durable deck rated for a maximum user weight capacity of 275 lbs (125 kg). In addition, all the steel parts in its construction come coated with a corrosion-resistant and chip-resistant paint finish.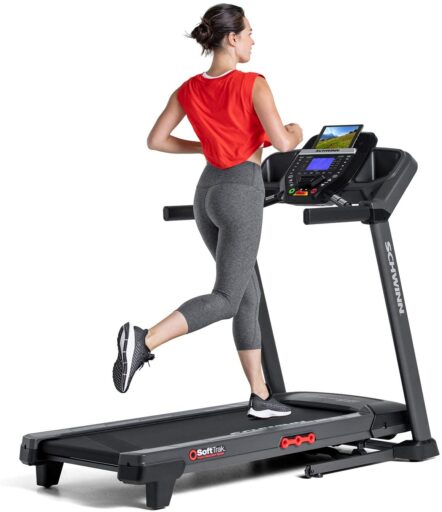 However, the machine also integrates several durable plastic parts. For example, the side rail covers, the motor cover, and the console dashboard are plastic-made.
Although it's a smaller machine than most commercial models, it's still relatively large. With all the parts assembled, it is approx. 69.1″ (175.5 cm) long and 35.6″ (90.3 cm) wide. You will have to allow at least two feet of clearance on each side and at least three feet at the rear of the deck for easy access and safe usage.
The machine is also pretty heavy; its net weight is 155 lbs (70 kg), so the boxed unit's transport requires two people. However, once assembled, it can easily be moved by only one person as its front base frame features wheels.
Deck
Like most Schwinn treadmills, the 810 model features a folding frame. However, its folding mechanism involves a hydraulic cylinder, enabling the deck to unfold slowly, to prevent damage to the treadmill or the floor.
The Schwinn 810 treadmill offers a running platform similar to the Schwinn 830. It is 55″ (~140 cm) long and 20″ (~51 cm) wide. Therefore, the machine should accommodate users up to 6'2″ – 6'3″ (187 – 190 cm) with no problem allowing a complete range of motion.
The machine's deck comes with the SoftTrak cushioning system, consisting of two significant cushioning elements on each side of the deck. However, the deck also integrates several smaller cushions concealed by the side rail covers.
The deck offers a bit of flex, so the running or walking impact is considerably reduced to running or walking on concrete or asphalt.
810 Incline and step-up height
The Schwinn 810 folding treadmill comes equipped with a motorized incline system. You adjust the incline from the console while the machine connects to a power source. The incline is automatic; the machine can auto-adjust the deck's incline depending on the selected workout program.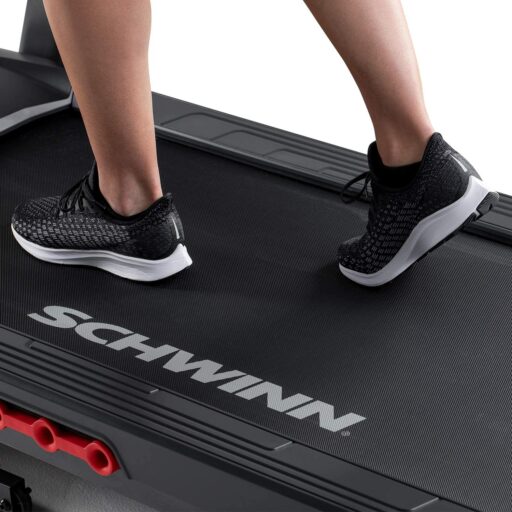 The machine's incline system consists of a motor (different from the motor that powers the belt) and a slight lift under the deck's front section. As you adjust the incline from the console controls or automatically adjust the slope, the lift will slowly elevate the deck's front.
The treadmill offers an incline range between 0% and 10%. The console provides controls for gradual incline adjustment, but they're also quick selection incline controls for 0%, 2%, 4%, 6%, and 10%.
The deck's step-up height with the incline set to 0% is approx—9″ (22.8 cm). Conversely, with the angle formed to the maximum level (10%), the deck's front rises by approximately 16″ (40.6 cm) above the floor. Therefore, using this Schwinn treadmill in a room with a ceiling at least 20″ (51 cm) higher than the taller users' height is advisable.
Drive motor
The Schwinn 810 treadmill comes equipped with a 2.6 CHP motor designed to withstand prolonged workouts even at maximum speeds without overheating or losing performance. It also integrates a small flywheel for motion stability.
The unit's drive motor offers a speed range of 0 – 10 MPH. The speed adjustment increments are 0.1 MPH, so you can easily adjust your pace. Of course, since it's a motorized treadmill, the console can automatically adjust the belt's speed depending on the selected workout program.
The console offers gradual speed adjustment and quick speed adjustment controls. The gradual speed adjustment buttons have a double function. You can press them shortly to increase the speed by 0.1 MPH, or you can press and hold to gradually increase the speed. In addition, the pre-set speed controls allow you to quickly select 2 MPH, 4 MPH, 6 MPH, 8 MPH, or 10 MPH.
Since the machine is motorized, it requires an external power source. It comes with a US standard 3-prong plug and 6 feet of cable. Although it has a decent motor, it is not extremely powerful, so it won't add too much to your monthly electricity bill.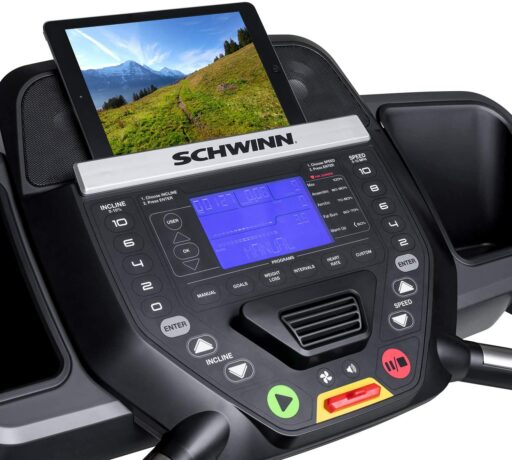 It is also reasonably quiet, but your cadence may generate more or less noise depending on your running speed and technique, like other treadmills.
810 Console
This Schwinn treadmill has a complete fitness console for a home-use machine. First, it features a large LCD with an LED backlight, divided into multiple sub-sections to show as many workout metrics as possible.
It tracks time, distance, speed, average speed, pace, calories, and pulse. It also shows the grid of each program with segments for both speed and incline.
The speed and distance are displayed in either imperial (MPH, miles units) or metric (kmh, kilometers). In addition, the console is telemetric, so it can track your pulse from a wireless HR chest strap transmitter that operates in the 4.5 kHz – 5.5 kHz range.
Unfortunately, an HR chest strap does not come with the treadmill, but the console can still track your pulse even without this accessory if you hold on to the sensors integrated into the front grips.
Workout programs
The console has 16 built-in programs. They divide into six categories, each with its quick selection key on the console. These are Manual, Goals, Weight Loss, Intervals, Heart Rate, and Custom.
The Manual program category only includes the Manual mode. This program allows you to manually adjust the incline and speed as your run. The Goals category contains six programs. You can set a workout goal for time, calories, and distance, 1 mile, 5 miles, and 10 miles.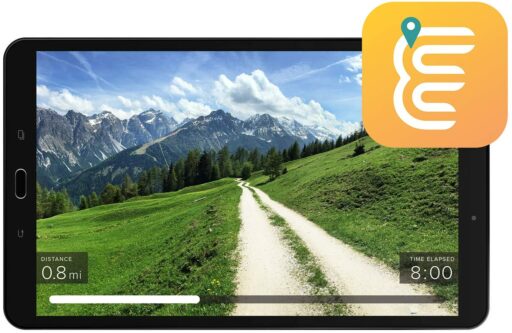 The Weight Loss category includes three programs. These are Fat Burn, Speed Burn, and Incline burn, and they are to help you lose weight.
The Intervals category has three programs: Interval-Incline, Interval-Speed, and Interval-Speed/Incline. Each program has a pre-set interval-based layout, which is adjustable.
There are two Heart Rate programs with a pre-set BPM value of 65% and 75%. And finally, the Custom Program allows you to create your workout program with the desired speed and incline variations.
Please note that the tablet shown in the images does not come with the treadmill.
810 Amenities
The console also has Bluetooth connectivity, and you can transfer your workout data to various online fitness apps. For example, you can sync it with RunSocial to run on a virtual trail presented on your tablet, smartphone, or smart TV.
In addition, there are three other notable console features: the workout fan, the sound system, and the USB port. The workout fan is at the bottom of the console dashboard. Although it is not too large, it still provides decent cooling during a more intense workout.
The sound system consists of two speakers at the unit's top. In addition, you can connect your smartphone or tablet via cable to the console and play your music through the integrated speakers. However, wireless Bluetooth connectivity does not work for this purpose, though. Therefore, you must make a wired connection. And finally, the USB port is only for device charging, not workout data transfer.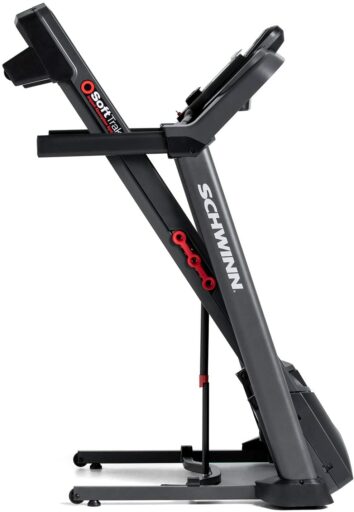 Assembly and Maintenance
Naturally, the treadmill's running platform comes pre-assembled, with the incline lift, the motors, and other drive elements already attached to the base frame. Therefore, you only have to connect the two upright bars and the console.
Therefore, it shouldn't take more than an hour of your time. The manual provides all the necessary assembly instructions and clear images; the essential toolkit also comes with the machine.
In terms of maintenance, the machine's belt requires periodic lubrication. Although it comes pre-lubricated, it should be re-lubricated every three months or after 25 hours of use (whichever comes first).
It would help if you cleaned to prevent debris from getting caught in the rollers or motor. And finally, you should periodically inspect the machine for loose bolts, broken parts, etc., and ensure it still functions properly.
Pros
Heavy-duty construction – can support users up to 275 lbs;
Folding frame, space-saving design;
Transport wheels on the machine's base frame;
SoftTrak cushioning system for the deck;
Motorized incline, 0% – 10%;
2.6 CHP motor, offering speed levels up to 10 MPH;
Speed can be adjusted at increments of 0.1 MPH, allowing you to find the perfect pace for your workout;
Quick keys for speed and incline;
EGK HR pulse sensors integrated into the front handlebars;
Six workout modes with a total of 16 workout programs;
Bluetooth connectivity and compatibility with various fitness apps such as MyFitnessPal, RunSocial, etc.;
Various amenities such as cooling fan, speakers, tablet holder, and accessory trays;
USB charging port;
Tools for assembly and belt adjustment are included;
Quiet operation;
Reasonably easy to assemble;
Little maintenance is required;
Excellent warranty.
Cons
An HR chest strap does not come with the treadmill;
The USB port doesn't allow workout data transfer, only device charging.
Schwinn 810 Folding Treadmill Summary
The Schwinn 810 is a heavy-duty folding treadmill made for home use. It has a 2.6 CHP motor, an automatic incline system, a console with 16 programs, Bluetooth, and multiple other features.
Accordingly, it's an excellent machine for light to intense cardio training, interval training, stamina development, muscle toning, and weight loss. In addition, it's an affordable home-use treadmill that offers excellent value for the price.
I hope you found this article helpful and informative. Would you please speak up if you have anything you'd like to share on the topic or any opinions about my website? I look forward to your comments, questions, and the sharing of ideas.
Please remember that you should consult your physician to determine if you have any medical or physical conditions that could risk your health and safety or prevent you from using the equipment properly. In addition, your physician's advice is essential if you are taking medication that affects your heart rate, blood pressure, or cholesterol level.