If you want an inexpensive exercise bike, then the XTERRA SB150 Recumbent Bike is for you. The frame of the SB150 is solid and durable and comes with a maximum user weight capacity of up to 265 lbs (120 kg). It also features a walk-through design. As a result, it is easily accessible.
The SB150 has a decent flywheel that provides a smooth pedaling motion and consistency. Furthermore, the flywheel is also bidirectional. As a result, you can pedal backward and still have a proper intensity. The flywheel weighs 11 lbs (5 kg), so you can only expect the bike to offer light resistance. However, it has up to 24 levels of resistance.
The XTERRA SB150 has a 3.7″ fitness monitor and a blue LED backlight. It tracks all the essential workout metrics, including time, distance, calories burned, speed, RPM, and pulse. Additionally, it has 12 preset programs, four customizable workouts, five heart rate programs, and a manual.
The SB150 also features a 4-way adjustable strong, and well-padded seat. The XTERRA SB150 makes exercise time less stressful for your back with the backrest. It is solid and well-padded too. There are two pairs of handlebars on this bike. The ones around the seat have integrated HR pulse sensors for measuring pulse. The ones with the monitor offer a multi-grip design.
Learn more in my complete review below!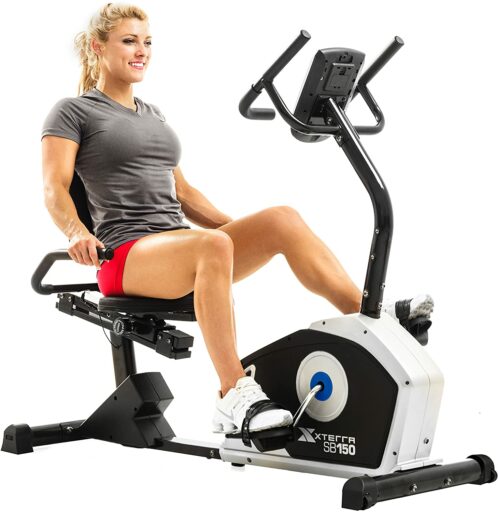 Product: XTERRA SB150 Recumbent Bike
Price: For a great deal on this bike, merely go here to XTERRA Fitness.com
Warranty: 1 year limited
My rating: is 8/10
Affiliate Disclosure: As an XTERRA Fitness Affiliate Program participant, I earn commissions on purchases made through links in this post. Full disclosure
Details and Specifications
Assembled dimensions: 58.3L x 24.8W x 45.3H inches (148L x 63W x 115H cm)
Assembled weight: 69.5 lbs (31.5 kg)
Flywheel weight: 11 lbs (5 kg)
Supported weight: 265 lbs (120 kg)
Pedals: Weighted, with straps
Drive: Belt
Resistance: Motorized magnetic, 24 levels
Fitness monitor's programs: 12 preset, five heart rate, one body fat, one recovery, four custom programs
Extras: Sound system, tablet holder
Warranty: 1 year limited
SB150 Frame Construction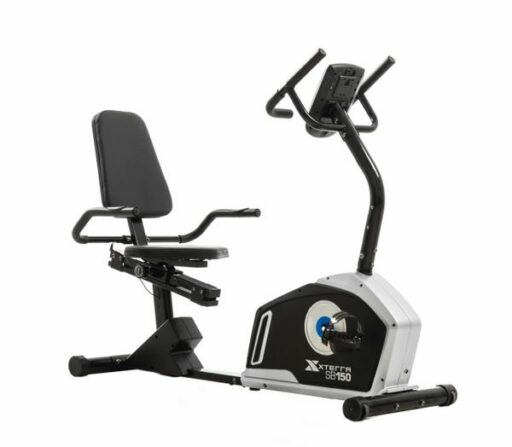 The XTERRA SB150 features a reasonably sturdy frame rated 265 lbs (120 kg). It comes in two main pieces: the front part, which holds the drive and resistance elements, the console mast and the console, and the rear aspect with the seat assembly.
Most of the bike's frame is steel tubing. The only exceptions are the covers of the drive and resistance parts and the seat base covers. These are durable ABS materials.
The frame features a step-through design. Thus it offers easy access to the seat and can be quite a plus for users with specific disabilities.
All the steel bars in the bike's frame come double-coated with a chip-resistant and corrosion-resistant black paint finish.
This XTERRA exercise bike is not an extremely large fitness machine, but it's not too small either. With the frame fully assembled, its footprint is approx. 58.3″L x 24.8″W (148 x 63 cm). On top of that, it's advisable to leave at least two feet of clearance around it for safe operation.
The bike is not extremely heavy, either. When fully assembled, it weighs only 69.5 lbs (31.5 kg). However, the front base also has wheels to facilitate its transport.
The bike's rear base comes with a set of adjustable levelers. There's also an additional adjustable leveler in the middle of the mainframe bar. Therefore, the bike will correctly stabilize on any floor.
Seat and handlebars
The XTERRA SB150 has an adjustable seat attached to an oblique rail system. It locks into a position closer or farther to the pedals. The adjustment system involves a turn-and-pull pin on the right side under the seat. For the seat adjustment, the user must not be seated.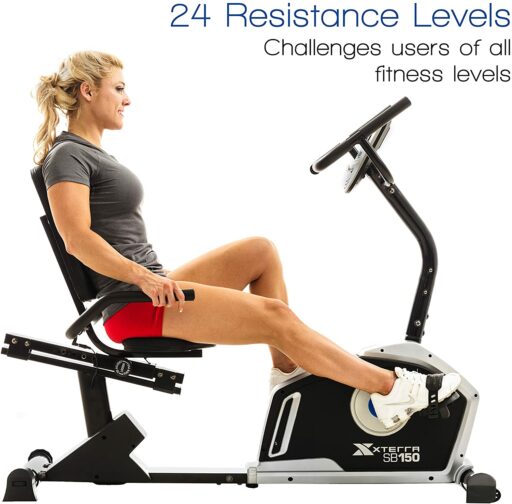 The seat and backrest integrate 2″ (5 cm) foam padding, delivering optimal comfort. Their upholstery is made of durable vinyl material. The backrest is not adjustable independently from the seat; it has a sturdy backbone and excellent lumbar support.
This XTERRA exercise bike has two handlebars connected to the seat assembly and the monitor mast. The seat handlebars feature a set of stainless steel HR pulse sensors. Thus, the monitor can track your heart rate and use the HR-based workout programs by holding on to them.
The front handlebars don't have integrated HR pulse sensors but offer a multi-grip design. Unfortunately, both handlebars are non-adjustable but have rubberized grips for superior comfort and hand adherence.
SB150 Drive and resistance
The XTERRA SB150 integrates an 11 lb (5 kg) flywheel. It's perimeter-weighted and balanced, delivering consistent momentum and a smooth pedaling motion. It's also bi-directional, allowing you to pedal reverse; however, coasting on this bike is impossible.
The bike's transmission is belt-driven via a poly-v belt. Therefore, the pedaling motion is almost entirely silent. The belt doesn't require lubrication. Also, it produces considerably less vibration than a chain drive.
The crank arms are made of solid steel material. However, being a recumbent bike, standing up on the pedals is neither advisable nor comfortable. The included pedals are made of a durable nylon material. They're weighted, so they always turn face-up when you remove your feet from them. They also have adjustable straps to stabilize your feet if needed.
In terms of resistance, the SB150 features an eddy current motorized brake. It consists of a magnetic bracket and a small servo motor. As you adjust the resistance, the motor will move the magnets closer or farther to the flywheel, increasing or decreasing the resistance.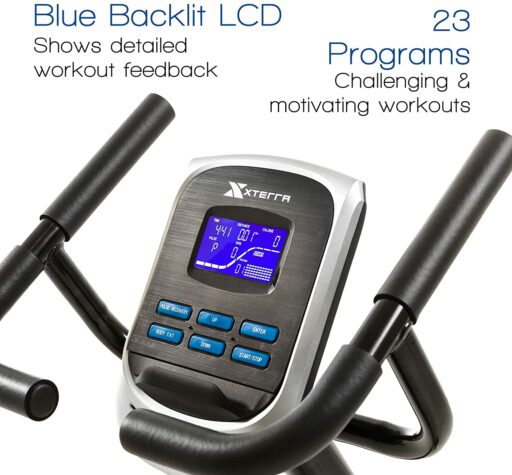 The fitness monitor's resistance system is exclusively digital and is adjustable only from the monitor. In addition, the bike requires a connection to a power source to adjust the resistance settings (a power adapter comes included).
Also, the fitness monitor's programs control the bike's resistance. Thus, if you use one of the onboard programs, the cycle will auto-adjust the pedal resistance.
There are 24 levels of resistance available. Due to the relatively light flywheel, the first resistance levels are fair, generating minimal impact. Conversely, the top resistance settings can produce a considerably higher difficulty level, simulating a reasonably steep climb.
Fitness monitor
Although the fitness monitor does not have Bluetooth functions and is not compatible with any online fitness apps, it offers plenty of features to keep you motivated. First, it features a 3.7″ LCD with a blue LED backlight and significant digits, providing excellent readability.
You can assign target values to time, distance, and calories. The monitor will then count down the selected target value until it reaches zero rather than showing the elapsed value. Thus, you can create goals to take down for each one of your workouts.
The distance and speed display in Imperial units. Thus, there are no settings for metric units. Unfortunately, the fitness monitor is not telemetric and can only measure your pulse rate by holding the integrated HR pulse sensors.
SB150 Workout programs
There are several workout programs available on the fitness monitor. The first (P1) program is the Manual mode. This program allows you to exercise freely, adjusting the resistance manually during pedaling from the Up/Down buttons.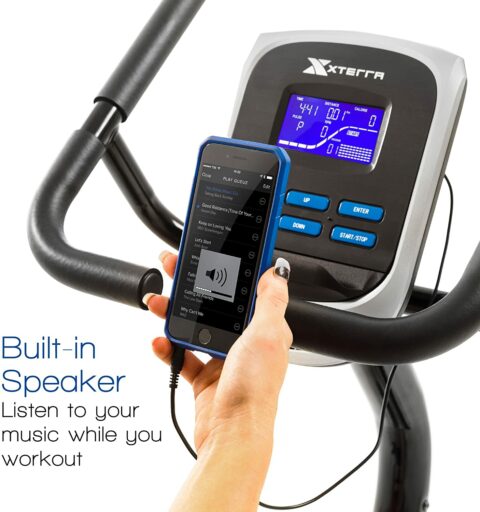 The following 12 programs (P2-P13) are preset. To give you an idea of their setup, here's their name list: Steps, Hill, Rolling, Valley, Fat Burn, Ramp, Mountain, Intervals, Random, Plateau, Fartlek, and Precipice. If one of the preset programs is selected, the bike will auto-adjust the pedal resistance.
The P14-P17 programs are custom programs. Each one allows you to create your program, designing duration and resistance for each segment. In addition, you can save any of the developed programs in the monitor's memory.
The P18-P22 programs are heart rate programs. The first four have a preset HR interval; these intervals are 55%, 65%, 75%, and 85%. The fifth program allows you to set your custom HR interval. The bike will automatically adjust the resistance to keep you within the chosen interval when an HR interval program is selected.
There is also Pulse Recovery and a Body Fat function available. The Pulse Recovery function gives you a fitness score between F1 (excellent) and F6 (poor), depending on how much time your heart takes to return to normal after your workout.
The Body Fat function is a unique program that calculates users' body fat ratio and offers a specific loading profile. In addition, it requires you to input height, weight, and gender data.
Amenities
The bike's monitor also offers a sound system and a tablet holder (or reading rack). The sound system consists of a small speaker placed at the bottom of the monitor. It is compatible with most smartphones and MP3 players. The sound rendered is not super, but it is louder and more profound than the sound produced by most smartphone speakers.
The tablet holder is right above the speaker. It's a small shelf that can hold most phones or tablets. However, a tablet will cover the monitor's buttons and the LCD.
SB150 Assembly and Maintenance
The bike's assembly is far from being difficult. First, you'll need to connect the two main pieces of the frame, then attach the two base bars, the monitor mast, the fitness monitor, the seat, the backrest, and the pedals.
Consequently, it shouldn't take more than an hour of your time. All the assembly instructions come with the manual. In terms of assembly tools, Allen wrenches come with the bike.
Maintenance pretty much requires keeping the bike clean and checking its joints periodically. The internal parts do not require lubrication or any maintenance whatsoever.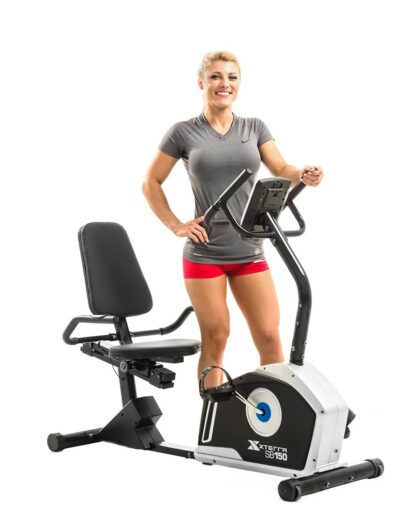 Pros
Sturdy frame – can support users up to 265 lbs;
Adjustable stabilizers on the rear base;
Step-through design;
Foam-padded seat and backrest;
Adjustable seat;
HR pulse sensors integrated into the seat handlebars;
Silent eddy current resistance system with 24 tension levels;
Weighted pedals with adjustable straps;
Three-panel fitness monitor with a blue LED backlight;
12 preset programs available;
5 HRC programs;
Four custom programs;
Recovery Test function;
Body Fat Index function;
Tablet holder included;
The sound system included;
Little maintenance is required;
Easy to assemble.
Cons
A tablet placed on the device holder will cover the LCD;
The fitness monitor does not have online connectivity.
XTERRA SB150 Recumbent Bike Summary
The XTERRA Fitness SB150 is a mid-range recumbent bike featuring a motorized magnetic resistance system with 24 tension levels and a fitness monitor with 24 workout programs. It's equipped with a comfortable and adjustable seat and is sturdy enough to support users up to 265 lbs.
Moreover, it's excellent for light to medium-intensity cardio workouts, weight loss, stamina development, recovery training, and muscle toning. And finally, it's one of the most affordable recumbent bikes with a digital resistance system.
I hope you found this article helpful and informative. Would you please speak up if you have anything you'd like to share on the topic or any opinions about my website? I look forward to your comments, questions, and the sharing of ideas.
Please remember that you should consult your physician to determine if you have any medical or physical conditions that could risk your health and safety or prevent you from using the equipment properly. In addition, your physician's advice is essential if you are taking medication that affects your heart rate, blood pressure, or cholesterol level.