Tips for Choosing the Right Treadmill
Finding a new treadmill can be both an exciting and frustrating experience. The exciting part is looking at the treadmills and imagining the treadmill in your own home. Since treadmills are the most extensive category in the fitness industry, there are more choices than any other fitness equipment. This is a mixed blessing.
From well-known brands like NordicTrack and Sole to manufacturers you have never heard of outside of Amazon, it is challenging to sort through the thousands of treadmills available.
Buying and using a treadmill can be one of the most sensible health decisions you can make. Fitness professionals recommend treadmills more than any other piece of home exercise equipment. They are functional, easy to use, and when used correctly, provide an ideal way to burn calories, manage weight and strengthen, and enhance your cardiovascular system.
The following are essential tips to make sure you maximize your investment and reach your goals.
Learn more in my complete guide below!
Affiliate Disclosure: As an Affiliate Program participant, I earn commissions on purchases made through links in this post. Full disclosure
Do You Need a Treadmill?
This is a vital question that you must ask yourself and answer before buying a treadmill. First of all, to answer this question, you must take a closer look at the advantages and fitness possibilities that a treadmill can offer.
A treadmill can provide the best setting for losing weight in terms of fitness possibilities, considerably superior to spin bikes, ellipticals, or others. That's because running engages a large number of muscles, even though many aren't focused directly.
On top of that, running promotes highly effective cardio or aerobic workout, engaging your heart and lungs at maximum. This results in a consistent amount of calories burned. Physical endurance building requires running in just about any sport. Therefore, if you aim to improve your stamina, a treadmill is the best choice.
Most advanced treadmills offer track running functions and programs, measuring distance in 1/4 miles and higher speed settings, creating adequate conditions for professional training.
Apart from the fitness possibilities, there's also the comfort factor. A treadmill allows you to have your daily running or walking session if the weather outside is inappropriate. Also, you can watch TV or your favorite online streams while running in the comfort of your home.
Various treadmills have online connection functions that allow the online analysis of your progress, competing, and comparing your progress with others. Most mid-range or highly advanced treadmills feature decks with various suspension and cushioning systems, rendering the workout much easier on your knees than running on asphalt or concrete.
Now, if all these aspects fit your needs of an exercising machine, it's a good chance that a treadmill is what you need. Therefore, it's time to get to phase two: learning about the main features of treadmills.
Key Treadmill Features and Everything that You Should Know About Them
The first thing that you should know about treadmills is that depending on their drive systems; there are two major categories: mechanical and motorized.
Mechanical (or manual) treadmills don't have any motor that sets the belt in motion. You have to propel the belt under your movement. The pace is determined entirely by how fast you walk or run.
These are typically cheaper, as they don't include a motor, and most of them don't even come with armrests or a progress tracking console. These are great for short, high-burst sprints. However, they're not the most adequate for long-run training, as they require a lot of focus to maintain the right speed.
Motorized treadmills, as terminology suggests, feature a motor that powers the running surface. They require a connection to a power circuit for the treadbelt to operate. The treadmill's console automatically adjusts the speed.
Most superior models have an additional motor for adjusting the incline to expand the exercising spectrum, controlled through the console. In general, these treadmills can cover the complete training spectrum this type of machine can offer. Plus, they come with a wide array of features.
Okay. Now let's look at the key features of a treadmill, pointing out every important aspect that you should know about them.
Deck 
Regardless if a treadmill is mechanical or motorized, the deck with the running surface is their most important component. Before purchasing a machine, this is the one feature that you should study the most. The first aspect to consider is deck thickness. The thicker the deck, the more stable it is, and the more cushioning you will have during running. Deck thickness also points out the durability and higher supported user weight. Thicker decks can also take a lot of pounding without sustaining any damage.
Many treadmills have their decks reinforced with suspensions and cushioning systems to absorb as much impact as possible, thus considerably increasing the comfort and healthiness of your exercising. Although a treadmill with a cushioned deck may cost a bit more, a cushioning system is a feature to consider.
Running surface
The running surface or the tread belt is also an essential aspect of looking for a treadmill. In general, tread belts can vary in width from 15″ to 22″, and in length from 45″ to 62″. A tread belt that 15″ x 45″ isn't precisely the most adequate for running, especially for taller users. A treadmill with a short and narrow belt suggests that it is for walking, or light training, and shorter users. On the other hand, treadmills with a 22″ x 55″ plus belt are for running.
Another aspect to consider about tread belts is their structure. Most treadmills offer a 2-ply belt for enhanced rigidity. This prevents the belt from stretching or buckling over the rollers, resulting in a smoother run. More advanced treadmills feature multi-ply belts, which also offer additional cushioning, and a better running setting.
The rollers of a treadmill's deck are also essential. These are the components that work directly with the belt, keeping it aligned and reducing friction. It's always best to look for a treadmill that features tapered rollers. These have a bigger diameter in the middle, promoting a better alignment and reducing the motor's strain. Overall, the way the rollers work with the belt can considerably prolong the motor's life and the machine itself.
Incline
Many treadmills come with an incline mechanism, which raises the deck to provide an uphill running or walking setting and increase resistance. Now, this mechanism can be mechanical or automatic.
Treadmills with a manual incline system usually have fewer incline levels, between 1 to 4 in general. But to adjust the machine's incline, you have to stop your running session and manually adjust the slope by securing the deck in the desired position. This can be a bit inconvenient, but a treadmill with an incline increases the spectrum of exercises.
Treadmills with inclines make exercise more interesting by varying your ride. They also have three efficient benefits: they make treadmill exercise easier on your joints, allow faster calorie burn, and support better muscle definition.
You may be thinking about how much incline you would use on your treadmill and how much incline you should be using to maximize calorie burn. Most home treadmills today have maximum inclines of 10, 15, and 20%. Incline trainer treadmills have maximum inclines of 40%; these allow you to burn calories at a runner's pace by simply walking.
Motor
It is a fact that a treadmill is only as good as its motor. Typically, the larger the motor, the higher the traction power, and the longer the treadmill will last. But there are two fundamental aspects to consider regarding treadmill motors: peak duty and continuous duty.
Peak duty refers to the maximum power output, the amount of power that a particular motor can generate for a short period. Continuous duty reflects the continuous power that the motor can deliver and maintain for heavy usage and extended time. That's why continuous horsepower is much more important to consider than peak horsepower.
The peak horsepower of a treadmill's motor can range between 2HP and 8HP, and usually, the listed power of a treadmill's motor is the peak power. But as a general idea, the continuous horsepower of that particular motor is lower. If a motor has only the peak power listed, to determine its continuous power, cut off about 40% of the value specified for its peak horsepower. Also, you should know that for running longer distances, you need a motor of at least 2.0 HP continuous power. For walking or light jogging, 1.0-1.5 HP continuous power works as well.
Speed
Most treadmills can supply up to 10-12 MPH speeds, but highly professional treadmills can provide up to 25 MPH speed settings. Running at such a high speed is extremely dangerous. The average runner trains at speeds between 6-10 MPH, while walking requires 0.5-5 MPH. Therefore, if you want a treadmill for running, make sure it has speed settings for at least up to 10 MPH.
Console
Mechanical treadmills typically don't have a console for tracking any values such as speed, distance, etc. They provide the deck with the running surface, and that's about it. On the contrary, most motorized treadmills do come with some monitoring device.
Even the most simple console should feature a safety key on a motorized treadmill for the machine's quick shut down and calculate the distance traveled, calories burned, and time spent working out. It also serves as the central control for speed adjustment. Some of the simple consoles also have an odometer function, which indicates the total distance on the treadmills.
Slightly more advanced treadmills include pulse sensors incorporated in armrests or handlebars or even in the console itself. This function is great to have if you need to keep track of your pulse and heart rate. But it is not entirely necessary, as you can always buy an HR chest strap and a particular device for this purpose.
Advanced treadmills come with advanced consoles with various extra functions such as Bluetooth connectivity and compatibility with various fitness apps.  It supplies a certain amount of preloaded workout programs, which automatically adjust speed and incline. Also, other functions to expect from the console of a top-dollar treadmill are goal tracking, race track function, alarms, and achievement notifying functions.
Other amenities
Many treadmills offer various amenities and a more or less consistent amount of workout programs and fitness-related functions. Among them are speakers, cooling fan, bottle holder(s), media tray for attaching your tablet or book to the console, accessory holders, or USB charging ports for your devices.
One of the more common functions offered by the top-quality treadmills is the USB slot for workout data import and export. These treadmills allow you to copy your workout data on a USB stick and upload it online, on various sites, for better analysis. You can also compare your data with others and even compete online.
Other Aspects To Consider Before Buying
Noise
For most treadmills, the sound emitted by their motors isn't extremely loud. In general, it's a buzzing or whirring sound that's far from being loud enough to interfere with your TV. However, no matter what treadmill you use, especially when you begin running at higher speeds, you will hear your cadence. Therefore, if you live in an apartment building or share a house with multiple people, you might want to consider whether your exercising will become a nuisance to them or if they can cope with it.
Available space
Most heavy-duty treadmills are usually bulky. They feature long and expansive decks and require at least one-foot clearance on each side, and a couple of feet clearance from the rear, for safety purposes. Therefore, before purchasing one, you may want to check and double-check its dimensions to ensure that it will fit into your own home.
Some treadmills feature a foldable deck or foldable frame. Most of them fold and store (if folded) vertically, not horizontally, and even when folded, they still may take quite some space.
Of course, some treadmills don't have armrests and a functional dashboard or console and feature just the running surface. Thus, it offers many better-storing possibilities.
Treadmill weight
Treadmills can weigh between 40 lbs. and 500 lbs. Of course, your average treadmill for home uses weights 100-250 lbs. Weight adds stability and sturdiness, but it also may raise problems with its relocation. Even though most treadmills come equipped with transport wheels, which facilitate their relocation, the heaviest ones may require quite a bit of help from other people during assembly or moving.
Your weight
Each exercising machine comes with a specified supported weight, and treadmills don't make an exception to this rule. The average machine can support users between 200-300 lbs. If you're heavier, it's best to opt for a model designed for your size range. Even if a treadmill seems to have a deck solid enough to support you, the motor may not be powerful enough to set the belt in motion when you're on it.
Budget
Treadmills don't come cheap, at least not the most inclusive and powerful ones. And most of the time, it's best to opt for mid-range price points, as the cheaper ones may not supply you with the workout setting that you need. Therefore, rather than buying an inexpensive machine for $200-$300, which may die under your weight, it's best to save some and invest in a more durable and capable model.
Warranty
The warranty of an exercising machine is a quality indicator. Thus, if you see a treadmill with a lifetime warranty, at least for the frame, motor, and deck, you can be sure that's a quality treadmill. Certain companies offer additional warranty for different parts such as electronics and labor. So, if the model you're buying is expensive, it may be worth paying an extra $100-$200 for an extended warranty. Better safe than sorry.
Some of the Best Brands in the Business
There are several fitness equipment brands that, over the years, have received excellent ratings specifically for their treadmills. These are:
Sole Fitness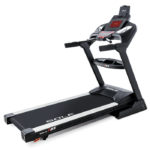 Sole is also a brand that offers treadmills known for their revolutionary cushioning system – Cushion Flex. This suspension system is one of the best, as it can reduce the impact on the spine, knees, and feet by up to 40% than running on asphalt surfaces. Currently, they offer seven treadmill models, covering to meet the needs of every user.
The Sole F85 is the best-rated treadmill from this brand at the moment. Even if it's not the most expensive and the most inclusive, it's quite an outstanding piece of exercising equipment. It's a heavy-duty treadmill that supports users up to 400 lbs, offering speeds up to 12 MPH, just about the speed required by marathon athletes to practice. It comes equipped with a 4.0 CHP DC motor. Read Full Review.
Nordictrack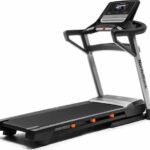 Overall, the NordicTrack T 7.5 S Treadmill is a great entry-level machine for those looking to stay at home and get fit, with Personal Interactive Training. The T 7.5 S frame is light enough to handle easily while still sturdy enough for multiple users to enjoy the treadmill daily.  The maximum weight capacity for the T 7.5 S is 300 lbs.
The T 7.5 S comes equipped with a DurX Commercial Plus 3.0 CHP motor capable of reaching top speeds of 12 MPH. This motor runs relatively quiet, allowing you to work out without disturbing family members or neighbors. The available incline range on the T 7.5 S is 0% to 12%, which is enough range to ramp up your calorie burn. Read Full Review.
3G Cardio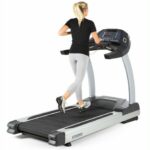 The 3G Cardio Elite Runner Treadmill features a powerful 4.0 HP motor (continuous duty), reaching speeds up to 12 miles per hour (in increments of 0.5 mph). The treadmill can incline between 0 (flat) to a 15 percent grade with a power incline.
The Elite Runner features a sizeable 22″ x 62″  deck for running, jogging, or walking. This treadmill is built to last and comes with the best home warranty I have seen on treadmills. The upgraded orthopedic treadmill belt is thicker and more comfortable than competitor belts. Read Full Review.
A Guide to Treadmill Buying Summary
I hope this guide has helped you understand how to buy a treadmill to suit your workout needs. It's worth first determining your general requirements and preferences, then choosing a home treadmill that offers the best combination of components, features, and warranties that fit your home fitness budget.
I hope you found this article helpful and informative. If you have anything you would like to share or any opinions about my website, please speak up. I look forward to your comments, questions, and the sharing of ideas.