Tips for Choosing the Right Recumbent Bike
If you've ever been to a gym or fitness center, you probably know how a recumbent bike looks like. These are recumbent bikes focus on providing the user with as much comfort as possible during their workout. Their most apparent characteristics are a welcoming, comfortable seat with back support, typically cushioned or padded, a set of handlebars near the seat, and a more or less advanced fitness console.
Recumbent bikes are known to be easy on the knees and the joints, and since all recumbent bikes have a seat with back support, they eliminate any stress on the user's back. They're made for light and up to medium intensity exercising, but you can also lose weight by working out on a recumbent bike. However, this requires longer workout sessions and, most likely, a well-balanced diet.
Learn more in my complete guide below!
Affiliate Disclosure: As an Amazon and Sole Fitness Affiliate Program participant, I earn commissions on purchases made through links in this post. Full disclosure
Do You Need a Recumbent Bike?
Since recumbent bikes support the weight of your upper body, they eliminate a significant amount of stress that would typically be put on your knees and ankles during a treadmill workout or even on a spinning bike workout.
Therefore, recumbent bikes make an excellent choice for users who require rehabilitation exercising, users who have to deal with various movement impairing conditions, or back problems, or elderly users.
Indoor recumbent bikes do not put a lot of stress on your body. Therefore, they do not help you burn substantial amounts of calories. But on the other hand, they can serve well as entry-level exercising machines for overweight users.
In this case, a recumbent bike will help you get a sufficient amount of strength and endurance to put up a better workout on a treadmill, spin bike, or any other machine designed for higher intensity training. Also, you will lose some weight in the process, but most definitely not the consistent amount of weight that a treadmill, elliptical trainer, or indoor cycling bike can help you lose.
The Key Features of Recumbent Bikes
All recumbent bikes share a standard amount of features. These features are more or less similar to other types of bikes. But each element present in a recumbent bike has its specifics. Therefore, before deciding whether or not you need a bike of this type, it's best to know a thing or two regarding the general aspects of this type of indoor cycle.
Resistance
In recumbent exercise bikes, the resistance (or tension) mechanism is typically a magnetic or eddy brake. Magnetic brakes have a relatively simple mechanism. Generally, they consist of a simple brake pad with a set of magnets, which moves closer or farther from the bike's flywheel to create tension.
In this case, the brake pad attaches to a cable connected to a tension knob, which you have to turn to adjust resistance. As a result, the brake pad never comes in contact with the flywheel. Also, bikes with magnetic brakes don't require any power source to manipulate the resistance levels.
An Eddy brake system has an electric current that functions by the same principle. However, in this case, an electromagnet, a servomotor, and a more advanced bike console are involved. The brake pad is usually stationary, and the tension is caused by changing the magnet's pull.
The bike's computer sets the resistance level, which sends the data to the servomotor, which changes the magnet's pull onto the bike's flywheel for higher or lower resistance. As the terminology suggests, an electromagnetic brake requires an electric current. Therefore, a bike with an eddy brake system typically comes with an adapter and needs to be plugged into an electrical outlet for the brake system to become operational.
Drive mechanism
It's a common misconception for many that recumbent bikes or upright bikes don't have a flywheel. They all do. But because in most cycles, the drive mechanism, including pulley, belt, servomotor, and brake, comes already assembled and attached, many people think the brake locks onto the pulley somehow. It's not how it works.
All recumbent bikes have a flywheel, which is commonly smaller in diameter than the pulley but heavier. Typically, the flywheel connects to the pulley through a transmission belt.
Since most recumbent bikes are belt-driven, the pedaling is smooth and quiet. As a result, they don't require much maintenance, at least not for the "guts" of the bike.
In most recumbent bikes, and in general, for most exercise bikes with an eddy brake or magnetic brake, it's possible to pedal backward. Resistance is the same for pedaling normally or in reverse, and the crank does not continue spinning when you stop pedaling.
Comfort
"Comfort" is the word that defines recumbent bikes. Several elements bolster the comfort of this type of exercise bike. First of all, it's the shape of the frame. The bike's
drive system is at the front of the bike. The seat is not very far from the ground. Usually, 18-22 inches, facilitating the mounting and dismounting and very comfortable workout posture.
The seats of recumbent bikes can consist of hard plastic or cushion with different materials. Hard plastic seats, even if they may seem less comfortable, they aren't. This type of seat often features a very ergonomic design and a vented texture meant to provide healthy back support and prevent the seat's overheating during a long workout session. On the other hand, cushioned seats are great for users who have problems with their lower back. Nonetheless, both types are just about equally comfortable.
The recumbent handlebars also add to the comfort of this type of bike. In addition, these handlebars usually come with incorporated pulse sensors, which are great to have in case you must monitor your heart rate during workouts.
Several other elements come to complete the comfort of recumbent bikes. For example, some bikes include a cooling fan, sound system, Bluetooth connectivity for workout data transfer online, bottle holders, media tray to attach your tablet and surf the web while you pedal. These, however, are reflected in the final price of the bike.
Adjustability
All recumbent bikes feature adjustable resistance. The number of resistance levels differs, though, from a model to another. For example, some models may offer up to 5 resistance levels, while the more advanced bikes can have up to 40 levels.
The seat is adjustable from a front to the rear manner in most recumbent bikes. By adjusting the seat, you obtain more legroom. The most advanced models also offer adjustability on the seat angle; however, not many models have this.
The front handlebars on recumbent bikes are typically stationary. The ones for the seat, on the other hand, are in most cases adjustable, moving fore/aft along with the seat. Also, bike models allow the tilting of these handlebars, upward or downward, depending on the position that suits you best.
Maintenance
In general, most recumbent bikes are pretty much maintenance-free. This is because the internal components come already assembled and lubricated. So all you have to do in terms of maintenance is keep the bike clean, and if it has a computer or progress tracking device, make sure you keep it dry.
Other Aspects To Consider Regarding Recumbent Bikes
Storage Space
Anyone needs to know that most recumbent bikes are rather bulky. Even those with a relatively small footprint, such as the Exerpeutic 900XL, still occupy a lot of space. Therefore, before purchasing one, make sure you have a place to keep it. Also, most exercise bikes are for indoor storage and use. So, if you're going to buy one, you should keep it in a dry room, without extreme temperature variations.
Transportation / Weight
In general, when it comes to an exercise bike, the heavier, the better. Weight enhances its stability. The flywheel of the bike is probably pretty heavy, which improves the smoothness of the pedaling. On the other hand, moving a heavy exercising machine may be problematic, especially for someone who is not supposed to lift heavy stuff. That's why, before purchasing a bike, have everything planned, on where to put it, whether you have to relocate it after use or not, etc.
Budget
An exercise bike is an investment. And whenever you want to invest, it's ideal to consider a specific budget. Now, you can find recumbent bikes as cheap as $130 or models that go up to $5,000. Of course, an expensive bike may provide a series of accessories that you don't need. However, some of the most costly models are overpriced, as you can find much more affordable bikes which offer just the same features. The final part of this post brings forth several cycles with an excellent price-quality ratio, which just might fit perfectly into your budget.
A Few Recommendations
Many companies offer exercise bikes and gym equipment of all types. But only a few make the best recumbent bikes. Therefore, I'm going to point out some of the best brands that you should look for if you're on the lookout for a recumbent bike and one of their best models for this category.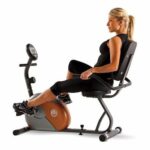 Although the Marcy ME-709 has been around for many years, it continues to be one of the highest-rated recumbent bikes for home use that you can find. On most fitness websites and forums, this particular model has a rating of at least 4.5-stars. Even though it's only a basic model, it does offer the comfortable training setting for light cardio that almost any other model in this price range can offer. It also features manual magnetic resistance with eight resistance settings.
One of the particular aspects regarding this Marcy model is that the seat is not itself adjustable. However, the frame is two pieces, and the rear part of the frame, including the seat, can be adjusted and moved closer to the front. One of the main aspects this cycle is highly rated is the comfort its seat provides. It's a consistently cushioned seat. Read Full Review.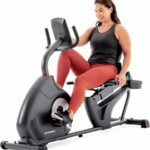 Escape into your workout from the comfort of home with the Schwinn 230 Recumbent Bike MY20, the practical, affordable, low-impact fitness solution that provides the ultimate indoor adventure by connecting with world-class app experiences like Explore the World and Zwift. (Separate subscriptions required.)
The 230 is a fun, comfortable ride offering 16 levels of resistance, a contoured seat with a vented back, and smooth magnetic resistance. The 230's connectivity options allow you to immerse yourself in scenic destinations that match your cycling speed and interact with others in a virtual world that motivates you at every mile. Read Full Review.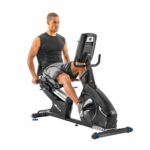 From the Nautilus Performance Series comes the R618 Recumbent Bike. Designed for serious cyclists looking to find their edge, the R618 delivers tons of comfort, dozens of training programs, Bluetooth connectivity, and free app-based tracking tools that help boost performance and results.
The Nautilus R618 Recumbent Exercise Bike utilizes an effective 30 lb flywheel and ECB resistance system, which combine to give smooth and consistent momentum throughout the ride.
Furthermore, there are 25 resistance levels to keep you challenged and 29 programs to keep your workouts varied, including intervals, challenges, weight management, heart rate, and custom programs. Read Full Review.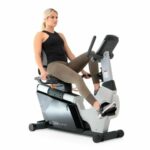 Although the 3G Cardio Elite RB is only a light-commercial recumbent bike, it has quite a sturdy construction and an impressive weight capacity of 350 lbs. Therefore, it is a solid bike designed to withstand 24/7 wear and tear within the premises of a gym with no problem.
The bike excels in comfort factors. To begin with, it has a wide, generously cushioned seat with a durable and flexible mesh backrest. The seat assembly is 4-way adjustable, a feature which many other bike models in this price range do not offer. Not only can it slide forward and backward on its oblique rail, but it also has five tilt positions.
The 3G Cardio Elite RB comes with a motor-assisted resistance system. In addition, its console offers 16 tension adjustment settings, as well as 16 pre-set workout programs to keep you motivated. Read Full Review.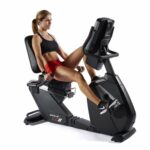 The SOLE LCR Light-Commercial Recumbent Bike is a heavy-duty exercise bike. It comes equipped with a motorized magnetic resistance system and offers an outstanding resistance range of 1-40 levels. Furthermore, it also has a 30-pound heavy flywheel for a recumbent bike and provides more consistent inertia than other models. It has a sturdy construction, being able to support users up to 350 lbs.
The Sole Fitness LCR exercise bike features an ergonomic seat and backrest, integrating a generous cushioning layer. In addition, its console has a large, backlit LCD with ten workout programs. Read Full Review.
A Guide to Recumbent Bikes Summary
Recumbent exercise bikes, otherwise known as stationary recumbent bikes, make cycling more accessible to a broader range of people offering a more comfortable and reclined riding position. They are a fantastic addition to any home gym set-up, catering for all experience levels and, in some cases, even offering users the option to work as they work out.
Recumbent bikes provide the best low-impact workout. This is better for the long-term health of the lower back (lumbar spine). Your knees and ankles also have much less weight exerted onto them with a recumbent cycling position. Therefore, they are less likely to be strained or injured.
I hope you found this article helpful and informative. If you have anything you would like to share or any opinions about my website, please speak up. I look forward to your comments, questions, and the sharing of ideas.