The Marcy ME-709 Recumbent Bike is an affordable stationary bike with everything you need to improve your health and fitness. This Marcy recumbent bike keeps your body shape firm, tones your physique, and increases your body's cardiovascular endurance while burning calories and losing weight.
The Marcy ME-709 Recumbent Bike has eight resistance levels, accessible at the turn of a knob. Variable resistance makes the bike viable for new and more experienced exercisers. This feature also increases the intensity of workouts over time as the cyclist's fitness improves.
An adjustable seat means the Marcy ME-709 is customizable to accommodate you and others in your household who wish to use it. The seat is 19 inches above floor level, making it ideal for anyone lacking flexibility or unsteady on their feet and for the ease of mounting/dismounting the seat.
There's a lot to be said about the Marcy ME-709 recumbent bike. Therefore, if you're looking for a low-cost bike, and this Marcy model has come to your attention, the following review should reveal everything you need to know about it.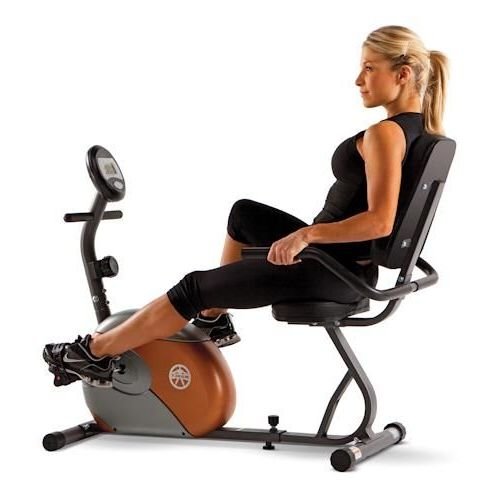 Learn more in my complete review below!
Product: Marcy ME-709 Recumbent Bike
Price: For a great deal on this bike, merely go here on Amazon
Warranty: 2 years limited
My rating: 8.75/10
Affiliate Disclosure: As an Amazon Affiliate Program participant, I earn commissions on purchases made through links in this post. Full disclosure
Details and Specifications
Assembled dimensions: 55.5L x 25W x 37.5H inches (141L x 63.5W x 95.25H cm)
Assembled weight: 64 lbs (29 kg)
Supported weight: 300 lbs (136 kg)
Seat: Adjustable
Pedals: With Straps
Resistance: Magnetic, eight levels
Performance monitor: Basic
Warranty: 2 years limited
ME-709 Frame
The Marcy ME-709 features a steel frame with a simple walk-through design, powder-coated with anti-corrosive paint. The frame has two main pieces that connect in the middle. The rear part features adjustment holes, while the front section has a quick-adjustment knob, which secures the connection between the two parts at your desired length setting.
In other words, the whole rear has fore-to-aft adjustability, supplying a length-wise modification of the frame. As a result, the bike can fit users between 5'2″ and 6'6″ (152 – 198 cm) comfortably. Even though this recumbent bike seems built merely, the steel tubing that connects to the seat is excellent. The bike has a maximum user weight capacity of up to 300 lbs.
However, heavier users (up to 350 pounds or more) have reported that they have been using it without any problem. I don't advise going above the maximum weight as this could be a safety concern and void the warranty.
The rear part of the frame and the main bar feature squared tubing for more durability. However, the console mast and the bases of the structure have a cylindrical pipe. The bottoms feature plastic caps on their ends to supply better stability for the bike, while the front base incorporates transport wheels. The bike isn't that hefty, weighing only 64 lbs (29 kg), so it's easy to be tilted on its front wheels and moved.
Lastly, this Marcy exercise bike model isn't exactly the biggest recumbent bike. However, it still does have a rather large footprint. At maximum length setting, it measures 55.5″L x 25″W (141 x 63.5 cm). Therefore, make sure you have the available space for it before purchase.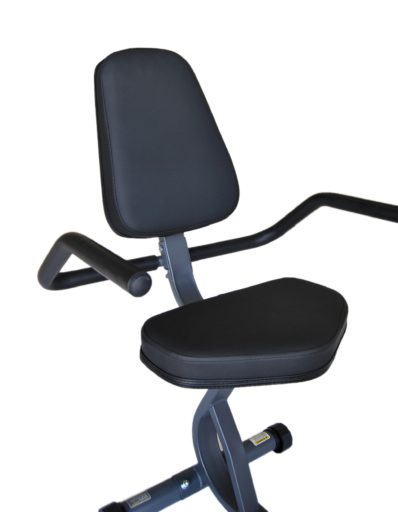 ME-709 seat and comfort
The most critical comfort factor in a recumbent exercise bike is the seat. The ME-709 model has a comfortable chair featuring  2″ foam cushioning for the seat and backrest. It doesn't have a contoured design, but the cushioning does supply the required amount of comfort you would expect from a recumbent bike seat.
The seat has a triangular shape, 16″ (40.6 cm) wide and 10.25″ (26 cm) long, standing at 19″ above floor level. The backrest is 11.5″ (29.2 cm) wide at the bottom and 9″ (22.8 cm) at the top.
The seat doesn't have an adjustment rail like other recumbent bikes. However, as we've mentioned above, the whole rear set of the cycle is adjustable, with the possibility of moving it closer or farther from the pedals.
The bike's recumbent handlebars are simple, non-adjustable, and padded with rubber foam material for a comfortable grip. The distance between them is 22″ (56 cm), and they stand about 5″ (13 cm) above the seat. However, you should be able to attach them upside down if you want; this way, you will obtain a 45° tilt for the handgrips.
ME-709 Resistance and drive systems
This recumbent bike model features a magnetic resistance mechanism. The resistance is manually adjustable, involving a magnetic brake pad connected to a knob via a solid wire. When turning the knob, the magnetic pad is moved farther or closer to the bike's flywheel, creating more or less resistance.
There are eight levels of resistance specified on the knob, and you should be able to find at least a few which feel more suitable for your training. But as a general idea, the maximum resistance level isn't extreme. However, it provides the required tension for a more consistent workout.
The bike's drive system involves a small, magnetic flywheel, a heavy-duty belt, and a solid pulley with steel crank arms. The bike's crank sleeves are finished with weighted pedals, featuring straps for securing feet during workouts. The whole drive/brake assembly is shrouded in a case made of metallic and plastic material.
Since the bike features magnetic resistance, the elements that generate its resistance, such as the flywheel and the magnetic pad, do not touch, resulting in virtually any wear and tear. On top of that, the bike is quiet and suitable for apartment buildings.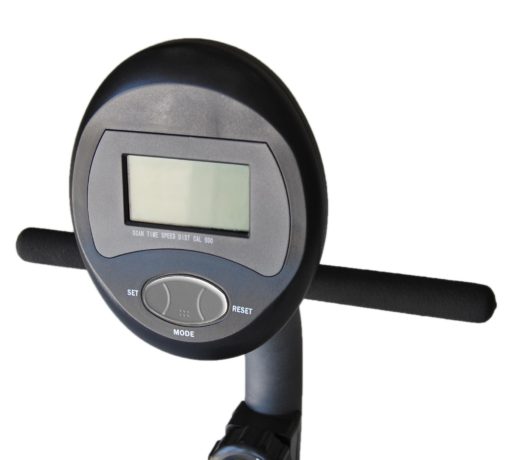 ME-709 Console
Since it's a basic recumbent bike model, the Marcy ME-709 features only a modest performance tracking monitor. The console tracks speed, time, calories, and distance and has an odometer function. The distance is measured in miles, while the speed is in MPH. Unfortunately, it doesn't have any built-in training programs.
The console is straightforward to use. It features only one button and has a SCAN function that can cycle throughout its track values. Each value will remain on the screen for 4 seconds. However, if you want, you can also follow only one of the metrics, such as distance or time.
The console will automatically turn on as you pedal and automatically turn off after 8 minutes of inactivity on the bike to save energy.
The console requires 2 AA-type batteries. Therefore, all the values saved on the console reset when the batteries are (replaced) or removed.
Assembly and Maintenance
The ME-709 Marcy exercise bike is easy to assemble. It shouldn't take more than an hour. There are several steps for the assembly process, which require you to connect the two main pieces of the frame, attach the rear and front base, the seat, backrest, and the console mast, the recumbent handlebars, the pedals, and connect the tension wire and the speed sensor to the console. Assembling instructions and tools for assembly come with the bike as well.
Since the bike features a magnetic resistance system, maintenance doesn't require much. You need to remove the dust and potential dirt with a damp cloth from the frame and re-tighten the bolts if it's the case.
Pros
Sturdy frame, able to support users up to 300 lbs;
Adjustable frame length;
Magnetic brake system with mainly no wear and tear;
Cushioned seat and back support providing excellent comfort;
Weighted pedals with straps;
Console included;
Easy to operate and transport;
Extremely quiet;
Maintenance-Free;
Great price and quality ratio;
Cons
It cannot accommodate users shorter than 5'2″.
Marcy ME-709 Recumbent Bike Summary
If you're looking for an affordable recumbent bike with conventional construction, the Marcy ME-709 should be on your list. This bike offers the required training set for a comfortable cycling workout. Even though it's for light cardiovascular exercise, it can also help you regain stamina and some strength needed for a more intense training regimen.
Like any other recumbent bike, it's excellent for elderly users or someone recovering from an injury. And with a controlled diet and a strict workout routine can also help you lose weight. All in all, it has a super quality/price ratio.
I hope you found this article helpful and informative. Would you please speak up if you have anything you'd like to share on the topic or any opinions about my website? I look forward to your comments, questions, and the sharing of ideas.
Please remember that you should consult your physician to determine if you have any medical or physical conditions that could risk your health and safety or prevent you from using the equipment properly. In addition, your physician's advice is essential if you are taking medication that affects your heart rate, blood pressure, or cholesterol level.