Tips for Choosing the Right Upright Bike for You
An upright bike is one of the most popular exercising machines to this day. They're present in every gym, and just about anyone who has crossed the threshold of a gym should be familiar with them. They're the slimmest indoor bikes and also highly affordable.
Although upright bikes don't offer as extreme exercising possibilities as indoor cycling bikes, they provide a wide range of health benefits. As a general idea, they're made for light and medium exercising, providing the setting for practical aerobic training, muscle toning focusing on the lower body, and of course, for losing weight. They also offer more comfort than indoor cycling bikes, and as the terminology suggests, they promote the upright riding position.
Now, if you're on the lookout for an exercise bike, there's quite a lot to know about upright bikes to determine if this particular type is the right choice for you. So, first of all, let's have a look at exactly what an upright bike can do for you.
Learn more in my complete guide below!
Affiliate Disclosure: As an Amazon Affiliate Program and Sole Fitness Affiliate Program participant, I earn commissions on purchases made through links in this post. Full disclosure
Advantages of Indoor Upright Bikes
To begin with, just about as any other exercising machine, an upright bike gives you the possibility to carry on with your exercising routine from the comfort of your home. In addition, they're a great alternative to road bikes during wintertime or simply for times when weather isn't favorable for outdoor cycling.
You won't be bothered by bugs as you ride, you won't get sunburns, and you will be able also to watch TV, watch your favorite online streams, or browse the web while you pedal. In addition, the risks of falling or sustaining an injury are minimal. And the chances of getting hit by a reckless driver are zero.
With regards to the fitness and health advantages, upright bikes have a lot to offer. Even though they are not for high-intensity training such as spin bikes, they can still provide an excellent cardio workout. Thus, promoting the health of your cardiovascular system and cutting down the blood cholesterol levels. In addition, you can combine cycling sessions with other forms of exercising to complement specific training programs.
A cycling session on any bike revitalizes the electrical activity of some of the largest and most important muscles of the human body. The leg muscles have an immensely positive effect on your overall health. On top of that, it helps with the toning of your legs and lower body. In addition, due to the upright exercising posture promoted by these indoor bikes, you will experience a lot less stress on your upper back and shoulders than riding a spin bike.
When it comes to weight loss, upright bikes aren't the best choice. If you want to shed a serious amount of pounds, you will be better off with a treadmill, elliptical trainer, or indoor cycling bike. Nonetheless, exercising daily on an upright bike for a minimum of 30 minutes, and controlling your diet, can still help you lose weight or prevent you from gaining weight. In addition, one hour spent on an upright bike can help you burn up to 6-700 calories, depending on the resistance settings or programs that you use.
On top of all these benefits, most upright bikes offer more or less advanced progress tracking consoles, which help you monitor your time spent exercising, calories burned, speed, distance traveled, heart rate, and other values. Some even offer the possibility to import your workout data on a USB stick and upload it online, to compare with others, to analyze on a superior level, and of course, to keep improving.
So, if you want a machine to help you lose a consistent amount of weight, an upright bike isn't for you. These bikes are for light and medium-range exercising. A cycle of this type will help you keep your physical shape, tone legs, and lower body muscles. In addition, you'll get the daily cardio you need, and exercise without putting a lot of strain on your upper body and joints. An upright bike is also great if you want to alternate cycling sessions with other exercises to complete a workout.
Okay. Now that you have a better picture of what this exercising machine can do for you, you should learn a thing or two about its features.
Key Features of Upright Bikes
Resistance systems
In general, upright bikes come with one of the two types of brake: eddy current or magnetic. There are models, of course, which feature a contact brake system, but those aren't many.
So, which type of magnetic brake is best? Electrically assisted or mechanical-magnetic? Each type has its pluses and minuses. An ECB system features an electromagnet, a servomotor, and typically a more advanced console system. The brake pad usually is fixed, and the adjustment of the resistance is by changing the electromagnet's pull onto the flywheel, which adjusts via the buttons on the bike's console. Bikes with this type of eddy current brake usually but do not always require a connection to a power circuit. Instead, they typically come with an adapter.
There are two main downsides concerning eddy brake systems. One, you cannot benefit from the resistance levels if the bike does not have electrical power. If this is the case, you will only be able to pedal at the lowest resistance setting.
Two, if the motor breaks for some reason, it may be costly to repair or replace. But unless you keep your bike in excessively humid conditions, spill a lot of water into the motor casing, or use a very faulty outlet, these can last a lifetime. However, it's never a bad idea to look for a more consistent warranty package.
Mechanical-magnetic brakes are simpler. They involve a mobile brake pad connected through a cable to the tension knob. To adjust resistance, you turn the knob, which brings the magnetic pad closer or farther from the flywheel, thus increasing or decreasing resistance.
The resistance knob on a bike with a magnetic brake has the resistance levels engraved on it. Bikes with a magnetic brake are often cheaper than the ones with an eddy brake. But in general, it offers fewer levels of resistance.
Drive systems
One of the main characteristics of upright bikes is the enclosed drive and brake system. The flywheel, pulley, and belt aren't visible, and they usually come pre-assembled, protected by a plastic casing, and connected to the bike's mainframe.
Most upright bikes are belt-driven, meaning that the flywheel connects to the pulley of the cycle via a heavy-duty belt. This implies low maintenance to the drive system, and the pedaling is much quieter.
There are, of course, bike models which feature a chain instead of a belt. These require the periodical greasing of the chain to prevent it from squeaking or catching rust. However, a chain transmission can last longer than a belt one, as a belt may stretch or crack and eventually snap, requiring replacement.
The flywheels used in upright bikes are usually much lighter than the ones used in indoor cycling bikes. Their typical weight is between 13-15 lbs. In most exercise bikes of this type, the flywheel is in front of the pulley. Thus, in most bikes, it's possible to pedal backward and, at the same resistance, pedal forward. In addition, some models feature a perimeter-weighted flywheel, which renders superior inertia, generating a smoother pedaling.
Frames
Upright bikes usually have lighter frames, which makes them easier to assemble and transport. However, features such as base stabilizers or transport wheels are always a great plus. Also, when looking for an exercise bike of any sort, it's best to look for a one-piece frame without any bolted joints if possible. A bike like this is usually more stable and doesn't require the periodic tightening of the joints.
Seats
A very distinctive aspect regarding upright bikes is the seat. This type of indoor bike features larger seats for optimal comfort, with better cushioning than the seats on indoor cycling bikes. It is easily replaceable with a more comfortable one. Of course, most cheaper bikes feature a pretty generic seat. However, if you're on a budget and go for an inexpensive bike, at least make sure that the seat has a standard connection mechanism.
Also, most seats have an adjustable height. And some have seats that are adjusted horizontally. A feature such as this reflects in the price, and it's great to have, as it gives you the possibility to find just the perfect posture for you.
Handlebars
Most upright bikes feature a visibly taller handlebar post than the seat. This is also a trait specific to this type of bike, as it directly promotes the proper position. Regarding the design of the handlebar, it's best to look for one with a multi-grip design.
A handlebar that gives you the chance to hold it in multiple ways increases the exercising spectrum. Unfortunately, in terms of adjustability, most upright bikes come with a non-adjustable handlebar. Some models, however, may offer vertical and horizontal adjustability on handlebars, but these features typically cost more.
Most mid and top-range upright bikes feature pulse sensors integrated into the handlebars. This feature is great to have, especially if you must keep within a specific heart rate interval.
Consoles
Almost every upright bike comes with at least a simple console. The most specific types of consoles are battery-powered and equipped in cycles with magnetic resistance. They usually monitor time, speed, calories burned, distance, and pulse, if the bike has any HR sensors.
On the other hand, the most advanced bikes offer consoles with a wide array of features. They also provide a more or less consistent set of programs and the possibility to create your program routine. They also have goal-setting functions, quarter-mile track functions, and various alarms or messages to keep you motivated.
Certain consoles feature USB ports that allow you to import your progress and upload it on various sites, such as MyFitnessPal. These sites offer a better overview of your workouts and give you the chance to compare your results with others or even compete in online challenges.
Advanced consoles also offer other features and amenities for superior comfort. Among them, you can have a sound system, cooling fan, accessory holders, tablet tray, and others.
Other Considerations
Available space
Even though most upright bikes have a relatively small footprint, with an average of 22″ width and 40″ length, it's still important to make sure that you have the required space to store and use the bike in your home.
If you're tight on space, there's always the alternative of a foldable bike. However, be careful which foldable model you choose and how it is designed. That's because many foldable bikes may be less comfortable than the standard ones.
Maximum user weight capacity
Almost every exercising machine comes with a listed maximum supported weight. Now, it's not the best idea to purchase a bike listed for 220 lbs maximum user weight while you weigh 300 lbs.
As a general idea, if you're a heavier person and you're looking to lose weight, an upright bike may not even be the best choice. Not only will it probably break when you mount it, but this may also result in an accident. If this is the case, an elliptical trainer or treadmill may be more useful to you.
Warranties
All bikes have to have a warranty. If they don't, it's a sign they might lack in quality. Top-quality bikes come with at least a few years of warranty for the frame and at least one year for parts and electronics. Also, if you're buying a more expensive model, it's never a bad idea to pay extra for some extended warranty if there are any packages available.
Pricing
Upright bikes can range in price from $100 and up to over $1,000. The most expensive ones aren't just bikes; they come with whole entertainment systems, such as virtual tracks, internet connection, LCD for games, etc.
On the other hand, an upright bike between $150-$200 can fulfill its purpose excellently, delivering all the primary and most essential features and training possibilities a good bike should offer. In general, the athletic opportunities that an upright bike can offer do not increase in number too much with the price. In addition, the most expensive bikes provide more amenities, focusing on ultimate comfort and entertainment.
A Few Recommendations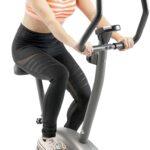 The Marcy ME 708 Upright Bike is an affordable upright bike. It is a basic bike that doesn't come with any frills, which helps keep the price down. The ME 708 isn't going to be for everyone. However, for those who are looking for a way to get fit and lose some pounds, it may be just what you're looking for.
The ME 708 has eight manual magnetic resistance levels that use the tension knob on the front support pole. It has the eight levels marked on the knob, and as you turn it, it clicks in place. The movement between the levels is smooth, so there is no jerkiness. It goes from very easy to moderately challenging – like going up a slope to a tough hill.
The Marcy ME 708 has a belt drive that is very quiet and will be low maintenance. Read Full Review.
Circuit Fitness AMZ-594U Upright Bike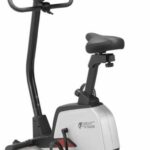 The Circuit Fitness AMZ-594U Upright Bike showcases a heavy-duty frame that effectively resists scratches and chips, guaranteeing you reliable equipment that can withstand daily, heavy use. This bike's engineered structure facilitates proper body form during movement. Thus, it enables your workout to take maximum effect on your specific target areas.
The Circuit Fitness AMZ-594U comes with an automatic 24 level magnetic resistance system. These resistance settings are selected on the fitness console, allowing you to control and customize your cardio training according to your skill level.
Additionally, the AMZ-594U has 15 preset programs that simulate the effects of biking on different terrains. Read Full Review.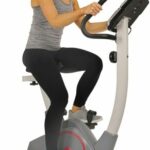 Reap the benefits of an active lifestyle when using the Sunny Health and Fitness SF-B2952 Upright Bike. Build a robust health and fitness foundation as you increase your cardiovascular strength, burn calories, and develop muscles throughout your legs, hips, and core. Transform your physique while relishing a comfortable low impact upright bike cycling experience.
The SF-B2952 has eight magnetic tension levels that offer a sufficient workout experience for every fitness level. It provides quick, easy, and reliable changes to the resistance level. In addition, bikes with magnetic resistance never contact the flywheel, resulting in a near-silent, stable, and virtually low maintenance experience.
The Sunny SF-B2952 Upright Bike features an LCD console that tracks your time, speed, distance, rotations per minute, and pulse. Read Full Review.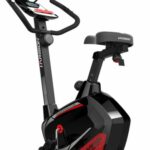 The HARISON B7 Upright Bike is a stationary bike that is for cycling workouts at home. The sturdy alloy steel frame provides a stable workout platform and ensures stability and durability. The B7 has a maximum user weight capacity of 350 lbs.
The B7 has 14 levels of magnetic resistance for a wide range of workout intensity options. It is convenient for you to customize your workout tension levels. In addition, it provides smooth and quiet exercises while cycling.
You can adjust the seat forward and backward, besides up and down. The fitness console features an LCD with extra-large digits that's easy to read. It tracks time, distance, total distance, speed, RPM, calories burned, and pulse. Read Full Review.
The Nautilus U616 Upright Bike is an excellent affordable bike for home residential use. The Nautilus U616 provides a low-impact cardiovascular workout with little impact on your joints. Furthermore, it has all the basic and advanced features to enable users to achieve their fitness goals.
How so, might you ask? The U616 has features like Bluetooth smart connectivity that allows users to sync data with Nautilus ConnectTM, MyFitnessPal, and the Nautilus TrainerTM App. In addition, its DualTrack display with two high-resolution, backlit LCDs is a beauty as it displays up to 13 different feedbacks.
The Nautilus U616 features a balanced flywheel, which creates a secure, quiet, vibration-free workout and 25 ECB magnetic resistance levels. Read Full Review.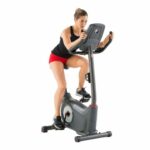 Pick up the pace, build up your strength and endurance on the Schwinn 170 Upright Bike MY17, and don't worry about making time to get to the gym. This upright bike is user-friendly and adapts to your fitness level and desired challenges.
The bike features 29 preset programs and 25 levels of resistance for a different workout every time; you'll never get bored! Keep track of your progress on the backlit LCD or with the Bluetooth transferrable time, distance, and calories burned to your favorite fitness apps.
The 170 upright bike comes with a dense and solid flywheel featuring high inertia to enhance your workout effectiveness. Read Full Review.
Assault Fitness AirBike, Classic
The entire frame of the Assault Fitness AirBike Classic and most parts are machined and formed durable steel. The integration of twenty sealed cartridge bearings throughout the structure provides a durable feel and smooth ride. The maximum user weight capacity is 300 lbs (136 kg).
One highlight of the AirBike is its fan air resistance system. The six-blade fan wheel measures 27″ in diameter, supports a very smooth motion, and can match anyone's effort level. This resistance system also has little chance of breaking down. Combining high-quality pedals and other reliable components, Assault AirBikes typically run trouble-free for hundreds of thousands of workout sessions.
The Assault Fitness AirBike Classic features seven preset workout programs that make it easy to exercise at your target heart rate. Read Full Review.
3G Cardio Elite UB Upright Bike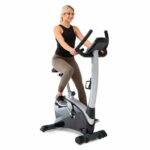 The  3G Cardio Elite UB Upright Bike is one of the sturdiest on the market, yet it doesn't take up much room. A heavy-duty, steel-reinforced upright column provides strength and stability. A compact step-through frame allows users to get on and off the bike with ease. This is a light commercial model made for durability and can handle up to a maximum of 350-pound users.
The Elite UB Upright Bike utilizes a magnetic resistance system that provides smooth and quiet pedaling.  There are 16 resistance levels to keep you challenged and a total of 16 programs to keep your workouts varied, including 12 pre-set, three heart-rate, and 1 watt, plus the ability to customize your programs.
The 3G Cardio Elite UB's console is easy to use with a simple dial interface. Read Full Review.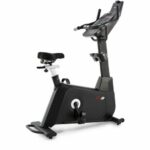 The Sole LCB Upright Bike is an excellent bike for riders looking for various workout options on a machine similar to that you would find in an elite gym. It is affordable, comfortable, and easy to navigate. In addition, the Sole LCB Upright Bike is well built with solid steel tubing. It's designed to take the abuse that a piece of equipment would see in a gym-like atmosphere.
Sole indoor bike frames are virtually indestructible; all of the current models have lifetime warranties. The LCB Bike's upright frame has about 100 pounds of steel tubing with an aluminum shroud. The whole machine weighs 132 pounds and has a 350 lb maximum user weight capacity.
The LCB Upright Bike has a 30-pound flywheel. This provides a smooth ride and an excellent range of resistance for most home cyclists. Read Full Review.
Spirit Fitness XBU55 Upright Bike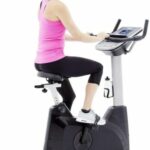 The Spirit XBU55 Upright Bike from Spirit Fitness provides a sturdy and stable construction. It gives a complete workout experience with versatility by improving cardiovascular health, burning calories and fat, and increasing metabolism. In addition, it provides a comfortable ride with a wide range of features. With this in mind, its features make it one of the ideal bikes for working out.
The XBU55 upright bike helps improve fitness and strengthens the entire body, including legs, thighs, hips, calves, arms, and chests. In addition, working out on this bike can be an excellent way to get the heart pumping. In addition, improve blood and oxygen flow throughout the entire body.
The Spirit XBU55 comes equipped with a 7.5 inches blue backlit LCD that displays nine pieces of workout data. Read Full Review.
An Upright Bike Buying Guide Summary
I tried my best to cover all of the essential aspects you need to consider when buying a bike. However, finding a good reliable bike at an affordable price will take some shopping around. Use this upright bike buying guide as you consider your own fitness goals.
Upright bikes are a great addition to any home gym. They allow you to increase your fitness from the comfort of your own home. When buying an upright bike, consider your budget, space, body type, and goals. Then, take a look around and see what best suits you and your needs. Remember, the best upright bike is the one you'll use.
I hope you found this article helpful and informative. If you have anything you would like to share or any opinions about my website, please speak up. I look forward to your comments, questions, and the sharing of ideas.