Pick up the pace, build up your strength and endurance on the Schwinn 170 Upright Bike, and don't worry about making time to get to the gym. This upright bike is user-friendly and can adapt to your fitness level and desired challenges.
The bike features 29 preset programs and 25 levels of resistance for a different workout every time; you'll never get bored! Keep track of your progress on the backlit LCD screen or with the Bluetooth transferrable time, distance, and calories to your favorite fitness apps.
The 170 upright bikes have a dense and solid flywheel featuring high inertia to enhance your workout effectiveness. This excellent feature offers a smooth and fluid training session to help you burn more calories than usual. Indeed, the 170 increases your metabolism and your body's fat-building rate.
Designed to provide the perfect combination of value, effectiveness, and comfort, the Schwinn 170 Upright Bike is one of the best upright exercise bikes on the market. In fact, for around $550, you will get the same features and quality you'd expect on an expensive upright bike.
Learn more in my complete review below!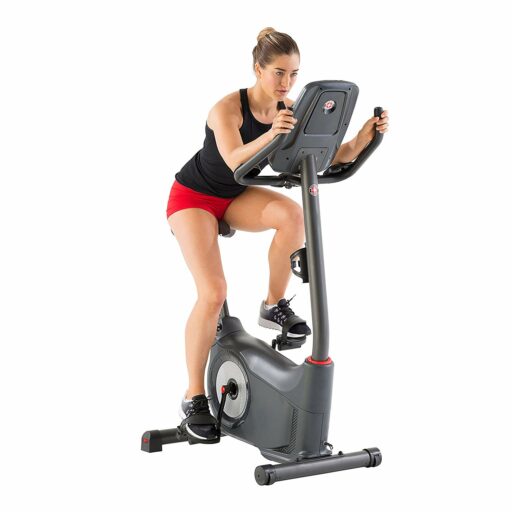 Product: Schwinn 170 Upright Bike
Price: For a great deal on this bike, merely go here to Schwinn.com
Warranty: Frame 10 years / Mechanical 2 years / Electrical 1 year / Labor 90 days
My rating 8.5/10
Affiliate Disclosure: As a Nautilus and Schwinn Affiliate Program participant, I earn commissions on purchases made through links in the post. Full disclosure
Details and Specifications
Assembled dimensions: 41L x 22W x 58H (104L x 56W x 147H cm)
Assembled weight: 63 lbs (28.5 kg)
Supported weight: 300 lbs (136 kg)
Handlebar: Angle adjustability, with pulse sensors
Seat: 4-way adjustable
Pedals: With Straps
Resistance: Motorized magnetic, 25 levels
The bike requires a connection to a 110-120V power circuit. (power adapter included)
Console: 29 programs, four user profiles, USB port, Bluetooth connectivity
Amenities: Sound system, cooling fan, tablet holder, bottle holder
Warranty: Frame 10 years / Mechanical 2 years / Electrical 1 year / Labor 90 days
170 Frame construction
The Schwinn 170 upright bike features a similar frame construction to the older 170 models. The frame is steel tubing, and it has a dark gray finish. In addition, several parts of the bike's construction are PVC-made. These include the drive system's side covers, the caps of the bike's bases, and several other small parts that mainly fulfill a decorative or protective role.
Like most upright bikes, the Schwinn 170 has a small footprint, which is an excellent choice for anyone who lacks the storage and usable space for a more massive cardio machine, such as a treadmill or elliptical trainer. It takes only 41″L x 22″W (104 x 56 cm) of floor space but does require at least two feet of clearance on each side and at least one foot of clearance at its front and rear for safe operation.
This Schwinn bike delivers excellent stability. Although it's not an extremely heavy fitness machine, it still weighs 63 lbs (28.5 kg), a weight that considerably increases its stability. On top of that, its rear base features a set of adjustable stabilizers with rubber caps, allowing the perfect leveling of the machine, mainly on any flooring.
The bike doesn't have a folding design, but its front base has transport wheels that ease its relocation once you have finished your workout.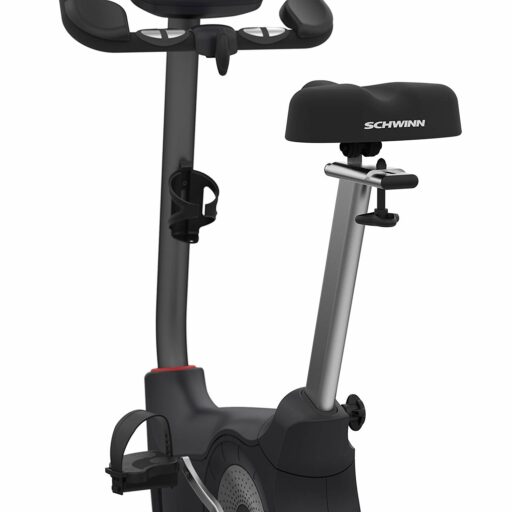 Seat and handlebars
The Schwinn 170 Upright bike has a 4-way adjustable seat. Its vertical post has 14 adjustment holes, approx. 1″ apart from one another, being able to accommodate users between 5'0″ and 6'5″ (153 – 196 cm). The bike has a maximum user capacity of 300 lbs (136 kg), which is not bad for a home-use model.
The saddle is similar to the one on the Schwinn MY16 130 model. It features a contoured surface and a thick layer of padding, delivering optimal comfort, and it has a standard connection system to its post. Thus, compatible options are widely available if you want a different seat.
The bike's handlebar is 2-way adjustable. Unfortunately, the console mast is stationary; you can't adjust its height. However, the handlebar's angle is adjustable via its T-knob. The handlebar features a multi-grip design, its elbow rests being quite a plus, as many other models do not have this feature.
It also integrates a set of metallic sensors to monitor your heart rate. In addition, however, the console unit can track your pulse wirelessly via an HR chest strap transmitter.
170 Resistance
The Schwinn 170 upright bike features a motor-assisted magnetic resistance system consisting of a small servo motor and a magnetic brake pad. The magnetic pad moves closer or farther from the bike's metallic flywheel as you adjust resistance, increasing or decreasing the pedals' overall resistance.
Since the bike is motorized, its resistance is only adjustable from the control unit. Therefore, the cycle will change resistance if you exercise using one of the preset workout programs.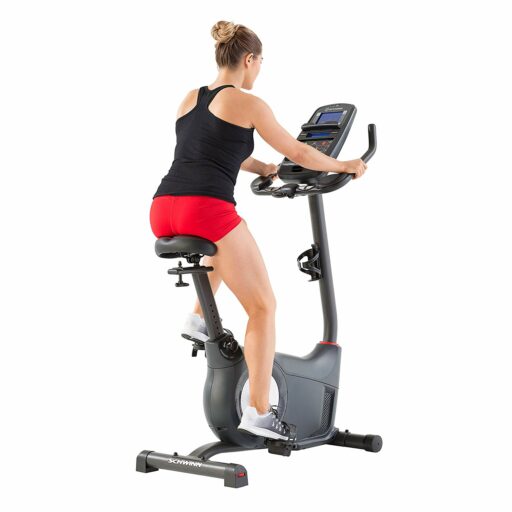 This Schwinn exercise bike offers 25 levels of resistance, providing light to intense interval workouts. The first resistance levels are pretty light, perfect for warm-ups or recovery training.
On the other hand, the 22-25 resistance settings make a more intense workout, simulate a terrain climb, and offer the possibility to achieve a more consistent burn.
Drive System
The Schwinn 170 has a belt drive and a high inertia perimeter weighted flywheel for its drive system. Therefore, it provides a steady pedaling motion with consistent momentum. Its use barely generates sound, being a perfect choice for a fitness machine if you live in an apartment.
The bike's crankset is relatively sturdy, with solid steel crank arms. But even though it may support stand-up pedaling routines, this type of workout is not advisable. After all, the pedals are not metallic; they're PVC material and may break due to repeated standing-up exercises.
Reverse pedaling is possible on this bike, but the resistance does not engage. In other words, you won't resist the pedals when pedaling backward. But, of course, you can coast on the bike, just as in any other road bike.
170 Console
The Schwinn 170 comes with an inclusive and user-friendly Bluetooth-enabled console. Therefore, you can transfer your workout data to the Explore the World app (subscription required) and other popular apps like UA, MyFitnessPal, GoogleFit, Apple Health, and MapMyRun/Ride.
In addition, it also has a USB port so you can import/export your data manually. This USB port doubles as a charging port for your device.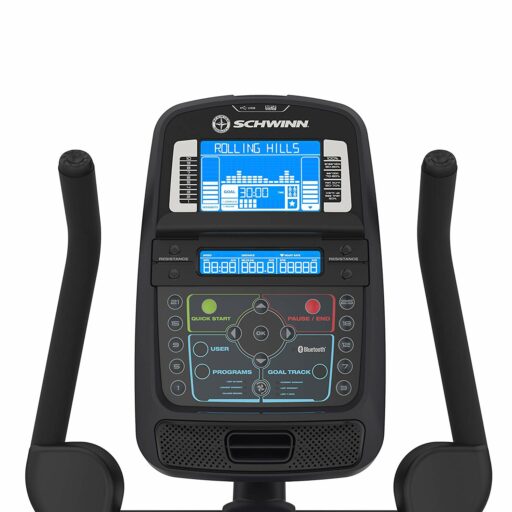 The unit features two LCDs with a blue LED backlight, improving their readability. The top larger display shows the selected workout program's profiles, the chosen goal and your progress towards it, the name of the current workout program, the incline and resistance levels, and the heart rate interval.
The lower display shows time, speed, distance, RPM, resistance level, calories burned, and heart rate. The distance is tracked in miles and km, while speed is in MPH or km/h.
Heart rate monitoring is via the hand-held sensors in the machine's fixed handlebars. In addition, the console is also telemetry enabled; this means it's compatible with wireless HR chest strap transmitters.
Finally, the console unit is easy to operate. It features QuickStart and Pause / End keys that allow you to quickly stop and resume your workout if needed without losing/interrupting your progress. The user profiles function has access to the left part of the console. The preset programs and the goal tracking have their keys on the lower part of the console.
You can find controls for gradually adjusting the resistance on each side of the small display, but quick keys are also available.
12 Pre-set Programs
There are 12 preset programs built into the unit. Rolling Hills, Ride in the Park, Easy Tour, Stream Crossing, Pike's Peak, Mount Hood, Pyramids, Summit Pass, Uphill Finish, Cross-Training, Intervals, and Stairs. Goal-setting programs are also available for distance, time, and calories.
The four user profiles allow you to save different user settings, change between them quickly, and are great if multiple persons use the bike. Each user profile will collect data regarding the user's gender, height, weight, age, and name.
Finally, regarding workout programs, the bike's console offers four distinctive Heart Rate Control programs, with intervals between 50–60%, 60–70%, 70–80%, and 80–90. In addition, a Recovery Test Program also shows how quickly your heart recovers to a restful state, indicating your fitness level.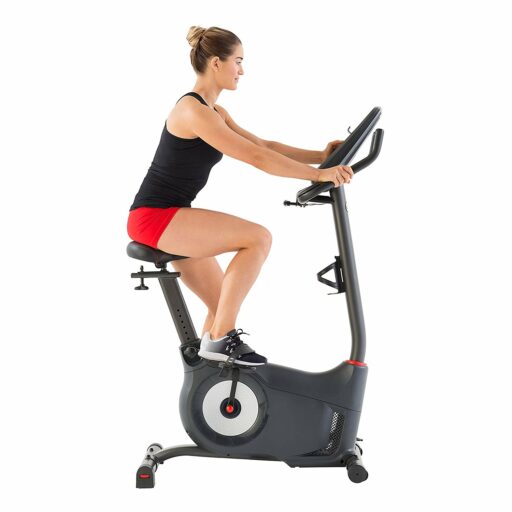 Amenities
The console integrates a cooling fan, a sound system, and a tablet tray. The cooling fan is in the mid-bottom area. It's not too large and does not provide exceptional cooling, but still, it's better than nothing.
The sound system consists of two speakers flanking the fan. It's compatible with most smartphones, tablets, and MP3 players. The sound rendered by it is superior to the integrated speakers in most phones or tablets. The tablet holder is attached to the large display and can accommodate any tablet.
170 Assembly and Maintenance
The bike's body is assembled, including the flywheel, belt, crank, and resistance elements. Therefore, assembly only requires mounting the bike's body on the base tubes, adding the seat post, the console mast, the seat, the handlebar, the console, and the pedals.
Therefore, it shouldn't take more than an hour, and all of the required tools for assembly come with the bike. Also, the manual provides consistent assembly instructions for the setup of the console unit.
Maintenance doesn't require much. The internal components come pre-lubricated from the factory and shouldn't require further lubrication. Thus, you'll need to check for loose bolts and parts and retighten them. You'll also need to wipe off any water or sweat from the console.
Pros
Solid construction, able to support users up to 300 lbs;
Elegant design;
Contoured and cushioned, 4-way adjustable seat;
Angle-adjustable handlebar;
Elbow rests on the handlebar;
Grip pulse sensors;
25 levels of resistance;
29 workout programs;
Goal tracking;
Bluetooth connectivity for direct workout data transfer to SchwinnConnect, MyFitness Pal, AppleHealth, and other online apps;
A USB port for importing/exporting workout data, the port that also charges your phone or tablet;
Various amenities, including a sound system, 3-speed fan, tablet support, and water bottle holder;
Smooth and quiet drive;
Narrow Q Factor, reducing lateral stress on the knees;
Weighted pedals with adjustable straps for extra stability;
Maintenance-Free;
Reasonably easy to assemble;
Excellent warranty.
Cons
A tablet placed on the media tray will cover the top LCD;
The cooling fan is not too overpowering.
Schwinn 170 Upright Bike Summary
The Schwinn 170 Upright Bike features a motorized magnetic resistance system with 25 settings. In addition, its console has 29 workout programs, also being Bluetooth enabled. Although it's a bike designed for home use, its frame construction is close to the commercial models.
In short, it's a great fitness machine for muscle toning, light to intense cardio training, intervals, stamina, and weight loss. And finally, it offers an outstanding price/value ratio.
I hope you found this article helpful and informative. Would you please speak up if you have anything you'd like to share on the topic or any opinions about my website? I look forward to your comments, questions, and the sharing of ideas.
Please remember that you should consult your physician to determine if you have any medical or physical conditions that could risk your health and safety or prevent you from using the equipment properly. In addition, your physician's advice is essential if you are taking medication that affects your heart rate, blood pressure, or cholesterol level.