How to Choose the Right Indoor Cycling Bike
An indoor cycling bike offers you just about the same cycling setting as a regular speed bike; only it's stationary. Therefore, you can undergo your daily ride in the comfort of your home while watching TV, your favorite internet streams, or browsing the web. You won't be bothered by bad weather, you won't be hit by bugs as you pedal at 40-50MPH, and there's no risk of being hit by a car.
Along with the comfort-oriented and low-risk advantages, this type of exercise bike does indeed offer many fitness and health benefits. Like treadmills, indoor cycling bikes are great exercising machines for burning calories. But as opposed to treadmills, they put less impact on your joints, as your legs do not have to support your whole weight as you pedal. Depending on the bike and exercise routine, one can lose between 500-1000 calories per hour while exercising on an indoor cycle.
But weight loss is far from being the only health benefit that these bikes can offer. They're also excellent for aerobic exercising, consistently improving pulmonary and cardio capacity, and rendering superior blood oxygenation.
They're great machines for building stamina and endurance. In addition, you can include High-intensity cycling in various exercising routines for muscle building or cutting. And finally, most stationary bikes of this sort offer a console more or less advanced, which gives you the possibility to track and record your progress, analyze your progress better, set goals, and continuously improve.
Learn more in my complete guide below!
Key Features of an Indoor Cycling Bike
All indoor cycling bikes share a similar and distinctive set of features. They all feature a heavy flywheel, a braking system, handlebars with multiple grips, frontally oriented to promote the cycling posture, and a heavy frame reminding of mountain bikes. However, every feature has its specifics, and before purchasing a stationary bike, it's best to know as much as possible about these features.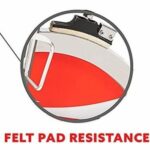 Resistance systems
Indoor cycling bikes primarily use two braking systems for resistance: friction (or contact) and magnetic.
Friction brakes usually feature one or multiple brake pads, made of kevlar or wool-felt surface, that contact the flywheel. As you adjust the tension or resistance, the brake pad puts more or less pressure on the flywheel, making it more difficult to pedal. There are two main advantages regarding direct-contact brakes: they're cost-effective, and the resistance typically can be tightened to the point where the user cannot pedal anymore.
However, there are a few drawbacks as well. For example, the brake pads may generate squeaking noises, and in this case, they require lubrication. The pads also wear out after a while and require replacement.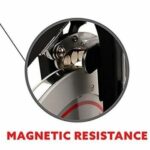 Also, a direct-contact braking system doesn't have specified resistance levels, which may help you measure your process better. To adjust resistance, in this case, you tighten a dial until the bike delivers the resistance level that feels adequate for your training.
Magnetic brake systems feature brake pads with magnets. The brake pads do not contact the flywheel, don't wear out, do not emit noises, and the adjustable resistance device or knob usually has levels specified on it. By adjusting the resistance level, the brake pads come closer to the flywheel, and the magnetic field created applies pressure onto the flywheel, thus increasing resistance. However, since magnetic brakes are a bit more sophisticated, bikes with this resistance system tend to be more costly.
Drive mechanisms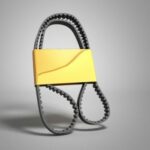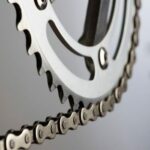 When it comes to their drive mechanism, there are also two indoor cycling bikes: chain-driven and belt-driven. Both chain and belt bikes function by the same principle.
But chain-driven bikes tend to be noisier than belt-driven ones, as the chain may click or emit a more prominent noise as you pedal. The sound shouldn't be loud enough to become an issue, though, and typically can be solved by lubricating the chain periodically. On the other hand, as opposed to a belt, a chain is more durable and stretch-free.
Belt-driven exercise bikes feature a belt making the connection between the pulley of the bike and the flywheel. A belt-driven mechanism requires less maintenance, and it's quieter. However, if the bike you choose doesn't have a heavy-duty belt, it may heat up and stretch, requiring replacement.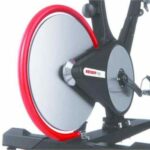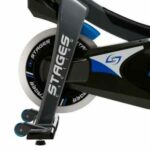 One of the main components in an indoor cycle's drive mechanism is the flywheel. These exercise bikes tend to have more giant flywheels in diameter than recumbent and upright bikes. They're also much heavier, sometimes up to 50 lbs (22.6 kg).
More substantial users usually require heavier flywheels for more resistance during acceleration. On the other hand, lighter and shorter users may require a more lightweight flywheel, as a heavier one may result in too much strain per workout, especially when engaging in sprint sessions.
Some flywheels are perimeter weighted, enabling them to generate superior inertia, which diminishes the StairMaster effect during the pedal stroke, making the overall ride much smoother. Also, the weight of the flywheels adds to the overall weight of the bike, enhancing its stability.
Frames
Most indoor cycling bikes feature solid, heavy frames to support intense pedaling without wobbling or moving. Designs differ from one model to another and from one manufacturer to another. However, there are a few aspects that you should know. First, they should feature a one-piece frame, which is more solid. The bases should have levelers to ensure maximum stability even if the bike isn't on a level surface. Also, since most indoor cycling bikes are heavy, make sure they have transport wheels.
Comfort Factors
First of all, indoor cycling bikes are not for comfort. Indoor cycling bikes are for sweating and heavy training. Nonetheless, they must provide an adequate posture for your training and enough comfort so that your training sessions don't turn into a nightmare. So, the main comfort factors are the seat, handlebars, and various amenities. If you're looking for superior comfort on a stationary bike, it's best to have a look at upright or recumbent bikes.
Seat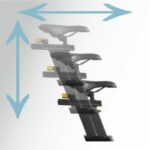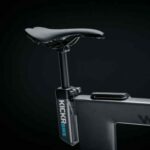 Bikes with horizontal adjustment only, either in the seat or handlebars, are limited in their capacity to serve all different sorts of people. They can help make the bike more
compact, but they cannot do much about those who might be too tall for it. Also, usually budget indoor bikes with only horizontal adjustment.
Then there are the bikes that have their seats and handlebars adjustable both vertically and horizontally. These allow a much greater variety of people to use the spin bike comfortably. It's always good to have more options, even if it isn't always needed to make the bike comfortable. This adjustability can be especially useful if multiple bike users are in the same household.
Handlebars
In terms of handlebars, when you're looking for an indoor cycling bike, it's best to choose one with a multi-grip handlebar. Thus, a handlebar with such a design promotes a wide array of holding positions. So not only will it most definitely offer the perfect grip for you, but it also diversifies training postures.
But just as for the seats, vertical and horizontal adjustability is essential for the handlebars. Horizontal adjustability, for example, can enable a bike to accommodate the tallest users.
Various companies offer at least one or two indoor cycling bike models featuring pulse sensors incorporated within the handlebars. A feature such as this may or may not increase the price significantly. It's not a completely necessary feature unless you need to keep track of your heart rate. But even so, you can always use a chest strap and a specific device for it.
Pedals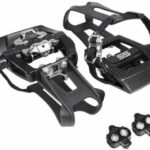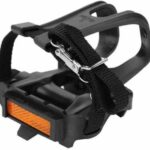 Starting with the single-sided toe cage pedals, these are (as you might expect) one-sided pedals. There's no particular connection made on the other side, and it is more akin to outdoor bikes.
Without the toe cage, which helps keep your feet in place, you could easily hop on and off the bike. Even with the cages, you have to slip out of them to do so. These are also commonly referred to as "flat" pedals.
Meanwhile, the dual-sided SPD pedals are what you will want if you have shoes that have cleats on them. These allow for higher control and pedaling efficiency during the workout.
These are commonly used by those who want a more intense workout or have a spin bike to simulate mountain riding. However, not all bikes offer SPD compatibility, so it might require buying separate pedals.
Accessories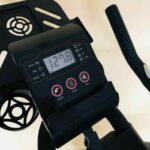 Indoor cycling bikes usually don't offer a wide range of comfort-oriented features. A very few models have advanced multifunctional consoles, speakers, fans, and media connections. Typically, bottle holders, toe straps, and a pretty basic console sum just about all the comfort factors that you can find in a bike of this type.
Consoles are usually pretty basic for indoor cycling bikes, even for the most expensive models. They offer RPM, speed, total distance traveled and distance per session, time, calories, and a fundamental goal tracking system.
Other Aspects To Consider Before Buying
Space
Although this exercise bike usually has a relatively small footprint and doesn't take too much space, it's best to consider this aspect before getting one. Also, remember that most exercise bikes are made for storage and use indoors. Keeping them outside, in a place with a lot of moisture or excessive cold may lead to damage to their components.
Bike's Weight
Most indoor cycling bikes are pretty heavy. Some of them can weigh up to 250 lbs. Therefore moving them may be an issue even if they have transport wheels. For example, if you have to transport your bike up a set of stairs, you might need someone to help you. Plus, due to this fact, they may cause damage to your flooring or carpet, even if they have stabilizers. That's why it's best to place your bike on a mat. Of course, this stands for just about any exercising machine.
Your Weight
Each exercise bike comes with a specified supported weight. Therefore, it's wise to choose one with a limit that exceeds your weight. Even if the frame, seat, crank, and pedals are solid enough to support a higher weight than the one specified, the bike may not be stable enough to be ridden by a user heavier than specified. Also, if you weigh over 400 lbs, an exercise bike may not even be the best choice for losing weight. A treadmill or an elliptical may be a more appropriate choice.
Warranty
An extensive warranty for over a few years for frames and parts is usually an indicator that the bike you're looking at is a high-quality one. However, it's essential to know that for wear parts, such as the brake pads, or pedals, most manufacturers offer only a 90-day warranty. However, these parts can still last for more than a year until they become completely worn out.
Pricing
You can find quality indoor cycling bikes for a price under $250. However, the price increases by design and brand. Such as magnetic resistance vs. contact resistance system, bike weight, console, and lifetime warranty. No matter your budget, you can still find an excellent indoor bike to fit your needs.
A Few of the Top Brands
Affiliate Disclosure: As an Amazon Affiliate Program participant, I earn commissions on purchases made through links in this post. Full disclosure
Sunny Health & Fitness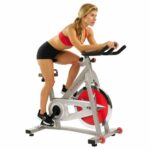 Sunny Health & Fitness offers a selection of indoor cycling bikes of various sizes. All their models are available at acceptable prices and deliver excellent quality. Some of the models released in 2017 are the ASUNA Lancer, ASUNA Minotaur, and ASUNA Sabre. The Lancer model has received decent 5-star reviews, a more affordable alternative to the Keiser model.
Most Sunny bikes feature a friction resistance system and chain-drive system. However, there are several models with a belt drive and magnetic resistance. For example, the Lancer model that we've mentioned is a magnetic brake bike.
On the other hand, if you're on a budget, bikes such as the Sunny Pro Indoor Cycling Bike may be just about the right choice for you. The Sunny bike is one of the most affordable and highly rated products from this brand. It's chain-driven, with a perimeter weighted, 40 lbs flywheel, contact brake system, adjustable seat, and solid frame. It's rated for users up to 275 lbs and has a smaller footprint than others… Read Full Review
Keiser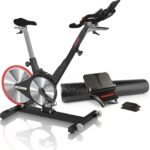 More than 80% of the top professional sports teams globally now train on Keiser machines, not just bikes, including several baseball teams in the majors, the soccer champions of nine countries, several American football champions, and countless Olympians. NASA joins them to Navy Seals, medical experts, rehabilitation specialists, and major gyms like LA Fitness.
When it comes to indoor cycling bikes, the Keiser M3 is the most popular model. This bike has received several re-designs over the years. Its current model number is Keiser M3i, and as opposed to the older models, it comes with a Bluetooth console.
The Keiser M3i is a rear-drive, magnetic exercise bike. It offers high micro-adjustability, featuring horizontal sliders for its seat and handlebars. Unlike many other commercial-grade trainers, the Keiser M3i doesn't have an extra-heavy flywheel. However, its magnetic brake does compensate for the resistance generated and the overall pedaling feel… Read Full Review
Affiliate Disclosure: As a Sole Fitness Affiliate Program participant, I earn commissions on purchases made through links in the post. Full disclosure
SOLE Fitness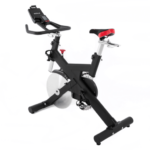 Sole provides a complete line of award-winning fitness gear and among Sole's offered products. The SB900 and SB700 are two of their best-rated bikes. Both are equipped with a reasonably decent progress tracking console and cover the full range of workouts possible on this type of exercise bike.
The SOLE SB700 is currently the most rated intensity indoor bike from this company. It's a bike with an elegant design and a sturdy build. It features contact brakes, but the brake pad is kevlar-made, not wool-felt, for superior durability. It's a bike with an adjustable handlebar vertically and horizontally and a 48 lbs flywheel to supply the resistance required by pro cyclists. The cycle includes an excellent warranty package… Read Full Review
An Indoor Cycling Bike Guide Summary
That wraps up my list of tips to make an informed decision when buying an indoor cycling bike. Whether you are a newcomer to the world of cycling or an experienced veteran who has seen it all before, hopefully, this list has been able to point out how you can seek out the best parts of spin bikes.
Of course, it is ultimately up to you which bike you feel most comfortable with. Just keep in mind some of these points, as they can make all the difference in your workout. Now get out there and get cycling!
I hope you found this article helpful and informative. If you have anything you would like to share or any opinions about my website, please speak up. I look forward to your comments, questions, and the sharing of ideas.