The FDF Apollo Pro V Fluid Rower is a highly sought-after rower for its performance and beautiful construction from ethically sourced American Ashwood. The wood frame wraps around a robust sculpted steel frame, ensuring product integrity and a luxurious modern style.
The Apollo Pro V has five levels of adjustable Fluid Resistance provided by the patented Twin Tank system. At level 1, the Fluid Resistance is suitable for beginners, deconditioned participants, or rehabilitation patients starting their fitness journey. Dial to level 5 for high-intensity interval training (HIIT) or short sprints.
The FDF Apollo Pro V Fluid Rower offers silky smooth resistance at any speed and any level. With a firm instant catch and consistent resistance through the entire stroke, it provides the closest emulation of on-water rowing, encouraging you to do a little more at every stroke.
Apollo Pro V packs a punch with 15% greater resistance than Horizontal standard models – the perfect rower for solid progression no matter the fitness ability. In addition, the Apollo Pro V boasts a compact footprint and can store vertically on its end with ease. It is also compatible with FDF's optional Seat Back Kit for extra lumbar support and the Elevate Kit for easier on-off access.
Learn more in my complete review below!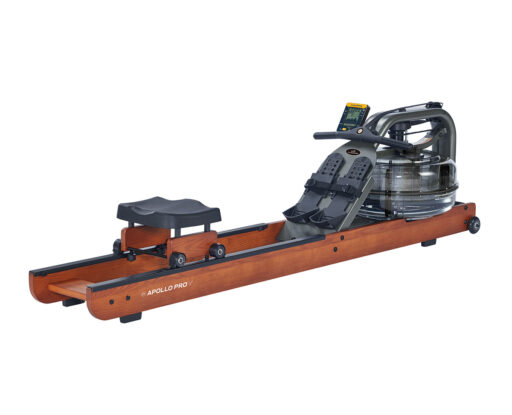 Product: FDF Apollo Pro V Fluid Rower
Price: For a great deal on this rower, merely go here to Amazon.com
Warranty: Frame 5 years / Tank & seals 5 years / Mechanical 2 years / Wear parts 1 year
My rating: 9.25/10
Affiliate Disclosure: As an Amazon Affiliate Program participant, I earn commissions on purchases made through links in this post. Full disclosure
Details and Specifications
Assembled dimensions: 83.8L x 20.4W x 22H inches (213L x 52W x 56H cm)
Assembled weight: 78.9 lbs (35.8)
Supported weight: 330 lbs (150 kg)
Frame: Wood & steel
Footrests: Adjustable, with straps
Resistance: Water, adjustable (5 levels)
Fitness console: Time, 500m/time, watts, calories, pulse, SPM, training data, Bluetooth
Warranty: Frame 5 years / Tank & seals 5 years / Mechanical 2 years / Wear parts 1 year
Apollo Pro V Frame construction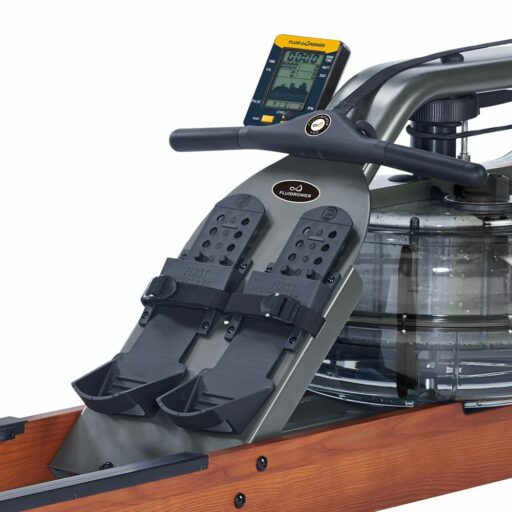 The First Degree Fitness Apollo Pro V combines wood and steel elements in its frame construction. The two main rails of the machine, their connecting elements, and the two side panels of the seat frame are hardwood, featuring a hand-lacquered American Ash woodgrain finish.
The frame that sustains the water tank, as well as several other small parts, is steel-made. Also, apart from the tank, which is polycarbonate material, the machine integrates several elements of durable thermoplastic material.
The fully assembled rower is relatively large. It is approx. 84″ (213 cm) long and 20.4 (52 cm) wide, while its highest point is approx. 22″ (56 cm) above floor level. It is advisable to leave at least two feet of clearance at the rear of the machine and on each side for ease of access and correct usage.
The rail tracks are pretty long, offering a seat movement span of approx—35″ (89 cm). The footrests are a few inches farther from the front seat bumpers. Thus, the machine comfortably accommodates users up to 6'7″ (201 cm) with no problem.
The rower is pretty heavy as well. Its net weight (without water in the resistance tank) is 78.9 lbs (35.8). However, once assembled, it's easily moved with or without water in the tank as its front base integrates a set of large transport wheels.
The rower does not have a folding frame, but you can store it vertically. This is because the water can remain in the tank when the machine is in a vertical position.
Seat and other parts
The seat included with the FDF Apollo Pro V is not super comfortable, but its top section does integrate a layer of padding. It is also contoured and textured to prevent slipping.
Its frame is mostly steel, but its side base panels are the same wood as the base frame for a stylish touch. The seat and the rails have a maximum user weight capacity of 330 lbs (150 kg).
The seat comes equipped with eight wheels. Four of them slide on top of the rail tracks, the other four slide on the inner side for improved stability. The wheels integrate sealed bearings for smooth travel and have a thick layer of high-density rubber on the outside. They also have top covers and small brushes on each side, keeping the rails clean during every stroke.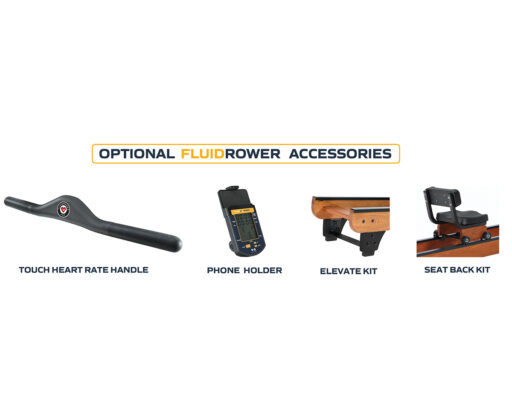 The seat height is approximately 12″ (30 cm). So it's not super high above the floor, but not too low either. However, there is an available elevation kit for the rower, but it does not include the rower.
The FDF Apollo Pro V comes equipped with a set of adjustable footrests. However, their angle is not adjustable. The metallic plate they mount on has a slope of approx—45 °, which is pretty standard for most rowing machines.
The footrests are length-adjustable; to accommodate athletic shoes of all sizes comfortably. In addition, they feature heel guards and adjustable straps to deliver maximum foot stability.
The machine comes with an ergonomic handle featuring high-density foam grips for improved contact. However, it does not integrate pulse sensors (optional Bluetooth HR pulling handle sold separately) or other controls.
It is attached to a heavy-duty nylon mesh strap which connects to the resistance mechanism of the rower. Since the machine uses a strap and not a chain, lubrication is not necessary.
Apollo Pro V Accessories (sold separately)
Smartphone holder
Bluetooth Heart Rate touch pulling handle
Seatback kit
Elevate kit
Resistance system
Unlike other fluid rowers, the FDF Apollo Pro V features a water tank with an adjustable water level mechanism. The tank divides into a passive chamber and an active chamber. In addition, it has a 5-level dial on top, which allows you to change the water levels between the two chambers.
Therefore, if you set the resistance to the highest (the 5th level), most water will move into the active chamber, leaving the inner, passive chamber almost empty. Conversely, if you turn the dial to level 1, most of the water will move into the passive chamber, leaving the active chamber with a low level of water, resulting in less resistance.
The main resistance element is a 3-blade impeller that spins inside the tank. Its three blades generate resistance by turning in the active chamber. The impeller connects to the internal pulley mechanism and the pulling strap. Thus, it will spin faster inside the active chamber tank, generating more resistance when pulling the handle.
The water tank is a durable polycarbonate material. Its walls are transparent with a slightly gray hue. Its capacity is 4.5 gals (17 liters), and to generate resistance, it requires a quantity of water between 2.3 gals. and 4.5 gals. (9-17 liters). Therefore, it is necessary to fill the tank to its maximum capacity of 17 liters for you to benefit from the five distinct levels of resistance.
Apart from the adjustable resistance elements, the machine also generates a dynamic response during rowing. Thus, the resistance depends on your stroke rate. If you pull faster, the impeller will spin faster inside the tank generating more resistance. This is similar to rowing an actual boat through the water.
Apollo Pro V Console
The First Degree Fitness Apollo Pro V includes a pretty decent fitness console. To begin with, it features an LCD that divides into nine sub-sections to show as many workout metrics as possible at once, so you don't have to keep selecting the ones you want to view. It tracks time, 500m/time, watts, calories burned, distance, pulse, and strokes per minute.
The fitness console does not have pre-set workout programs but does have a Power Graph function. This shows data gathered from each workout and displays it in a power curve setting or a cumulative power graph.
This way, you can make comparisons between workouts and keep track of your progress. Also, a wireless HR chest strap for the pulse reading function does not come with the rower.
The console itself does not adjust the machine's resistance in any way. However, it has Up/Down level controls to correlate the data with the selected resistance level. So, for example, if you choose level 3 on the water tank, you should also choose level 3 on the console to provide a more accurate watt and calorie reading.
Bluetooth connectivity is available on this fitness console. It is also compatible with the First Degree Fitness rowing app available for iOS and smart Android devices. Therefore, you can install this app on your smartphone, sync it with the fitness console for workout history tracking, set goals for your workouts, etc.
The fitness console is battery-powered, and it requires two D-type batteries, which come included with the rower. It begins recording your metrics when it detects activity on the rower. It also automatically powers off after 5 minutes of inactivity on the rower.
Assembly and Maintenance
The water tank unit comes pre-assembled. However, the rest of the rower requires user assembly. Therefore, you will have to connect the two rails to the water tank unit, the rail stabilizer board, the seat, and the transport wheels.
This shouldn't take more than 30 minutes of your time. The manual provides clear assembly instructions, and all the necessary tools come included with the machine.

For maintenance, you only need to add a water treatment pill into the tank periodically. The water treatment pills come with the rower. Also, it's advisable to regularly check the machine's integrity, check for loose or broken bolts and parts, and retighten or replace them if it's the case.
Pros
Durable construction and a weight capacity of 330 lbs (150 kg);
Elegant design;
Stores vertically to save space;
Easy to handle and transport;
Water-resistance system, delivering a dynamic response and a natural rowing feel;
Dual-chamber water tank, with five distinct water resistance levels;
Contoured, textured, and ergonomically designed seat;
Adjustable footrests;
The seat is relatively high, offering an easy entry and exit;
Fitness console included – it tracks time, time/500m, distance, watts, calories, SPM, and pulse;
Power Graph function for workout data comparison;
Bluetooth connectivity – compatible with the First Degree Fitness app;
Smooth and quiet operation;
Rowing machine for users of all levels;
Little maintenance required;
Easy to assemble;
Excellent warranty.
Cons
No backlight on the LCD;
The HR chest strap does not come included with the rower;
The base stabilizers are non-adjustable.
FDF Apollo Pro V Fluid Rower Summary
The First Degree Fitness Apollo Pro V is a fluid rower for commercial and residential use, and it comes equipped with a dual-chamber water tank with adjustable water resistance. In addition, it features an Ashwood frame with long rails, an ergonomic seat, adjustable footrests, and a multi-function fitness console.
Moreover, it's an excellent machine for a full-body cardio workout, muscle toning, stamina development, interval training, and weight loss.
I hope you found this article helpful and informative. If you have anything you would like to share or any opinions about my website, please speak up. I look forward to your comments, questions, and the sharing of ideas.