Tips for Choosing the Right Elliptical Trainer for You
Along with treadmills, elliptical trainers provide an optimal setting for superior cardio exercising. They engage multiple groups of muscles in the back, arms, lower body but put the main focus on the legs and buttocks.
An elliptical workout session, especially if the machine is on a higher resistance and incline level, promotes a physiological response and burns many calories, pretty close to a treadmill. However, elliptical machines provide a non-impact cardiovascular workout, which comes with specific benefits. So, determine whether or not an elliptical trainer is a machine that you need.
Ellipticals simulate walking, running, or stair climbing. Still, since there isn't any direct foot strike involved, the impact on the joints is extremely low or non-existent. Thus, an elliptical is the best choice for exercising equipment if you recover from an injury or have bad knees.
Many people have the wrong idea that elliptical trainers are just for women or promote light exercising. That's quite a misconception, as they can provide highly challenging workouts. Just as treadmills, they are an excellent choice for improving stamina. On top of that, since the workout impact is alleviated, you can undertake longer sessions.
Learn more in my complete guide below!
Affiliate Disclosure: As an Amazon Affiliate Program and Sole Fitness Affiliate Program participant, I earn commissions on purchases made through links in this post. Full disclosure
Benefits of Elliptical Trainers
Elliptical trainers are great calorie burners. You can burn up to 1000 calories per hour, depending on the training programs used, intensity and incline. Thus, ellipticals are great for losing weight. Also, due to their low impact, they may be even more appropriate for heavier users. Weight puts pressure on the joints and spine. Elliptical trainers eliminate this risk.
Ellipticals promote a correct exercising posture. They force you a little bit in adopting the proper posture for your workout, preventing slouching. When running on a treadmill, for example, you can easily neglect your posture without even noticing, leading to all kinds of strains.
Running for at least 30 minutes a day, or at least walking a minimum of 7-8,000 steps, not only keeps you in shape or helps you lose weight, it promotes a whole series of other health benefits. For example, it keeps various detrimental health conditions or diseases at bay, such as diabetes, high blood sugar, high cholesterol, triglyceride levels, stroke, etc.
After several hours of working behind a desk, running or walking is essential, as it reestablishes the electric activity of muscles, promoting the correct muscle tone. Also, your lungs and heart get worked, which leads to the proper oxygenation of the blood.
Other Advantages of Elliptical Trainers
Along with the health and fitness-oriented benefits, ellipticals do offer several other advantages. First of all, investing in one can help you save money on expensive gym fees or any additional related costs to attending a gym.
Second of all, you will be working out from the comfort of your home while watching your favorite shows on TV or your favorite streams online. On top of that, just having the machine in your home can play the role of a motivation factor. You see it there and remember that you have to work out and stay healthy.
An elliptical machine is considerably quieter when compared to a treadmill, for example, since the cadence sound generated by each foot strike is inexistent. And lastly, an elliptical or treadmill can be a great alternative to running outside if it is winter or simply the weather conditions aren't exactly the most appropriate for jogging or walking.
Features to Look For in Elliptical Trainers
Drive systems
Based on the motor (or drive system) location, three types of elliptical trainers are front-driven, rear-driven, and center-driven. The first models of ellipticals were rear-driven. For rear-driven ellipticals, the motor and the drive wheel are located at the back of the machine, while the footplates are slightly forward. As a result, rear-driven ellipticals tend to be bulkier, heavier, and more costly. But they also feature fewer mobile parts and joints, which may result in less maintenance.
Front-driven elliptical trainers are the second generation design. They have the drive wheel and the whole drive mechanism at the front, directly connected with the handlebar and console. These are the most widespread elliptical trainers. However, some of the most advanced ones may still be cheaper than similar models with rear-drive.
Unlike center and rear-drive models, the front-driven elliptical enables the user to lean forward slightly as they step. In some models, the motion is more similar to climbing stairs than walking without incline involvement.
When it comes to center-driven elliptical trainers, there are two distinctive types: one with the motor between the footplates and the other with each footplate having its own smaller motor on its side. The first type tends to be more compact, less sophisticated, less bulky, and typically less expansive. The second type of center-driven trainer distributes the user's weight on a superior level. They're also quieter, and pedaling is very smooth. Also, they typically provide stride adjustability and generally are pretty costly.
Now, regardless of its drive system, a quality elliptical should fulfill its purpose accordingly, providing the specific walking/running motion with the lowest impact possible. However, there are several other important factors than the location of the drive motor to consider.
Stride
This is one of the most important aspects to look out for when buying an elliptical machine. That's because it's strictly related to the comfort that the machine can provide to you and reflects the diversity of workout possibilities. Your average elliptical offers a stride between 14″ and 17″, which promotes an optimal workout for just about any user.
However, if you want to increase the exercise intensity, you won't benefit from an ampler motion with a shorter stride. Elliptical trainers that provide a longer stride,  20″-22″, can cover the whole spectrum of motion, from walking to running.
Stride adjustability is a great feature to have in an elliptical. However, most models that boast such a feature aren't exactly the cheapest. So, if your budget doesn't fit one of the models with an adjustable stride that you want, at least opt for one that offers a longer stride.
Another aspect connected to the stride of an elliptical is the distance between the footplates. They should be as close together as possible to supply a natural walking or running motion. If they are too far apart, they will cause unnecessary stress on ankles, knees, or hip joints, resulting in soreness, pain, or even injury.
Incline
Not all elliptical trainers feature an incline system. In general, it's a feature found only with the more expensive units. There are two types of incline: manual and automatic. For manual incline, the machine usually doesn't offer more than 1-4 levels. The slope adjusting is done manually by moving a lever and securing the incline parts for the desired angle. Also, to adjust the incline, you must interrupt your workout and step off the machine.
On the other hand, elliptical trainers with an automatic incline feature an additional motor that controls the slope. The incline levels advance from degree to degree, the machine supplying multiple incline levels, in some cases up to 30. The incline is adjustable from the console, and you can do it while you're actively working out on the machine. Unfortunately, models with automatic inclines are more expensive.
Ergonomics
In terms of ergonomics, there are several aspects to look at when it comes to elliptical trainers. The first aspect to consider is the footplates. As I mentioned earlier, they should have an adequate distance between them and not be too far apart.
Second, it's best to look for ellipticals with articulating footplates if you are recovering from an injury. These adjust slightly with each step, making the motion more comfortable. A ribbed design of the footplate is also a plus. It improves the adherence of the foot during the workout. And finally, even though most ellipticals offer footplates spacious enough, it's essential not to overlook this aspect, to make sure your feet will have enough room.
The handgrips of an elliptical have a lot to say about its ergonomics. In general, the more grips they offer, the better. This gives you the possibility to change your grip and the placement of your hand and adjust the workout. Thus, it not only improves comfort but also enriches the spectrum of workout possibilities.
Some elliptical trainers have a fixed handlebar as well, along with the moving handgrips. This particular feature gives you the possibility to exercise while focusing only on your legs. It may also be quite valuable to users who require a rehabilitation training program.
Many ellipticals feature pulse sensors integrated within the fixed handlebar or mobile hand grips (or both). These don't necessarily increase the price of the machine by a lot. There are pretty affordable models which offer this feature, such as the Exerpeutic 1000XL. Even though a feature of this nature isn't exactly an ergonomic factor, it sure is helpful, especially for elderly users or users who require monitoring their heart rate as they exercise.
Other factors that fall into the ergonomics category refer to various amenities, such as sound systems, cooling fans, tablet or phone holders, bottle holders, etc. But, again, most of these amenities are in the machine's console.
Consoles
The fitness consoles may be more or less sophisticated depending on the cost of the elliptical. The most affordable elliptical trainers come with a simple fitness console. These usually track speed, distance, calories burned, and time spent exercising. Some of them also have an odometer function, which indicates the entire distance traveled beginning with the first use of the elliptical. If the elliptical has pulse sensors, the console will also display pulse.
Most advanced elliptical trainers offer various preset workout programs, which automatically adjust the resistance and incline. They also have features such as goal setting and tracking, race track function, step counter, various motivational alarms, etc.
Along with these features, some ellipticals offer you the possibility to import/export your workout data and upload/download from multiple sites to analyze your progress better. Of course, each additional function will add to the expense of the machine. Some of them may not seem necessary to you, but they render your workout experience more enjoyable and may also serve as motivating factors.
Other Aspects To Consider
Rails/wheels
If the elliptical machine you have under your scope has wheels and rails involved with the drive system, keep an eye out for bigger wheels or double rail/wheel systems. These increase the steadiness of the stepping and the smoothness of the ride.
Ball bearings
Each elliptical machine has its share of ball bearings, locked out of sight, as components of the leading mobile parts of the drive system. But most of the top-quality models incorporate bearings in the joints of the arms and lateral leg-arms of the machine. The presence of bearings reflects a smoother motion and quieter since parts including ball bearings are less prone to squeak.
Available space
Like most exercising machines, elliptical trainers come in different shapes and sizes. Some of them have a relatively small footprint, around 38″ (L) x 26″ (W). Usually, this small footprint is characteristic of some of the most affordable models. On the other hand, some elliptical trainers can take quite some space, such as the Sole E35, which has a length of 83″.
Along with these dimensions, the machines also require some clearance on the sides and back for safety reasons. Therefore, before purchasing a trainer for your home, it's a good idea to double-check your available space.
The elevation is another essential aspect to consider here. Some ellipticals, especially the ones with an incline, can render an elevation of the user of up to 25 inches. Therefore, especially if you're a taller user, the ceiling height in the room you want to use the machine may be an issue. Have that checked and double-checked as well.
Maximum user weight
Almost every exercising machine available on the market has its maximum supported user weight specified. Therefore, it's essential to choose one that covers your weight or the weight of the heaviest user. Even if the elliptical you're looking at has a very sturdy design, it's a bad idea to invest in a machine that isn't listed to support your weight. If this is the case, if the machine breaks, you won't benefit from your warranty.
Warranty
Warranty is usually a quality indicator for many products. This stands for elliptical trainers as well. To ensure you are investing in a quality elliptical, you should be looking for at least ten years warranty on frame and two years on parts.
Budget and pricing
In regards to ellipticals, prices can range between $200 and $5,000, or even more. The truth is, there are plenty of decent models, between $250 and $700. Even the most basic models, offering few amenities and workout programs, can still provide the optimal setting for a daily elliptical workout. But on the other hand, the most advanced units cover all the comfort features, but they're also longer-lasting.
A Few Recommendations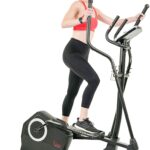 The Sunny SF-E3890 Cardio Elliptical Trainer will get you ready for the challenge and will push your fitness to the limits. Whether striding forwards or backward, this home fitness machine keeps going the distance with a maximum user weight of 265 lbs.
The SF-E3890 will supercharge your fitness with 16 levels of electronically controlled magnetic resistance. Furthermore, 18 inches of stride provides the perfect combination of length and space efficiency for an effective total-body at-home exercise. The low-impact nature and function save your joints from stress and wear while getting a total body workout. Read Full Review.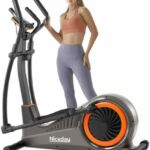 The Niceday CT11 Elliptical Machine is perfect for home use and, priced in the mid-range level, the construction and working parts of the Niceday elliptical are all impressive. It offers a serious jump in quality from the cheaper machines and has a lot to offer for people looking for something reliable that will last.
The CT11 comes equipped with a fitness console featuring an LCD that tracks the time, speed, distance, odometer, calories burned, and pulse by holding the fixed handlebar sensors. In addition, you have the option to set different workout goals based on distance, calorie-burning, or time. Read Full Review.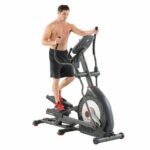 The upgraded Schwinn 470 Elliptical uses 25 Magnetic Brake resistance levels utilizing an eddy current brake (the best type). Magnetic resistance has the advantage of no friction, reliability, little to no maintenance costs, and quiet operation.
This 470 model has a powered incline with a 10° degree motorized adjustable ramp. The weighted flywheel provides smoother strides, and the rubberized footpads make workouts more comfortable — static & moving handlebars for a full cross-training workout. Read Full Review.
The Nautilus E616 Elliptical Trainer is a mid-priced trainer for home gyms and fitness enthusiasts of any skill level who want a low-impact workout. The Nautilus E616 provides excellent cardiovascular exercise by combining upper and lower body flexibility and coordination into one impact-free motion.
The E616 comes equipped with 29 customizable workout programs and 25 varying levels of resistance. These workouts are sure to provide the intensity you need for a great workout and burn some serious calories. The best programs are the 12 workout profiles that are pre-loaded and ready to go. Therefore, it's like having a personal trainer. Read Full Review.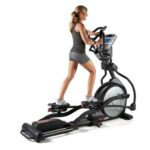 Many elliptical trainers provide proper aerobic training and an excellent cardiovascular shape designed for light and medium training. But there are heavy-duty ellipticals out there, made for professional training and consistent weight loss, and the Sole Fitness E95 is one of them.
This elliptical training machine offers an excellent balance between quality and design, supplying the perfect setting for long-distance running training and superior cardio. It's also a heavy-user-oriented exercising machine, an excellent choice for an elliptical if you want to lose weight. Read Full Review.
A Guide to Elliptical Trainers Summary
Throughout this guide, I've made a case for the elliptical's benefits, describing how they can further your fitness goals while protecting against injury. With a firm understanding of how ellipticals function and a few tips for using them correctly, you're well on your way to making the most of this well-rounded machine. Still, a central question remains unanswered: Should you get one for your home?
In many ways, elliptical trainers are the optimal machine for at-home ownership. Relatively affordable and available in various sizes, ellipticals can be a good fit for many kinds of living spaces. Additionally, because ellipticals can challenge and support all types of users, your whole family can benefit from this single piece of equipment.
Last but not least, elliptical trainers are built for the long haul, offering a low-impact form of cardio that you can sustain or adjust with little risk of injury. In contrast to many other forms of workout equipment, an elliptical can remain relevant as your needs and goals shift over time. What better kind of machine to invest in?
I hope you found this article helpful and informative. If you have anything you would like to share or any opinions about my website, please speak up. I look forward to your comments, questions, and the sharing of ideas.