The HouseFit Skyline R50 Rowing Machine features a high-quality solid aluminum slide rail with shock absorption to reduce reaction force's impact and distribute pressure evenly to protect your body while rowing the machine. Rock-solid built quality provides a maximum user weight limit of up to 300 lbs (136 kg).
With a simple twist, you can increase or decrease the 15 levels of manual magnetic resistance, so your rowing machine workout can remain challenging and significant throughout your fitness journey. In addition, the included 12 lb flywheel delivers smooth and efficient training.
The HouseFit Skyline R50 has a fitness monitor that tracks the time, distance, stroke count, total strokes, and calories burned. It also has a device holder on the monitor; the user can watch workout classes or movies while rowing.
Learn more in my complete review below!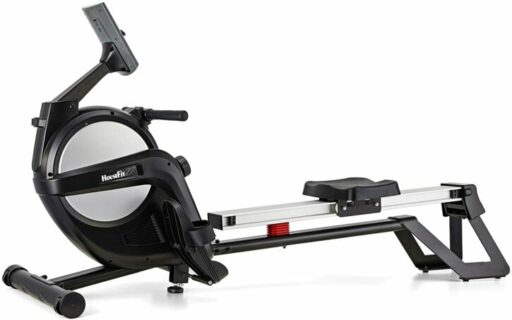 Product: HouseFit Skyline R50 Rowing Machine
Price: For a great deal on this rower, merely go here on Amazon
Warranty: 1 year limited
My rating: 8.5/10
Affiliate Disclosure: As an Amazon Affiliate Program participant, I earn commissions on purchases made through links in this post. Full disclosure
Details and Specifications
Assembled dimensions: 64.4L x 21.3W x 31.3H inches (164L x 54W x 79H cm)
Shipping weight: 61.7 lbs (28 kg)
Weight capacity: 300 lbs (136 kg)
Frame: Steel & aluminum
Resistance type: Manual magnetic, 15 levels
Fitness Monitor: Time, count, total count, distance, calories, scan
Extras: Device holder
Warranty: 1 year limited
R50 Frame Construction
The HouseFit Skyline R50 rowing machine combines aluminum, steel, and ABS plastic material in its construction. Its main sliding rail is extruded aluminum; the base frame, the stabilizers, and the monitor arms are steel tubing. The covers of the resistance system are durable plastic material.
The steel parts in the machine's construction feature a black, durable, corrosion-resistant paint finish. The rail has its natural aluminum polish. The covers of the drive system are black and light gray to match the rest of the machine.
The HouseFit R50 magnetic rower is slightly smaller than other models. It is only 64.4″ (164 cm) long and 21.3″ (54 cm) wide. However, its rail is long enough to accommodate users with an inseam up to 43″ (109 cm); thus, users up to 6'5″ (196 cm).
The machine's rail system and base frame have a maximum user weight limit of up to 300 lbs (136 kg), which is remarkable for a home-use rower.
The fully assembled machine is not too heavy, weighing less than 61 lbs. (27.6 kg). Therefore, one person can carry and assemble the rower.
The rower does not have a folding frame. However, it stores vertically. In storage position, its footprint becomes 29″L x 21.3″W (74 x 54 cm).
One last aspect to note is the position of the rail. The HouseFit R50 features a slightly inclined rail. This design comes with two main advantages. One, the rower provides a better workout for the legs. And two, the recovery part from the rowing motion is a bit faster.
Other Features
Two important features to note here, which are pretty specific to this rower, are the shock absorption element at the front of the rail and the extensive rear stabilizer system. The shock absorption element is similar to the ones on treadmills. Furthermore, it reduces the impact on the lower back during rowing.
The sizeable rear base system provides superior stability for the machine featuring four anti-slip rubber pads. The rower also has a small adjustable leveler under the resistance unit, while its front base integrates small transport wheels.
Seat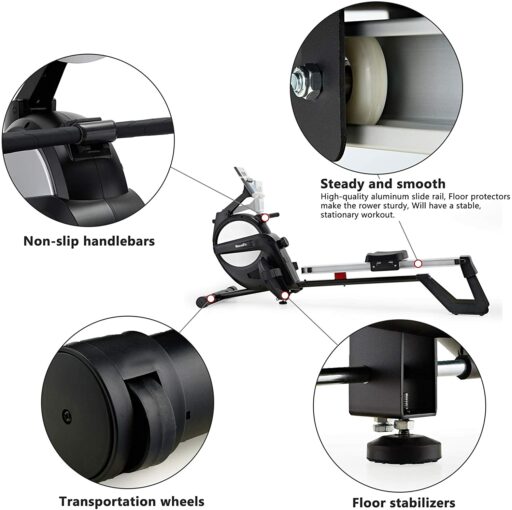 The HouseFit Skyline R50 comes equipped with a pretty standard seat. Its top is high-density foam featuring a contoured surface for optimal comfort. In addition, it is approx. 12.5″ (32 cm) wide, providing plenty of contact surface.
Its base is steel-made and integrates two sets of wheels. The wheels are concealed on the seat frame's sides and slide through the rail grooves for improved safety; in addition, they come equipped with high-grade ball bearings and have an outer rubber layer to minimize noise.
The rower's rail inclines forward slightly. Therefore, the seat is higher from the floor when extended to the rear. As a result, the maximum height of the seat is approx. 14″ (~35 cm).
Footrests and pulling handle
The HouseFit R50 rower comes with large footrests made of durable thermoplastic material. In addition, they have a non-slip surface, heel guards, and adjustable straps for maximum foot stability.
The footrests have a pivoting design, which means they can swivel on their axis, so you can slightly adjust your feet' position during each stroke. They also have stoppers at the rear to not incline backward more than an approximate angle of —70 °.
The machine's pulling handle is attached to a durable, abrasion-resistant nylon strap. Therefore, it generates less vibration during rowing than a chain. In addition, it also doesn't require lubrication.
However, since it's a simple machine, the handle doesn't integrate HR pulse sensors or resistance controls. Instead, its grips have a layer of textured urethane material for an improved grip.
R50 Resistance system
The HouseFit Skyline R50 rowing machine comes equipped with a full-magnetic resistance system. The resistance system is manual. Therefore, you don't need to connect your rower to a power source. Unfortunately, the included fitness monitor cannot automatically change the resistance and does not have pre-set workout programs.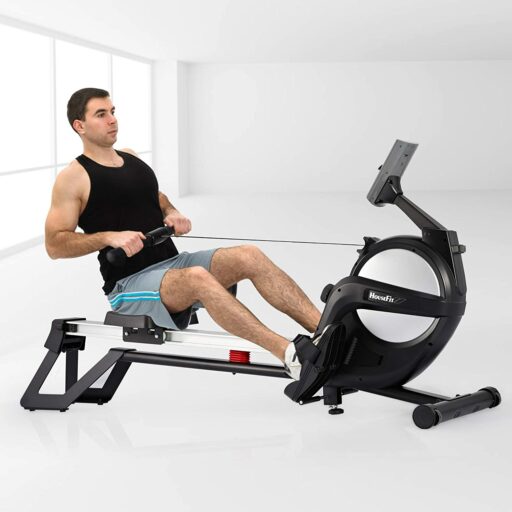 The machine's resistance system consists of a magnetic brake connected to the tension dial on the front casing. The brake changes its position to the internal flywheel by turning this tension dial, which adds to or reduces the overall rowing difficulty.
There are 15 difficulty levels on the rower's tension dial. The first three levels are excellent for a workout warm-up or stress relief. However, the middle tension levels (4-10) are significant during a prolonged and constant cardio workout. In contrast, the top 13-15 tension levels offer a high resistance output, perfect for high-intensity activities.
Like other full-magnetic rowers, the HouseFit Skyline R50 does not offer a dynamic response during rowing. For example, the resistance remains constant throughout the rowing motion; it depends on the selected resistance level and not how fast or hard you pull the handle.
But this rower provides a consistent cardio workout even without the dynamic response.
Since the rower does not have air or water resistance elements, it generates almost no noise during rowing. Also, since its internal brake is magnetic, the resistance elements do not touch, so the brake's wear and tear is virtually non-existent.
Fitness monitor
The HouseFit R50 does not have pre-set workout programs and cannot automatically adjust the resistance. Thus, it comes equipped with a simple fitness monitor.
The monitor features a large LCD (without a backlight). It tracks the most crucial workout metrics, including time, distance, stroke count, total strokes, and calories burned. Unfortunately, the monitor does not have a pulse reading function. Therefore, you cannot sync it with a wireless HR chest strap.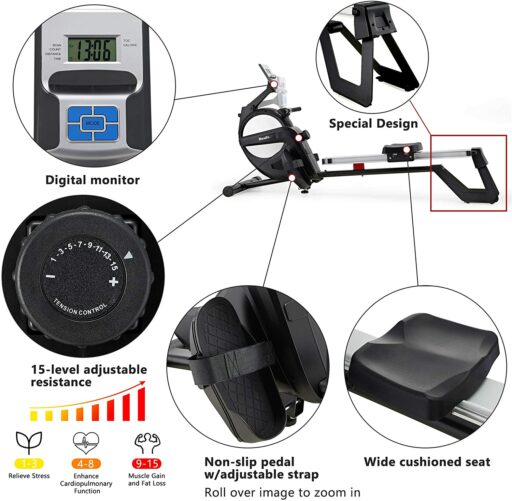 The fitness monitor is relatively easy to use. Its MODE button allows you to scroll through the workout metrics and select the one you want to view on display.
It also has a scan mode; when the scan function is selected, the monitor rotates all the values showing each one for a few seconds. The MODE button also has a reset function. Therefore, you can press and hold it for a few seconds to clear all the values to zero.
The monitor is battery-powered, and the batteries come with the rower. It starts up when you press the button or pull the handle. Then, after a few minutes of inactivity on the rower, it automatically turns off to save the battery.
R50 Assembly and Maintenance
Although the machine's functioning mechanism comes pre-assembled and attached to the front part of the frame, the rest require user assembly. Therefore, you will have to attach the seat to the main rail, connect the rail to the frame, and add the base stabilizers, the footrests, the fitness monitor, and several small covers.
The task is pretty straightforward and shouldn't take more than 30-40 minutes of your time. In addition, all the necessary tools for the assembly come with the machine.
The machine's maintenance doesn't require much. You only have to keep it clean, especially the rail, to prevent damage to the seat rollers. The internal parts shouldn't require maintenance or lubrication for an extended time.
Pros
Sturdy frame for home-use machine – can support users up to 300 lbs;
Aesthetic design;
Can be stored vertically;
Thick aluminum rail with a front shock absorption element;
Large rear stabilizer with four non-slip pads;
Transport wheels on the front base;
Padded and contoured seat for optimal comfort;
Pivoting footrests for a perfect foot position with each stroke;
Relatively long rail – can accommodate users up to 6'6″;
Quiet and smooth magnetic resistance system;
15 levels of resistance (many other magnetic rowers only offer 8);
Fitness monitor included – it tracks time, distance, stroke count, total strokes, and calories burned;
Device holder included;
Batteries for the monitor included;
Tools for the assembly included;
Easy to assemble;
Little maintenance is required.
Cons
The fitness monitor does not have a pulse reading function;
The fitness monitor LCD does not have a backlight.
HouseFit Skyline R50 Rowing Machine Summary
The HouseFit Skyline R50 is a magnetic rowing machine made for home use. It offers 15 tension settings, features an extended aluminum rail with a front shock absorption element, and includes a large, ergonomic seat.
It also has a fitness monitor that tracks time, distance, strokes, total strokes, and calories. Moreover, it's an excellent machine for a full-body cardio workout, stamina development, and weight loss.
I hope you found this article helpful and informative. Would you please speak up if you have anything you'd like to share on the topic or any opinions about my website? I look forward to your comments, questions, and the sharing of ideas.
Please note you should consult your physician to determine if you have any medical or physical conditions that could put your health and safety at risk or prevent you from using the equipment properly. In addition, your physician's advice is essential if you are taking medication that affects your heart rate, blood pressure, or cholesterol level.