Take your home gym to the next level with the Sunny SF-BH6802 Power Squat Rack. The compact gym rack lets you work out right in the comfort of your own home or garage. The result; is a fully loaded power rack with features such as the included 360-degree swivel built-in landmine post, raised height pull-up bar, exercise band attachment points, durable J-hook, and spotter's arms.
Safety is a crucial feature integrated into the power rack design. The 16″ spotter arms allow you to go heavy during weight lifting sessions while reducing the risk of injury. J-Hooks support weightlifting bars and weights up to 880 pounds.
The Sunny SF-HB6802 Power Squat Rack is easy to assemble with the bolt-together design and 30 adjustment points to fit people of all sizes. In addition, the squat rack is built with ample room to provide easy side-to-side movement. Therefore, you can perform squats, curls, shrugs, pull-ups, pushups, and more.
Exercise band attachments along the sides of the power rack support up to three-band attachments on each side of the frame so that you can safely place them on the weightlifting bar to add additional progressive resistance. Thus, adding a new variable to a training program is excellent.
Learn more in my complete review below!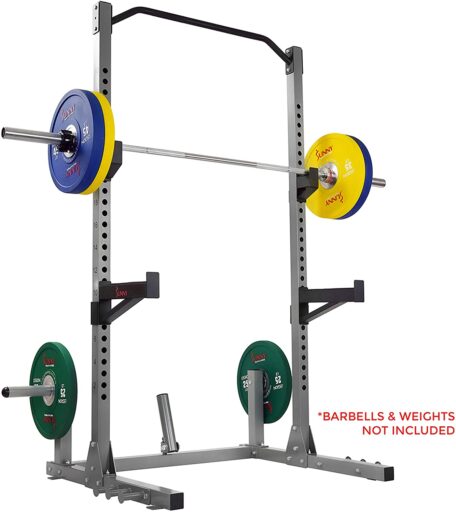 Product: Sunny SF-BH6802 Power Squat Rack
Price: For a great deal on this gym, merely go here to Sunny Health & Fitness.com
Warranty: Frame 1 year / Parts 90 days
My rating: 8.5/10
Affiliate Disclosure: As a Sunny Health & Fitness Affiliate Program participant, I earn commissions on purchases made through links in this post. Full disclosure
Details and Specifications
Assembled dimensions: 42″D x 47″W x 85″H (107L x 120W x 216H cm)
Assembled weight: 121.3 lbs (55 kg)
Weight capacity:

Spotter arms: 880 lbs (400 kg)
J-hooks: 880 lbs (400 kg)
Pull-up bar: 500 lbs (227 kg)

Frame: Steel
Possible exercises: 35+
Warranty: Frame 1 year / Parts 90 days
SF-BH6802 Frame Construction
The Sunny SF-BH6802 Power Squat Rack features a classic construction. All the bars in its structure are steel tubing. In addition, the main upright bars, the base bars, the support pegs, and the exercise band attachment elements feature a corrosion-resistant gray paint finish, while the J-hooks, catch bars, and pull-up bars have a corrosion-resistant black paint finish.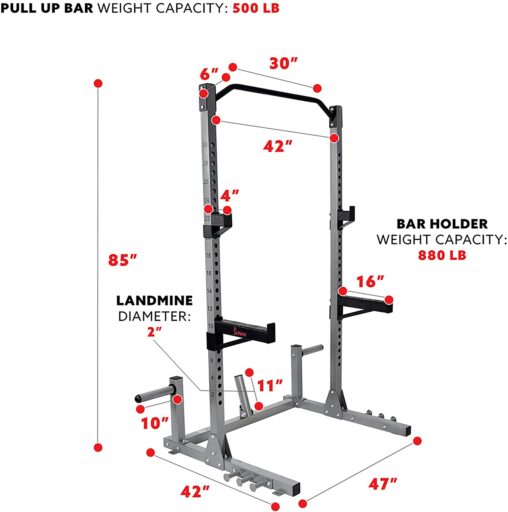 The rack comes equipped with a curved pull-up bar. This element also has knurled grips to provide maximum hand adherence during exercises. However, the height of the pull-up bar is 85″ (216 cm) above floor level. Therefore, the unit won't fit in a room with a seven-foot (213 cm) ceiling.
Plus, it is advisable to assemble and store the rack in a room with a ceiling that allows at least one foot of clearance above the pull-up bar to perform complete pull-up exercises without any danger of hitting your head on the ceiling.
The rack's primary sidebars feature 30 adjustment notches. These provide plenty of flexibility when attaching the barbell holders and safety bars. Therefore, the rack can accommodate users of all sizes.
The base part of the frame features two anchor points on each side. Depending on the exercises, weights being used, and your weight, the rack may or may not require being bolted to the floor. However, anchoring the rack is advisable.
Last but not least, the Sunny SF-BH6802 Power Squat Rack is not an extremely large unit. It's 42″ (107 cm) deep and 47″ (120 cm) wide, while the space between the bars is approximate—42″ (106 cm), leaving enough room for all exercises and users of all sizes.
However, the rack requires a 7.2′ (2.2 m) Olympic barbell. Therefore, you should leave at least four feet of clearance all around the unit for easy access and any exercise's safe execution.
Other parts
The first parts are the J-hooks and the safety bars (or spotter bars). This support loads up to 880 lbs (400 kg). Each J-hook and safety bar has a rubberized top to reduce the noise of dropping a heavy barbell and diminish abrasion.
The J-hooks are approximately 4″ (10 cm) long. Conversely, the spotter bars are 16″ (40.6 cm) long, offering plenty of safety length, ease of mind, and safety assurance when squatting a heavily loaded barbell.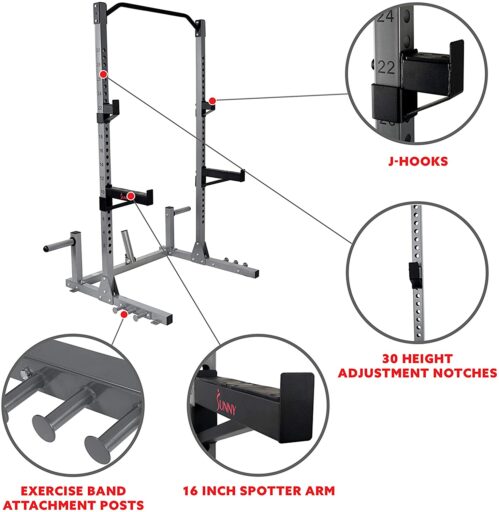 The base frame's rear corners feature two small upright bars with 2″ (5 cm) support pegs for storing Olympic plates. Unfortunately, these don't have adapters, and Standard, 1″ (2.5 cm) plates won't fit the pegs. Furthermore, their weight limit is 265 lbs (120.2 kg), and they are approximately 11″ (28 cm) long.
The front and lateral sections of the base frame feature three attachment points (each) for elastic bands. Therefore, you can add resistance to pull-ups or other exercises. Unfortunately, this Sunny squat rack does not include resistance bands.
One last element to mention here is the Landmine Swivel attached to the rear base of the frame. For instance, this element allows you to connect a weighted barbell to perform dynamic exercises for the core muscles and balance improvement.
Furthermore, the exercises you can perform on the Landmine Swivel include trunk rotation, "truck driver," landmine squat, pivot press, and more. The swivel can also rotate 360°, offering enough range of motion for users of all sizes.
SF-BH6802 Possible Exercises
Since it's a power and squat rack, it goes without saying that this unit's main exercise is the squat. However, the list of exercises covers more than 35+. Among them, I can count:
Pull-ups
Wide grip pull-ups
Muscle pull-ups
Behind head pull-ups
Around the world, pull-ups
One-arm pull-ups
Cliffhangers
Weighted pull-ups
Chin-ups
Close grip chin-ups
Wide grip chin-ups
One hand chin-ups
Weighted chin-ups
Hanging knee raises
Hanging leg raises
Chest presses (requires bench)
Single-arm chest presses (requires bench)
Wide grip chest presses (requires bench)
Close grip chest presses (requires bench)
Military presses (requires bench)
Deadlifts
Stand-up leg curls
Calf raises
Squats
Single-leg squats
Wide squats
Twisting squats
One-handed landmine shoulder presses
Two-handed landmine shoulder presses
Landmine front squats
One-arm bent-over landmine rows
Landmine lunges
Landmine sumo squats
Supine one-arm landmine presses
Supine two-arm landmine presses
Landmine trunk twists
Pivot presses
Truck drivers
and more
SF-BH6802 Assembly and Maintenance
The Sunny SF-BH6802 power squat rack is not an overly complicated home gym. Therefore, its assembly is far from difficult.
First, you must assemble its base, attach the two upright bars, and connect them with the pull-up bar at the top. Next, add the extra elements such as the weight plate supports, the resistance band attachments, the landmine swivel element, the J-hooks, and the safety bars.
Consequently, it shouldn't take an hour and a half tops. The manual provides excellent step-by-step assembly instructions, and the tools needed for the assembly come included with the machine.
Depending on how much you want to lift and the exercises you want to perform, the unit may require anchoring to the floor. Therefore, you must drill four holes to match the unit's base anchor points into the floor or pavement.
Once assembled, maintenance doesn't require much. It's advisable to periodically check its joints, anchor points, and bolts and retighten them if needed. If the swivel landmine element begins to squeak, some light lubrication oil should solve the problem.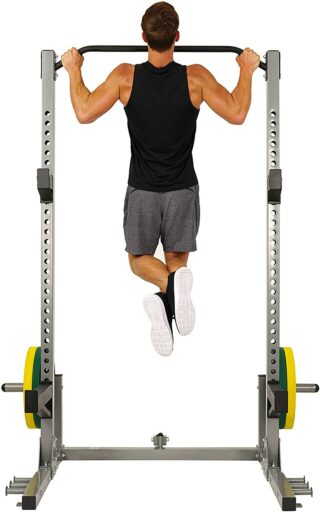 Pros
It has a sturdy steel frame, rated for loads up to 880 lbs.
Pull-up bar with knurled grips and curved grips;
880 lbs rated J-hooks and safety bars;
Rubber surface on both J-hooks and safety bars;
30 adjustment positions for the J-hooks and safety bars;
Anchor points on the base bars;
Weight plate support pegs included;
Resistance bands base attachments included;
Landmine swivel elements included;
Over 35 exercises available;
Easy to assemble;
Little maintenance is required.
Cons
Storage pegs can only support Olympic plates;
7-foot Olympic Barbell and Olympic weight plates do not come with the rack;
Resistance bands do not come with the rack.
Sunny SF-BH6802 Power Squat Rack Summary
The Sunny SF-BH6802 is an excellent power squat rack for home use. Accordingly, it has an impressive weight capacity of 880 lbs (400 kg) for its safety bars and 500 lbs (226 kg) for its pull-up bar. Additionally, it has several extra elements, which can add a lot of diversity to your workouts. For example, it has a landmine swivel element and base connection points for resistance bands. Moreover, it's a decent, durable, and versatile squat rack available at an affordable price.
I hope you found this article helpful and informative. Would you please speak up if you have anything you'd like to share on the topic or any opinions about my website? I look forward to your comments, questions, and the sharing of ideas.
Please remember to consult your physician to determine if you have any medical or physical conditions that could put your health and safety at risk or prevent you from using the equipment properly. In addition, your physician's advice is essential if you are taking medication that affects your heart rate, blood pressure, or cholesterol level.