The streamlined and compact Bluefin Fitness TOUR 5.0 Upright Bike provides a low-impact cardio exercise experience for your home gym. The TOUR 5.0 bike offers a low-impact cardio exercise that is kind to your joints and has excellent health benefits. The base has durable wheels and is easily transportable around the home when not in use.
There are 12 automatic programs and 24  manual resistance levels that allow you to cycle at a comfortable pace or simulate cross-country journeys with variable incline & decline resistance. In addition, the rear flywheel, silent drive system, and magnetic braking provide a fluid motion and higher intensity cross-training exercise.
Measure time, distance, calories burned, and pulse with the backlit LCD digital fitness monitor. Then, use the integrated Kinomap app for mobile or tablet and connect via Bluetooth to track and analyze your workout over time on your fitness dashboard.
The Bluefin Fitness TOUR 5.0 upright bike features a cushioned sports seat that easily fits your height. There are nine levels of vertical elevation, and the seat has forward and backward horizontal movement to suit your requirements. In addition, the ergonomic drop handlebars can quickly and easily adjust for different types of training.
Learn more in my complete review below!
Product: Bluefin Fitness TOUR 5.0 Upright Bike
Price: For a great deal on this bike, merely go here to Amazon.com
Warranty: 1 year limited
My rating: is 8/10
Affiliate Disclosure: As an Amazon Affiliate Program participant, I earn commissions on purchases made through links in this post. Full disclosure
Details and Specifications
Assembled dimensions: 40L x 20W x 50H inches (101L x 50W x 126H cm)
Shipping weight: 72.5 lbs (32.9 kg)
Flywheel weight: 26.4 lbs (12 kg)
Weight capacity: 220 lbs (100 kg)
Seat: 4-way Adjustable
Resistance: Eddy current, 24 levels
Console: 12 pre-set programs, 3 HRC programs, goal settings, recovery, Bluetooth
Extras: Device holder
Warranty: 1 year limited
TOUR 5.0 Frame construction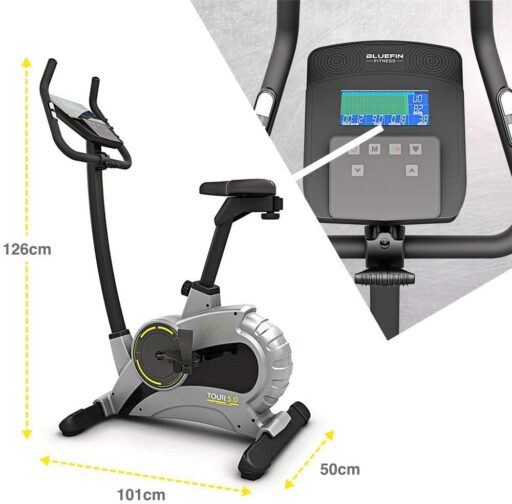 Most upright exercise bikes within this feature range have a steel tubing frame, and the Bluefin Fitness TOUR 5.0 upright bike does not make an exception. All the steel tubes in their construction come with a durable black paint finish. In addition, the base frame and the drive system elements casing are durable thermoplastic materials.
The bike is not too large. On the contrary, it has quite a compact footprint; it takes only 40″L x 20″W (101 x 50 cm) of floor space, so it should fit pretty well even in a small room or apartment. However, it is still advisable to leave a clearance of at least two feet around it for easy mounting, dismounting, and access to it.
Like most other upright exercise bikes for home use, the Bluefin TOUR 5.0 has no step-through design. However, its mid-section is not too high above the floor level, so you can easily step over it when you take a position on the seat.
The bike is not heavy, weighing around 70 lbs (31.7 kg). Therefore, one person can transport the packaged unit, but using a hand truck is advisable. Once assembled, it is easy to move as its front base has transport wheels.
Seat and handlebars
The Bluefin Fitness TOUR 5.0 upright bike comes with a pretty standard saddle. It features a nylon shell with a thick layer of padding. In addition, it is contoured, featuring a median groove for improved breathability.
The seat is four-way adjustable (up, down, front, back). In addition, its vertical post offers nine adjustment levels, while its horizontal slider adds a few inches of front-to-back adjustment. Therefore, the bike should accommodate users between 5'0″ and 6'3″ (153 – 190 cm) with no problem, allowing a complete leg extension. In addition, the seat also has a maximum user weight limit of 220 lbs (100 kg).
The bike's handlebar allows for at least three grips (standard grip, cruising grip, and climbing grip).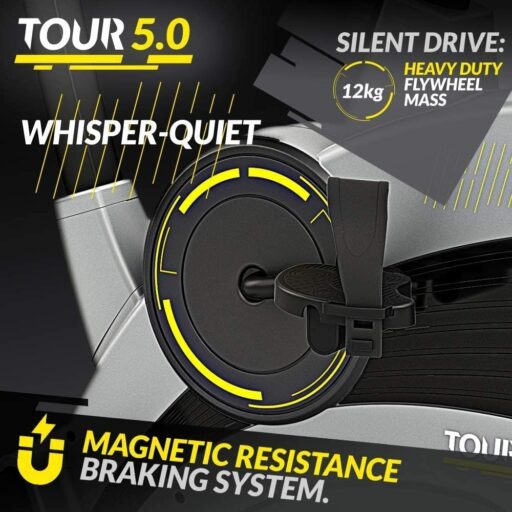 In addition, it also provides angle adjustability. It attaches to the front upright mast of the bike with a knob, which you can loosen to adjust its angle, and re-tighten to secure the handlebar in the desired position.
The handlebar integrates metallic HR pulse sensors, and the fitness monitor has several heart rate functions. In addition, the grips feature rubber foam sleeves for improved and comfortable contact. Unfortunately, the front upright bar of the bike is non-adjustable. Therefore, you cannot adjust the height of the handlebar, just its angle.
TOUR 5.0 Resistance system
The Bluefin Fitness TOUR 5.0 upright bike has a motorized magnetic resistance system. Therefore, it requires a power source connected to start up the fitness monitor, adjust the resistance, or use one of the programs. The box includes an adapter with cable; the adapter's connector is on the bike's rear base.
The bike's resistance system comprises a magnetic brake and a servo motor. The motor makes the connection between the console and the brake.
Thus, when you adjust the resistance from the console controls or use a program that automatically adjusts the resistance, the motor changes the magnets' pulls on the internal flywheel, increasing or decreasing the pedaling difficulty.
The magnetic brake has quite a few advantages over a standard friction brake. For example, the magnets do not touch the flywheel, so it spins freely, offering a smooth and quiet pedaling motion. On top of that, you don't have to worry about replacing brake pads or lubricating brake pads.
The bike's resistance system has 24 levels. The first resistance level generates a relatively light pedaling difficulty, which is great for recovery training or muscle toning. Conversely, the 24th tension level offers considerably more resistance, simulating a climb on a steep hill.
Drive system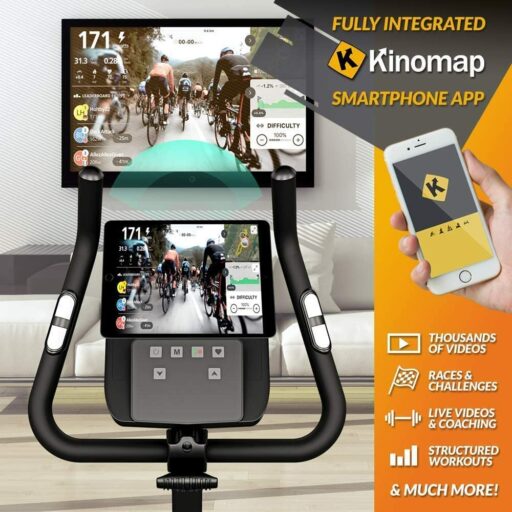 Although it's a small, light exercise bike, the Bluefin Fitness TOUR 5.0 upright bike has a fairly heavy flywheel. It weighs 26.4 lbs (12 kg), providing consistent momentum. It is also perimeter-weighted for improved motion stability and smooth pedaling.
The flywheel permits pedaling in reverse. Therefore, you can alternate forward-pedaling sessions with backward-pedaling sessions. This way, you can diversify your workouts. However, you must note that you cannot coast on the bike, as it's possible on a road bike. When you stop pedaling, the flywheel also stops spinning.
The bike has a reasonably sturdy crankset featuring cylindrical steel arms painted black. However, the Bluefin TOUR 5.0 is not a spin bike, so it is not intended for pedaling while standing up. Even if it holds you while completely standing, workouts are not advisable as they aren't safe, void the warranty, and quickly wear out the crankset parts.
The bike includes a set of weighted pedals. They have a metallic internal core, while their outer shell is a durable nylon material. In addition, they have a textured surface and adjustable straps for improved foot stability.
TOUR 5.0 Fitness monitor
The Bluefin Fitness TOUR 5.0 upright bike has a multi-function console. First, it features an LCD with an LED backlight for improved readability. It tracks time, speed, distance, RPM, calories, and pulse.
It also shows the program profiles and various other workout-related messages. The speed and distance can either be metric units or Imperial units.
The console has Bluetooth connectivity. In addition, it is compatible with the Kinomap app, which is available for Android and iOS systems. Unfortunately, the app is not entirely free. Some features, such as coaching videos, require a monthly subscription.
In addition, the app also provides various extra workout metrics, a workout summary feature, the possibility to track your progress online, and a wide selection of scenic virtual rides that sync with the bike.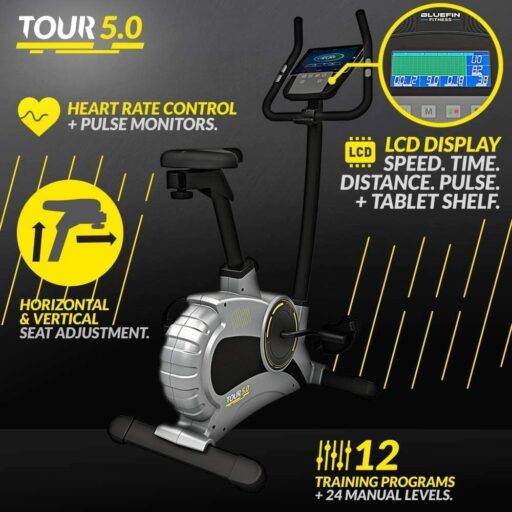 The console has a base of built-in programs, so the use of the app and the Bluetooth connection are not necessary. First, it has a manual mode that allows you to make manual resistance adjustments as you pedal. Next, it has 12 pre-set programs (P1-P12) with various profile layouts targeting different types of workouts.
It also has three heart rate programs set for 55%, 75%, and 90% of your target heart rate. And finally, it has a Recovery function and allows selection targets for time, distance, calories, and pulse.
The console does not have a built-in workout fan but does integrate a tablet holder. It also has a sleep mode function; it will automatically turn off if it does not detect any activity on the bike for more than 4 minutes.
Assembly and Maintenance
The assembly of the Bluefin Fitness TOUR 5.0 upright bike is pretty simple. First, the bike's base frame with all the drive and resistance elements comes pre-assembled. Then, you only need to add the two base bars, the seat, the front mast, the console, the handlebars, and the pedals.
Consequently, this shouldn't take more than one hour of your time. In addition, all the necessary tools for the assembly come with the bike.
For maintenance, you only need to keep the bike clean and wipe the sweat that may fall onto the frame at the end of each workout. The internal parts do not require any lubrication.
Pros
Compact design, sturdy steel frame;
Transport wheels integrated into the front stabilizer;
Four-way adjustable seat with a comfortable saddle;
Angle-adjustable handlebars;
Pulse sensors integrated into the handlebars;
Weighted pedals with elastic straps for extra stability;
Motorized magnetic resistance – 24 levels;
Multi-function console with a backlit LCD;
12 pre-set programs;
3 HRC programs;
Recovery function;
Goal settings for time, distance, watts, and calories;
Bluetooth connectivity and compatibility with the Kinomap app;
Device holder included;
Little maintenance is required;
Easy to assemble;
All the assembly tools are included.
Cons
A tablet placed on the device holder will cover the fitness monitor LCD;
There is no bottle holder.
Bluefin Fitness TOUR 5.0 Upright Bike Summary
The Bluefin Fitness TOUR 5.0 is a home-use upright bike. It has a 24-level motorized magnetic resistance system, a 26.4 lbs internal flywheel, and a console with multiple workout programs.
In addition, the console also has Bluetooth connectivity and is compatible with the Kinomap app. Accordingly, it's a bike designed for light to medium-intensity cycling workouts, muscle toning, stamina development, and weight loss.
I hope you found this article helpful and informative. Would you please speak up if you have anything you'd like to share on the topic or any opinions about my website? I look forward to your comments, questions, and the sharing of ideas.
Please remember to consult your physician to determine if you have any medical or physical conditions that could risk your health and safety or prevent you from using the equipment properly. In addition, your physician's advice is essential if you are taking medication that affects your heart rate, blood pressure, or cholesterol level.