The Marcy ME 708 Upright Bike is an affordable upright exercise bike. It is a basic bike that doesn't come with any frills, which helps keep the price down. The ME 708 isn't for everyone but for those looking to get fit and lose some pounds. However, it may be just what you want.
The ME 708 has eight manual magnetic resistance levels that use the tension knob on the front support pole. It has the eight levels marked on the knob, and as you turn it, it clicks in place. The movement between the levels is smooth, so there is no jerkiness. It goes from very easy to moderately challenging – like going up a slope to a tough hill.
The Marcy ME 708 has a belt drive that is very quiet and will be low maintenance. It and the flywheel are covered, keeping it protected from dirt and sweat jamming it up. As a result, you get a relatively smooth pedaling experience with low impact. However, at the higher resistance levels, it will get a little rougher (still low impact), with the effect of resistance slowing the pedals down.
The ME 708 fitness monitor has good-sized numbers, so you can see them clearly as you exercise. It displays time, speed, distance, calories, and odometer. Unfortunately, you can't monitor your heart rate with this. If this is important, you will need to use a separate device.
Learn more in my complete review below!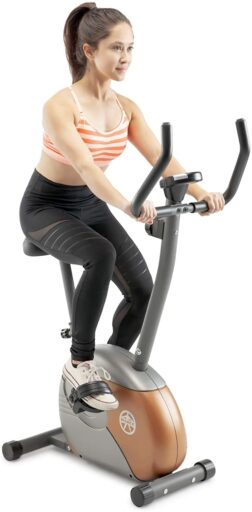 Product: Marcy ME 708 Upright Bike
Price: For a great deal on this bike, merely go here on Amazon
Warranty: 2 years
My rating: is 8/10
Affiliate Disclosure: As an Amazon Affiliate Program participant, I earn commissions on purchases made through links in this post. Full disclosure
Details and Specifications
Assembled dimensions: 31.5L x 18W x 48.75H inches (80 x 46 x 124  cm)
Product weight: 43 lbs (19.6 kg)
Supported weight: 300 lbs (136 kg)
Handlebar: Fixed
Seat: Adjustable
Pedals: With straps
Brakes: Magnetic
Resistance: Adjustable, eight levels
Bottle holder: No
Fitness Monitor: time, speed, distance, calories, and odometer
Warranty: 2 years
ME 708 Frame and other parts
The Marcy ME 708 upright bike is not clunky and can fit in a smaller room. It takes about a square yard of floor space. It's not very heavy, either, weighing 43 lbs. In addition, one person can carry and assemble the bike. Once complete,  it's easy to transport, even if you go up a set of stairs.
Despite not being foldable, the compact design still takes up much less space than many higher-priced exercise bikes and is ideal for apartments and any spare room you might have.
Despite being lightweight, the ME 708 bike is sturdy and stable. It can support users up to 300 lbs in weight. It can also comfortably accommodate users up to 6'2 ″ (187 cm) tall.
In addition, the seat has nine height settings to add flexibility to your riding position. Therefore, the seat can adjust to approx one foot (30.5 cm) between the seat and the pedal when at the lowest point on the floor.
Therefore, users as short as 4'5 ″ (135 cm) shouldn't have a problem using it. The seat is pretty comfortable and easy on the back. You shouldn't need any padding for it. It's about 9″ wide and 10″ in length, supplying an adequate room.
Unfortunately, the handlebar is not adjustable. However, just like most upright bikes, it's pretty close to the seat, supplying a proper exercising posture. In addition, its design allows various grips. It's also well-padded with rubber foam to absorb moisture and offer more comfortable and reliable contact.
Both of the pedals of this bike come ergonomically designed and counterbalanced. In addition, they have straps that secure the user's feet to comfortably use the equipment without the anxiety of losing their footing. Unfortunately, they do not feature SPD clips for cycling shoes.
Resistance system
The magnetic resistance system provides a quiet and considerably smooth workout. It is essential to add that magnetic resistance produces premium visible results in minimal time. The Marcy ME 708 offers practical training without causing strain and muscle damage.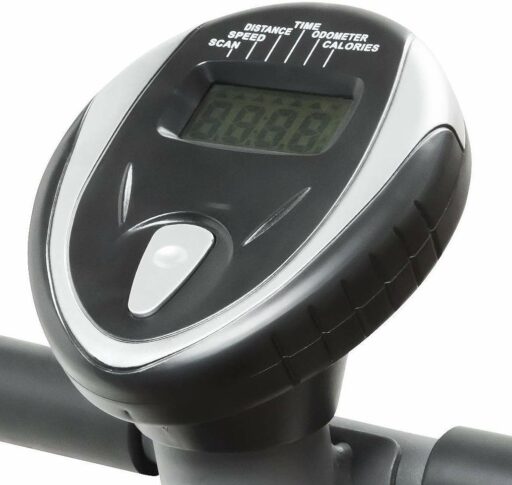 The eight preset resistance levels allow the user to adjust tension levels to a desirable position. The resistance mechanism involves a magnetic brake, which results in a smooth and quiet ride.
In most cases, beginners start on a lower resistance level and gradually increase as they get stronger. Although many users find the first tension level light, this resistance level offers an adequate warm-up.
The first 2-3 levels are pretty much light, but beginning with the 4th level, you should be able to feel the burn, while the last level has been deemed challenging enough by more experienced users.
ME 708 Fitness monitor
Marcy incorporated some compromised fitness monitor functions and feedback to keep the price low, similar to most entry-level exercise bikes in this price range.
Although this will impact your workouts from an entertainment perspective (no built-in speakers, shelf for your tablet to watch movies or virtual cycling track), there is still enough feedback to measure progress and motivate yourself during your workouts.
The LCD screen is relatively compact, which means it only has a single "MODE" key. As a result, it has just one function: automatically scan the time, distance, speed, and calories burned every 4 seconds for your workout duration. In addition, you can choose to set a cycling goal for a longer time, a longer distance, or burn more calories each time you work out.
It's worth bearing in mind that there are bikes that will provide feedback on a much more comprehensive range of goal-setting targets, as well as sync your workout data to apps or your computer if needed.
However, if you're on a limited budget or don't want to spend hundreds of dollars on a bike that you use to complement an existing fitness routine, then the Marcy ME 708 should be more than sufficient.
ME 708 Assembly and Maintenance
The ME 708 from Marcy is not difficult to assemble. First, the bike's core with the crank and magnetic brake system comes pre-assembled. Then, all you need to mount in place are the bike's front and back bases, seat and handlebar posts, the seat and the handlebar, and finally, the fitness monitor on top of the handlebar.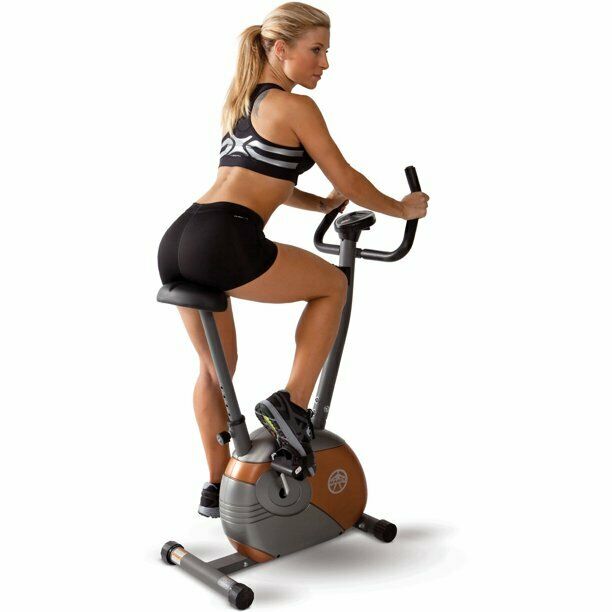 Consequently, it shouldn't take anyone more than 30 minutes of your time. In addition, the bike comes with a comprehensive user manual, which guides you step-by-step through the assembly part.
Maintenance doesn't require much. You must dust the machine weekly, remove moisture from the console, and tighten pedals, screws, and knobs into place from time to time to ensure everything is tight and retighten them as needed.
Pros
Eight levels of preset magnetic resistance;
A fitness monitor that tracks the speed, time, calories burned, and distance;
Counterbalanced pedals;
Adjustable foot straps;
Transport wheels;
Compact design;
Quiet and smooth operation;
Easy to assemble;
Adjustable seat.
Cons
The fitness monitor LCD does not have a backlight.
Marcy ME 708 Upright Bike Summary
The Marcy ME 708 Upright Bike is an excellent exercise machine for light and medium training. However, it's not for high-intensity training or consistent weight loss-oriented routines. If you want to sweat buckets full and shed a considerable amount of pounds, you probably need an indoor cycling bike, such as the Sunny Pro model.
Nonetheless, even though it's not for heavy training, it can still help you lose weight, sweat out your daily surplus of calories, tone leg muscles, and maintain cardiovascular health. Moreover, it's a fine upright bike, slim, comfortable, and quiet, an excellent investment for any home user.
I hope you found this article helpful and informative. Would you please speak up if you have anything you'd like to share on the topic or any opinions about my website? I look forward to your comments, questions, and the sharing of ideas.
Please remember that you should consult your physician to determine if you have any medical or physical conditions that could risk your health and safety or prevent you from using the equipment properly. In addition, your physician's advice is essential if you are taking medication that affects your heart rate, blood pressure, or cholesterol level.