Whether rehabbing an injury or looking for a workout at any age, the Body-Solid Endurance T50 Rehab/Walking Treadmill has the features and functions for safe, reliable fitness. The expanded safety features and easy-to-use design of the Rehabilitation Treadmill create an ideal choice for seniors, people rehabbing injuries, and those looking for safe and reliable workouts.
The Endurance by Body-Solid T50 Rehab/Walking Treadmill features a 2″ thick handrail extending the entire treadmill length, easy access belt-wide rear entry ramp, and a starting speed of only 0.1 MPH. As a result, the perfect speed is achievable with speeds from 0.1 – 5.0 MPH in 0.1 MPH increments.
The Body-Solid Endurance Rehab/Walking treadmill has an easy-to-read blue LED display and three jumbos 1¾" information windows devoted to time/distance, speed, and heart rate/calories. Oversized interface buttons make it easier to adjust on the move.
Additional T50 Rehab/Walking treadmill features include a 1.5 HP motor and high-quality aluminum foot rails. In addition, the thick 18.9″ W x 53″ L (48 W x 135 L cm) walking belt on the T50 provides added comfort with an ergonomically positioned contact heart rate monitor.
Learn more in my complete review below!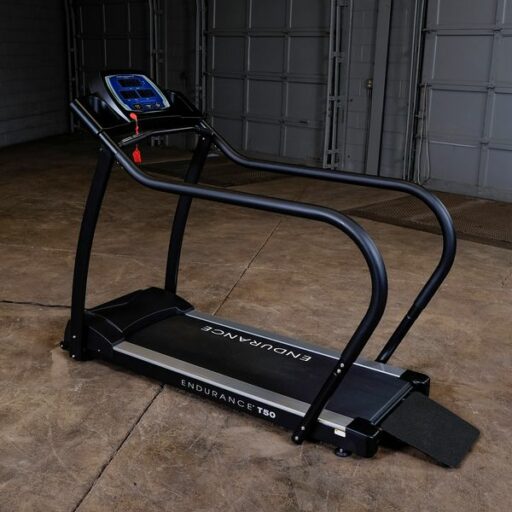 Product: Body-Solid Endurance T50 Rehab/Walking Treadmill
Price: For a great deal on this treadmill, merely go here to Amazon.com
Warranty: Frame lifetime / Parts 5 years / Electronics 2 years / Labor 1 year / Wear Parts 6 months (see the commercial warranty below)
My rating: is 8/10
Affiliate Disclosure: As an Amazon Affiliate Program participant, I earn commissions on purchases made through links in this post. Full disclosure
Details and Specifications
Assembled dimensions: 77L x 29.5W x 53.5H inches (196L x 75W x 136H cm)
Walking surface: 53L x 18.9W inches (135L x 48W cm)
Assembled weight: 162 lbs (57 kg)
Supported weight: 310 lbs (140 kg)
Motor: 1.5 HP, 0.1 – 5.0 MPH
Incline: No
Console: Time, speed, distance, calories, pulse
Extras: Bottle holders, tablet holder
Commercial Warranty: 15 Years on Frame / 3 Years on Parts / 2 Years on Electronics (excludes batteries) / 6 Months on Wear Items / 1 Year on Labor
In-home Warranty: Frame lifetime / Parts 5 years / Electronics 2 years / Labor 1 year / Wear Parts 6 months
T50 Frame Construction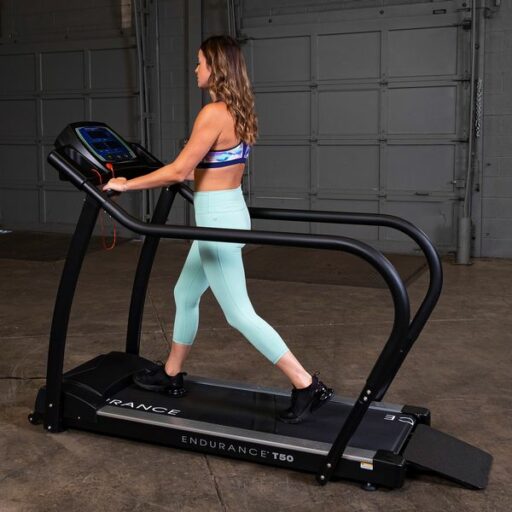 The Body-Solid Endurance T50 rehab/walking treadmill combines steel, aluminum, and ABS parts in its construction. Similar to other treadmills, it has its mainframe built from steel tubing, combining oval, rectangular, and cylindrical tubes in its structure.
The side rail covers of the deck are aluminum-made, while the motor covers, the console casing, and several other small covers are made of durable thermoplastic materials.
All the steel tubes in the machine's construction come with a corrosion-resistant black paint finish, with the "Endurance" logo painted white. The aluminum rail covers have their natural polish.
Since it's a rehab treadmill, the Endurance T50 has extended handrails connected to the front upright bars and the rear of the deck. In addition, they have long PVC foam sleeves for improved comfort.
They're pretty sturdy, so they should support users with specific disabilities with no problem if they don't exceed the maximum user weight capacity.
Furthermore, the treadmill is pretty significant. With all the parts assembled, it is approximately 77″ (195 cm) long and 29.5″ (75 cm) wide. It is also advisable to allow at least two feet of clearance on each side of the deck and at least three feet at its rear for easy access.
The unit is pretty heavy as well. Its net weight is 162 lbs (57 kg). Therefore, two people should carry and assemble the machine. However, once completed, it's easy to move as its front base features wheels. In addition, both its bases come equipped with adjustable levelers, including a small ramp that attaches to the rear of the deck for easy entry.
Deck Construction
First, the Body-Solid Endurance T50 rehab/walking treadmill does not have an incline system. Therefore, you cannot adjust the angle of the walking platform. Furthermore, its deck is not foldable like the Endurance T25 model.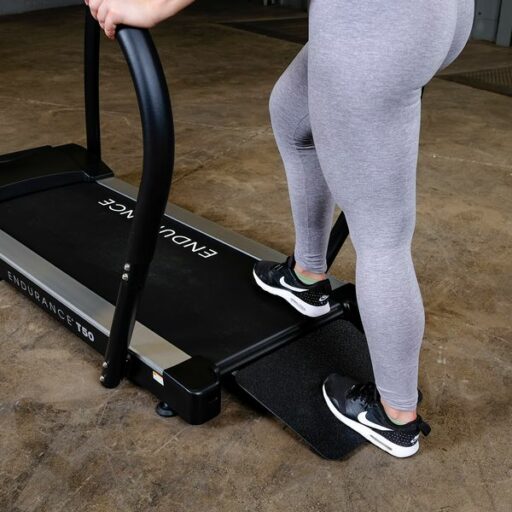 The machine offers a 53″ (135 cm) long and 18.9 (45 cm) wide walking area, which should suffice for any user regardless of height since this is a walking treadmill. Also, the deck is pretty sturdy; it has a maximum user weight limit of 310 lbs (140 kg).
This Body-Solid treadmill comes with a multi-layered belt. Its rubberized and textured top layer provides an improved grip for the user's footwear. Furthermore, the crowned internal rollers improve traction and prolong the belt's lifespan. Their exact diameter is not specified. In addition, they integrate pre-lubricated sealed bearings for smooth operation.
The machine has a cushioned deck. Although the cushioning elements are not visible, there are eight, four on each side of the deck. These considerably reduce the ride's impact, resulting in less walking-related pain.
Last but not least, the walking area of the treadmill is not too high above the floor. The step-up height is approx. 6″ (15 cm), and as mentioned earlier, a small ramp comes with the machine, facilitating entry and exit.
Therefore, you shouldn't worry about ceiling height with this treadmill. However, placing and using the machine in a room with a ceiling at least 10″ (25 cm) higher than the tallest user is still advisable.
T50 drive motor
The Body-Solid Endurance T50 rehab/walking treadmill has a 1.5 HP motor similar to the Sunny Health & Fitness SF-T7942 Walkstation.
It's not a super-powerful treadmill motor, but it offers the possibility to walk relatively long without overheating. In addition, it also integrates a small flywheel for improved motion stability.
The Endurance T50 treadmill offers a speed range between 0.1 MPH and 5.0 MPH. Thus, it is a walking treadmill, but the 5.0 MPH setting should also suffice for a light jog. In addition, the speed adjustment increments are 0.1 MPH. Therefore, you can easily adjust your pace without losing balance.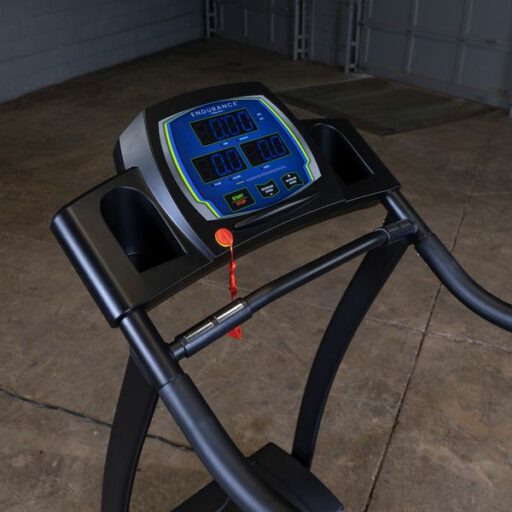 The console comes equipped with controls for gradual speed adjustment only. It does not have pre-set controls for specific speed settings like other machines. Thus, when you change the speed, you must keep the increase or decrease speed button pressed until you reach the desired speed.
Since the treadmill's motor is not super powerful and only offers a peak output of 1.5 HP, its power consumption is minimal. Therefore, even if you use it daily, it shouldn't increase the cost of your electricity bill by a lot.
Also, the motor itself doesn't generate a lot of noise when in use, but depending on how fast you go, your cadence may create more or less noise.
Console
The Body-Solid Endurance T50 rehab/walking treadmill comes equipped with a pretty simple console. It does not have pre-set programs or workout target settings. Unfortunately, it also does not have online connectivity and is not compatible with any fitness apps.
The console features a 3-window LED display. The top window indicates time and distance; the left shows pulse and calories, and the right shows speed. The speed and distance are in imperial units (MPH and miles).
However, if you simultaneously press the Speed Increase and Decrease buttons, you can set your treadmill to metric units (km/h and kilometers).
Unfortunately, the console's pulse reading function is hand-grip only. Therefore, the console cannot read your pulse if you wear an ANT+ or Bluetooth heart rate chest strap. So, if you want to monitor your pulse, you have to hold on to the metallic sensors integrated into the front handlebars of the machine.
The time/distance window alternates these two metrics, showing each for 5 seconds. Finally, the pulse and calories window shows only the pulse reading if you hold on to the pulse sensors and only the calories if you don't use the sensors.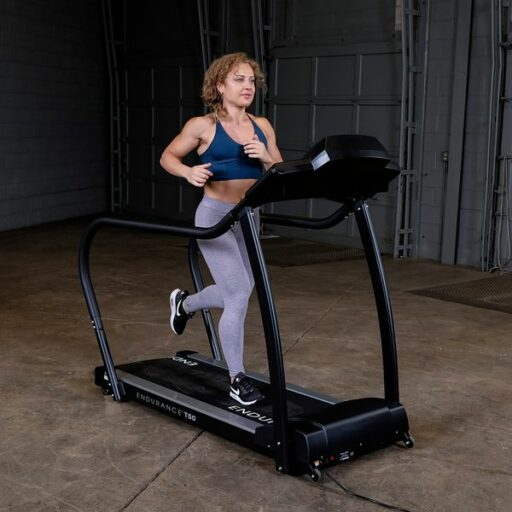 Overall, the console is pretty easy to use. It only has three buttons. These are Start/Stop, Increase Speed, and Decrease Speed. Furthermore, their functions are pretty obvious. Like any other treadmill, the T50 has a magnetic safety key.
Also, the console integrates a small shelf on which you can place your phone and two accessory trays, one on each side of the LCDs.
T50 Assembly and Maintenance
The assembly process of the Endurance T50 treadmill is pretty straightforward. First, the deck with the motors, rollers, belt, and other parts comes pre-assembled. Then, you only have to attach the two upright bars, the console, and the two extended handrails.
Consequently, it shouldn't take more than 30-40 minutes. The manual provides clear, step-by-step assembly instructions with attached schematics. However, the assembly tools do not come with the treadmill. Instead, you will need a set of Allen wrenches.
You only have to keep the machine clean, especially the belt, to prevent any dirt or textile fibers from being for maintenance caught in the motor for maintenance. The belt is pre-lubricated but should be re-lubricated every 4-6 months with treadmill silicone lubricant.
It would be best to inspect the machine periodically to ensure all the parts still hold tight in their places and the machine still functions properly.
Pros
Solid construction – can support users up to 310 lbs;
Long, 2-inch thick handrails with PVC foam sleeves for rehab training;
Transport wheels on the front base frame;
Adjustable stabilizers at the front and rear;
Cushioned deck;
Easy-entry ramp at the back of the deck;
Fairly decent 1.5 HP motor with a 0.1 – 5.0 MPH speed range;
Speed adjustment increments of 0.1 MPH allo you to find the perfect pace for your workout;
Easy-to-use console – it tracks time, speed, distance, calories, and pulse;
Both standard and metric units for speed and distance;
Device holder included;
Bottle holders included;
Pulse sensors integrated into the front handlebars;
Easy to assemble;
Little maintenance is required.
Cons
Pretty simple console – no workout programs, no online connectivity;
The treadmill does not have an incline function.
Body-Solid Endurance T50 Rehab/Walking Treadmill Summary
The Body-Solid Endurance T50 is a rehabilitation treadmill made for home use. It comes equipped with a 1.5 HP motor, offers a 0.1 – 5.0 MPH speed range, includes a set of extended handrails, and features a LED console that tracks time, distance, speed, calories, and pulse.
Although it does not have an incline system or pre-set programs, it does have pretty sturdy construction with a maximum user weight limit of 310 lbs. Moreover, it's a decent machine, remarkable for rehab training, light cardio, muscle toning, power walking, and jogging.
I hope you found this article helpful and informative. Would you please speak up if you have anything you'd like to share on the topic or any opinions about my website? I look forward to your comments, questions, and the sharing of ideas.
Please remember to consult your physician to determine if you have any medical or physical conditions that could put your health and safety at risk or prevent you from using the equipment properly. In addition, your physician's advice is essential if you are taking medication that affects your heart rate, blood pressure, or cholesterol level.