The ProForm Endurance 520 E Elliptical is an entry-level elliptical in terms of power and durability, but it's superior to other affordable ellipticals in terms of workout variety. This is one of the best options for a low fitness budget. The front-drive ProForm Endurance 520 E helps beginners stay motivated and reach goals efficiently with help from pro guidance.
The 520 E has a 19" elliptical path. This stride length is a good fit for most adults, although not for those who are unusually tall. For stride variation that helps shape your muscles, the machine also has several manual incline options. The max incline setting is 20 degrees.
The 520 E arrives with 18 workout programs designed by a certified personal trainer. These programs take the time and guesswork out of planning innovative workouts by controlling each exercise segment's duration and resistance.
The default display for this elliptical is a 5" LCD, but the console can hold your tablet computer at eye height for use with other apps. In addition, the 520 E is compatible with iFit Coach for unlimited training variety, a subscription service that allows unlimited workout downloads, among other advantages.
Learn more in my complete review below!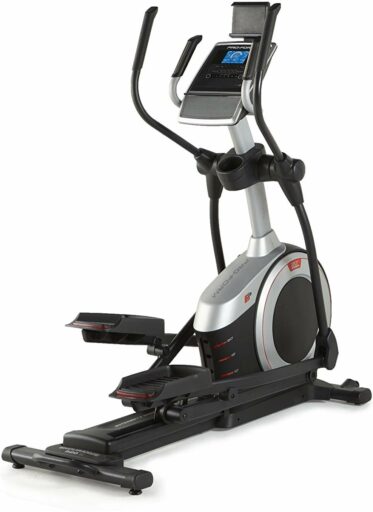 Product: ProForm Endurance 520 E Elliptical
Price: For a great deal on this elliptical, merely go here on Amazon
Warranty: Frame lifetime / Parts 1 year
My rating: 8/10
Affiliate Disclosure: As an Amazon Affiliate Program participant, I earn commissions on purchases made through links in this post. Full disclosure
Details and Specifications
Assembled dimensions: 67.1L x 25W x 66.6H inches (170.4 x 63.5 x 169 cm)
Product weight: 207 lbs (94 kg)
Flywheel weight: 15 lbs (6.8 kg)
Supported weight: 300 lbs (136 kg)
Stride: Adjustable, maximum of 20 inches (51 cm)
Incline: Manual, four levels, 0°-5°-10°-20°
Footplates: Standard with articulation
Handlebars: Moving and fixed (with pulse sensors)
Brake system: Eddy current
Resistance: Adjustable, 18 levels
Progress tracking console: 18 workout programs
Bottle holder: Yes
Speakers: Incorporated in the console
Warranty: Frame lifetime / Parts 1 year
520 E Frame
The ProForm 520 E elliptical features a one-piece, weighty frame, 207 lbs (94 kg), steel-made, which adds a lot of stability to the machine and your training. You can be sure that this elliptical trainer won't move or wobble while you work out, even during high-speed and intense training sessions.
The frame's back base is equipped with tiny leveling feet, quite helpful if the machine is on uneven flooring. Also, it features a transportation handlebar for a comfortable grip when moving the machine. The front base has transportation wheels, reasonably necessary for such a massive machine.
One of the most critical features of this elliptical machine is the adjustable incline mechanism. The incline is manually adjustable, not via the console. There are four slope levels between 0° and 20°, which expand this machine's training possibilities by a lot.
This also adjusts the stride of the machine, which can reach 20″ (51 cm). Therefore, the elliptical can offer a proper training posture for a broader range of users, height-wise. It can accommodate users between 4'6″ (137 cm) and 6'4 (193 cm).
The maximum lift of the footplates adds about 22″ (56 cm) to your height. Therefore, by adding this dimension to your size, plus a couple more inches, you can obtain the ceiling's required height in the room where you will work out on this elliptical.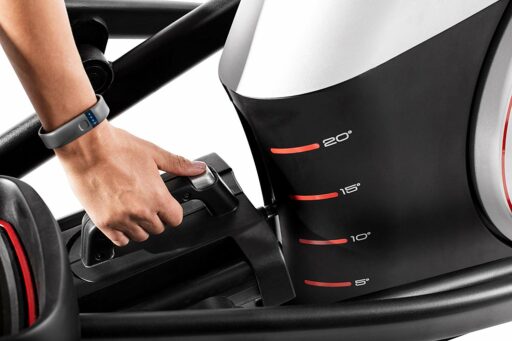 Handlebars and Pedals
Like most advanced ellipticals, the ProForm 520 features both fixed and mobile handlebars. They're non-adjustable, but they have an excellent curved design, with angled padding, to offer just the proper grip to every user.
The fixed handlebars include heart rate sensors, an essential feature for just about any user who monitors their heart activity during exercising.
The footplates of this elliptical are super-sized. They can accommodate users with a 13 shoe size or even higher. In addition, they fashion a ribbed design for enhanced adherence during workouts and prevent feet from slipping.
520 E Drive and Brake System
The ProForm Endurance 520 E elliptical features an eddy brake system, the best type of brake system. The machine requires a power source for the console and to be able to adjust the tension. The box includes the adapter for the machine. The adapter's input is at the bottom of the frame, just slightly above the front base.
The 520 E has 18 levels of resistance. On top of that, the incline level can add a lot to the intensity of your workouts.
The drive system features a rather large pulley, a 15 lbs. (6.8 kg) inertia-enhanced flywheel, and a heavy-duty v-belt, leading to a smooth, steady and quiet workout. Moreover, all these components are made to last and function at normal parameters for an extended time, even with low maintenance.
Console
First of all, it can indicate calories burned per session or hour, distance, pulse, RPM, the total number of strides, time spent working out, and speed. It also indicates the resistance level, and for resistance adjustment, there are nine digits on the console.
Two are for gradual (-,+) and 7 for a quick change, allowing you to select the 1,3,6,9,12,15,18 resistance settings quickly. Goal setting and tracking functions are also available with this console.
There are 18 workout apps available on this elliptical machine's console unit, and you can also customize your training routine. Each workout routine is a one-minute segment, with resistance and RPM programmed for each one.
Depending on the workout moment, the console will display various motivational messages to keep you as connected as possible to your workout.
One of the essential functions of the console is the "My Trail" tab. This function shows a track representing a 1/4 mile (400 m), indicating how many laps you have completed. This is not only a neat function, and it actually can serve as an essential base for professional training.
But maybe the best feature of this ProForm elliptical trainer is the iFit compatibility. This requires an iFit wireless module (sold separately), iFit.com membership, and access to a computer with an internet connection and a USB port.
Once you plug the iFit module into the console, it will enable your console to connect to the iFit database and website. Thus, allowing you to select from a wide array of workout routines from their database. In addition, you can measure your progress online, compete with other members, and even work out on different trails in the world, powered by Google Maps.
Amenities
Apart from the fitness-oriented capabilities, it includes several other amenities. For starters, it has a sound system compatible with most MP3 players. Therefore, if earplugs or headphones become too inconvenient, you can listen to your music or audiobooks through the console speakers.
There's a USB charging port you can use to charge your phone or any other device chargeable via USB. This is only a charging port, though; it cannot transfer data. The console's upper part has a tablet holder, great to have if you want to browse the web, view online videos or movies, or read while exercising.
This ProForm elliptical machine also features a water bottle attached right under the machine's console on the main handlebar post. Even though this may be an insignificant accessory, it's a good reminder that you must maintain an optimal hydration level during exercising.
520 E Assembly and Maintenance
This elliptical trainer's assembly isn't too tricky, but it's not exactly a walk in the park either. It should take up to 2 hours, and since the machine is rather heavy, it might require two people.
The box includes a very detailed and comprehensive assembly manual, which will guide you step-by-step through the assembly process. It also contains the tools necessary for the assembly.
The drive and brake systems come already assembled, sealed within the elliptical main body attached to the mainframe. You will need to connect the machine's bases, main handlebar post, arms, lateral leg bars, footplates, and console. The manual specifies that the machine's main joints require lubrication with a PTFE-based lubricant (i.e., SuperLube). Petroleum-based oils (i.e., WD-40) are not advisable.
The maintenance of this ProForm exercising machine is not exactly a bother. All you have to do is keep the rails of the incline mechanism. Also, clear the leg bars of any dirt and debris to ensure smooth motion. If the joints, pulley, or flywheel become squeaky, lubrication is required, evidently with a PTFE lubricant. The manual also includes complete guidelines for maintenance.
One of the essential aspects related to the assembly is the registration of your product. It's best to register your product with proformservice.com.
Pros
It's a heavy-duty elliptical;
The incline mechanism and adjustable stride are excellent features;
Sound system, tablet holder, and USB phone charger;
The fitness computer provides 18 preset training programs, has goal tracking, and allows you to customize your training programs.
It's compatible with iFit wireless modules.
Cons
The console is not telemetry enabled.
ProForm Endurance 520 E Elliptical Summary
The ProForm Endurance 520 E elliptical is one of the most advanced exercising machines that you can find at the moment. It covers all performance levels, from beginner to professional, offering a wide range of workout possibilities.
It's not made just for aerobic workouts, muscle toning, and keeping a good cardio shape. In particular, it's also a machine that can help you lose weight and train for long-distance runs. The machine also focuses on comfort, providing a fair amount of amenities to add maximum satisfaction to your workouts. It's a robust machine and a good investment.
I hope you found this article helpful and informative. If you have anything you'd like to share or any opinions about my website, please speak up. I look forward to your comments, questions, and the sharing of ideas.