The TRUE Fitness Performance PS300 Treadmill is a gym-quality machine and is as durable as they come, designed to take a pounding from multiple users without skipping a beat. This model also has an orthopedic belt and large running surface (21″x 60″), making it more comfortable to use than most home gym treadmills.
This unit's 3.0 horsepower motor supports a top speed of 12 mph. The motor has a 30-year warranty. The motorized incline is adjustable by up to 15%. Using a slight incline (1%) mimics the effects of outdoor track running. Steeper slopes bring dramatically fast results in terms of toning and calorie burn.
The crisp 8.5″ backlit console screen is easy to use. Workout programs adjust easily with Quick Speed and Quick Incline buttons. In addition, the console displays speed, time, distance, calories, heart rate, water bottle holder, and reading rack complete the package.
Programming on the TRUE Fitness Performance PS300 Treadmill is similar to that of a standard club treadmill. Its nine preset workouts include weight loss, speed training, heart rate control (two programs), rolling hills, and more. There's room to save four user-designed exercises as well.
Learn more in my complete review below!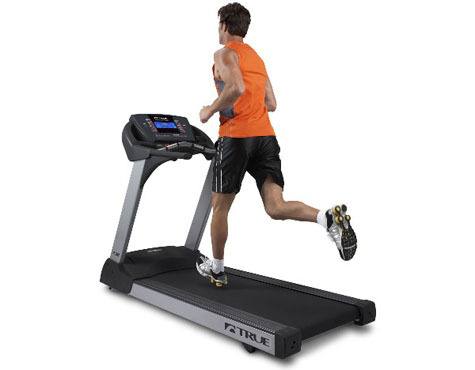 Product: TRUE Fitness Performance PS300 Treadmill
Price: For a great deal on this treadmill, merely go here on Amazon
Warranty: Frame lifetime / Motor 30 years / Parts 7 years / Labor 1 year
My rating: is 8/10
Affiliate Disclosure: As an Amazon Affiliate Program participant, I earn commissions on purchases made through links in this post. Full disclosure
Details and Specifications
Assembled dimensions: 79L x 31.5W x 55.9H inches (200L x 80W x 142H cm)
Belt dimensions: 60L x 21W inches (152.4L x 53.34W cm)
Assembled weight: 308 lbs (140 kg)
Weight capacity: 350 lbs (159 kg)
Deck cushioning: True Soft System
Motor: 3.0 CHP
Speed levels: 0.5-12 MPH
Incline: Automatic, 0-15%
Console: 9 preset workouts, HRC target, four user profiles, USB port, Bluetooth
Accessories: Accessory trays, tablet holder, Polar HR strap, water bottle
Warranty: Frame lifetime / Motor 30 years / Parts 7 years / Labor 1 year
PS300 Frame and deck
Like any commercial-grade treadmill, the TRUE Fitness Performance PS300 features a heavy-duty steel frame. The only plastic parts are the covers of the side rails, the console framework, and the motor's protection. With the frame fully assembled, the unit weighs over 300 lbs. Therefore, stability will never be an issue. In addition, its rear base has two large adjustable stabilizers with rubber pads, so you can perfectly level it on any flooring.
This TRUE Fitness treadmill doesn't have a folding design, such as the Nautilus T616. However, its front base features wheels, so relocating the unit shouldn't be too tricky once fully assembled.
The treadmill's footprint is approx. 79″L x 31.5″W (200 x 80 cm). Thus, it's not the best choice for a small room or apartment. Plus, TRUE recommends leaving at least 20″ (51 cm) of clearance on each side and at the front and at least 79″ (200 cm) of clearance at the rear for safe operation.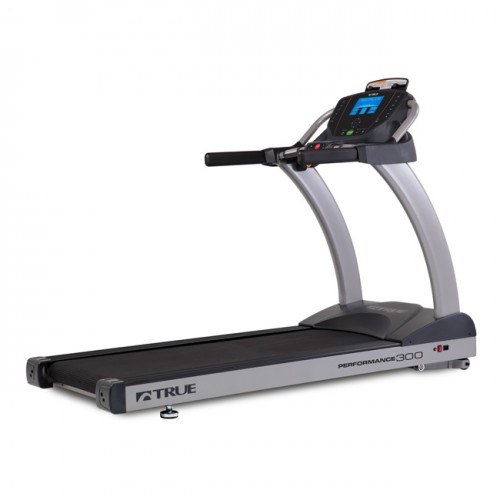 The machine's deck excels in sturdiness. It can support users up to 350 lbs (159 kg). It also integrates the TRUE Soft System and a high-adherence orthopedic belt to reduce impact during running and secure the overall running experience.
The belt offers a running surface of 60″L x 21″W (152.4 x 53.34 cm). Therefore, the machine can comfortably accommodate runners up to 6'5″ (196 cm), promoting a healthy, natural stride even when running at maximum speed.
This treadmill uses a set of 3″ rollers, which is quite a bit larger in diameter than other similar machines. In addition, they feature a crowned design to prolong the belt's lifespan and deliver better traction. Also, they integrate industrial-grade ball bearings, generating a smooth rotating motion.
Incline and step-up height
The TRUE Fitness Performance PS300 treadmill has an automatic incline system consisting of a motor and a lift at the deck's front. However, the incline is only adjustable from the console.
When selecting an incline level from the console, the lift will raise the deck's front accordingly. The deck doesn't offer a decline, though. Instead, it can only rise at the front, providing an incline.
The PS300 treadmill offers a maximum incline of 15%, which is approx. 8.5°. The slope is adjustable in 0.5% increments. However, the console also provides quick adjustment keys for the 3%, 5%, 7%, 9%, and 12% settings.
Some of the console's database programs involve inclines; therefore, if you choose them for your workouts, the slope (along with speed) will adjust automatically.
This TRUE fitness treadmill has a lower step-up height than other machines. This is because the surface of the belt is approx. 6.25″ (16 cm) above floor level. However, by setting the incline to maximum, its front part's height will gain several inches. Thus, it's best to place and use this machine in a room with a ceiling at least 10″ above your town height.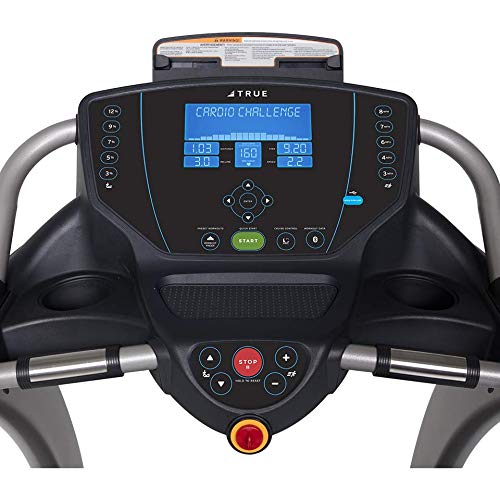 PS300 Motor
The TRUE Fitness Performance 300 treadmill uses a 3.0 CHP industrial-grade motor. It's a continuous-duty motor that performs well without overheating or slowing down during prolonged workout sessions.
It also performs excellently even if the user is close to the maximum allowed weight and engages in top-speed workouts. The motor also uses a small flywheel, adding to the rolling motion's overall stability.
The speed adjusts exclusively from the console. As for incline, you'll find gradual and quick adjustment keys for speed. In addition, the rate is adjustable in increments of 0.1 MPH. This allows you to see the perfectly suited pace for each workout.
The machine comes with a standard U.S. 3-prong plug, not an adapter, and has an 8′ (2.4 m) cable. It requires a 120V 15A power circuit. The machine should be solely connected to a power circuit to avoid surges without other devices connected to the same circuit.
Using a surge suppressor is not a bad idea to prevent any damage to the motors or console if a surge happens.
Console
The PS300 treadmill features a multi-function console with a sizeable 8.5″ LCD and a blue LED backlight. The display shows the current speed and incline level and tracks time, distance, heart rate, pace, and burned calories.
At the end of the workout, it will summarize elapsed time, distance, calories, average heart rate, max heart rate, and average speed.
You can export your workout data on a USB flash drive to upload it online to the Wahoo Fitness App and keep track of your progress.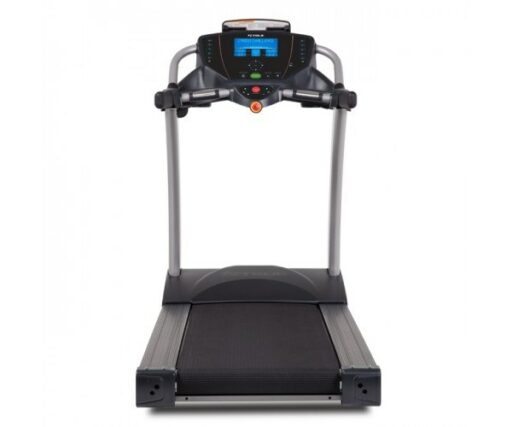 The console unit also has Bluetooth connectivity, compatible with Polar HR chest straps for wireless pulse monitoring. An HR chest strap accessory also comes included with the machine. However, you can still track your pulse via the EKG grips integrated into the front handles if you don't want to use a chest strap.
There are four user profiles on the console, so you can save various program settings by choosing between them quickly. Or, in case multiple persons use the machine, each person can have their workout settings. For each profile, you can input your weight so that the unit can calculate the number of calories burned more accurately.
In terms of extras, the console offers a tablet holder (or reading rack), two large bottle holders, and an accessory holder in the middle. A TRUE water bottle also comes included with the machine.
PS300 Pre-set Programs
The PS300 treadmill offers 1 Quick Start, 1 Manual, and nine preset programs. The preset programs are Hill Intervals, Rolling Hills, Cardio Challenge, Walk and Run Intervals, Speed Intervals, 5K, 10K, Half Marathon (13.1 mi/21.1 K), and Cruise Control.
There's also the HRC Cruise Control program, which has its special window section on the unit's display. This program allows you to lock in on your targeted heart rate. Then, One-touch HRC Cruise Control will automatically adjust your workout to maintain your target heart rate for your training duration.
There's a downside to the console workouts. The preset programs cap at 6 MPH speed, so if you're a professional runner, this speed setting won't suffice. Therefore, you will always have to improvise and use the manual speed/incline adjustment settings.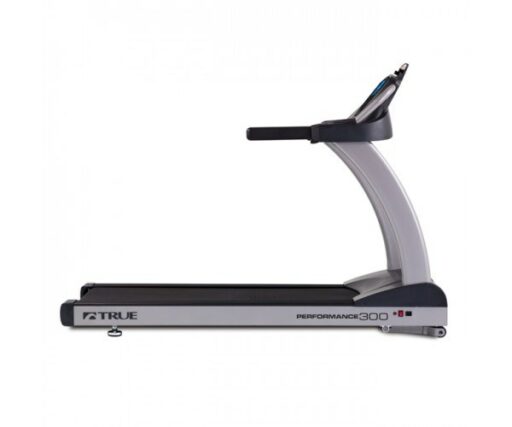 PS300 Assembly and Maintenance
First, this treadmill is weighty, so it is advisable to be carried and assembled by two people. The deck with the rollers, belt, and motors comes already pre-assembled.
So, the assembly only requires you to add the console masts and the console, a task that shouldn't take longer than 20-30 minutes. The manual provides step-by-step instructions, and several essential tools are included.
For maintenance, periodic belt lubrication is necessary, and a bottle of lubricant comes with the machine. It's also advisable to periodically vacuum under the deck and keep the running belt clean to prevent the motor's vents from becoming clogged with dust or other objects.
Pros
Commercial-grade construction – the unit can hold users up to 350 lbs (159 kg);
True Soft deck cushioning system;
Large, 3″ rollers for superior traction and a long belt lifespan;
Motorized incline, 0% – 15%;
3.0 CHP motor speeds up to 12 MPH;
The unit's speed adjust in increments of 0.1 MPH, allowing you to find the perfect pace for your workout;
Quick keys for speed and incline selection;
Motor equipped with a large flywheel for extra-smooth performance;
The PS300 has nine preset workout programs covering most training requirements;
HRC Cruise program, which automatically adjusts the speed to help you remain in your selected HR interval;
Four user profiles;
A USB port for workout data transfer;
Workout summary function;
Bluetooth function and Polar HR chest strap capability;
Polar chest strap included;
Bottle trays, accessory tray, tablet holder, and TRUE water bottle;
It provides a quiet operation;
Reasonably easy to assemble;
Little maintenance is required;
Excellent warranty.
Cons
No sound system;
No cooling fan;
The maximum speed for the preset workout programs is only 6 MPH, but you can adjust the speed manually up to 12 MPH.
TRUE Fitness Performance PS300 Treadmill Summary
The TRUE Fitness Performance PS300 is a commercial-grade treadmill with a 3 CHP motor (0.5-12 MPH speed) and motorized incline (0%-15%). It offers a sizeable 60″ x 21″ running surface and an orthopedic deck with the TRUE Soft-cushioning system. Additionally, it's a heavy-duty machine that can withstand users up to 350 lbs.
Moreover, it's perfect for interval training, intense cardio training, stamina development, muscle toning, and weight loss. Of course, it's not exactly an affordable machine, but considering that it offers commercial quality and comes with an excellent warranty, it stands up to the price and the test of time.
I hope you found this article helpful and informative. Please speak up if you have anything you'd like to share on the topic or opinions about my website.? I look forward to your comments, questions, and the sharing of ideas.
Please remember that you should consult your physician to determine if you have any medical or physical conditions that could risk your health and safety or prevent you from using the equipment properly. In addition, your physician's advice is essential if you are taking medication that affects your heart rate, blood pressure, or cholesterol level.