The Nautilus T616 Folding Treadmill is a heavy-duty treadmill. It is ideal for walking, jogging, and running either for weight loss or cardio workouts. The built-in heart monitor program, allows you to keep your heart rate constant as the treadmill adjusts the speed and incline for you.
This treadmill is ideal for runners. The T616 features include a reliable 3.0 horsepower (hp) motor (continuous duty), which can reach speeds up to 12 miles per hour (in increments of 0.5 mph). The treadmill can incline between 0 (flat) to a 15 percent grade.
The large deck is a 20″ x 60″ area for walking, jogging, and running — ideal for toning up, managing your weight, and improving your cardiovascular health. The deck suspension system supports people up to 300 pounds in weight and features Nautilus's StrikeZone cushioning system.
The T616 treadmill includes a folding frame with SoftDrop™ folding technology. This model provides Bluetooth® connectivity so you can sync with the free RunSocial® App, or use the free Nautilus Trainer™ 2 App to track your progress. The T616 Treadmill also has a USB Port, which can export your Workout Results to a USB Flash Drive to later upload to the Nautilus Connect™ website. You can also charge your devices with the USB port.
Learn more in my complete review below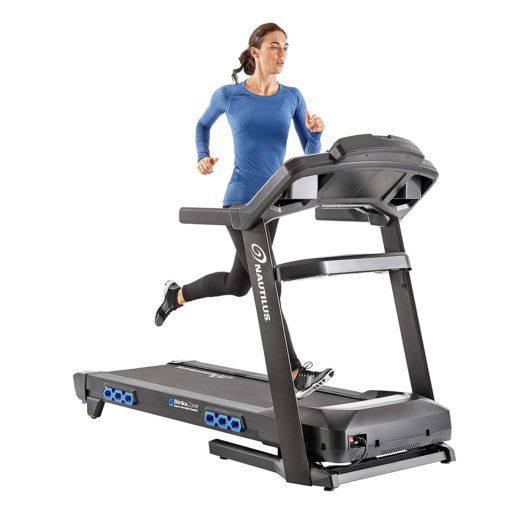 Product: Nautilus T616 Folding Treadmill
Price: For a great deal on this treadmill, merely go here on Amazon
Warranty: Frame 10 years / Motor 10 years / Mechanical 2 years / Electrical 2 years / Labor 1 year
My rating: 8.5/10
Amazon Affiliate Disclosure: I may earn commissions from purchases made through links in this post.
Details and Specifications
Assembled dimensions: 77.2L x 35.2W x 57.6H inches (196L x 89.4W x 146.3H cm)
Tread belt dimensions: 60L x 20W inches (152.4L x 50.8W cm)
Product weight: 215 lbs (98 kg)
Max. weight capacity: 300 lbs (136 kg)
Deck cushioning: StrikeZone, 6-cell
Motor: 3.0 CHP
Speed levels: 0-12 MPH
Incline: Automatic, 0-15%
Console: 26 workouts, Bluetooth enabled
Amenities: Chest strap, sound system, cooling fan, USB charging port, 2x bottle holder
Warranty: Frame 10 years / Motor 10 years / Mechanical 2 years / Electrical 2 years / Labor 1 year
T616 Deck construction and frame
Next, to the motor, the deck of a treadmill is one of the essential parts that require thorough analysis before purchase. The Nautilus T616 features a 25 mm deck, extremely durable, which doesn't overly flex, even if the user is close to the specified, 300 lbs (136 kg) weight capacity of the machine.
However, the deck is not entirely rigid. It does integrate a cushioning system, consisting of 6 hexagonal suspension cells (on each side). As opposed to the older T616 model, the cushioning cells are placed three at the front and three at the rear of the deck. Therefore, the deck will absorb up to 30% of the workout impact on your joints.
In case you're wondering, the deck is designed to support running workouts, not just light jogging or walking. It also features a spacious running surface of 60″L x 20″W (152 x 51 cm), which makes this treadmill adequate to runners up to 6'6″ – 6'7″ (198-201 cm). A runner of this caliber should be able to run comfortably, without feeling that the belt is too short.
The machine uses a 2-ply belt, thicker and more durable than the Nautilus T614, which only features a 1-ply belt. The belt is (powered) by 2.5″ crowned rollers, which deliver an excellent grip and high-traction; they are designed to prolong the belt's lifespan.
Folding design
The Nautilus T616 treadmill has a folding design. The deck folds up between the machine's grips, and it is locked into place by a hydraulic cylinder. This folding mechanism also acts as a soft-drop device, as it will slowly lower the deck when you unfold it.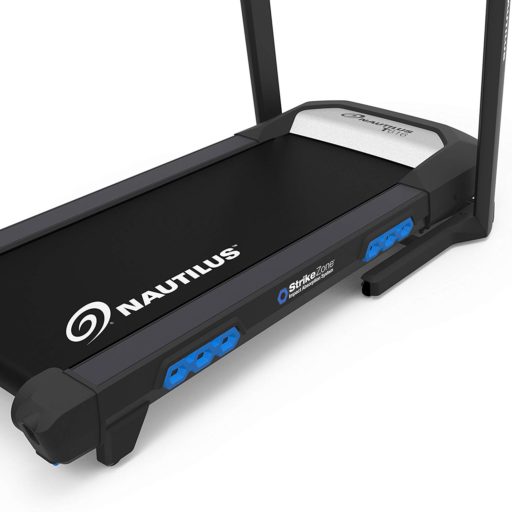 With the deck unfolded, the machine has a rather large footprint, taking 77.2″L x 35.2″W (196 x 89.4 cm) of floor space, dimensions to which you should also add the safety clearance space, on the sides and especially at the rear.
This means it may not be precisely the most suited fitness machine for a small room or apartment. However, with the deck folded up, its footprint will remain at 32″L x 35.2″W (81.2 x 89.4 cm).
The deck rests at the rear on two small feet equipped with caster wheels. However, the steel base of the frame at the front also features wheels. Once assembled, the machine is transportable with the deck folded up by leaning it on its metallic base wheels. Also, to fold the deck up, a person should be able to lift approx — 50 lbs (23 kg).
And finally, another extra feature that the new 2017 Nautilus T616 has over the older model is the bar that connects the two main console masts. You can attach a custom tray on it to place other accessories, or you can hang a towel on it to have it close by during your exercising sessions.
Incline and step-up height
This Nautilus treadmill features a console assisted, motorized incline system. It supplies 0%-15% incline, which is pretty fair for a treadmill made for home use. Differently put, it doesn't offer 30% incline or more incline, like most commercial grade treadmills, but still, the supplied slope can diversify your workouts by a lot.
Running at 8-10 MPH, with a 15% incline, for example, it's quite a challenge, even for users with a decent level of fitness.
Since the incline is motorized, it is only adjustable from the machine's console. And for that, there are gradual and quick adjustment keys. If you are using one of the console's preset programs that involve incline, the treadmill will adjust it automatically.
The deck's step-up height is approx — 9″ (23 cm). Also, when set at a maximum incline, it will gain approx. 6″ (15 cm) more. Therefore, to determine the required ceiling height for you to use this machine safely, add at least 20″ (51 cm) to your height.
T616 Motor
The Nautilus T616 uses a 3.0 CHP, industrial motor. It's a continuous-duty motor, made to perform well, without overheating or slowing down during prolonged workout sessions. It also performs excellently even if the user is close to the maximum allowed weight, and engages in workouts at maximum speed. The motor also uses a small flywheel, which also adds to the overall stability of the rolling motion.
Speed is adjusted exclusively from the console. Just as for incline, you'll find gradual and quick adjustment keys for speed. Speed adjusts in increments of 0.1 MPH. This gives you the possibility to see the perfectly suited pace for you for each workout.
The machine comes with a standard U.S. 3-prong plug, not an adapter. It requires a 120V 15A power circuit. It's advisable to connect the treadmill to a dedicated power circuit, to avoid surges. Also, it's not a bad idea to use a surge suppressor, to prevent any damage to the motors or console, in case a surge happens.
Console
The console features two main LCDs with a blue LED backlight. The top, smaller one shows your fitness score, your goal, and the current user. Above it, there's also a suggestive pacer icon.
The bottom, the larger display shows a wide array of workout metrics, including time average, number of laps, heart rate, calories burned, speed level, incline level, and the profiles of the program in use.
Also, as opposed to the console of the older Nautilus T616, this one features a small LCD at the top of the unit, which indicates the Bluetooth connection, the USB stick connection, and whether or not the audio system is in use.
When it comes to the fitness-oriented functions, the Nautilus T616 console can track distance, time, heart rate, calories, and pace. It also indicates the current speed and incline settings. The distance can be measured in miles or km, while speed is in MPH or km/h.
There are also Time-per-Lap and Lap-Count functions. Differently put, a lap measures 0.25 miles (400 m), and you can view how many laps you have completed and what's your time per lap. The console also offers goal tracking functions, giving you the possibility to set up goals for distance, calories and time, and observe your progress during your workout towards those goals.
Workout Programs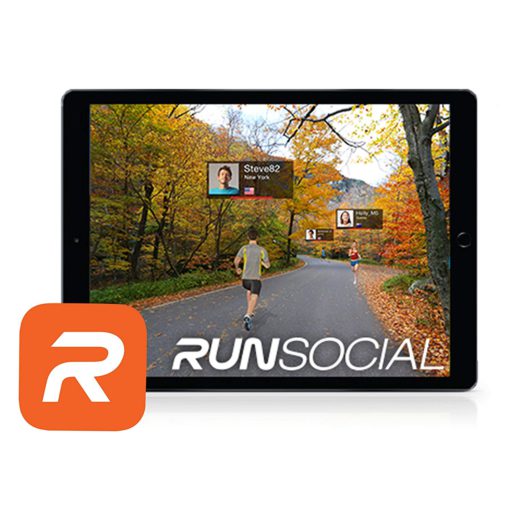 In terms of fitness programs, this console unit features 26 in number, including 1 Quick Start, 1 Goal, 18 Profile Programs, 2 Fitness Test, and 4 Heart Rate. There also are four unique User Profile settings, a great feature to have if multiple persons use the treadmill, or if you want to alternate between different goals.
A User Profile program will require you to input data such as name, gender, height, weight, and age, to provide accurate tracking for your calories and to interpret better your fitness level.
When it comes to workout data transfer, the console is Bluetooth enabled. This means it can sync with another Bluetooth device, which has the Nautilus Trainer fitness app. This way, your workout data will automatically save into your account. On the other hand, listening to music on the machine's speakers via Bluetooth is not possible.
Last but not least, the console of this machine is telemetry enabled, meaning that it can read pulse via a chest strap transmitter, which (is included) with the box. However, there are also EKG sensors integrated into the machine's front handlebars.
Amenities
The console of this treadmill is quite a multi-functional unit. Along with a consistent array of fitness features and functions, it also offers several amenities. So, we'll start with those. For this matter, the machine provides a 2-speaker sound system, 3-speed cooling fan, a media shelf, a USB charging port, and two bottle/accessory holders.
The sound system is compatible with most MP3 devices, smartphones, and tablets. It gives you the possibility to keep your music close, without using earbuds, which may be inconvenient when you run. The sound rendered is not super-quality, but it's pretty crisp, compared to the speakers of a tablet or phone.
There are no volume adjustment keys on the console, though. You will have to adjust the volume from your device. There is, however, an On/Off setting for the sound.
The cooling fan offers three-speed adjustment settings. It's a rather small fan, though, and may not suffice if you undertake long-distance runs. But it can still provide some cooling if needed.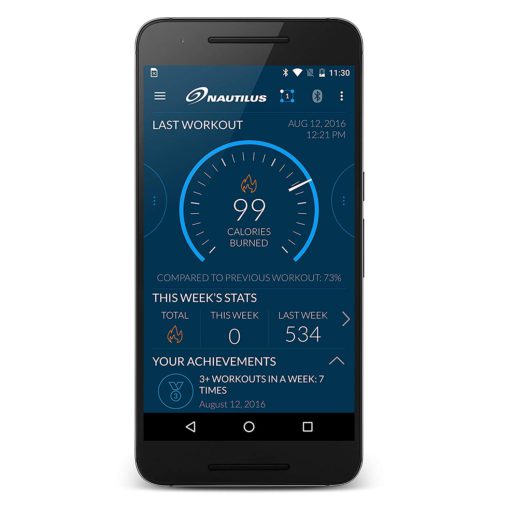 The media shelf sits above the console displays, between the speakers. Thus, in case you will place a tablet or a book on it, it won't cover your fitness readings. The media shelf is wide enough to accommodate just about any tablet in landscape position.
The console also features a USB port for workout data transfer. In other words, you can save your workout data on a USB flash drive and copy it into your NautilusConnect or MyFitnessPal account, to keep better track of your progress.
However, the USB port also acts as a charging port. You can connect your phone or tablet to it via USB cable and charge it while you run.
T616 Assembly and Maintenance
Considering that this treadmill weighs approx. 215 lbs (97.5 kg), it goes without saying that transport and assembly require at least two people. It's best to assemble it in the place where it will be in use. Also, placing it on a rubberized mat can help prevent any damage to the floor, and maximize its stability, in case the floor has irregularities.
The assembly process itself is not very complicated. The deck comes fully assembled, with motors, rollers, and belt in their places, connected to the front part of the metallic frame. You will need to attach the console masts and the console, task which shouldn't take more than one hour — tools and assembly manual (are supplied).
Maintenance requires keeping the belt and deck clean, free of any objects that may be caught by the belt and dragged into the rollers. Also, the belt should be (lubricated) with a silicone-based lubricant, after every 25 hours of use.
Pros
Sturdy overall construction;
Able to support users up to 300 lbs, even for running sessions;
Foldable deck;
Deck cushioning, which absorbs up to 30% of the workout impact on your joints;
3.0 CHP motor, for prolonged workouts;
Speed control in increments of 0.1 MPH, offering the possibility to find the pace that fits perfectly to you;
Automatic incline, 0% – 15%;
26 workout programs;
A USB port for charging your tablet or phone, and for workout data transfer;
Bluetooth enabled;
Various amenities, such as sound system, media shelf, 3-speed fan, bottle/accessory holders;
Pulse sensors and telemetry enabled console;
A Heart rate chest strap is (included);
Fairly easy to assemble;
Smooth operation;
Little maintenance required;
Consistent warranty plan.
Cons
Heavy and bulky machine, rather difficult to transport and handle;
The cooling fan is not exactly the best.
Nautilus T616 treadmill Summary
The Nautilus T616 treadmill offers commercial quality in a fitness machine designed for home use. It's a machine with sturdy construction, a powerful motor, automatic incline, Bluetooth enabled, and an impressive array of fitness programs.
Considering its price for around $1,000, it's a product with an excellent price/quality ratio. It's a treadmill built to withstand running workouts, not just walking and jogging.
Thus, it's great for cardio, interval training, stamina and strength workouts, and of course, for weight loss. You can burn up to 6-700 calories per hour by running on this machine. All in all, it offers excellent value for the price.
I hope you found this article helpful and informative. If you have anything that you'd like to share or opinions about the content on my website, please do speak up. I look forward to your comments, questions, and the sharing of ideas.
Recommended articles:
Please follow and like us: