From the Nautilus Performance Series comes the R618 Recumbent Bike. Designed for serious cyclists looking to find their edge, the R618 delivers tons of comfort, dozens of training programs, Bluetooth connectivity, and free app-based tracking tools that help boost performance and results.
The Nautilus R618 Recumbent Exercise Bike utilizes an effective 30 lb flywheel and ECB resistance system, which combine to give smooth and consistent momentum throughout the ride.
Furthermore, there are 25 resistance levels to keep you challenged and 29 programs to keep your workouts varied, including intervals, challenges, weight management, heart rate, and custom programs.
The Nautilus R618 comes with a SightLine tilting console. Specifically, it allows different users to get the best viewing angle of the console's dual STN blue backlit LCD screens. In addition, the LCDs have motivating workout stats, including time, speed, distance, calories, and heart rate. Also, it is compatible with the Nautilus Trainer 2 App and RideSocial via Bluetooth connectivity.
Learn more in my complete review below!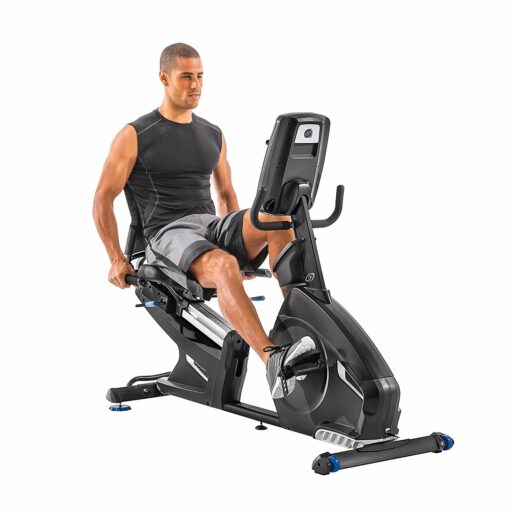 Product: Nautilus R618 Recumbent Bike
Price: For a great deal on this bike, merely go here to Nautilus.com
Warranty: Frame 15 years / Parts 3 years / Electronics 3 year / Labor 1 year
My rating: 8.25/10
Affiliate Disclosure: As a Nautilus and Schwinn Partner Program participant, I earn commissions on purchases made through links in the post. Full disclosure
Details and Specifications
Assembled dimensions: 67.3L x 26.4W x 48.8H inches (171L x 67W x 124H cm)
Assembled weight: 89.5 lbs (40.6 kg)
Flywheel weight: 30 lbs (13.6)
Supported weight: 325 lbs (147.4 kg)
Resistance: Eddy current, 25 levels
Fitness console: 29 programs, four user profiles, Bluetooth connectivity
Amenities: Sound system, cooling fan, media tray, USB port, bottle holder
Warranty: Frame 15 years / Parts 3 years / Electronics 3 year / Labor 1 year
R618 Frame construction
The Nautilus R618 recumbent bike features a frame slightly more substantial than the previous R616 model. It's a steel tubing frame, weighing 107.1 lbs (48.6 kg), and the weight contributes to the bike's overall stability.
And on top of that, both base tubes feature adjustable, rubberized levelers, which give you the possibility to stabilize the bike correctly, even if the floor has irregularities.
The bike's frame has a step-through design, a feature that can be quite a plus for users with disabilities. You can easily mount the seat or get up to adjust it and dismount without any difficulties.
All the steel parts in the frame construction come with corrosion-resistant industrial powder, black being the only available version. The rail the seat mounts on is made of aluminum and has a natural finish.
The bike's construction integrates several PVC parts, but these only fulfill a cosmetic and protective role. Among them, I can count the covers of the seat base, the drive system's surfaces, the base caps, the seat rail caps, and the bottle holder. The PVC parts are black and dark gray.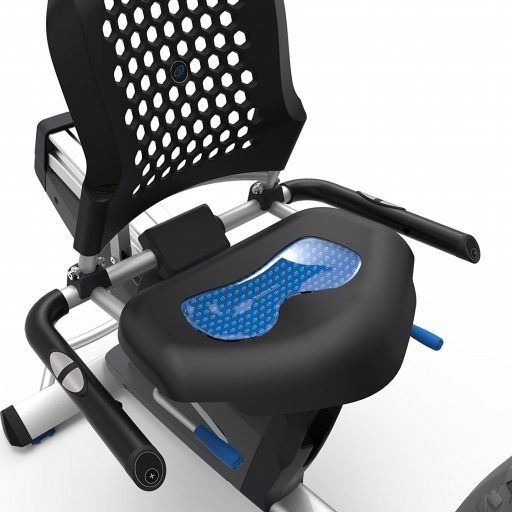 One last aspect to mention here regards the bike's footprint. Like most recumbent exercise bikes, the Nautilus R618 is relatively large.
It takes 67.3″L x 26.4″W (171 x 67 cm) of floor space and may not be the best choice regarding a fitness machine for a small apartment. Additionally, it requires at least two clearance feet on each side and at the rear for safe operation.
Seat & handlebars
The Nautilus R618 recumbent bike features a seat that excels in ergonomics. First, it integrates a thick layer of gel cushioning and has a contoured surface to adapt perfectly to your body and deliver superior comfort. Second, if you're wondering, the seat is approx—16″ (41 cm) wide.
The backrest is a heavy-duty PVC material featuring a vented design to prevent your back from overheating. Also, it promotes healthy blood circulation. It is angle-adjustable, offering several adjustment positions. The lever controls its position on the right side under the seat.
Nonetheless, the whole seat assembly is adjustable, as well. It's mounted on an aluminum rail, offering a long adjustment span. Therefore, the bike can accommodate all sizes, even tall users over 6'7″ (201 cm). It also has an impressive user weight capacity, supporting persons up to 325 lbs (147.4 kg).
When it comes to handlebars, this Nautilus exercise bike comes with two sets, one attached to the seat assembly and the other connected to the console mast. The handlebars attached to the seat integrate pulse sensors and resistance controls.
They cannot be adjusted independently from the seat, but they move with the seat assembly along its adjustment rail. Both sets of handlebars feature rubberized grips for optimal comfort.
R618 resistance and drive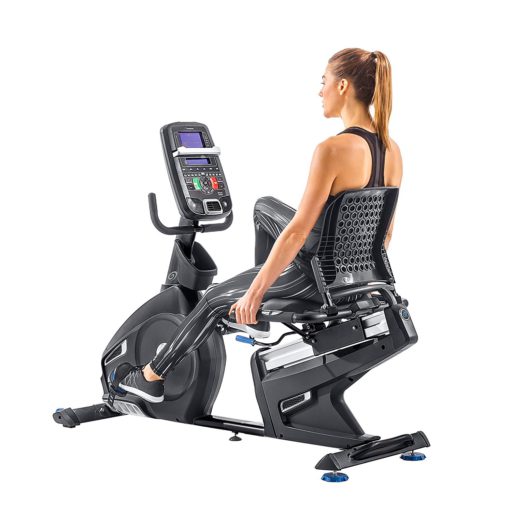 The Nautilus R618 recumbent bike features a motor-assisted magnetic resistance system or, differently put, an eddy current brake. It integrates a small servo motor and a magnetic resistance pad, and it requires a connection to a power source and an AC power adapter (supplied).
Upon setting the control unit's resistance level, the servo motor will change the magnetic brake element's position about the flywheel, generating more or less resistance.
This Nautilus exercise bike makes available 25 exceptional levels of resistance. The lower settings are pretty light, suitable for elderly users or users who require recovery training. On the other hand, the 23-25 resistance settings are pretty severe, simulating a steep climb, offering quite a challenge for anyone who wants consistent cardio training.
Like most other exercise bikes with a magnetic resistance system, the Nautilus R618 features a belt-drive, and a reasonably heavy flywheel, weighing 30 lbs (13.6 kg). Equally important, the wheel is perimeter weighted and delivers smooth motion, a steady feel, and consistent momentum.
The cranks are made of solid steel, finished with weighted, self-leveling pedals. Each pedal has an adjustable strap to enhance foot stability.
Console
The console features two LCDs with a blue LED backlight and significant digits for easy reading. Specifically, the larger display indicates the workout program profiles, the selected goal, your progress towards it, the current workout program's name, the resistance level, and the heart rate interval.
The smaller display indicates time, speed, distance, RPM, resistance level, calories burned, and heart rate.
Heart rate is (monitored) via the sensors in the fixed handlebars of the machine. Furthermore, the console is also telemetry enabled. Thus, it's compatible with wireless chest strap HR transmitters and one HR chest strap (is included) with the bike.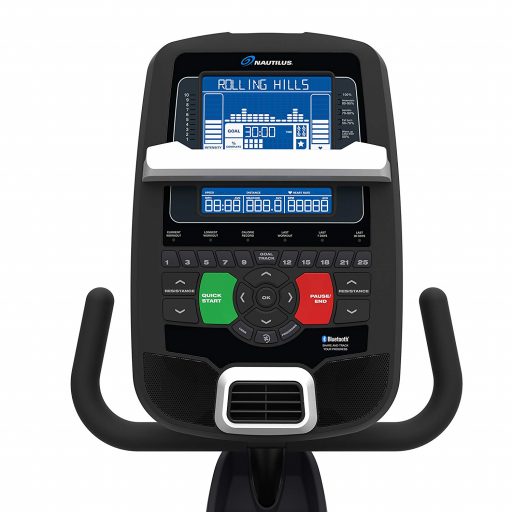 There are four user profiles available, each profile recording the workout results, which are saveable later. To set up a user profile, you will have to input personal data such as weight, height, age, gender, and name. Therefore, the unit can estimate your calorie-burning more accurately.
There are 12 pre-set workout programs built-in the console, including Rolling Hills, Ride in the Park, Easy Tour, Stream Crossing, Pike's Peak, Mount Hood, Pyramids, Summit Pass, Uphill Finish, Cross-Training, Intervals, and Stairs.
Also, it gives you the possibility to set up goals for time, distance, and calories. There's also a Fitness Program, a Recovery Program, and an HR control program with four difficulty levels.
Regarding amenities, the console integrates a media tray, a sound system, and a cooling fan. The audio system is compatible with most MP3 players, smartphones, and tablets, consisting of two speakers at the lowest corners of the console.
Although it is not too overpowering, the workout fan does provide some cooling for your workout, and you can change its angle by tilting the console.
R618 Bluetooth Connectivity
This feature allows you to sync the bike's console with your smartphone, tablet, or laptop to access and use the Nautilus Trainer 2 online app. Also, via a Bluetooth connection, you can directly transfer your workout data into your NautilusConnect or MyFitnessPal account.
But even if you won't use the Bluetooth connection, you can still transfer your workout data into your online fitness accounts via USB. The console unit has a USB port for this, which will also charge your device.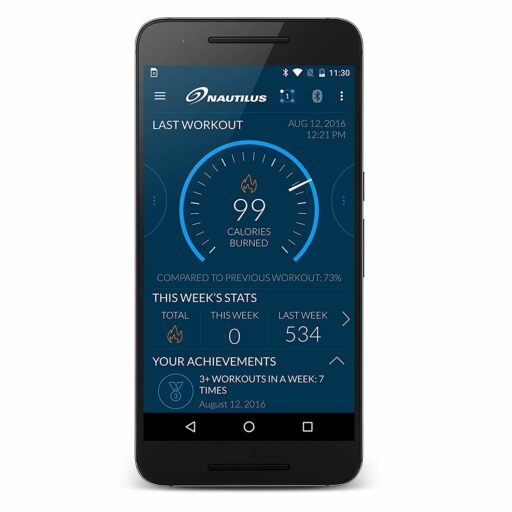 This exercise bike is also compatible with RideSocial. Based on a GoogleMaps trail, this online application allows you to view and ride on a virtual trail on your smart TV, tablet, or phone. For this purpose, you can create cycling events, ride alongside your friends, and benefit from many other interactive and fun features.
R618 Assembly and Maintenance
As I mentioned earlier, the Nautilus R618 recumbent exercise bike is heavy, and two people should carry and assemble the bike. However, the bike's assembly is far from being complicated. For example, its drive and resistance elements come already pre-assembled.
Thus, the assembly requires you to connect the base tubes to the mainframe, the recumbent handlebars, the backrest, the seat, adjustment handles, the console mast, the console, and the pedals.
Therefore, it may take up to two hours, but the included manual provides detailed assembly steps, so anyone should be able to do it — also, the tools required for assembly come with the bike.
It is necessary to periodically inspect the bike for loose bolts and parts and retighten them if necessary for maintenance. Also, keep the bike dust and moisture-free. The internal components come pre-lubricated from the factory and shouldn't require further lubrication for an extended period.
Pros
Sturdy frame, commercial quality construction, able to accommodate users up to 325 lbs;
Adjustable foot stabilizers and transport wheels;
Oversized seat with a thick layer of gel cushioning for maximum comfort;
Reclining backrest with a vented design to prevent overheating and promote healthy blood circulation;
Long adjustment span for the seat, the bike being able to accommodate users up to 6'7″ or even taller;
Recumbent handlebars with pulse sensors and resistance controls;
Weighted pedals with straps and standard threads (easy to find replacements for them, if needed);
25 levels of resistance;
29 workout programs, four user profiles, goal setting functions;
Bluetooth connectivity and compatibility with the Nautilus Trainer app, NautilusConnect, and MyFitnessPal;
RideSocial compatible;
A USB port for manual workout data transfer, which also acts as a charging port for your smartphone or tablet;
The console displays feature LED backlight, enhancing readability;
Angle-adjustable console;
Sound system included;
Cooling fan included;
Tablet tray included;
The bottle holder included;
Wireless HR chest strap included;
Smooth and quiet operation;
Easy to assemble;
Little maintenance required;
Excellent warranty.
Cons
A tablet placed on the media holder will cover the LCD;
The cooling fan is not too overpowering.
Nautilus R618 Recumbent Bike Summary
In brief, the Nautilus R618 is a recumbent bike that features commercial-grade construction and a motor-assisted magnetic resistance system with 25 levels. Accordingly, it excels in comfort factors and micro-adjustability.
Furthermore, it has a multi-function console with 29 workout programs, four user profiles, Bluetooth connectivity. Also, you can sync a smart device with the RideSocial app, NautilusConnect, or MyFitnessPal apps.
Moreover, it's an excellent fitness machine for light to medium cardio training, interval training, recovery training, and weight loss. And finally, although it's not one of the most affordable models, it's still a few $100s cheaper than most commercial bikes; therefore, it features an excellent price/value ratio.
I hope you found this article helpful and informative. If you have anything you'd like to share or opinions about the content on my website, please speak up. I look forward to your comments, questions, and the sharing of ideas.