The PYHIGH S2 Indoor Cycling Bike has a fitness monitor that tracks time, distance, speed, and burned calories. In addition, it also comes with a standard friction resistance system consisting of a felt pad attached under the frame's main bar.
You can increase or decrease the resistance by turning the knob or pushing it for a quick stop, as it acts as an emergency brake. The seat and handlebars are adjustable, the saddle is 4-way adjustable, and the handlebars are 2-way adjustable.
The 35 lb (16.9 kg) flywheel is perimeter-weighted and designed for high inertia and smooth momentum. Furthermore, it comes with TPI bearings, which offer you a much more stable and comfortable exercise experience. The anti-slip foot pedals are suitable for all sizes and come with an adjustable strap.
The PYHIGH S2 is the lighter version of the PYHIGH S7 that I've already reviewed here. It's an indoor cycling bike made for home use but does offer very sturdy construction and can support most spin workouts.
Learn more in my complete review below!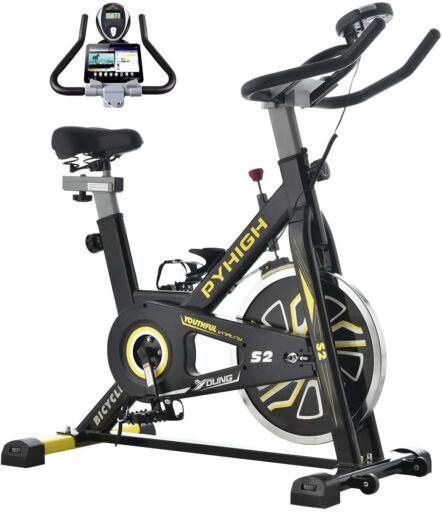 Product: PYHIGH S2 Indoor Cycling Bike
Price: For a great deal on this bike, merely go here on Amazon
Warranty: 1 year limited
My rating: 8.5/10
Affiliate Disclosure: As an Amazon Affiliate Program participant, I earn commissions on purchases made through links in this post. Full disclosure
Details & Specifications
Assembled dimensions: 40.9L x 21.7W x 46.1H inches (102L x 55W x 117H cm)
Assembled weight: 79 lbs (35.8 kg)
Flywheel weight: 35 lbs (16.9 kg)
Supported weight: 275 lbs (125 kg)
Seat: 4-way adjustable
Handlebars: 2-way adjustable
Pedals: With toe cages
Drive: Belt
Resistance: Friction, felt-pad
Fitness Monitor: Time, speed, distance, calories, odometer
Accessories: Bottle holder
Warranty: 1 year limited
S2 Frame Construction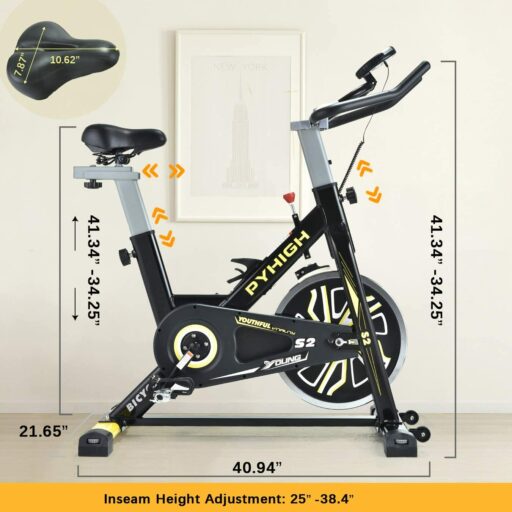 The PYHIGH S2 indoor cycling bike features a standard triangular heavy-duty thick steel tubing frame. The central part of the structure comes double-coated with corrosion-resistant and abrasion-resistant paint.
The color used is black, with the "PYHIGH" logo painted yellow. In addition, the seat post and the handlebar post feature a chrome finish, which is also corrosion-resistant.
The bike's frame features a step-up element consisting of a short horizontal bar welded to the seat tube and the frame's main oblique tube. Not only that, this bar can offer some support during mounting, but it can also serve as support for leg stretching or as a step-up/step-down element for specific spin workouts.
Although it is not as heavy as light-commercial or commercial spin bikes, the PYHIGH S2 still weighs approximately 79 lbs (~35 kg), which is more than twice the average road bike's weight. However, this weight delivers excellent stability. Plus, both the rear and the front base bars come with adjustable stabilizers concealed by their ABS covers.
Once assembled, it's not too difficult to move. The front base incorporates two transport wheels, which facilitate its relocation. But the bike's frame does not fold.
The bike isn't giant. With the frame fully assembled, its length is approximately 41″ (104 cm), while its width is approximately 22″ (55 cm). Therefore, the unit requires a usage surface of at least 70″ x 50″ (178 x 127 cm) for safe operation.
Also, the bike's highest point is approximately 46″ (117 cm) above floor level when the handlebars are most elevated.
Seat & handlebars
The PYHIGH S2 includes a highly comfortable seat for an indoor cycling bike. It integrates a thick layer of cushioning and contoured and longitudinal grooves to promote breathability during seated workouts.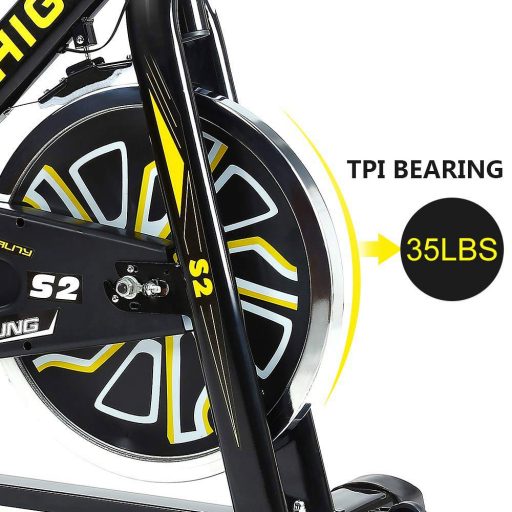 Its upholstery is a sweatproof durable vinyl material. It's a saddle that provides more comfort than the slim spin seat.
The saddle features a standard attachment system. Therefore, if you want to replace it, you should find many compatible options, including any bike shop or online.
The seat offers 4-way adjustability (up, down, forward, backward). In addition, its verticle post offers 4.5″ of adjustment (~12 cm), from 33″ (83.8 cm) to 37.6″ (95.5 cm).
Also, its horizontal slider provides several inches of front-to-back travel. Thus, the bike can accommodate users between 5'2″ and 6'4″ (157 – 193 cm), promoting a correct leg extension.
The bike's handlebar can adopt multiple grips, including standard, aero, parallel, or race. In addition, it has a loop aero bar, which you can use for a close grip, or to which you can attach a tablet holder. The fitness console also connects to it. Finally, the side handlebars feature a layer of rubber foam to provide a comfortable grip.
Unfortunately, the bike's handlebars do not integrate HR pulse sensors like some other spin bikes, and the fitness monitor does not have a pulse reading function. Therefore, if you need to keep an eye on your heart rate during workouts, you must use a separate device.
S2 Drive & resistance
The PYHIGH S2 is lighter in capacity than the S7 model. Therefore, its flywheel weighs 35 lbs (19.9 kg). It's a perimeter-weighted flywheel designed for high inertia and smooth momentum. It's chrome-plated, while its side covers are ABS material and of the same colors as the rest of the bike.
The flywheel is bi-directional. This means you can pedal in reverse. However, you cannot coast on the bike. When pedaling in reverse, the resistance remains the same, given the amount of friction generated by its brake pad.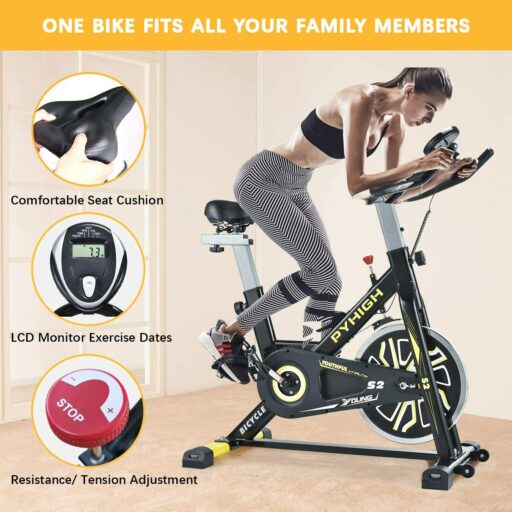 There are three main advantages of an exercise bike belt drive. First, the bike uses a belt transmission system and has a heavy-duty rubber belt concealed by an ABS guard. It doesn't need lubrication; two, it generates considerably less vibration than a chain; three, the pedaling motion is almost entirely silent.
The bike's crankset is highly durable, featuring steel crank arms and an aluminum alloy pedal. In addition, it supports pedaling while standing up, supporting any spin workout if the user does not exceed the specified 275 lbs (125 kg) weight limit.
The pedals come with toe cages to secure your feet and add some thrusting to your pedaling. Unfortunately, they do not have clips for spin shoes, but their threads are standard 9/16. Therefore, compatible replacements are widely available.
The PYHIGH S2 indoor cycling bike features a standard friction resistance system, which consists of a felt pad attached under the main bar of the frame.
The brake pad connects to the tension dial on top of the frame. It comes in contact with the bike's flywheel in a top-down manner. As you turn the knob clockwise, the pad increases the wheel's friction, increasing the pedaling difficulty.
There are no pre-determined tension settings on the resistance knob. Also, the tension knob works as an emergency brake. You can press it down to immediately stop the flywheel from spinning. Then, you tighten it until the brake provides satisfying tension.
Fitness monitor
The PYHIGH S2 includes a fitness monitor. It features an LCD that tracks time, distance, speed, and calories burned. However, the speed and distance are only metric units (km and km/h). There are no MPH or mile settings for it. Also, the monitor does not have a pulse reading function.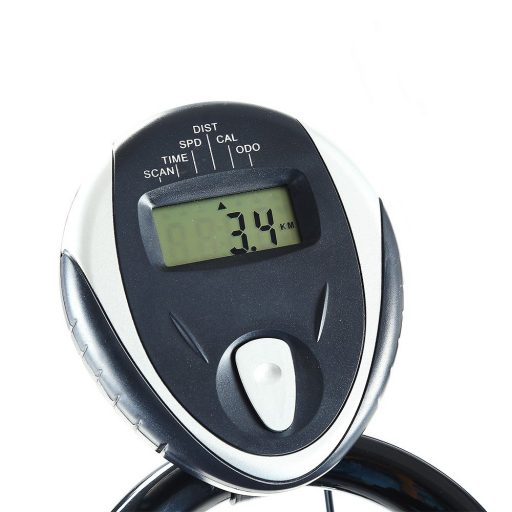 The monitor is straightforward to operate. It only has one button, which toggles the Scan Mode On/Off. With the Scan Mode set ON, all the values rotate, each appearing on display for a few seconds.
You can toggle the Scan Mode off and select one of the metrics to display all the time. Also, the button can serve as a reset for the monitor. You can press it and hold it for a few seconds to clear all the monitor values to zero.
The monitor requires two AAA batteries. It also has a sleep mode that enters after a few minutes of inactivity on the bike. It starts up when you begin pedaling or when you press the button.
S2 Assembly & Maintenance
The frame's main body with the flywheel, crankset, belt, and resistance elements are pre-assembled. Therefore, you only need to attach the bike's base bars, the post of the seat and handlebars, the saddle, the handlebars, the pedals, and the fitness monitor.
Consequently, this shouldn't take more than 20-30 minutes — all the tools needed for it comes included. Also, the manual provides clear assembly instructions and schematics.
For maintenance, it's advisable to inspect the bike for loose bolts and parts periodically. In addition, the brake pad may require a bit of lubrication if it emits a squeaking sound when in contact with the flywheel. For this, a bit of silicone lubricant is advisable. Besides this, wiping off the sweat from the frame after each workout is a good idea.
Pros
Fairly sturdy frame – can hold users up to 275 lbs;
Adjustable stabilizers on both bases;
Transport wheels included;
Step-up bar above the crank;
4-way adjustable seat;
2-way adjustable handlebar;
Cushioned saddle with a longitudinal groove for extra breathability and comfort;
Multi-grip handlebar;
Smooth, almost silent belt drive;
Metallic pedals with toe cages and standard threads;
Inertia-enhanced flywheel;
Friction resistance for a wide range of tension levels;
Fitness monitor included – it can track time, distance, total distance, speed, and calories;
The bottle holder included;
Easy to assemble;
Assembly tools included;
Little maintenance is required.
Cons
The fitness monitor does not have a pulse reading function;
The speed and distance are in km/h and km only.
PYHIGH S2 Indoor Cycling Bike Summary
The PYHIGH S2 is an indoor cycling bike made for home use, featuring a standard friction resistance system, a 35 lb (16.9 kg) perimeter-weighted flywheel, and a 4-way adjustable, high-comfort seat. It also includes a fitness monitor to monitor your workout stats. The sturdy frame construction can hold users up to 275 lbs.
It can support most spin workouts; it's great for cardio training sessions, stamina development, and weight loss. Moreover, it's an excellent indoor cycling bike, offering outstanding value for the price.
I hope you found this article helpful and informative. Please speak up if you have anything you'd like to share on the topic or opinions about my website.? I look forward to your comments, questions, and the sharing of ideas.
Please remember that you should consult your physician to determine if you have any medical or physical conditions that could risk your health and safety or prevent you from using the equipment properly. In addition, your physician's advice is essential if you are taking medication that affects your heart rate, blood pressure, or cholesterol level.