If you're looking for an indoor cycling bike that mimics the realistic feel of an outdoor bike, then the Schwinn AC Performance Plus Indoor Cycle is the bike for you. The Schwinn AC Performance Plus is well-built with a rust-proof aluminum frame with 350 lbs (159 kg) maximum user weight capacity.
The Carbon Blue Belt Drive technology that the Schwinn AC Performance Plus Indoor Cycle utilizes offers an authentic outdoor ride feel and is virtually maintenance-free (belt drives don't require oiling like chain drives). In addition, this Schwinn indoor cycle features a carbon fiber reinforced belt with teeth for maximum durability and an authentic bike feel.
This Schwinn indoor cycle also incorporates Virtual Contact Resistance Technology, which means that the magnetic brake doesn't contact the flywheel, thus eliminating the friction and wear you get with other types of bikes. Furthermore, the 6-Magnet brake system gives the cyclist a smooth ride and allows consistent control.
The Schwinn AC Performance Plus indoor cycle features a micro-adjustable seat and incorporates lightweight performance handlebars with ErgoLoop, aero bars, and a 12-degree incline. Also, the Schwinn AC Performance Plus comes with double-link pedals with SPD and a toe-clip combination.
Learn more in my complete review below!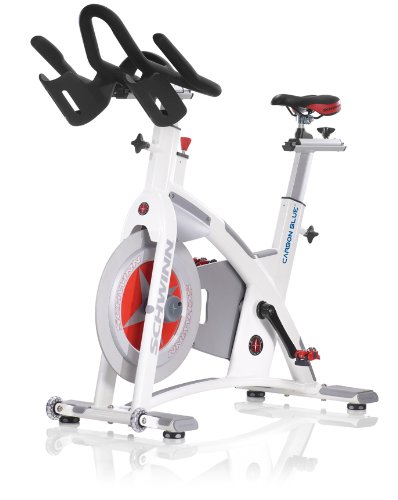 Product: Schwinn AC Performance Plus Indoor Cycle
Price: For a great deal on this bike, merely go here on Amazon
Warranty: Frame 10 years / Mechanical 2 years / Wear parts six months / Labor 1 year
My rating: is 8/10
Affiliate Disclosure: As an Amazon Affiliate Program participant, I earn commissions on purchases made through links in this post. Full disclosure
Details and Specifications
Assembled dimensions: 50L x 21W x 51H inches (127L x 53W x 129.5H cm)
Assembled weight: 112 lbs (51 kg)
Flywheel weight: 42 lbs (19 kg)
Supported weight: 350 lbs (159 kg)
Handlebars: Adjustable
Seat: Adjustable
Pedals: SPD clipless
Drive mechanism: Belt
Brakes: Magnetic
Resistance: Adjustable
Bottle holder: Yes
Fitness Monitor: Not included.
Warranty: Frame 10 years / Mechanical 2 years / Wear parts six months / Labor 1 year
AC Performance Frame Construction
Schwinn has opted for aluminum, not steel, for this bike's frame construction, and there are quite a few reasons for it. First, the bike would have weighed at least 30% more if the frame had been steel. Even though aluminum is lighter, when assembled, this bike still weighs 112 lbs (51 kg), which gives it a lot of stability.
Another aspect would be corrosion resistant. Aluminum resists corrosion better than steel. Still, on top of that, the central part of the frame comes powder coated with a very aesthetically looking, pearl-white, corrosion-resistant paint.
The mainframe has several more joints than your average indoor cycling bike, which increases its sturdiness. In addition, most frame joints are welded, not attached via screws, promoting strength and longevity. Thus, the main structure of the Schwinn AC Performance is well-built.
Like most spin bikes, the AC Performance Plus frame features two bases capped with plastic protectors. In addition, each support has two reasonably substantial, adjustable rubber levelers, promoting maximum stability on any flooring. Also, the front base comes equipped with rollers to facilitate the transportation of the assembled unit.
An essential aspect of this bike's frame is that its tubing is not cylindrical. This gives the unit a more appealing character and supplies a superior grip to the seat and handlebar posts. So, no matter how hard you pedal or move on this bike during your workout, you can be sure that neither the handlebar assembly nor the seat will move sideways.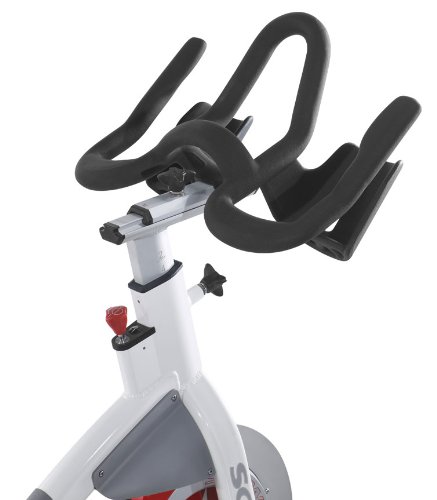 Seat and handlebars
Like most spin bikes, the Schwinn AC Performance Plus Indoor Cycle is not for comfort. Instead, it's a bike that simulates a ride on a race bike. Therefore, the seat supplied with it offers no more support than your average race bike seat. Instead, it's a slim seat with a contoured design and slight cushioning.
Therefore, if you're not used to cycling, you should expect your buttocks to hurt after 30 minutes or more on the bike. However, your body should adjust after several sessions, and pain should be less present after workouts or inexistent.
Regarding micro-adjustability, this seat is adjustable for height and fore-to-aft adjustment. This increases the spectrum of postures the bike can provide. And when it comes to user size, this bike's comfort accommodates users of most sizes. It's for users between 4'11" and 6'8″ (150 – 203 cm) tall.
The handlebar assembly supplied with this Schwinn model has a multi-grip design. On top of that, it offers superior micro-adjustability, as it provides 4-way adjustability, and the ErgoLoop aero bars also provide 12° incline adjustment.
They're also slightly flattened to supply better positioning and support for the elbows. Finally, the handlebar assembly is padded with rubber foam fabric to prevent hands from blistering and ensure a consistent grip.
AC Performance Resistance system
The Schwinn AC Performance Plus Indoor Cycle features a 6-magnet brake system. The magnets "hug" the flywheel from each side, not in a top-to-down manner, increasing torque effectiveness. The resistance adjustment is manual by turning the knob on top of the frame's front tube.
As you turn the knob from left to right to increase resistance, the magnets will hug a more significant portion of the flywheel, increasing strength. In addition, since the resistance system involves magnets, there's no wear and tear to the flywheel or brake pads. As a result, you don't have to worry about lubricating these parts or finding replacements.
There are no levels marked on the resistance knob. However, the highest resistance level is pretty tough, simulating a steep climb.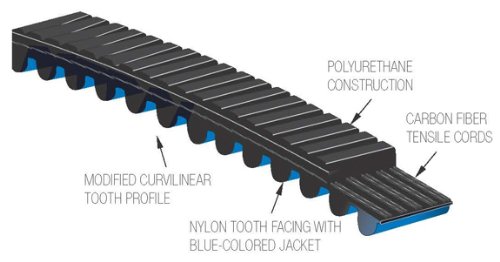 Drive system
When it comes to this bike's drive system, it involves a pretty hefty 42 lbs (19 kg) flywheel. The wheel is anodized aluminum with a perimeter-weighted build, supplying high-quality momentum and promoting a smooth pedaling motion.
Since the resistance is magnetic, the flywheel is pretty slim, similar to the one on the Keiser M3. In addition, the wheel features a high-torque belt drive using Carbon Blue technology.
It's a belt with a construction combining polyurethane and carbon fiber with a modified, curvilinear profile. Not only is this belt made to last a lifetime, but it also promotes the quiet operation of the bike and eliminates any maintenance that a chain would require.
The crank assembly is a 3-piece steel component. Crank arms are solid enough to support the maximum specified user weight in a fully standing upright position. Thus, the crank system can take a beating; you need not worry that it will break during a stand-up, consistent workout.
Finally, the pedals furnished with this bike are clipless and intended for use with spin shoes. However, they do not feature toe cages or toe straps. Instead, they have standard threads and are easy to replace with another type of pedal.
AC Performance Assembly and Maintenance
The assembly of this bike doesn't require much at all. The flywheel, belt, crank, and resistance system are pre-assembled in place. Therefore, the assembly only requires you to attach the handlebar, seat, pedals, and bike bases. Tools and assembly manuals come with the bike.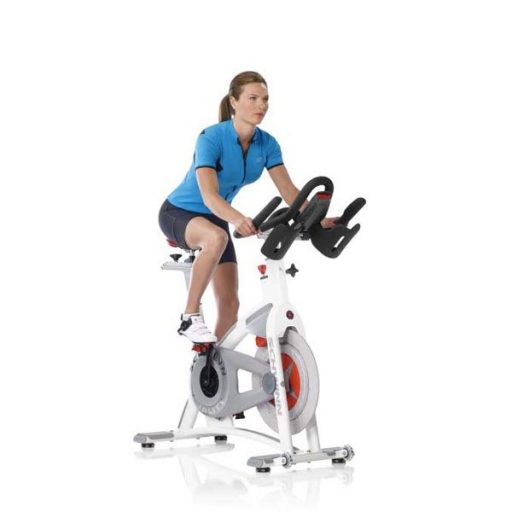 Maintenance for this bike is virtually inexistent. There are no parts to grease and no brake pads to change. Just keep the cycle clean.
Pros
Aluminum frame, lighter than steel;
Extreme sturdiness and stability;
Rectangular tubing for seat and handlebar posts, thus preventing slippage;
Bases with adjustable rubber feet;
Silicone transport wheels;
Seat adjustable height-wise and horizontally;
Handlebar adjustable height-wise, horizontally;
Adjustable aero bars with an incline possibility of 12°;
Flattened grips for better positioning of elbows;
Supports a wide range of users, height and weight-wise;
Replaceable pedals with cleats for spin shoes;
Magnetic brake, with zero friction and zero wear and tear;
Belt-driven, promoting a smooth and quiet pedaling motion;
Heavy flywheel for consistent momentum;
Extremely easy to assemble;
Virtually no maintenance.
Cons
 The bike does not include a fitness monitor.
Schwinn AC Performance Plus Indoor Cycle Summary
No matter what fitness machine you're looking at, if it has "Schwinn" written, you can be sure of its quality. In particular, the AC Performance Plus Indoor Cycle does not make an exception. And since it's an indoor cycling bike meant for 24/7 spin classes, it is a reliable fitness equipment piece.
It's a bike designed for pro athletes, but cyclists of any level can surely use it. Moreover, it's a bike that can supply consistent training, excellent muscle toning, cardio, and weight loss. It is not a cheap bike; however, it offers terrific value.
I hope you found this article helpful and informative. Please speak up if you have anything you'd like to share on the topic or opinions about my website.? I look forward to your comments, questions, and the sharing of ideas.
Please remember that you should consult your physician to determine if you have any medical or physical conditions that could risk your health and safety or prevent you from using the equipment properly. In addition, your physician's advice is essential if you are taking medication that affects your heart rate, blood pressure, or cholesterol level.