The Sole F85 is a high-quality folding treadmill for home use. It builds upon the bestselling F80 with better components and more horsepower. In addition, this cardio trainer has commercial parts such as a multi-layered track and 2.75″ rollers, and its tech integration is better than ever.
The F85 has a 10-item program menu along with the other Sole treadmills. Included are manual mode, two heart rate-controlled workouts, two programs created by the user, and five classic treadmill workout programs: Cardio, Fat Burn, Hill, Interval, and Strength.
Workout progress displays on a 10.1-inch graphics screen with an adjustable angle and an improved shelf for a tablet computer or smartphone. The new F85 treadmill can also use a Bluetooth-compatible mobile device to display workouts, store workout stats, and share fitness data wirelessly.
The Sole F85 has a 22″ x 60″ tread track and is multi-layered for durability, and moves over high-quality 2.75″ rollers to minimize noise and wear. The F85 has 30 ramp settings up to 15 degrees for the extra challenge. The incline adjusts by programs, monitor controls, or buttons based on the handlebars.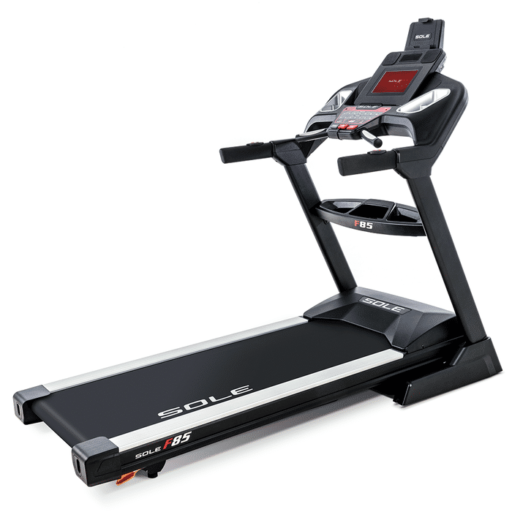 Learn more in my complete review below!
Product: Sole F85 Folding Treadmill
Price: For a great deal on this treadmill, merely go here on Sole Fitness
Warranty: Frame lifetime / Motor lifetime / Deck lifetime / Electronics 5 years / Labor 2 years
My rating: 9.7/10
Affiliate Disclosure: As a Sole Fitness Affiliate Program participant, I earn commissions on purchases made through links in the post. Full Disclosure
Details and Specifications
Assembled dimensions: 83L x 37W x 58H inches (211L x 94W x 147H cm)
Tread belt dimensions: 60L x 22W inches (152L x 56W cm)
Product weight: 265 lbs (120 kg)
Supported weight: 400 lbs (181.5 kg)
Motor: 4 HP, DC type
Incline: Automatic, 0%-15%
Deck cushioning: Yes
Speed levels: 0.5-12 MPH.
Training programs: 10
Pulse sensors: Yes
Multifunctional console: Yes
Amenities: Chest strap, sound system, cooling fan, tablet holder, bottle/accessory holders
Warranty: Frame lifetime / Motor lifetime / Deck lifetime / Electronics 5 years / Labor 2 years
F85 Frame
First, the Sole F85 features a substantial structure with accurately welded joints (not bolted) for maximum durability. In addition, the frame's paint consists of several layers of epoxy powder coating, which renders it highly resistant to corrosion.
It's an all-steel frame, a weighty aspect that enhances its overall stability. In addition, all structure bases are equipped with levelers to ensure a perfectly stable running setting. The front plate also has transport wheels to facilitate the machine's relocation.
Deck
The F85 treadmill model is designed for home use since it features a foldable deck. The deck can fold upright via a telescopic locking tube mounted underneath, which secures it when folded. As a result, this treadmill offers one of the best folding mechanisms on the market.
Although the folding is manual, the unfolding is automatic by lifting and securing the deck. This system is convenient since the machine's deck is rather massive, as it prevents dropping when unfolding.
The machine's deck features a superior suspension and cushioning system designed to absorb an impact of up to 40%. This renders your runs much easier on the joints and considerably reduces the cadence of the thumping sound.
The F85 has top-quality 2.75″ rollers, with a sealed bearing design and copper ground wiring, for minimizing any static effects. The type of rollers is pretty extensive, providing better contact with the belt and increasing your runs' smoothness.
F85 Running Surface
The Sole F85 treadmill has a 4-layered belt featuring two rubber layers, a PVC layer between them, and a nylon backing that rolls on the deck and rollers. The PVC prevents the belt from stretching, the rubber layers add its overall durability, and the nylon facilitates the static-free, smoothly-gliding surface.
The belt offers a 22″ x 60″ (56 x 152 cm) running surface, which makes this treadmill adequate for users of all sizes. So even if you're 6'6″ (198 cm) tall or even taller, you can be sure that this running machine will provide enough running surface.
Like most advanced treadmills, this model does offer an automatic incline mechanism. There are 15 levels, from 0% to 15%, in increments of 1%. The total 15% incline gives the deck a slope of 11°.
At 0° incline, the deck has an elevation of 8″ (20 cm) from the ground. The slope adds a couple more inches to the overall user height. So, the room's ceiling height where you will be working out on this machine should be about 20″ (51 cm) higher than you.
Motor
The F85 treadmill has an industrial-quality motor with heavy steel, zinc-coated flywheels, minimal vibration, power draw, and extended engine life. This is one of the main reasons Sole offers a lifetime warranty for the motor, as it's a heavy-duty, super-quality motor.
It's a 4 HP motor, quite a peak duty for a treadmill motor. But the peak duty isn't the only impressive aspect of this motor. It also offers continuous-duty power and can steadily operate without overheating for an extended time.
The motor also features excellent responsiveness to the console commands, promptly accepting any control from the console. In addition, the passing from one-speed level to another is gradual to allow you to accommodate and avoid accidents.
Since it's a 4 HP motor, it offers quite some traction power, supporting users up to 400 lbs (181.5 kg) without slowing down. Moreover, the deck of the machine supports users of this caliber. Therefore, it's pretty evident that one of these machines' aims is to help you lose weight.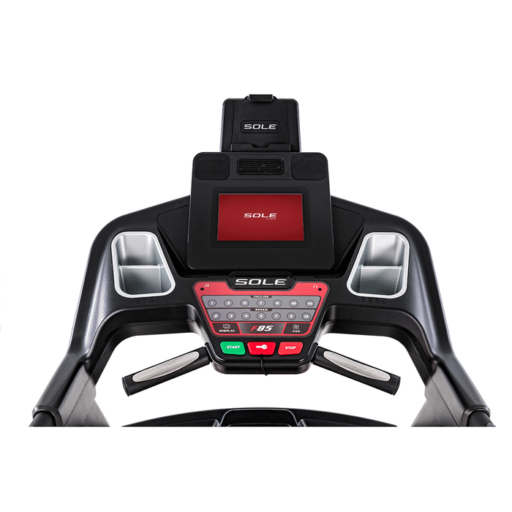 The treadmill requires access to a 110-volt, 15-amp grounded, standard U.S. outlet, with only the treadmill, plugged into the circuit to minimize the risk of burns, fires, or electric shock.
F85 Console
The new Sole F85 touch display makes workouts easier, more convenient, and more effective. The Updated F85 now has a 10.1″ TFT-LCD touch panel +Android system.
It offers a sizeable clean readout providing users with helpful information, such as User Profile, Heart Rate, Speed, Pace, Calories burned, and many other valuable bits of information. Also, it has seven built-in apps like YouTube and Netflix.
Sole isn't known for cramming many workout programs on their treadmills, but the new console on the F85 comes with more options than any other. These programs include six standard workouts, 12 custom workouts, and seven fitness tests.
Sole allows users to transfer workout data via Bluetooth from their Sole fitness equipment to their smart device. Users can download and track their info on the New Sole+ app for free or have their fitness data transferred to any of the following fitness apps (Fitbit, Record, Mapmyrun, Apple Health).
The Updated F85 now offers Screen Mirroring from your mobile device, creating a whole new user experience while working out on your machine.
A 1/4 mile track function indicates how many laps you have completed, which is excellent for professional runners.
The treadmill's computer offers programmable goal functions for different selected workouts. For example, you can choose the speed, time, and calorie goals for your training. It's also smart to modify the pace during your selected exercise; for example, it will adjust the other values to adapt to the new speed. The speed can go from 0.5 MPH up to 12 MPH.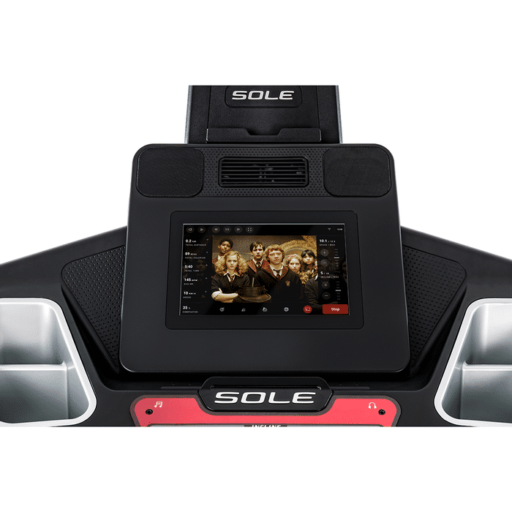 The new F85 treadmill can also use a Bluetooth-compatible mobile device to display workouts, store workout stats, and share fitness data wirelessly. In addition, it connects with the Sole Fitness app and sync with iHealth, MyFitnessPal, and other mobile apps that let users efficiently manage their all-over fitness activity.
Enhance Your Workout With STUDIO
Sole Fitness workouts are done for all levels and range from 10 minutes to 60 minutes. In addition, Sole utilizes heart rate metrics and data from your equipment across all of your workouts to help you exercise smarter.
Connect your Bluetooth-enabled Sole Treadmill, Elliptical, and Spin Bike to get real-time metrics such as Speed, Incline, RPM, and Power. Also, connect any Bluetooth Heart Rate Monitor to see real-time metrics of how your heart rate responds to workouts.
Train with the world's best instructors from the country's top fitness studios. Our instructors will motivate and push you to your next personal best in running, cycling, boxing, rowing, and more.
Give it your best and go toe-to-toe with other beginners or pros on STUDIO's community-powered leaderboard. Your position is determined by your heart rate, evening the playing field while pushing you to your next record.
Over 3,000+ boutique fitness classes led by leading fitness instructors, with more added daily. Pick up the pace with treadmill or outdoor runs, then switch it up for cycling, rowing, strength, boxing, and more.
You'll earn FITCOIN during every workout. The harder you push, the more you'll make. Redeem prizes, offers, and rewards with your hard-earned FITCOIN. You don't have to do it alone. Sweat with the community, connect, follow, and invite your friends to work out together.
Amenities
The F85 treadmill from Sole Fitness includes several other facilities. The heart rate chest strap is one of them. This strap works directly and wirelessly with the console, monitoring your heart activity so you don't have to hold the handlebar sensors all the time.
The machine's lateral handlebars have speed and incline buttons for a more natural and comfortable adjustment.
The F85 upper part of the console has two cooling fans, which is great to have during long runs. In addition, it features a tablet tray, so you can attach your tablet to the console and watch your favorite streams or browse the web when running.
It includes a sound system featuring two speakers and MP3 player input. So you can eliminate the inconvenience of using earplugs or headphones during your runs if you want to listen to your music. There's also a headphones input and a UBS port.
F85 Assembly and Maintenance
The assembly of this treadmill is far from a complicated process. However, some of the parts are rather heavy. Therefore you might want one other person to help you. Especially if you like this machine in a room upstairs, it's a good idea to carry it there piece by piece, or at least while it's still in its box.
The deck and motor are already assembled and connected. All you have to do is add the lateral posts and the console, connect the sensors and control cables, and finally, attach the beverage holder. The box includes a detailed and comprehensive user manual, which will guide you step by step through the process.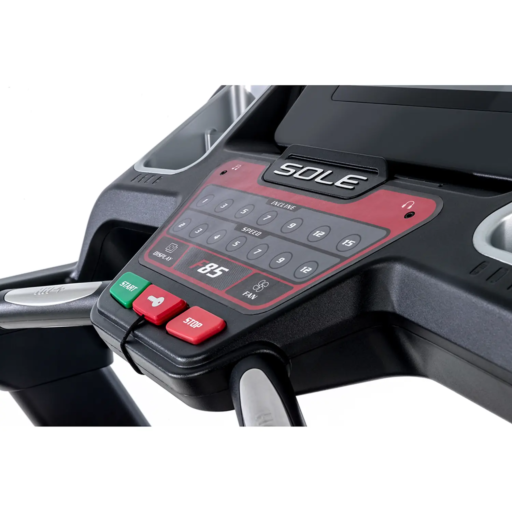 When it comes to maintenance, several aspects need attention. First, keep the belt and deck clean, and vacuum the dust that might accumulate under the treadmill, especially under its motor. The belt and deck also require regular lubrication. The box includes a Sole Fitness tube of lubricant. Furthermore, Sole specifics that only approved Sole oil should be (used) for this machine.
After workouts, always wipe any water or sweat droplets from the motor's case, the console, or the controls.
Since periodic lubrication is required and the machine is heavy, it's best to place it on a mat. This will prevent any lubricant from reaching your carpet or flooring, and the mat will also prevent any damage to your floor or carpet.
Pros
Extremely sturdy and stable machine. With proper care, it can last a lifetime.
It comes with a lifetime warranty for the motor and frame and an extended warranty for parts and labor.
It's foldable and designed to adjust better to your home space when not in use.
It has an easy assembly process and low maintenance.
Its cushioned deck reduces the impact on the joints when running.
Industrial duty, 4 HP motor, with an excellent peak and continuous duty, offers speeds up to 12 MPH.
The motor is quiet and doesn't interfere with your TV sound or music.
The automatic incline mechanism has a gradual incline of up to 15%.
It comes with a highly advanced console with ten direct program keys.
The 10.1″ diagonal console has a backlight.
The handlebars come with heart rate sensors and the lateral handlebars with speed and incline-to-adjust buttons.
Telemetry enabled the console and included a chest strap for hands-free heart rate tracking.
It also has a tablet holder, dual fan, and sound system.
Cons
The machine is quite substantial.
Sole F85 Folding Treadmill Summary
The Sole F85 folding treadmill is a high-quality home treadmill that offers the perfect home workout setting for weight loss, cardio, full-body, and even long-run, professional training. In addition, it's a heavy-duty treadmill with a 400 lbs (181.5 kg) maximum user weight capacity, an aspect that many other running machines cannot cover.
It has a sleek, professional design with all the amenities you need for a comfortable workout, which can also influence motivation. Admittedly, it's not exactly the most affordable treadmill. But with proper care and use, it will become a lifetime investment in your health.
I hope you found this article helpful and informative. Please speak up if you have anything you'd like to share on the topic or opinions about my website.? I look forward to your comments, questions, and the sharing of ideas.
Please remember that you should consult your physician to determine if you have any medical or physical conditions that could risk your health and safety or prevent you from using the equipment properly. In addition, your physician's advice is essential if you are taking medication that affects your heart rate, blood pressure, or cholesterol level.